It's good to be the offspring of power couple Kanye West and Kim Kardashian. Their baby girl, North West, isn't even a year old yet, but she's already following in mommy's footsteps with a covetable designer collection of shoes. The best part is that they were all gifts from Kimye's good friends.
It's good to be a baby when your parents are Kim and Kanye.
Check out Baby Nori's new shoes as Instagrammed by Kim:
Baby Booties from Michael Coste of Hermes Paris
Michael Coste is described as the celebrity suck-up for Hermes (he was hired to manage external relations). But who cares about that if you're getting a gorgeous new pair of Hermes baby booties?
Nori's new Hermes booties and blanket
North's pair isn't available online, but here are some other Hermes baby booties: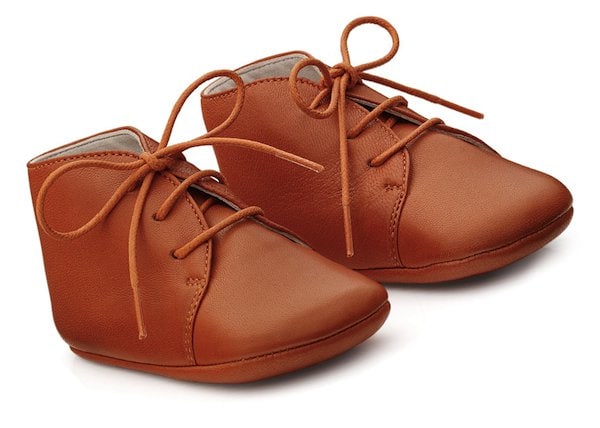 Hermes "Paf" Lambskin Baby Booties, $245
Mini "Incy Kitten" Flats from Charlotte Olympia
We love Charlotte Olympia's kitty flats, and we love the mini version even more. These flats are from the brand's Incy collection, made for young girls like North. Designer Charlotte Olympia Dellal created this line just in time for her third pregnancy earlier this year. We can't wait to see Baby West wear them.
North's new Charlotte Olympia flats
You can get a pair of "Incy Kitten" flats for you and your baby, too:
Charlotte Olympia "Incy Kitten" Flats, €95
Charlotte Olympia "Incy Kitty" Flats, €225
Custom Shoes from Giuseppe Zanotti
It helps that daddy Kanye and Giuseppe Zanotti are buddies if North wants the best footwear. Remember when Kanye designed a pair with Giuseppe for Kim? Zanotti created not one but two pairs of shoes just for North.
North West is truly one lucky baby! She gets only the best of everything. What do you think of her designer shoes?
Credit: Kim Kardashian's Instagram Account