Hailing from Ukraine with a French heritage, actress Olga Kurylenko mesmerized audiences with her stunning beauty and affecting performances.
In 1997, at the age of 18, Kurylenko began her career as a fashion model in Paris, France – the fashion capital of the world.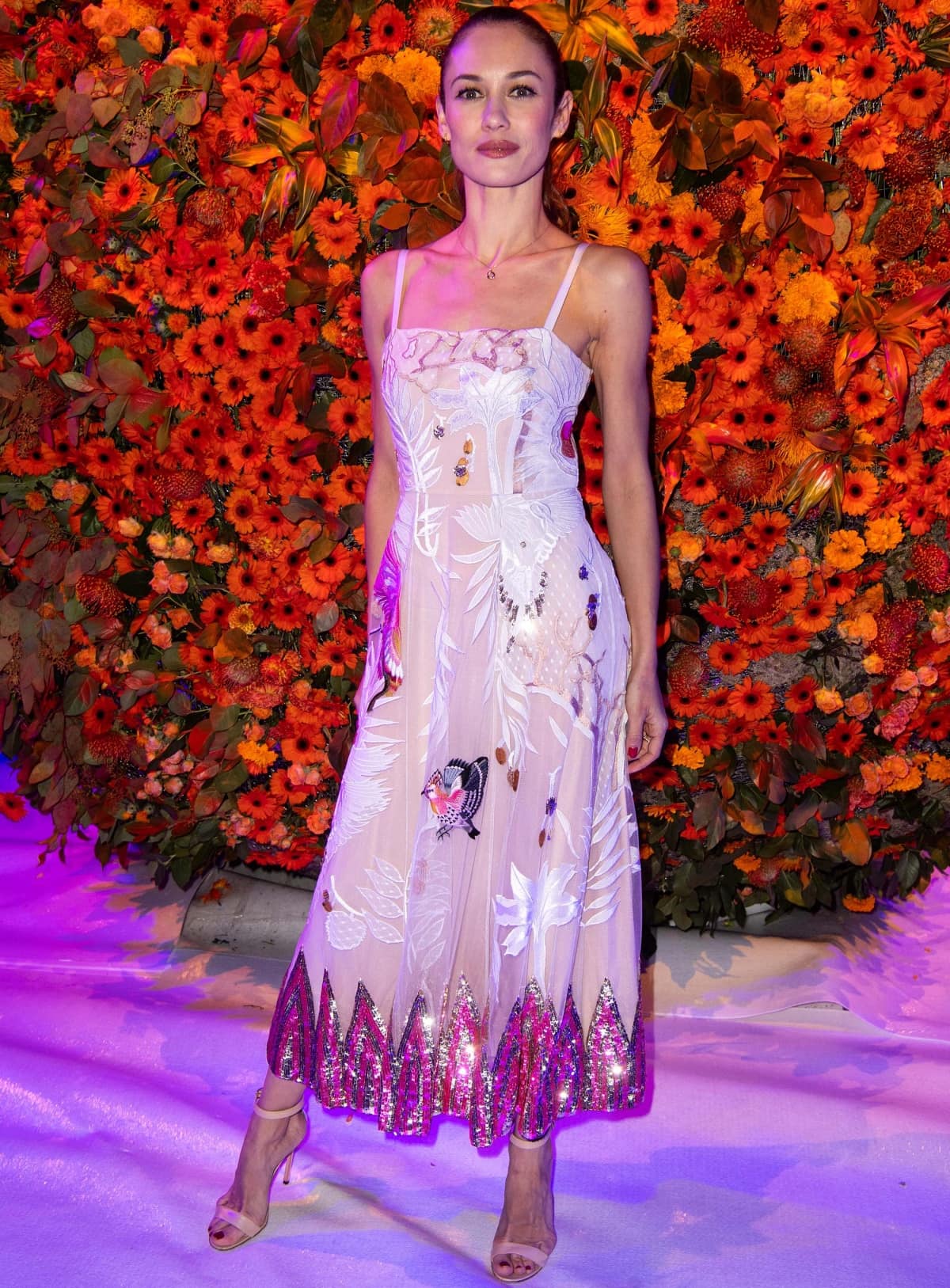 Olga Kurylenko in a sequined sleeveless dress and nude ankle-strap heels for Richard Quinn's runway presentation during London Fashion Week held at the Londoner Hotel on September 21, 2021, in London, England (Credit: Matt Crossick / PA Images / INSTARimages)
After securing work with brands like Kenzo, Victoria's Secret, and Roberto Cavalli under her belt, she began transitioning to other forms of media.
This includes starring in Seal's music video for Love's Divine in 2003, before finally breaking through to cinema. She began working in the French film industry in 2005 at the age of 26.
Olga Kurylenko showcasing her dramatic flair in a Valentino Resort 2013 black gown at the premiere of To the Wonder during the 69th Venice Film Festival on September 2, 2012, in Venice, Italy (Credit: Andersphoto / Shutterstock)
In this article, we'll be looking at some of the highest-regarded movies in Olga Kurylenko's filmography (according to the popular review site Rotten Tomatoes).
We'll also be tracing her age during these pivotal moments of her career – from her time in the French film industry to her recent work in Hollywood.
Without further ado, let's take a look.
1. The Death of Stalin (2017) – 95% Critics / 78% Audience Score
At the age of 37, well into her career, Kurylenko appeared in this black comedy historical film. It presents a revised version of events following the death of Soviet leader Joseph Stalin in 1953.
Based on a popular French graphic novel, it premiered at the Toronto International Film Festival in September of 2017 with a warm reception from the attendees.
In the film, Kurylenko plays a fictionalized version of Maria Veniaminovna Yudina, a real-life famous Soviet pianist popular during the era of Stalin's rule. Yudina kicks off the events of the film, as a scathing letter she wrote to Stalin ends up being the cause of his untimely death.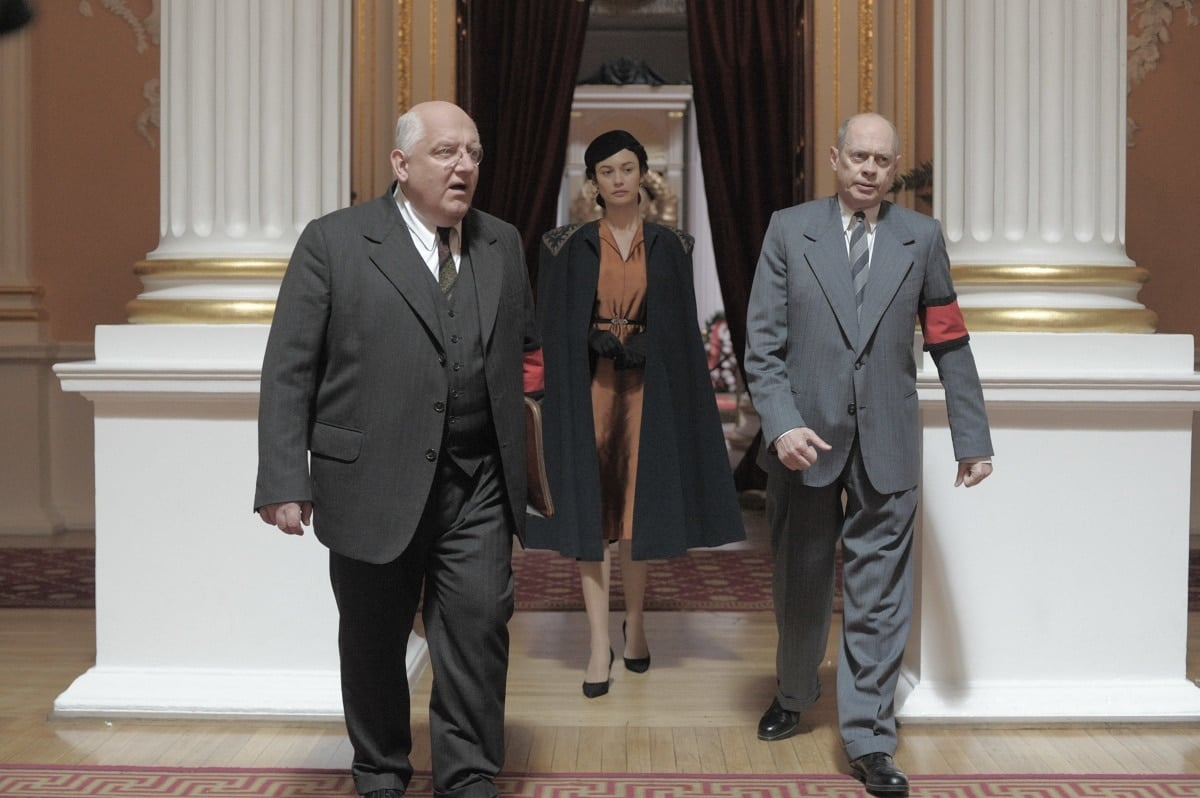 Simon Russell Beale as Lavrenti Beria, Olga Kurylenko as Maria Veniaminovna Yudina, and Steve Buscemi as Nikita Khrushchev in the 2017 political satire dark comedy film The Death of Stalin (Credit: Gaumont)
The film featured an ensemble cast that included Steve Buscemi, Jeffrey Tambor, and Jason Isaacs, among others.
Critics loved the film and appreciated the witty and subtle parallels to modern times peppered throughout the screenplay.
Audiences also enjoyed the film, but perhaps not as much as the critics did.
2. Seven Psychopaths (2012) – 83% Critics / 71% Audience Score
In the fall of 2012, when Kurylenko was 32, Seven Psychopaths premiered at the Toronto International Film Festival.
It was another black comedy (much like The Death of Stalin) and a joint production between Britain and the United States.
The film surrounds Marty (Colin Farrell), a screenwriter struggling to finish his latest screenplay entitled Seven Psychopaths. He decides to interview seven different psychopaths to look for inspiration in their stories.
Of course, conflicts and shenanigans ensue.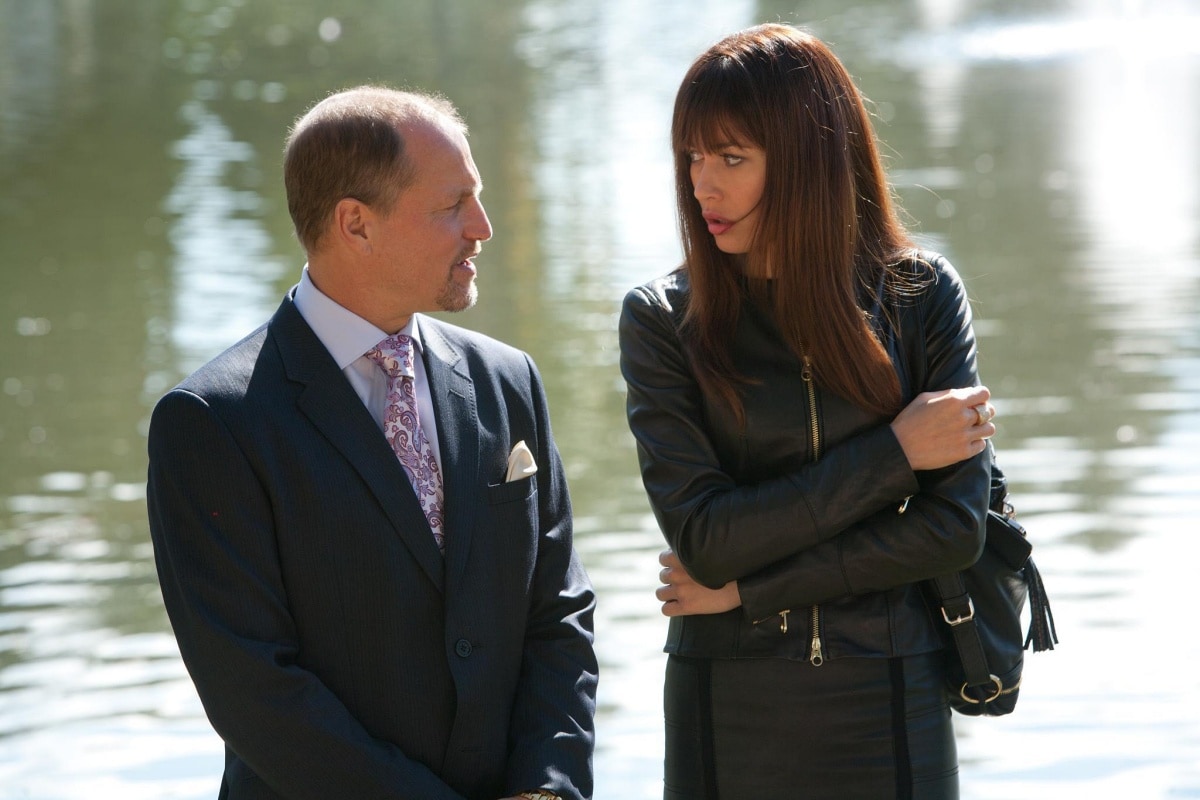 Woody Harrelson as Charlie and Olga Kurylenko as Angela in the 2012 satirical black comedy crime drama Seven Psychopaths (Credit: Momentum Pictures / CBS Films)
Kurylenko plays the role of Angela, who is the girlfriend of Billy (Sam Rockwell). Angela acts as a foil for Charlie (Woody Harrelson) – an unpredictable and violent gangster – and snitches on Billy, putting him in danger. It's a small supportive role, but Kurylenko plays it well!
Critical reception to the film was positive, as many critics appreciated the quirky combination of crime and dark comedy.
Audience reactions were positive as well, although the film's quirkiness may have turned off some audience members.
3. Black Widow (2021) – 79% Critics / 91% Audience Score
Black Widow is the most recent (and most successful) of Kurylenko's films. She was 41 when it premiered in the summer of 2021. She stars alongside Scarlett Johansson, Florence Pugh, and David Harbour.
Kurylenko portrays the character of Antonia, whose father Dreykov is a Russian general. Dreykov leads the "Red Room," which is the Russian training facility where expert-level spies (Black Widows) are created.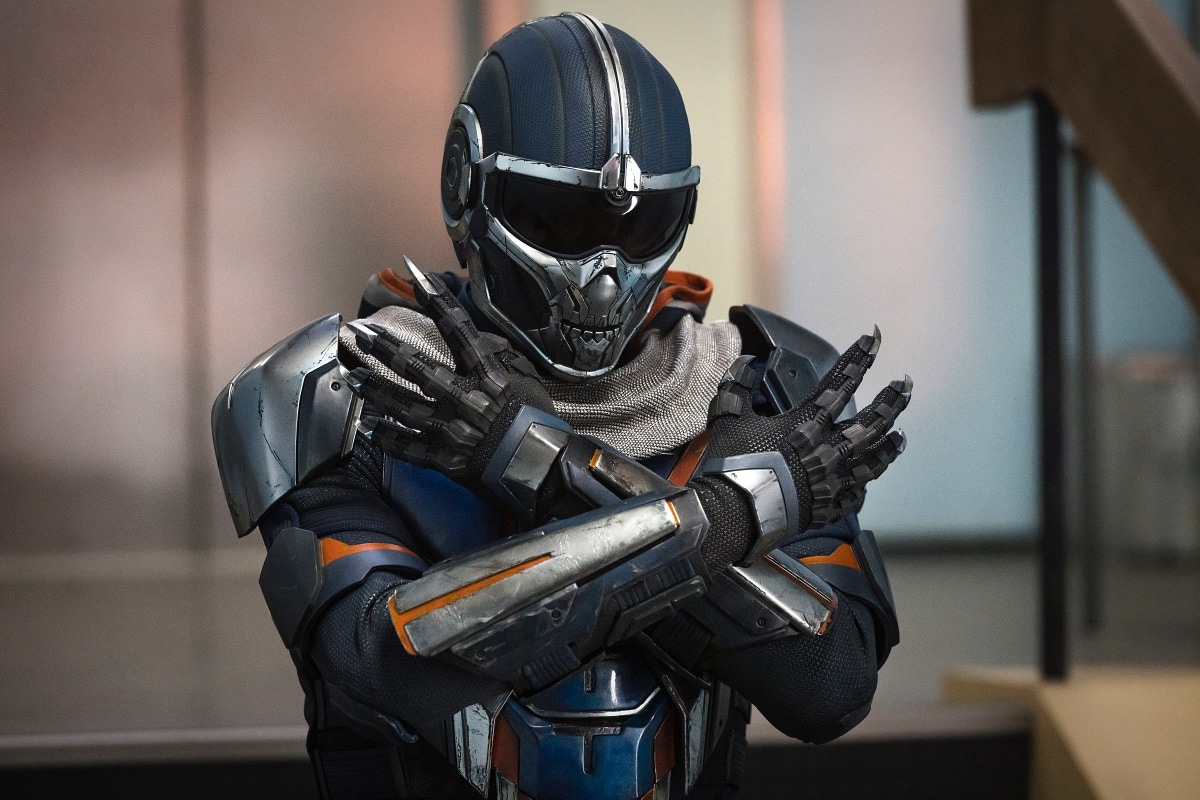 Olga Kurylenko as Antonia Dreykov and Taskmaster in the 2021 superhero film Black Widow (Credit: Marvel Studios / Walt Disney Studios Motion Pictures)
The character is not one that originates from the comics and was created specifically for the film. Antonia Dreykov is eventually revealed to be Taskmaster, an accomplished and deadly fighter who uses heroes' moves against them.
Audiences loved Black Widow and praised the performances of Johansson and Pugh.
Critics also seemed to enjoy the film, although some were more critical of Black Widow than any other popular installments in the Marvel Cinematic Universe.
4. The Room (2019) – 71% Critics / 51% Audience Score
In this Christian Volckman-directed film, Kurylenko takes on the starring role. She was 39 by the time it premiered at the Brussels International Fantastic Film Festival in the spring of 2019.
Taking a stab at the thriller genre, Kurylenko plays the role of Kate – a young married woman, who moves into a new and mysterious house with her husband Matt (Kevin Janssens).
In this house, they discover a secret room that has the strange ability to grant them any wish they desire.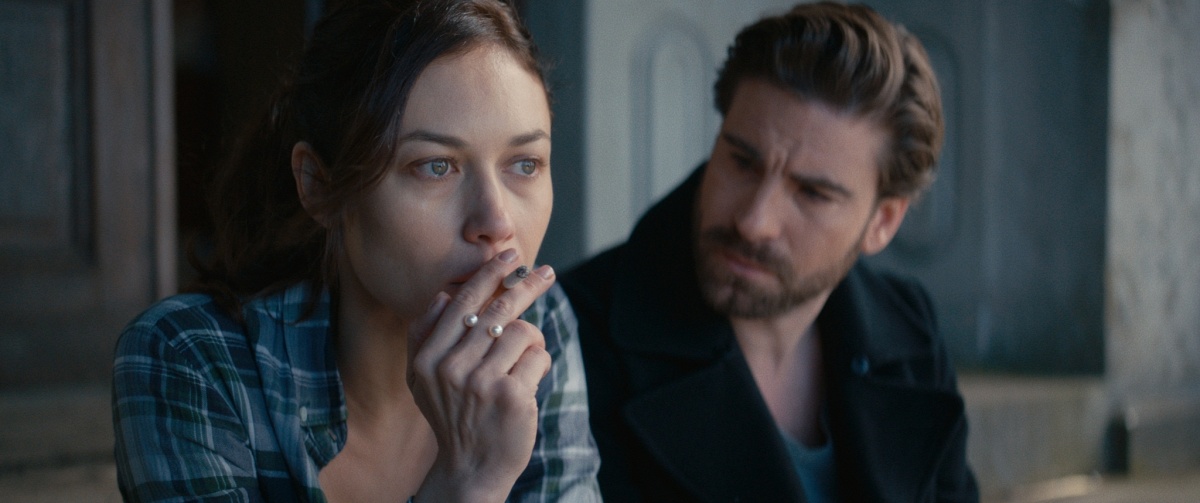 Olga Kurylenko as Kate and Kevin Janssens as Matt in the 2019 thriller film The Room (Credit: O'Brother Distribution)
This turns out to be more than they bargained for, as what they've always wanted was a child. They use the room for their wish, but they soon realize that the age-old adage "be careful what you wish for" has never been truer.
The Room received mixed reviews, as evidenced by the conflicting scores between film critics and general audiences.
While some critics lauded the film for its unique and unsettling premise, others lamented that it never fully pays off. The clunky and messy third act squanders the potential that the premise offers.
Audience members seemed to agree with that analysis, as well.
5. The Translators (2019) – 71% Critics / 50% Audience Score
This French thriller takes an interesting premise that evolves into a rousing mystery surrounding a fictional best-selling novel.
In the film, the last novel of a popular trilogy is set to be released. However, the manuscript must first be translated into nine different languages: English, Russian, Italian, Danish, Spanish, German, Chinese, Portuguese, and Greek.
Olga Kurylenko with the rest of the cast of the 2019 thriller film The Translators (Credit: Olga Kurylenko's Twitter)
To prevent the novel from being leaked online, the nine translators are confined to a remote bunker in the rural French countryside. They are required to stay there until all of the translations are done.
Tensions start to rise, however, when the novel's first pages are mysteriously leaked on the internet, with each translator blaming the other for the mishap.
Kurylenko plays a Russian translator named Katerina Anisinova, who was hired to translate the text of the book into her native tongue.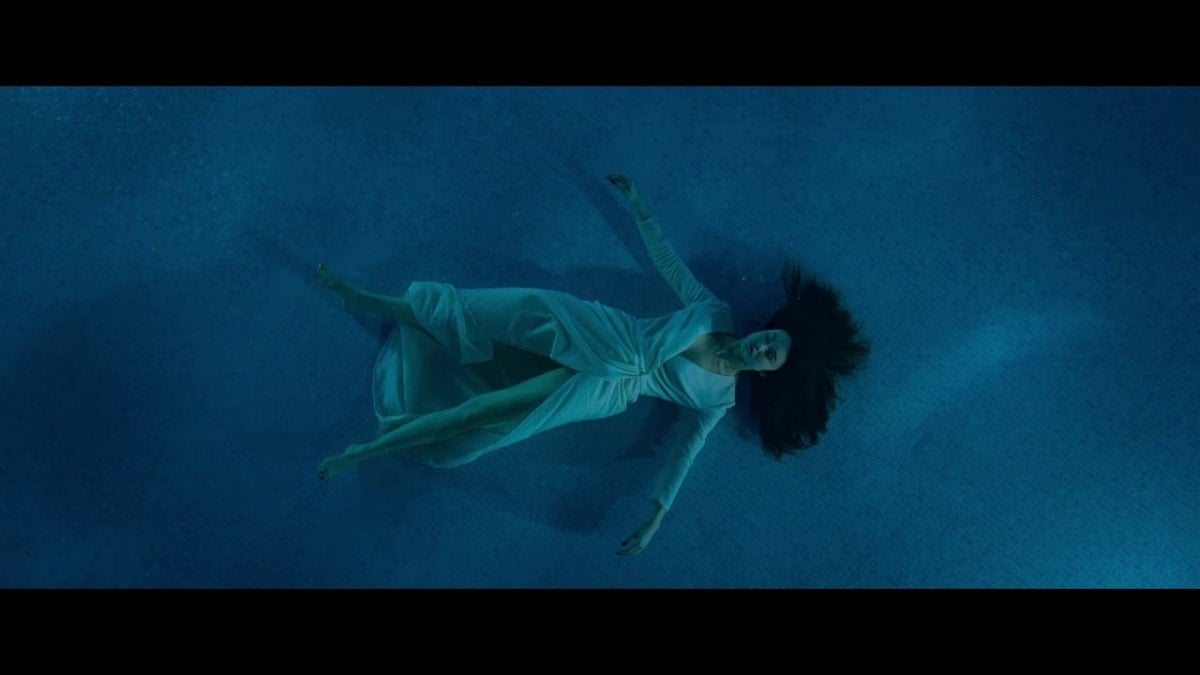 Olga Kurylenko as Katerina Anisinova in the 2019 thriller film The Translators (Credit: YouTube)
She acts alongside European film stars such as French actor Lambert Wilson, English actor Alex Lawther, and Italian actor Riccardo Scamarcio.
Kurylenko was 40 when the movie was finally released to audiences in November of 2019.
While critics described it as a taut and thrilling mystery, the film was derided for its logical holes and lack of depth in the third act.
Nevertheless, The Translators did manage to have an overall positive reception despite general audiences giving negative reviews to the film.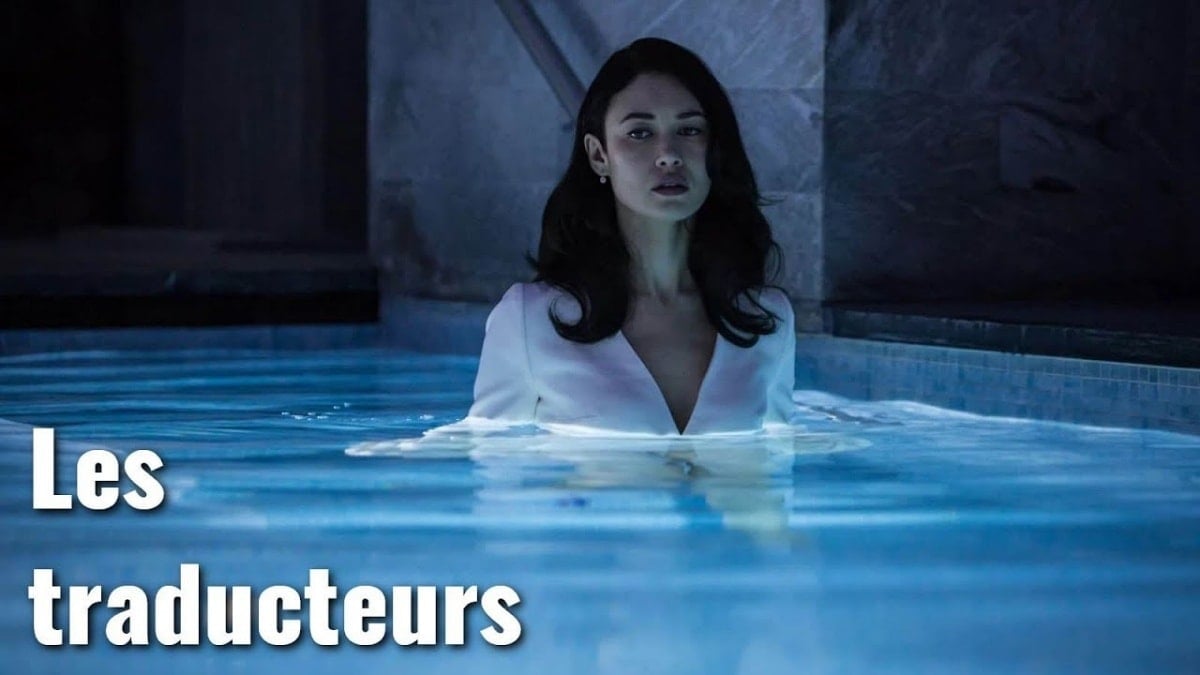 Olga Kurylenko as Katerina Anisinova in the 2019 thriller film The Translators (French: Les Traducteurs) (Credit: YouTube)
And that rounds out our list of the top five films in Olga Kurylenko's career!
We hope that you enjoyed this retrospective look, from her stint in the French film industry to her most recent work in Hollywood.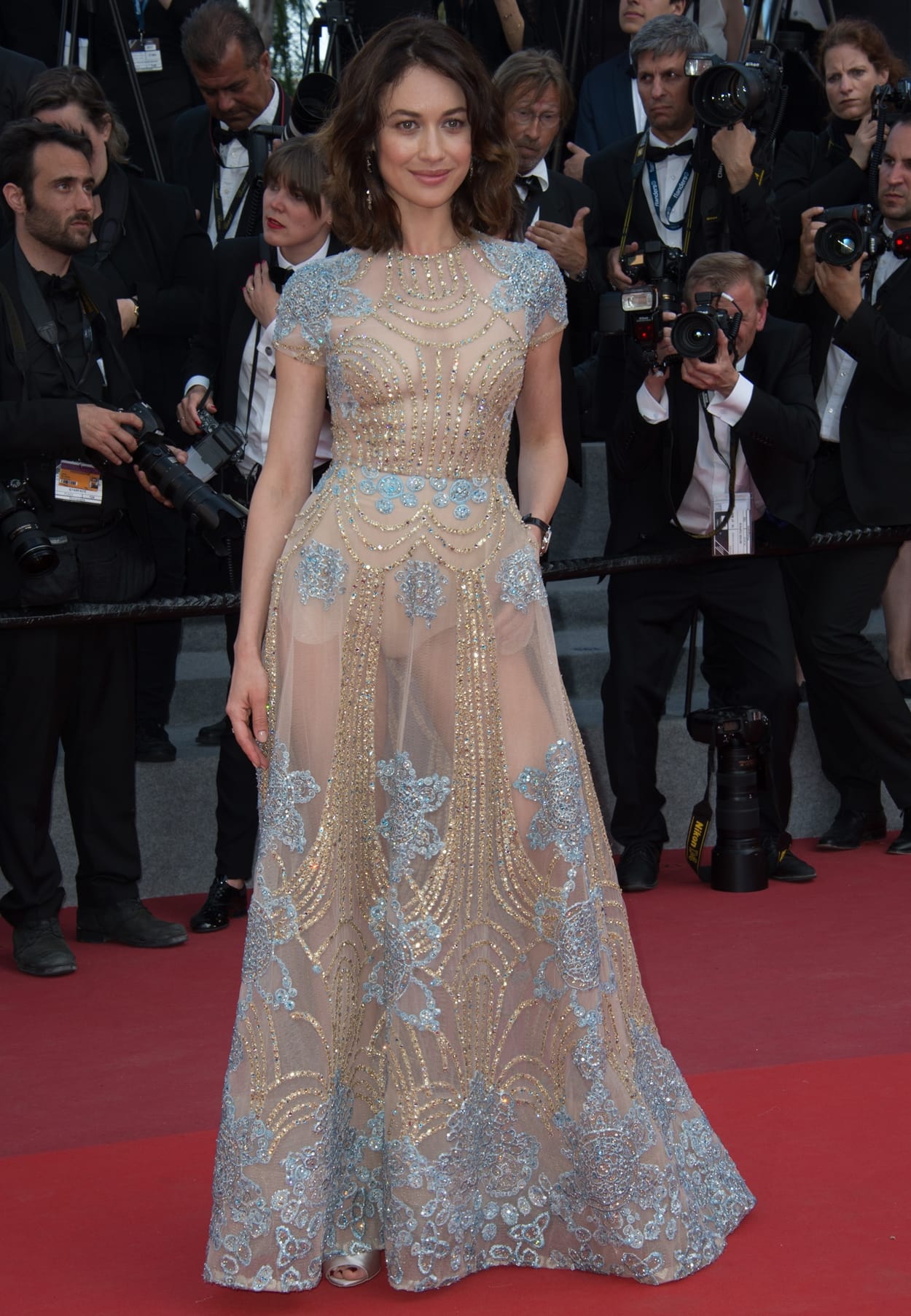 Olga Kurylenko wearing an Elie Saab Spring 2017 Couture sheer gown with intricate beadwork and floral embellishments at the 2017 Cannes Film Festival (Credit: Jaguar PS / Shutterstock)
Kurylenko is already in her early 40s, but nothing will stop this tenacious Ukrainian actress from landing some interesting and high-profile roles.
We can't wait to see what she'll be in next!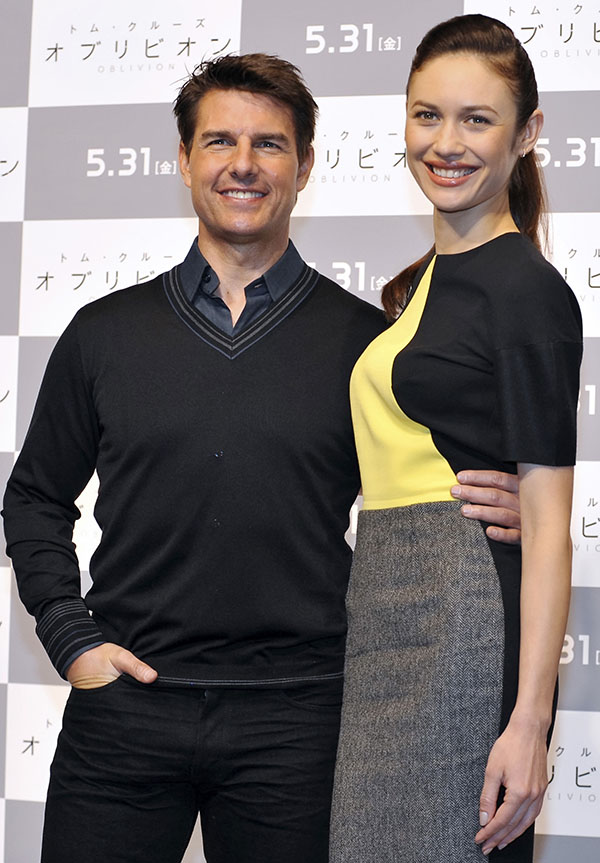 Olga Kurylenko and Tom Cruise at the Oblivion press conference at Ritz Carlton Tokyo in Japan on May 7, 2013 (Credit: WENN)
After touring the US and Europe for the promotion and premiere of their 2013 American post-apocalyptic action-adventure film Oblivion, Ukrainian-French actress Olga Kurylenko and Mission Impossible star Tom Cruise were conquering Asia.
In May 2013, the two were spotted with her shorter co-star at the Ritz Carlton Tokyo, where they attended a photo call for the movie.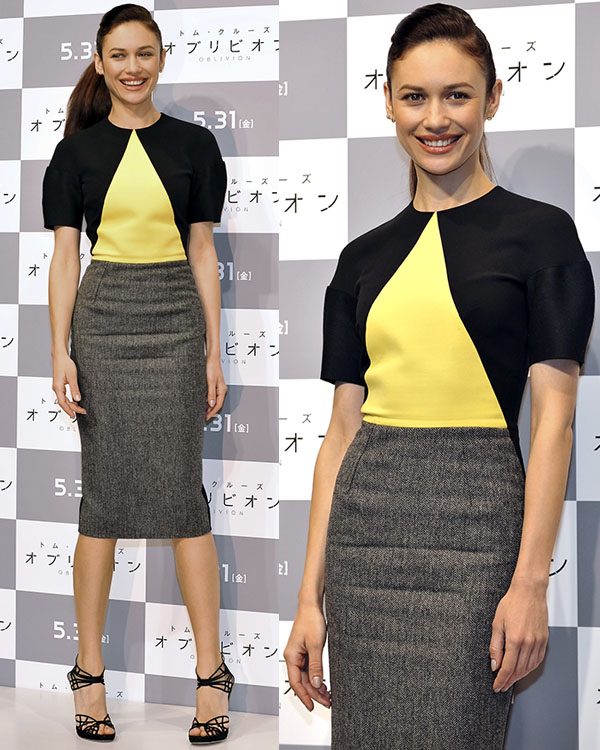 Olga Kurylenko flaunts her legs in a two-tone bodice and a tweed skirt (Credit: WENN)
Olga dressed in a Victoria Beckham Fall 2013 ensemble, which featured a two-tone bodice and a tweed skirt.
Posing for the cameras, she looked pretty chic beside Tom, who was dapper in jeans, a V-neck top, and a collared shirt.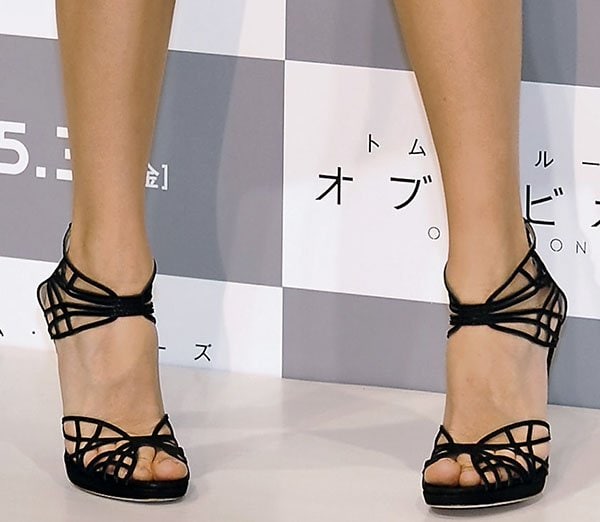 Olga Kurylenko's sexy feet in Diva sandals (Credit: WENN)
Those heels definitely perfected Olga's look, don't you think? Her outfit was edgy, and those sandals, too, show an edgy, modern look. They're made of suede, and they feature weblike straps on the vamp and the ankle. I personally find them sexy, especially with those cutouts and open midsection. How's that for you?
These sandals are called the "Diva" by Jimmy Choo, although other online stores call them "Dina." I'm not sure why, but if you're going to visit a Jimmy Choo store, you'll see them as Diva.
We can no longer find Olga's black suede version of these heels, but other renditions with rhinestone embellishments are available at Farfetch and Mytheresa.
Jimmy Choo Diva Sandals in Jade Green, $1,495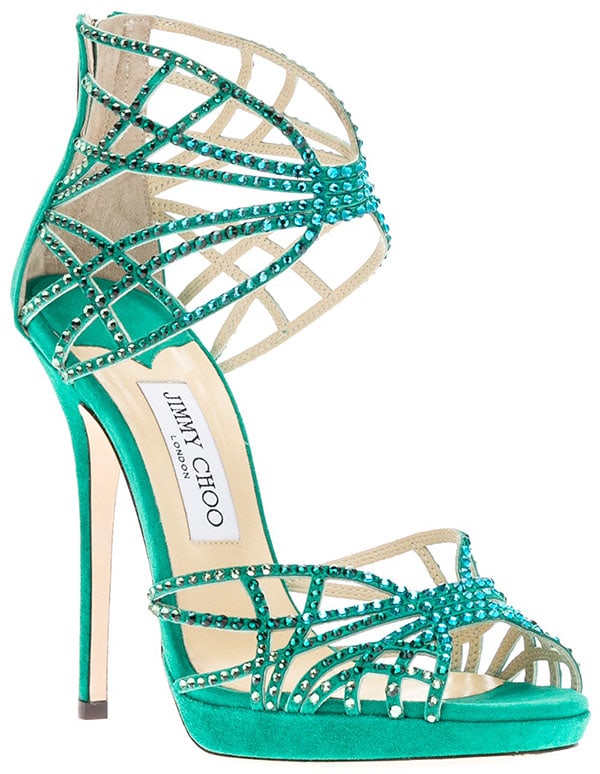 Jimmy Choo "Dina" Sandals, $1,495