Aside from the gorgeous models in amazing Sophia Webster and Nicholas Kirkwood shoes, many Hollywood A-listers also attended the 2013 Victoria's Secret Fashion Show. And since this was a fashion event, Olivia Palermo's presence was not a surprise.
She came with her longtime partner, Johannes Huebl, and they both looked amazingly fabulous. The 27-year-old socialite once again brought her fashion A-game to the event, while her model boyfriend looked dapper in a suit and coat.
Johannes Huebl and Olivia Palermo attend the 2013 Victoria's Secret Fashion Show at Lexington Avenue Armory in New York City on November 13, 2013
Olivia Palermo is certainly one of our favorite style icons. Her fashion sense and wardrobe choices are covetable! During the event, she was wore a casual plaid shirt paired with a formal-looking fringe skirt. She also left her checked top unbuttoned, revealing a hint of her red cami.
There seems to be a lot going on in this look, and I'm not sure if many of you like it. We couldn't deny, though, that Olivia managed to work it flawlessly. She's daring to mix and match different styles, and boy she's mostly spot-on!
See how she looked while posing for pictures on the pink carpet at the Lexington Avenue Armory in Manhattan on November 13!
Olivia finished her ensemble — a striking mix of check pattern, fringes, and multicolored fur — with an equally captivating pair of red shoes. With just a glance, we know she's wearing another design from Aquazzura, which seems to be her favorite brand lately.
She had on the "Beverly Hills" satin sandals, which feature cutout strappy uppers in a cage-like design. And like most of her Aquazzura sandals, they also come with lace-ups.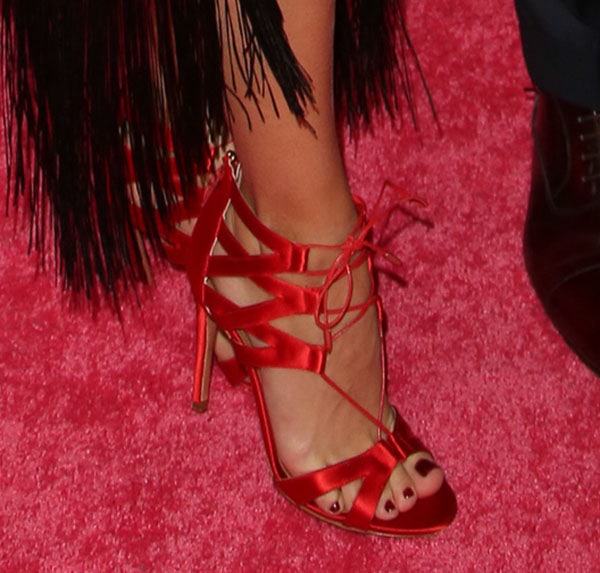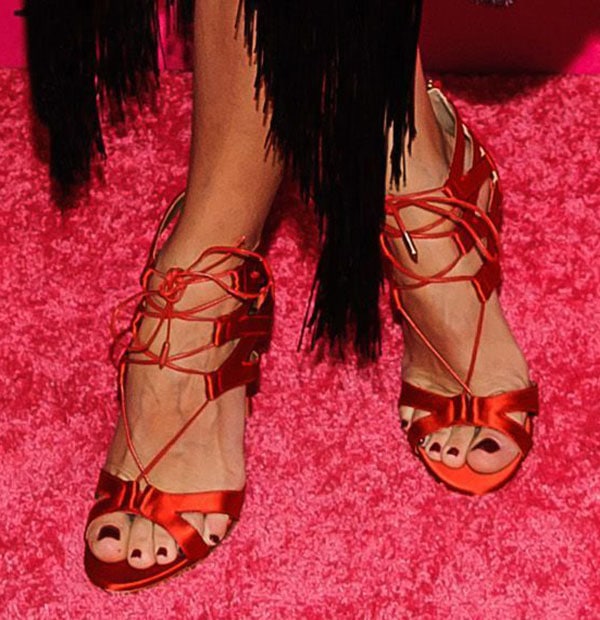 Love her heels? They sure bring fierceness and sexiness to one's look!
Unfortunately, the red satin version is already sold out. But if you're interested, they're also available in blood orange suede and gold leather versions at Barneys, Saks, and Shopbop.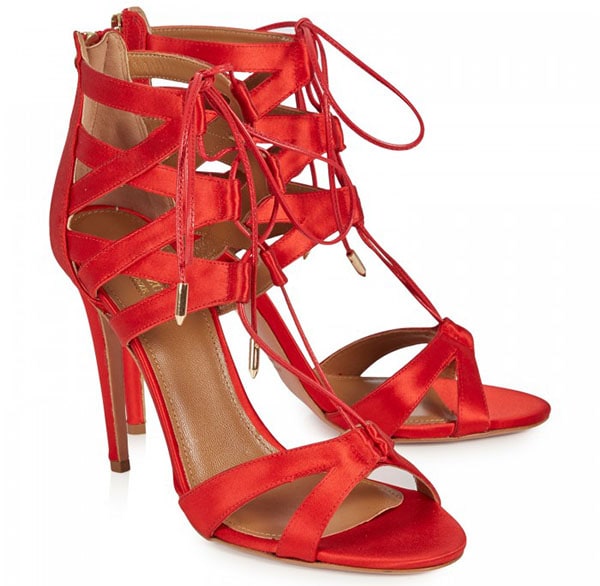 Aquazzura "Beverly Hills" Sandals, $745 at Barneys, Saks, and Shopbop
Aquazzura "Beverly Hills" Sandals in Gold Leather, $745 at Barneys, Saks, and Shopbop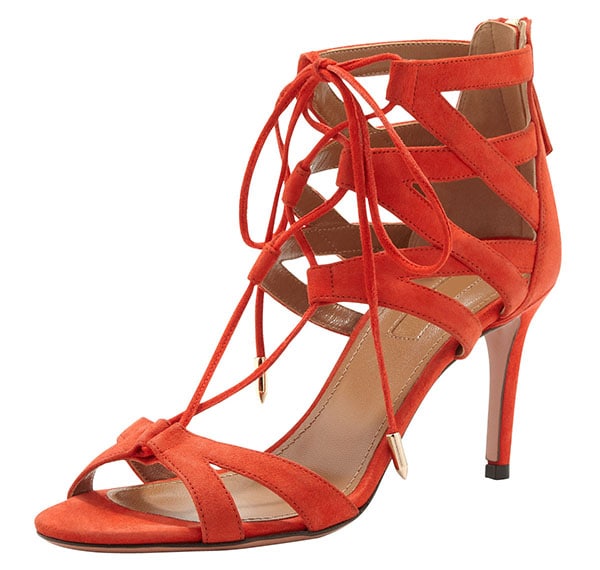 Aquazzura "Beverly Hills" Sandals in Blood Orange Suede, $745 at Barneys, Saks, and Shopbop
Credit: SIPA/Bridow/WENN