If you like style stalking Olivia Palermo, then you will come to notice that the fashionable socialite has a thing for feathers, more particularly feather-detailed purses. I personally don't like feathers nor would I use a feather-decorated clutch to an event, but for some reason, when it's on her, it works!
For instance, Olivia's latest feather-wearing escapade was at the White Fairy Tale Love Ball, held in Paris early this month. She attended the event in an exquisite silver creation from Valentino. As if the stunning jewelry around her neck was not enough of a statement, Olivia added more drama into her look by capping it off with a striking feathery clutch that literally looked like it was from a peacock's tail.
Olivia Palermo attends the 2011 White Fairy Tale Love Ball at the Chateau de Wideville in Paris on July 6, 2011

A closer look at Olivia's feather clutch
She received a mix of reactions for using that purse. Some have lauded her for making an impeccable choice while others simply found the purse too hideous. Personally, I think the bag suited her look, as it was a little romantic and a little vintage.
How about you? What do you think of Olivia's feathery clutch? Would you be able to carry such a statement accessory and rock it like it's meant to be? If that's a yes, then here are a few feathery purses you can try:
SAVE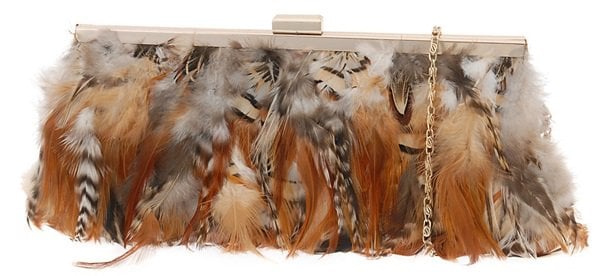 ALDO Manhardt Feather Clutch, $40
SPEND
BCBGMAXAZRIA Evening Feather Clutch, $138
SPLURGE
COACH Occasional Feather Zip Clutch, $298
Credit: WENN