Late last year, Padma Lakshmi's photo was featured on The New Yorker's Instagram page, but unfortunately, the American weekly magazine had tagged the wrong actress.
Not surprisingly, the longtime "Top Chef" host was not impressed and quickly hit back at The New Yorker.
Can you understand why The New Yorker magazine confused her with fellow Indian actress Priyanka Chopra? Perhaps it's better than mixing up Natalie Portman and Keira Knightley?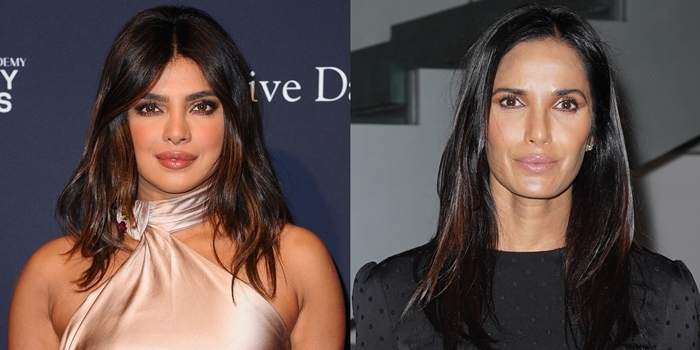 Padma Lakshmi was mistaken for her lookalike Indian actress Priyanka Chopra
"Thank you to the illustrious "@nydailynews" for the shoutout 😉," Lakshmi wrote, intentionally tagging the wrong news organization as a nod to The New Yorker's error. "I know to some we all look alike, but 🤷🏾‍♀️… #desilife #justindianthings."
One month later, the 49-year-old "The Encyclopedia of Spices and Herbs" author went braless in a plunging tan sweater styled with tight skinny jeans and scarlet suede knee-high boots.
Braless Padma Lakshmi is lightly dressed in New York City on January 28, 2020
She toted a copy of pop artist Marilyn Minter's photo art book Pretty/Dirty that features close-up imagery of mouths, feet, splashes, and puddles. Examining every period of the artist's 40-year career, you can buy Pretty/Dirty on Amazon.
Padma Lakshmi carrying Marilyn Minter's photo art book Pretty/Dirty
Credit: Instar / WENN