Paris Hilton was the guest of honor at the opening of designer Charbel Zoe's flagship store in Los Angeles, California, on Tuesday. The young Lebanese fashion designer outfitted Paris in a silver-and-sheer long-sleeved gown embellished with crystals and tube beads. Paris, in turn, added her own bronze skin tone, tall physique, and golden blond locks to the glittering Barbie-doll look.
We advocated for color-matching your shoes to your bra before, but sad to say, we can't do the same for the way Paris matched her shoes to her flesh-tone bra pads and underwear. For one, flesh isn't a color you want to highlight, and two, skimpy triangle underwear showing through a sheer dress is never a good look.
The socialite-turned-DJ further made a mess of her ensemble by wearing over-the-top spidery eyelashes, accessorizing with a dated satin-and-mesh hobo purse, and finishing with too-heavy nude patent pumps. Lighter strappy sandals would have been a better pairing with the already heavily embellished gown, don't you think?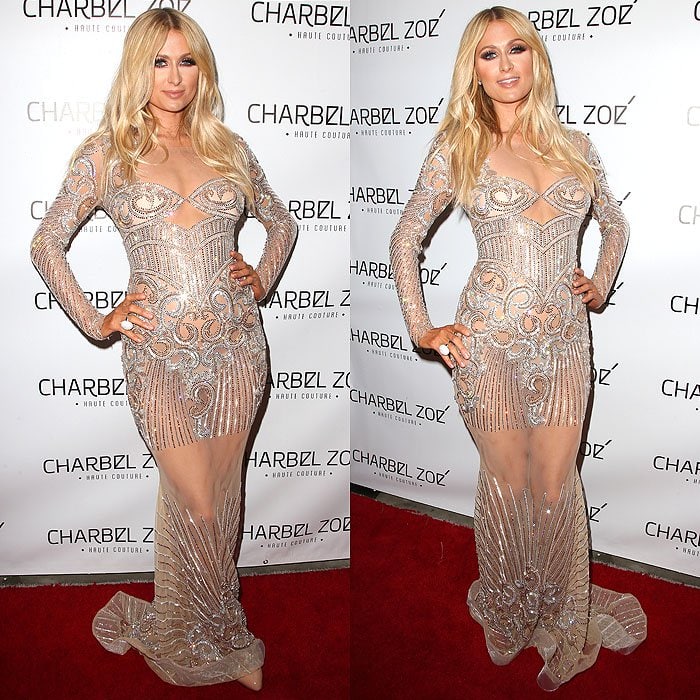 Paris Hilton at the launch party of designer Charbel Zoe's new Los Angeles flagship store at Charbel Zoe Haute Couture Store in Los Angeles, California, on April 7, 2015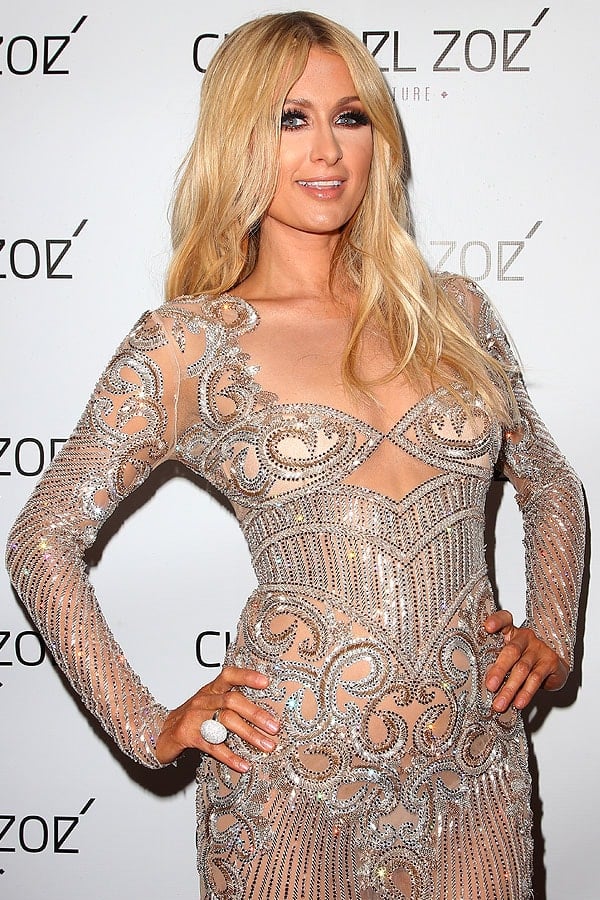 Not leaving anything to the imagination: Paris Hilton's flesh and flesh-tone underwear in full display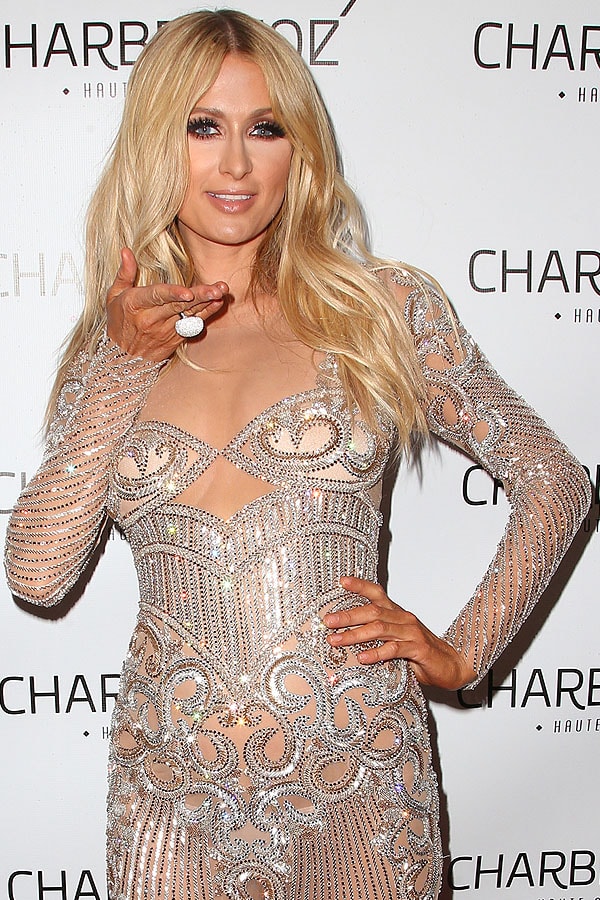 Paris Hilton's beige underwear visible through the sheer fabric of her Charbel Zoe couture dress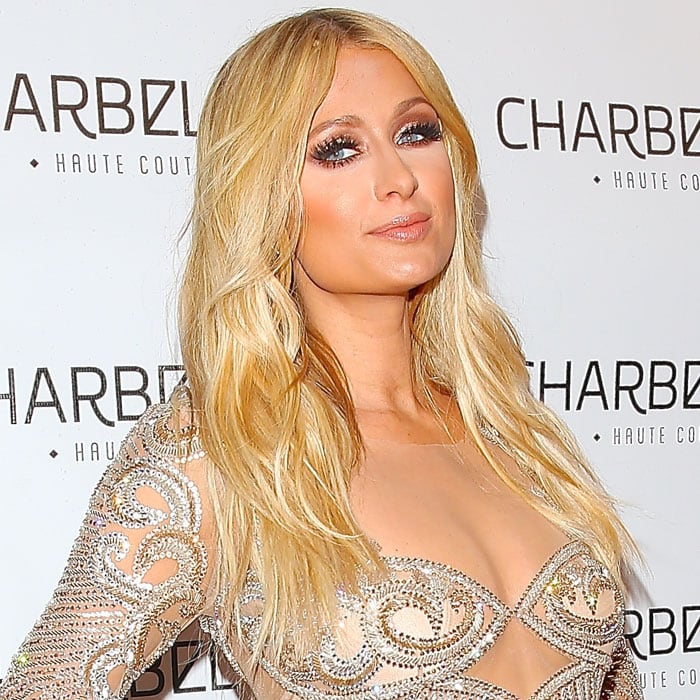 Inspired by Kim Kardashian? Paris Hilton sporting heavy spidery eyelashes
Paris Hilton's essentials in a see-through mesh-and-satin handbag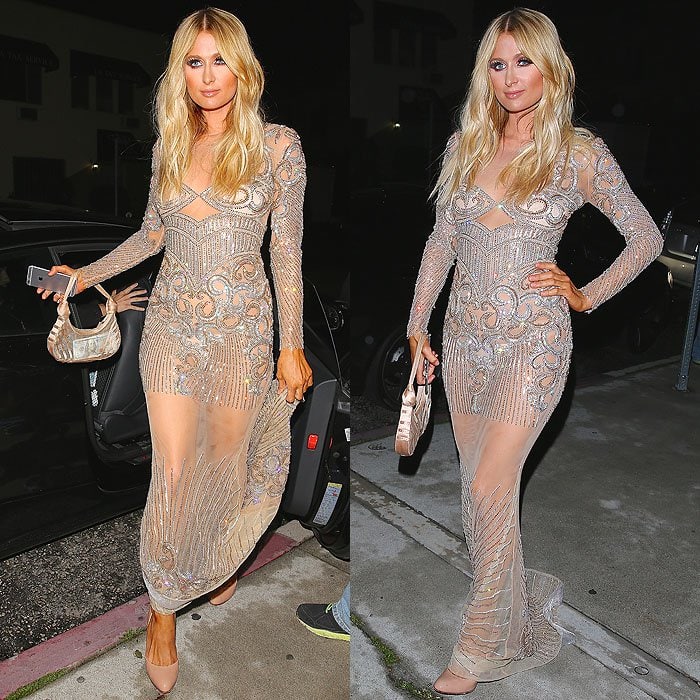 Paris Hilton stepping down from her car and arriving at the Charbel Zoe Haute Couture Store in Los Angeles, California
Below are the closeup pictures of Paris Hilton's nude patent pumps. Note the red soles and the crystal-embellished column heels that you can see gleaming through the dress's sheer hemline.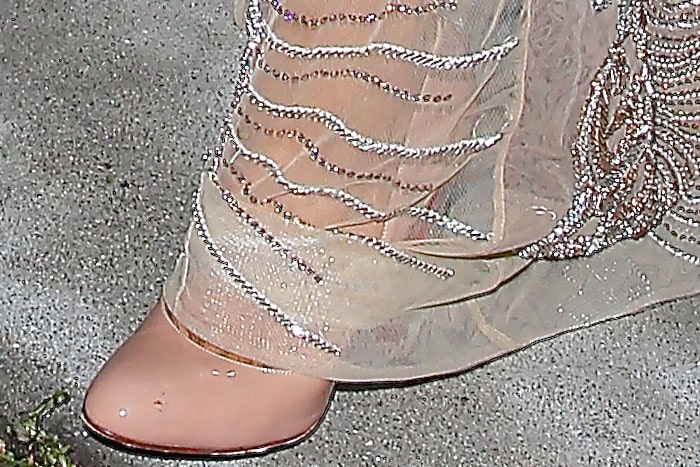 Christian Louboutin "Clichy" strass-heel nude patent pumps on Paris Hilton
The crystal-embellished heel of Paris Hilton's Louboutin "Clichy" pumps sparkling through her dress's sheer hem
Christian Louboutin Fall 2006 "Clichy" Strass-Heel Nude Patent Pumps
We've identified Paris' shoes as the Christian Louboutin "Clichy" pumps from the Fall 2006 collection. The shoes are a rare find now, but we think you can achieve the same look with similar nude patent pumps, a pack of hotfix crystals, and some creativity!
Check out the following wallet-friendly nude patent pumps with thick heels that we've selected below:
Clarks "Delsie Bliss" Nude Patent Platform Pumps, $54.99 – $134.99 at Amazon
Paris Hilton "Alani" Thick-Curved-Heel Platform Pumps, $24.99 to $39.99 at Amazon
Fergalicious "Sammi" Nude Patent Pumps, $34.99 at Amazon
Mootsies Tootsies "Ideall5 " Round-Toe Patent Pumps, $9.99 – $44.97 at Amazon
Credit: FayesVision/WENN