Paris Jackson, recognized for her fearless fashion choices and rocker-chic outfits, once again graced the spotlight at the Elizabeth Taylor Ball to End AIDS, held at the Beverly Hills Hotel in California on Thursday, September 21.
As a co-chair of the event, the 25-year-old daughter of the legendary Michael Jackson effortlessly made her presence felt.
She brought along her beloved canine companion, Koa, who added elegance to the already glamorous affair to further elevate the evening's charm.
For this dazzling soirée, Paris enlisted the creative prowess of stylist duo Dani + Emma to curate a breathtaking ensemble that would command the red carpet's attention.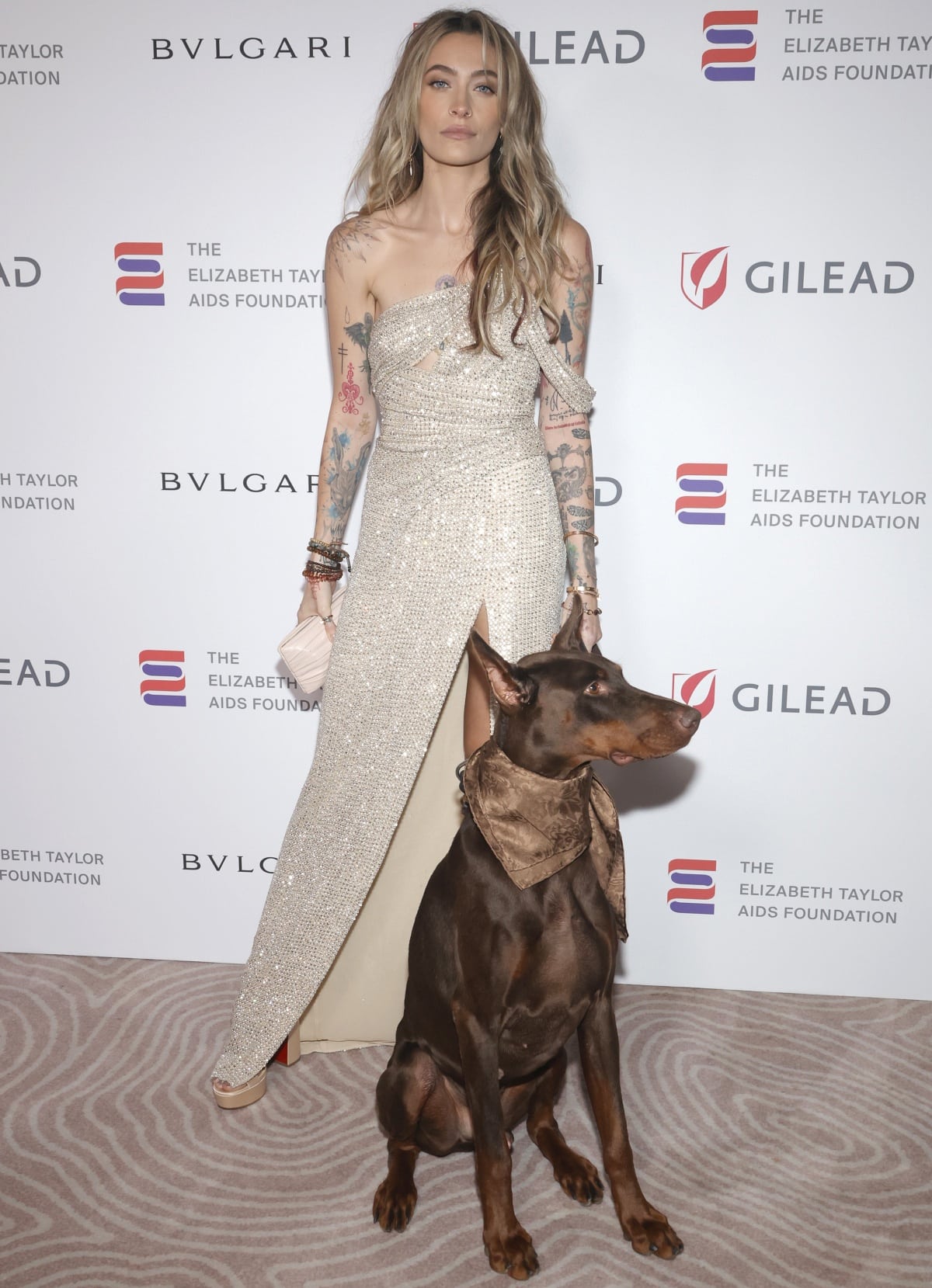 Paris Jackson making a shimmering entrance with canine companion Koa at the Elizabeth Taylor Ball to End AIDS held at The Beverly Hills Hotel in Beverly Hills, California on September 21, 2023 (Credit: Faye's Vision / Cover Images)
The result was spectacular: a champagne-colored Celine gown adorned with high-shine gold sequins that transformed her into a real-life magical princess.
This ethereal creation featured a draping asymmetrical bodice with a singular strap that gracefully rested on her shoulder, providing a striking canvas for showcasing her colorful chest tattoos.
The bodice's intricate cut-out details infused a touch of irresistible allure, and the gown's floor-sweeping elegance was heightened by a boldly daring side slit, which revealed a glimpse of her perfectly toned legs.
To complement her attire, Paris adorned herself with an array of statement jewelry, including elegant rings from Noudar and Cartier and delicate Le Vian earrings. Statement bracelet pieces adorned her wrist, perfectly matching the golden hoop nose rings that glistened with her sparkling gown.
Paris Jackson's beauty look consisted of a bronzed makeup palette, loose waves, and an assortment of jewelry from Noudar, Cartier, and Le Vian (Credit: Faye's Vision / Cover Images)
The American model and actress carried a chic nude Rodo clutch to complete her ensemble, ensuring she had all the essentials for the evening.
Paris' impeccable fashion sense extended to her hair and makeup, with loose waves blending her blonde and brunette tresses. Her bronzed makeup palette gave an irresistible radiance to her already luminous complexion.
A pair of beige Christian Louboutin Movida Sabina platform sandals added the finishing touch to her ensemble.
Available at Mytheresa and Nordstrom, these shoes feature shimmering satin uppers, rounded open toes, and ankle straps fastened with delicate buckles.
View this post on Instagram
The iconic red-lacquered soles synonymous with Louboutin added an unmistakable touch of glamour, while the 5-inch block heels not only provided a boost in height but also exuded undeniable confidence.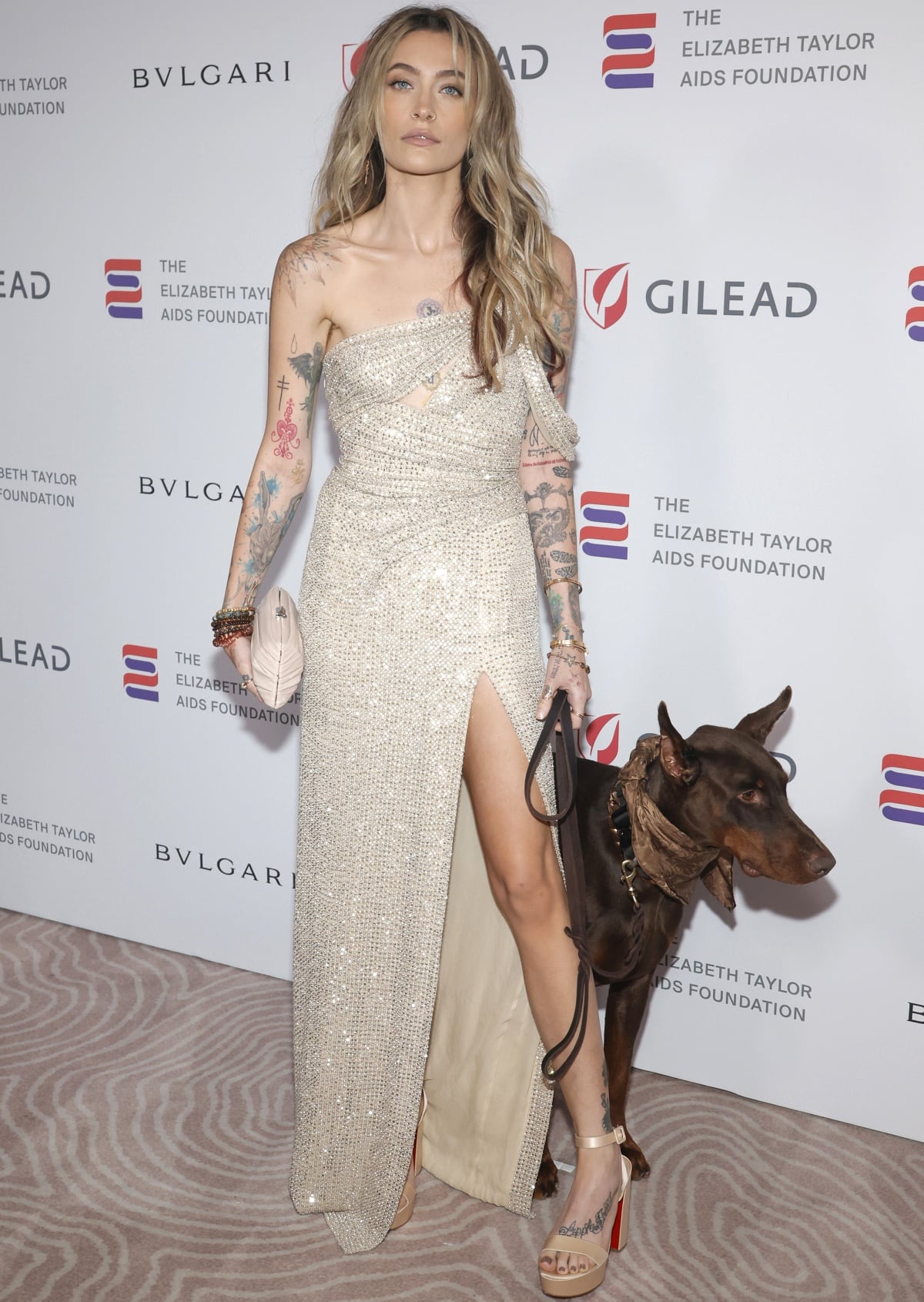 Paris Jackson wearing a pair of beige Christian Louboutin Movida Sabina platform heels (Credit: Faye's Vision / Cover Images)
While Paris Jackson's fashion choices undoubtedly captivated the audience, her furry companion, Koa, a Doberman Pinscher, shared the limelight.
Proudly accompanying Paris on the red carpet on a leash, Koa exuded an air of sophistication in a dark brown handkerchief that beautifully complemented his lustrous coat and brown eyes.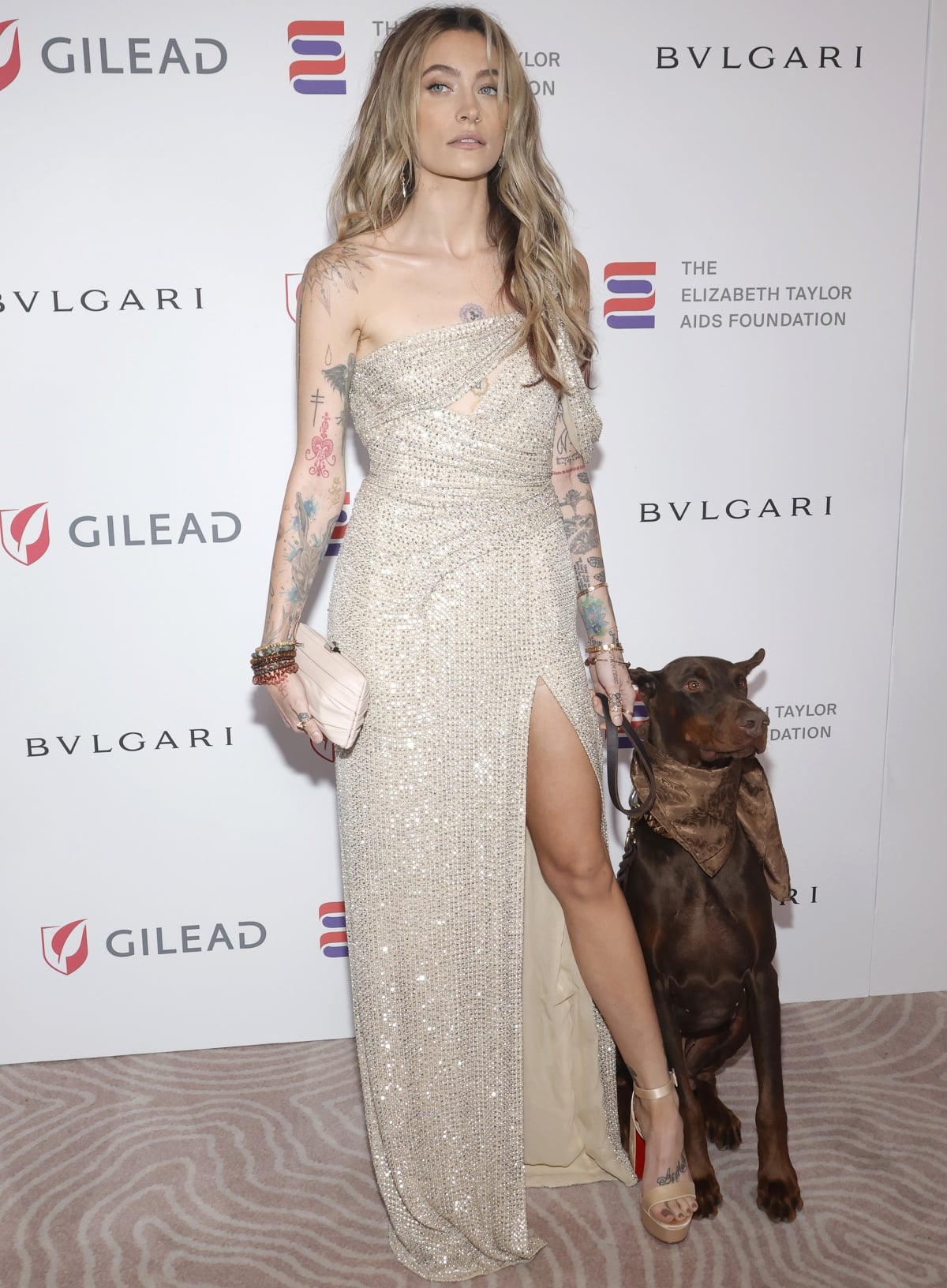 Paris Jackson's beloved pup Koa exuded an air of sophistication at the star-studded event (Credit: Faye's Vision / Cover Images)
Their heartwarming appearance showcased the special bond between a pet and its owner. Paris has been frequently seen walking her beloved Doberman Pinscher in Los Angeles, and the pup has been her loyal companion during her tour.
Aside from her fashion flair, Paris is known for her love for dogs, often sharing adorable moments with her four-legged friends on social media. Her Instagram posts reflect her deep affection for her pets, highlighting their unique place in her heart.
View this post on Instagram
In a particularly affectionate Instagram post from January, Paris shared a carousel of images featuring herself and her canine companion, accompanied by a simple caption: "babe."