Patricia Nash is a vintage lover's paradise. Inspired by a passion for travel, this quirky American brand is full of nostalgia.
This eponymous brand is headed by Patricia Nash, who draws on her "extensive travels and fond memories of cherished people and places in her designs."
She started her career working for other brands before discovering a vintage bag in her mother's closet, which led her to launch Patricia Nash Designs in 2010.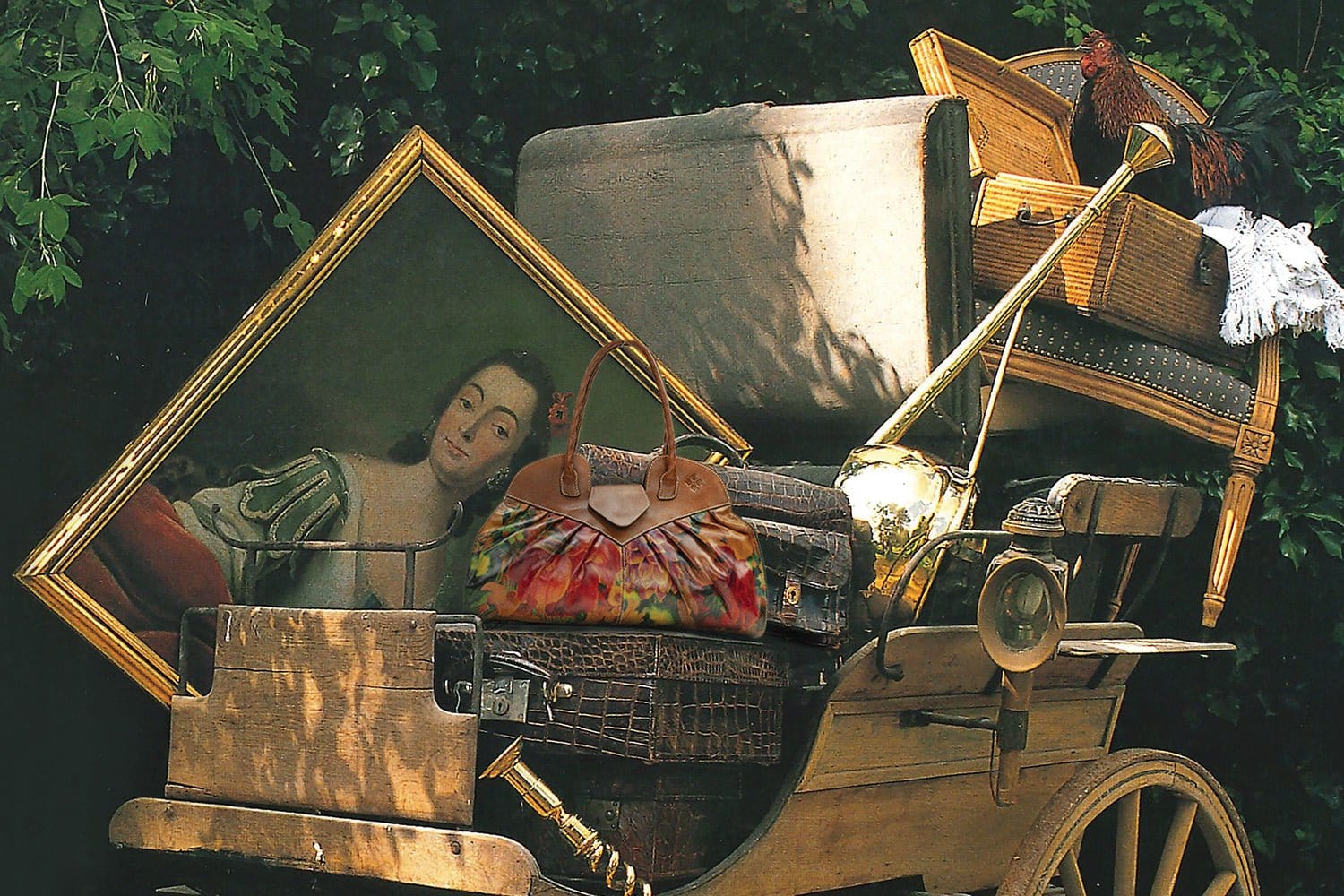 Patricia Nash is a popular bag and accessories brand among vintage lovers (Credit: Patricia Nash Designs)
While not typically classified as a "luxury" brand in the same vein as brands like Louis Vuitton, Chanel, or Gucci, Patricia Nash is known for its high-quality leather goods, vintage-inspired designs, and detailed craftsmanship.
The brand occupies a space often referred to as "accessible luxury" or "premium," where products are made with quality and care but are more accessible in terms of price than high-end luxury brands.
We're deep diving into the world of Patricia Nash, showing the most popular Patricia Nash bags and answering the most frequently asked questions about the brand.
Patricia Nash's First Adventure into Entrepreneurship
Patricia's first adventure into entrepreneurism came with the help of her children. As her first commercial product, she launched the 'Mommy's Little Helper' aprons in 1987.
She was inspired to launch her brand after discovering an old handbag of her mother's that had aged beautifully. Her designs draw heavily from her extensive travels, focusing on European craftsmanship.
Patricia Nash founded her eponymous fashion label in 2010 after discovering a vintage bag in her mother's closet (Credit: Patricia Nash Designs)
Patricia Nash Designs was launched in 2010 in Knoxville, Tennessee, and met with almost instant success.
Since launching her eponymous brand, Patricia Nash has worked for several household names, including Warner Bros, Disney, American Eagle, and Banana Republic.
The vintage designs are intended to invoke the nostalgia of past lives, such as our grandmothers. These classic silhouettes are made contemporary for a casual chic and bohemian look.
Since launching her brand, Patricia has designed handbags and accessories for Hollywood movies, including Mary Poppins Returns and Murder on the Orient Express.
What Is Patricia Nash Known For?
Patricia Nash describes the brand as "an appreciation of exceptional craftsmanship and a love of vintage-inspired keepsakes for people everywhere." The brand leans heavily into our senses when designing—provoking memories of small moments in life.
Every design carries a vintage-inspired silhouette. It goes back to the brand's origin after Patricia found a fifty-year-old handbag in her mother's closet. Each Patricia Nash handbag tells its own story with its vintage detailing.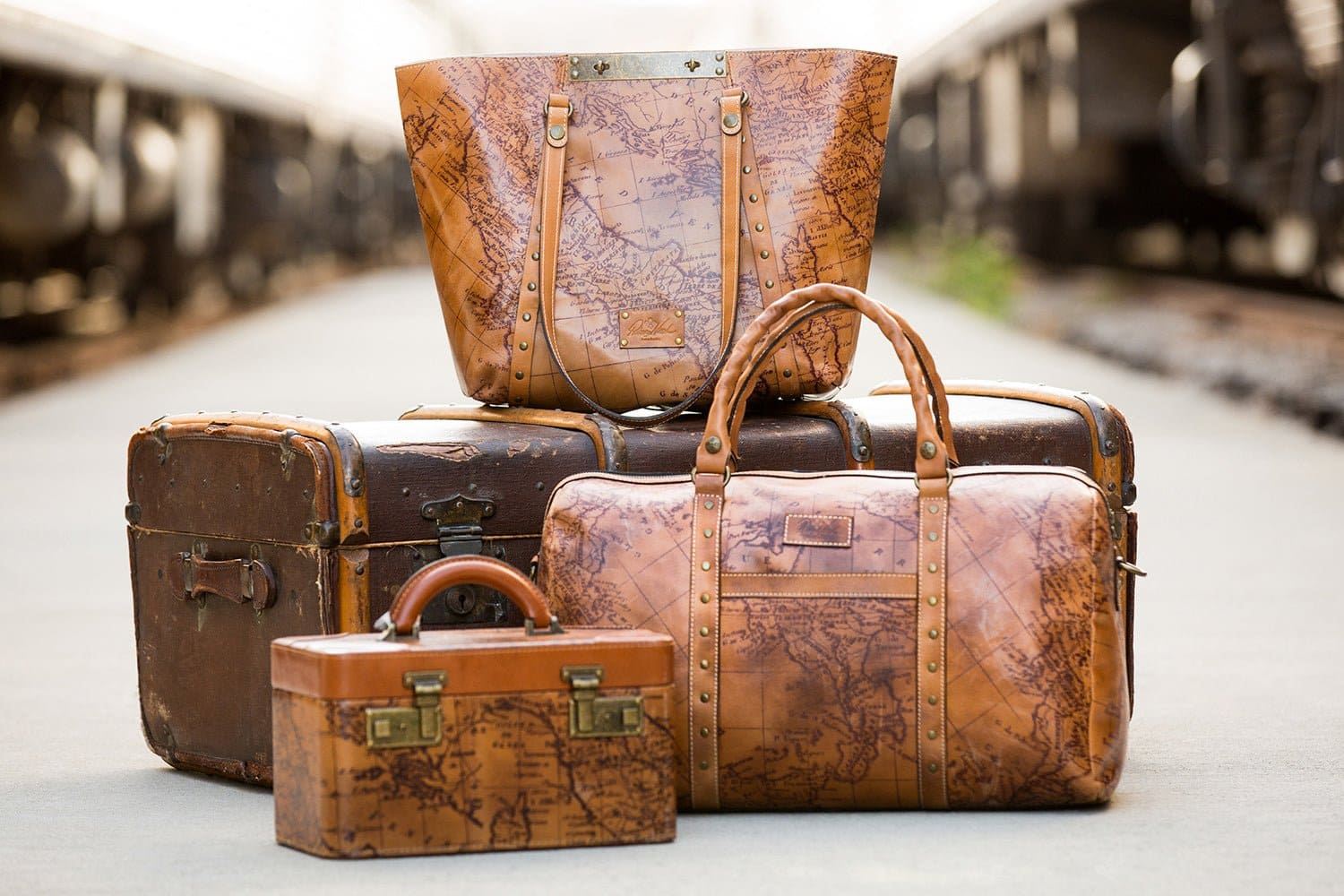 Patricia Nash is known for its vintage-inspired designs (Credit: Patricia Nash Designs)
Patricia Nash handbags have several synonymous elements. The signature map was inspired by Patricia's travels to Italy and showcases cities and borders that no longer exist today.
Another classic Patricia Nash detailing is its vintage coins. These coins are inspired by countries around the world and offer a subtle nod to a time gone by.
Where Are Patricia Nash Bags Made?
Patricia Nash bags are known for their appreciation of 'old world craftsmanship.' Their handbags are made using high-quality hardware and full-grain leather.
Patricia Nash bags are designed in the United States but are manufactured in China. A pre-COVID interview with Knoxville News Sentinel revealed that Patricia Nash regularly visits their China factories.
"Lots of times, the design concepts aren't something that's already out there, so I'm really training these people along with myself sometimes," Nash said about working closely with her Fair Trade Certified Chinese manufacturing partners.
"If it's a new weave or a new way I want to do handles, or coins on a bag – I'm spacing the coins out or showing them how they should be sewn on. I'm collaborating with them on the hands on process. Doing that is much more effective than sending them a description."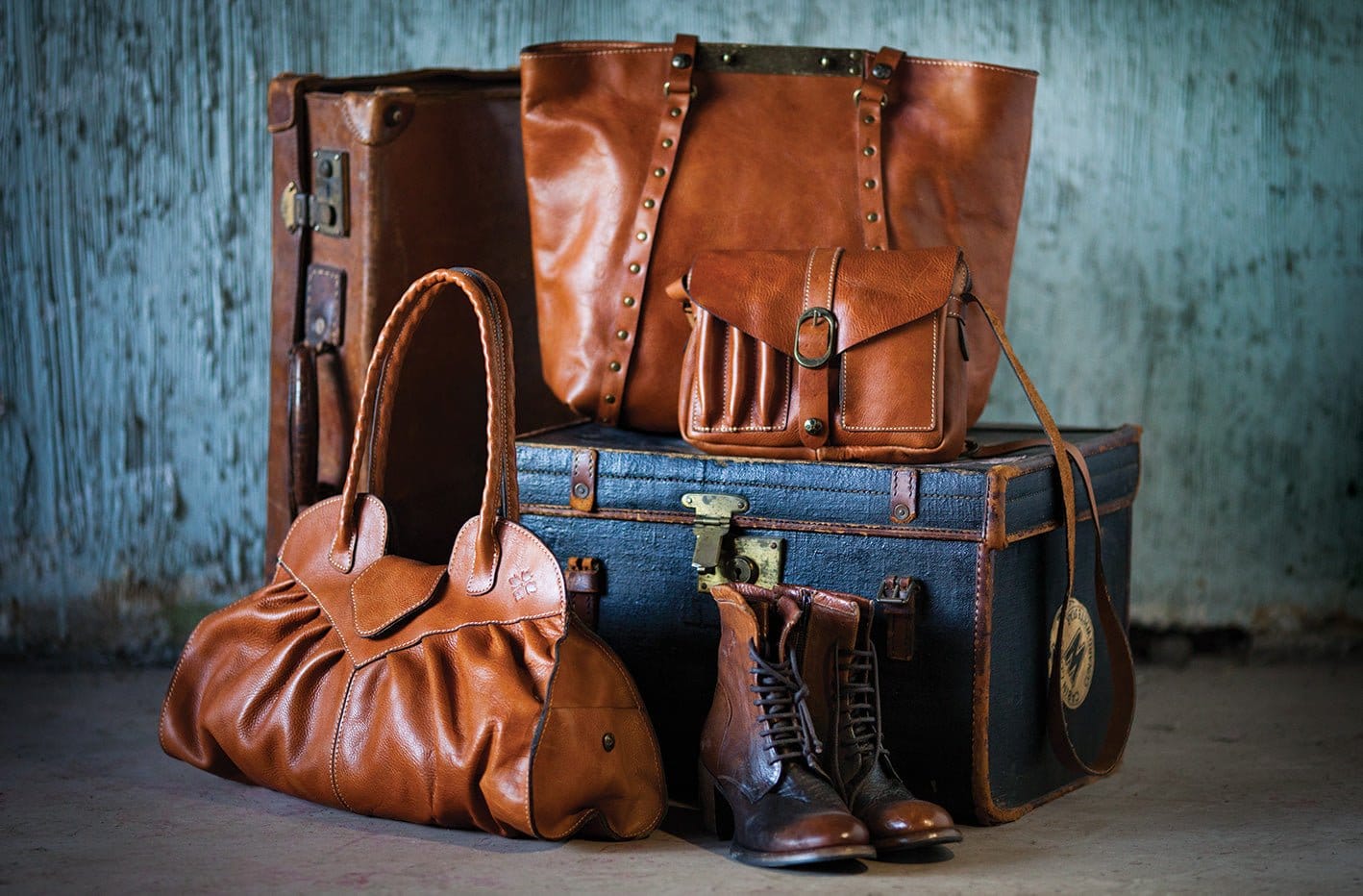 Patricia Nash bags are crafted from high-quality, full-grained vegetable-tanned leather (Credit: Patricia Nash Designs)
Patricia Nash bags are created using full-grain vegetable-tanned leathers that are tanned using the bark of a mimosa tree. The brand focuses on European-style craftsmanship, from hand-cut leather to hand burnishing to create a custom leather look.
Every Patricia Nash bag has the brand's grape leaf floret logo stamped on the leather or the hardware. It's a minimalistic logo ideal for those who prefer a more subtle look.
How to Care for Patricia Nash Bags
Patricia Nash bags are made using 100% leather that does not contain split or synthetic leather. Italian mimosa trees are used for the brand's vegetable-tanned leather, continuing a century-old tradition from Italy.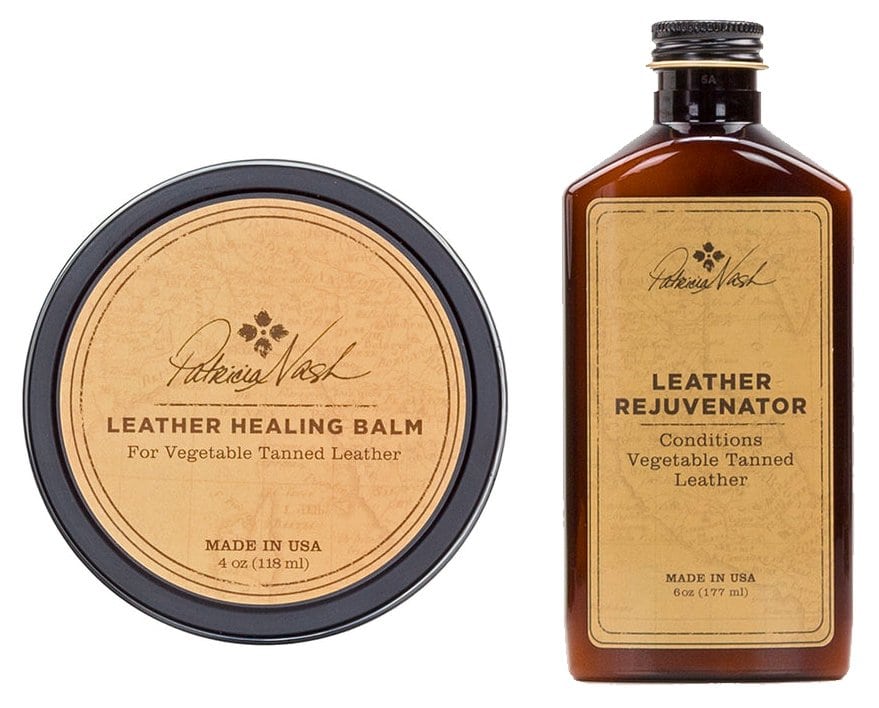 Patricia Nash recommends using the Healing Balm and Leather Rejuvenator to maintain the softness of its leather handbags
The brand recommends using the Patricia Nash 'Healing Balm' and 'Leather Rejuvenator' to protect your leather handbags and maintain their soft and supple texture.
Leather handbags can become damaged if exposed to excess weather. Leather can naturally change color if exposed to the elements or intensive rain.
The Most Popular Patricia Nash Bags
Are you thinking of adding a vintage-inspired Patricia Nash bag to your collection? Patricia Nash bags are found on the brand's official website and through authorized retailers, including Amazon, Zappos, Macy's, and Dillard's.
We're rounding up the most popular Patricia Nash bags to help you find the right one to kickstart your collection.
1. Micaela Baguette, $169
Jump on the baguette bag trend with an Italian twist. This classic shoulder bag has us nostalgic for the '90s with its rose-tooled pattern and hook-lock closure.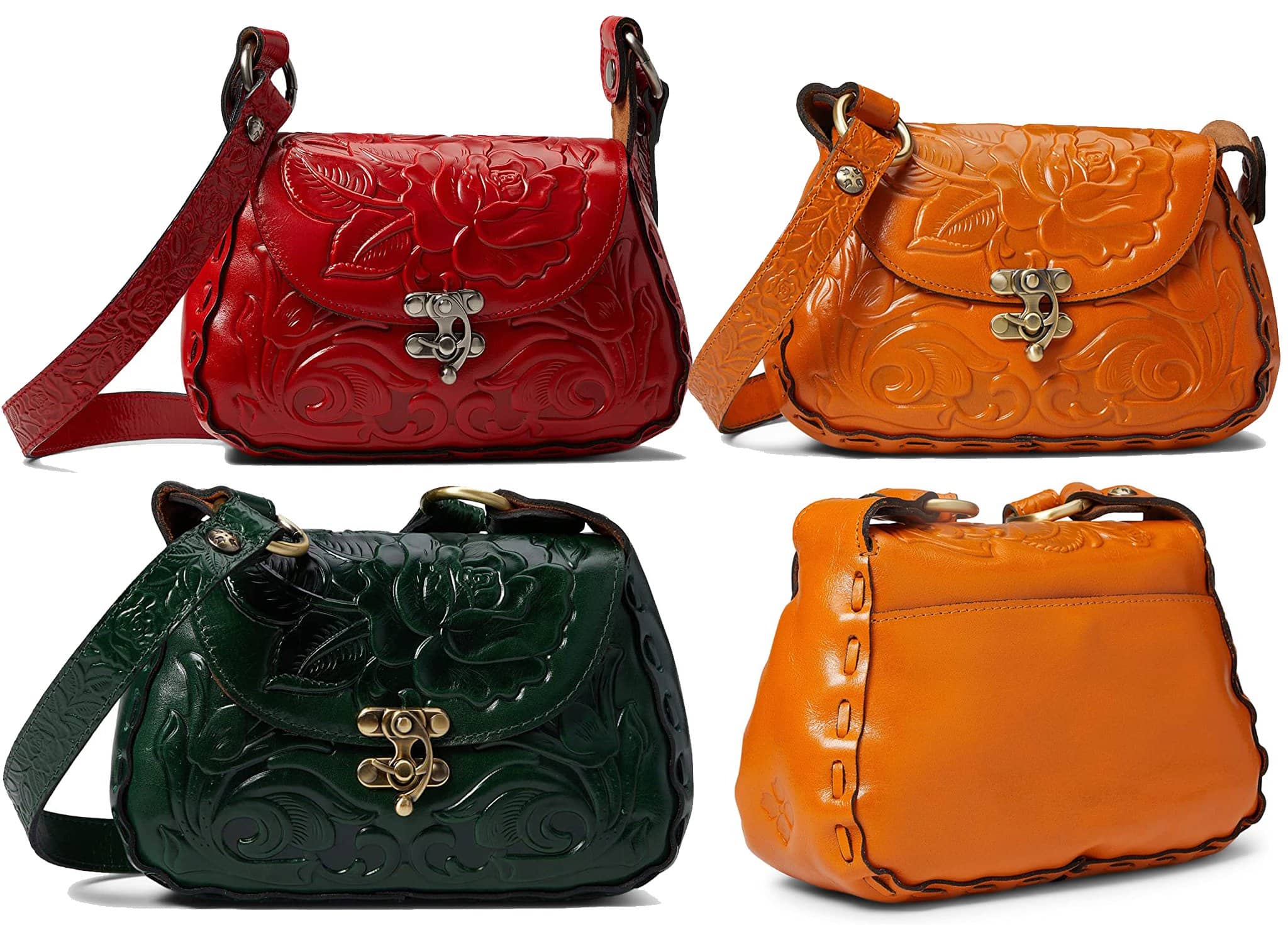 A classic shoulder bag silhouette featuring Patricia Nash's signature rose-tooled pattern and whipstitched edges
It's available in various colors, including papaya, soft green, safflower blue, earth-toned green, and warm tan leather.
2. Veneto Crossbody, $169
"Veneto" is a classic petite crossbody bag designed with the minimalist in mind. It's the perfect size to hold all your essentials for a day in the city or your next vacation.
This bag features the same hook-lock closure as the Micaela Baguette bag.

The Veneto Crossbody boasts a minimalist profile and Patricia Nash's deep embossed grape leaf logo at the front
3. London Saddle Bag, $229
Embrace your inner Lady of the Manor with this timeless English-inspired "London" saddle bag.
It's a classic and sleek bag that is reminiscent of vintage Mulberry. You can use the adjustable strap to wear it off the shoulder or as a crossbody.

Patricia Nash's London Saddle Bag comes in a classic saddle bag silhouette with an adjustable strap, signature brushed metal hardware, and the deep embossed grape leaf logo
Its $229 price point makes it an ideal entry-level choice for your first designer handbag.
4. Zancona Tote, $189
Patricia Nash is a brand that's inspired by a passion for travel. Unsurprisingly, one of its best-sellers is a classic tote bag designed to carry everything you need for your next adventure.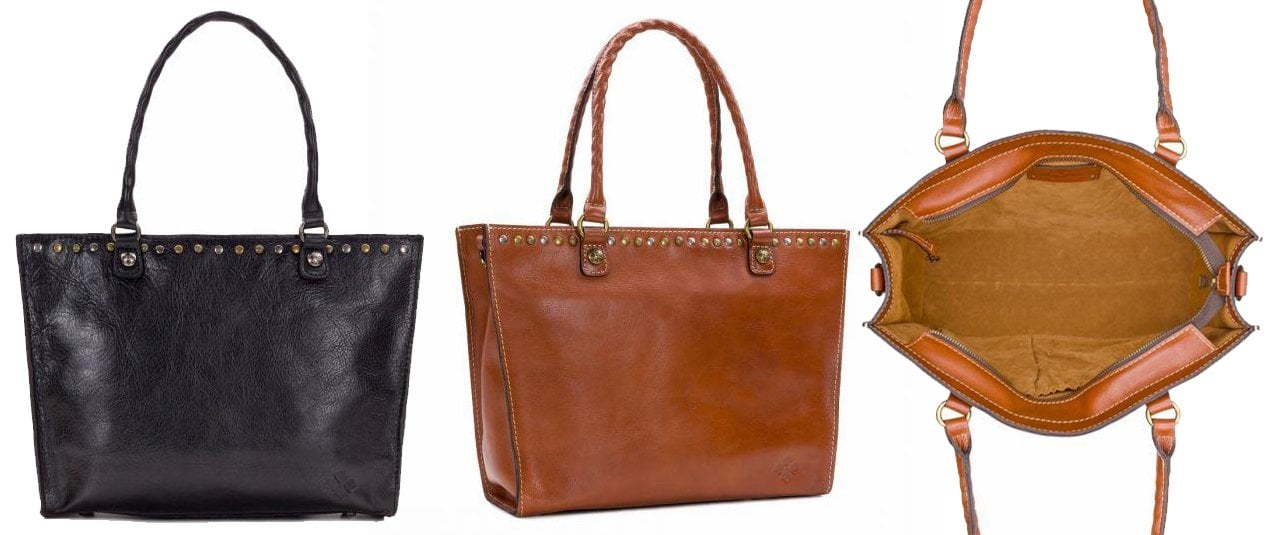 A sophisticated tote bag with a minimalist shape and sleek lines, updated with edgy stud detailing and twisted rope top handles
The "Zancona" tote is an everyday tote that you can use for the office, travel, or fun. It features a rear zip pocket and zipper closure for extra organization.
5. Cavo Tote, $229
Want a tote with a quirkier feel? Check out the "Cavo" tote. This bag is fashion meets function with a classic silhouette and a vintage-inspired cut-out tooled design.
The twisted rope handles, tassel, and scallop trim give the bag a bohemian look.
Blending fashion and function, the Cavo tote features an exquisite cut-out tooled design with metallic background, twisted handles, and scallop trims
6. Elsworth Shoulder Bag, $249
Throw it back to the '60s with the "Elsworth" shoulder bag. Its kiss-lock closure and cut-out tooling will transport you back to shows like Mad Men and The Marvelous Mrs. Maisel.
A statement-making spacious bag that opens wide with its kiss-lock closure
7. Silvi Tote, $179
Explore Patricia Nash's signature canvas print with its "Silvi" tote. This bag features a vintage European map and is designed with globetrotting in mind. It'll hold up to a 15-inch laptop and all your other travel essentials.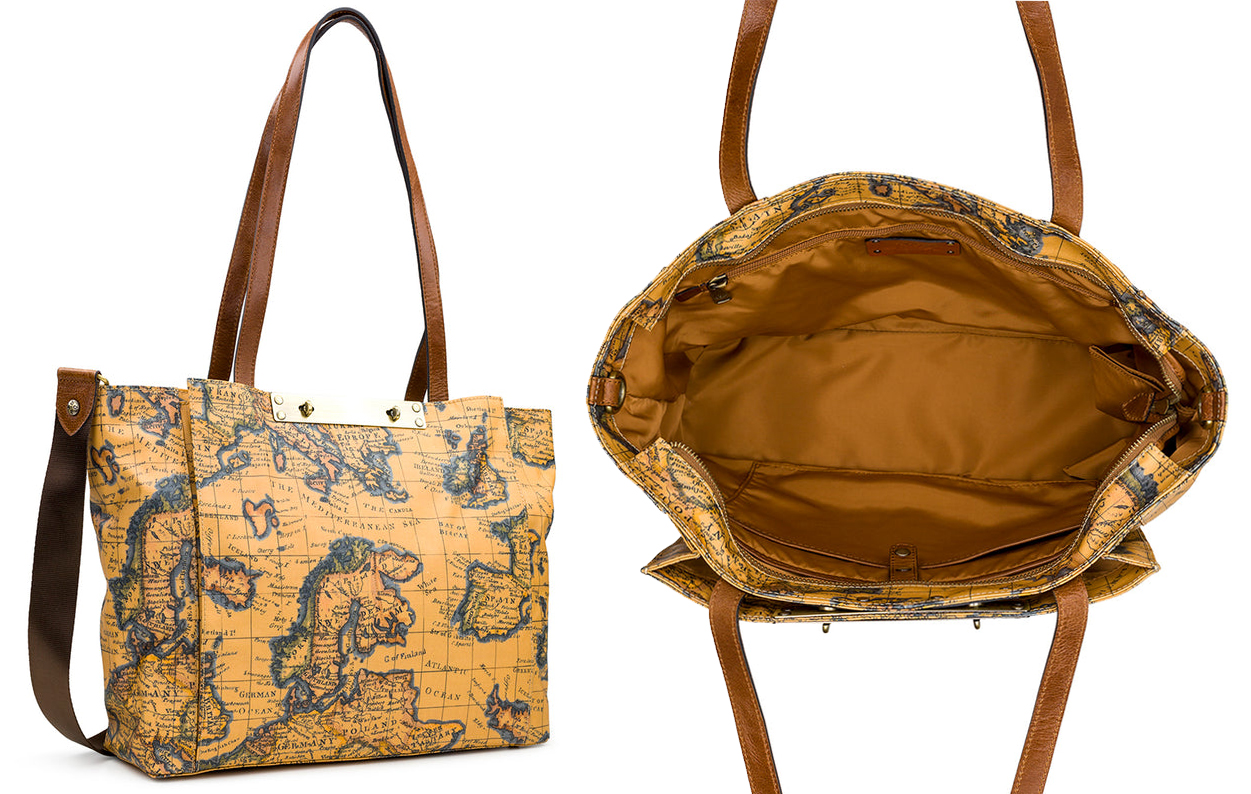 The Silvi tote is a polished and practical travel bag that can sit nicely on your rolling luggage
Patricia Nash is the go-to handbag brand for women who want understated luxury with an appreciation for traditional European craftsmanship. You can learn more about Patricia Nash bags by visiting the official website.