Oops, how many times has she "done it"? Speculation of Britney Spears undergoing plastic surgery has been a question for years. Before we dig deep, take a look at these two reference photos.
The first seems to be before she's had any work done. Her aging and face are consistent with younger pictures. The second is when she graced V Magazine's cover (available on Amazon) and started rumors about her new look – particularly, her new face.
Singer Britney Spears attends the 26th Annual American Music Awards on January 11, 1999, at Shrine Auditorium in Los Angeles, California (L) and on the cover of V Magazine #100 (Spring, 2016)
In an interview with The Daily Star, a cosmetic surgeon commented on his professional thoughts as to whether or not Britney underwent surgery.
He stated, "I believe that Britney has had a nose job to create a slimmer and more feminine shape to her front profile. It's clear that the tip of her nose is slender and less bulbous in the more recent images of her".
They went on to state that she has likely had "Botox to her forehead and around her eyes" to decrease wrinkles with age and lift her brows as seen in the picture on the right.
Britney Spears in the music video for "…Baby One More Time," her debut single from 1999
Britney has admitted to the use of fillers over the years, but not commented on anything else. Besides fillers and a nose job, many speculate that the pop-singer has also had breast augmentation.
The star is mother to two children and has notoriously fluctuated with her weight throughout her career. This will lead to changes in her appearance for the face, breasts, and elasticity of the skin. Others say it's heavy photoshop, but when you watch her in videos the difference is just as striking when compared to her youthful, unaltered past self.
Some plastic surgeons suggest Britney undergoes Botox a little too often, being every few weeks as opposed to every few months to keep up her appearances. As for her breasts, there is a noticeable difference that lacks any other explanation.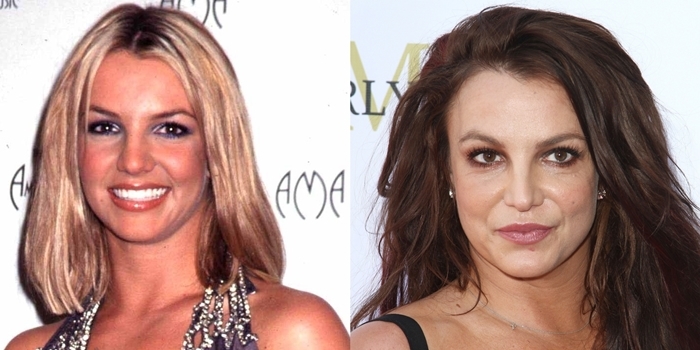 Before and after rumored plastic surgery: Britney Spears at the 27th Annual American Music Awards on January 17, 2000 (L) and at the Beauty Awards in Los Angeles on September 20, 2019
According to Rolling Stone, Britney's mother allowed her daughter to undergo breast augmentation surgery when she was only a teenager. Though fans speculate that due to her getting implants at such an early age, she took them out later on.
According to an anonymous friend, Britney "regretted the implants, particularly because her chest was still growing," the friend says.
"When her natural breasts became larger, she had the implants removed." On the other side of the fence, fans think she may have replaced them for smaller ones for a while and recently gone up in size again. In any case, her inconsistency in cleavage it likely explained to breast implants.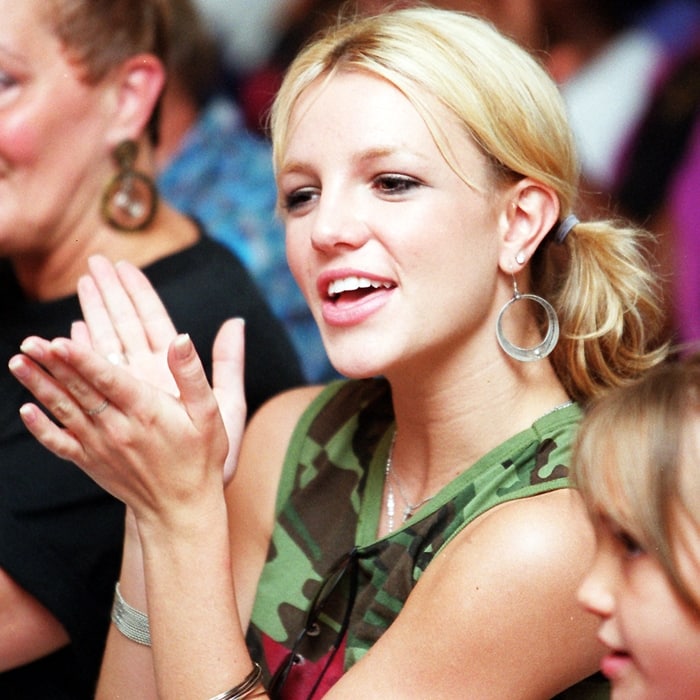 Britney Spears visits her charitable summer camp for kids in 2010
We've covered eyes, fillers, nose, and breasts. What about lip injections? This is another area Britney confessed to, during an interview with InStyle back in 2013.
I just bought the new Shiseido face wash and moisturizer. I have no problem trying new brands. A doctor I see, [Beverly Hills plastic surgeon] Dr. [Raj] Kanodia, does fun stuff to me sometimes — I've had lip injections before.

He has this peptide-based face-care product; it's green and slimy, and you mix it together and put it on your face. It does wonders. You leave it on overnight. Can you tell I love skin care?
While it seems the evidence is all pointing to Britney having undergone several plastic surgeries over the years, like most stars, she remains hush on letting fans in on the truth. No matter the verdict, we think she looks fantastic! Oh, and #freebritney.
Britney Spears attends the Los Angeles premiere of "Once Upon A Time In Hollywood" at TCL Chinese Theatre on July 22, 2019 in Hollywood, California
Like many celebs, Britney Spears switches between multiple outfits at the same event. At the 2016 Billboard Music Awards, Brit changed into an outfit that, by the pop star's standards, was considered "modest."
Britney Spears receives The Billboard Millennium Award, which was established in 2011 to recognize music singers and contributions
It's definitely not the type of outfit we'd think of when we heard the word "modest," but it was definitely the one that gave her the most coverage throughout the night.
After arriving and putting on an electrifying performance of her greatest hits in skimpy outfits (and basically showing she has recovered leaps and bounds from her 2007 breakdown), Britney changed into one more press room outfit after being honored with the "Millennium Award."
Britney Spears flaunts her legs at the 2016 Billboard Music Awards Press Room at T-Mobile Arena Las Vegas on May 22, 2016
Britney changed into a fully embellished crop top and skirt combo by Charbel Zoe Couture.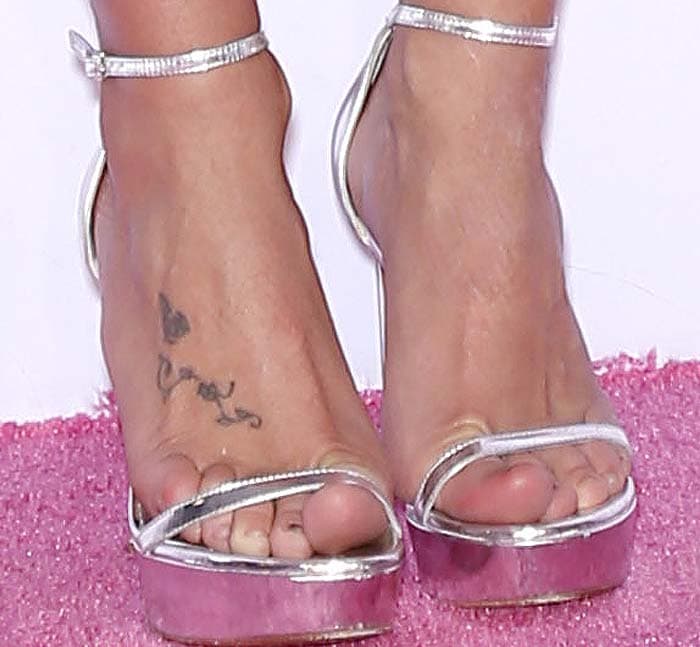 Britney Spears shows off her feet in silver Stuart Weitzman "Nudistplatform" sandals
The two-piece couture was beautifully constructed with strategic cutouts but failed to elevate Britney's red carpet game. We're pretty tired of seeing her underwear.
The pop icon wore her top and skirt with a pair of silver Stuart Weitzman "Nudistplatform" sandals.
Britney Spears sticks out her tongue as she makes her way up the 2016 Billboard Music Awards press room stage with her "Millennium Award"
Britney received the "Millennium Award" for her undeniable influence on the industry, and the pop star gave the love back by posting a shout out on Instagram to her fans.
Grab Britney's final BBMA look by fishing for a pair of the Stuart Weitzman "Nudistplatform" sandals at Nordstrom and Zappos.
Stuart Weitzman Nudistplatform Sandals, $304.99 – $435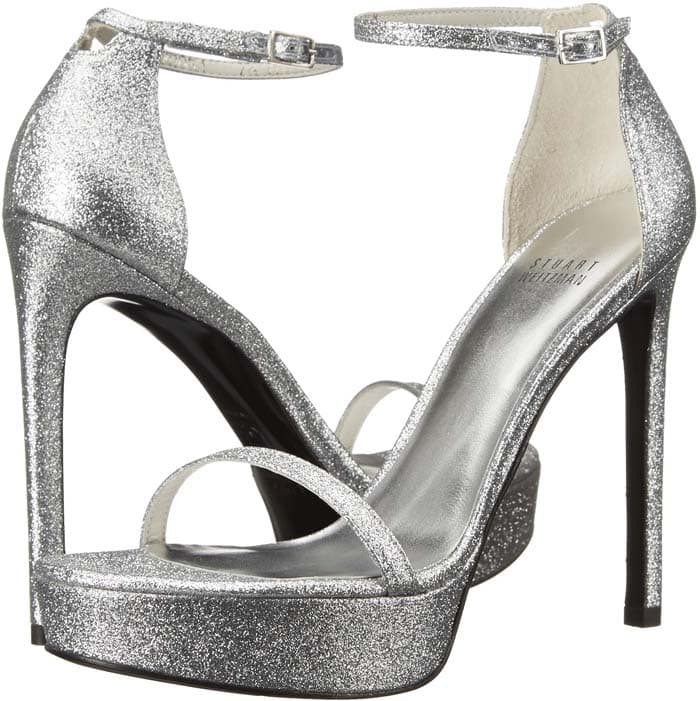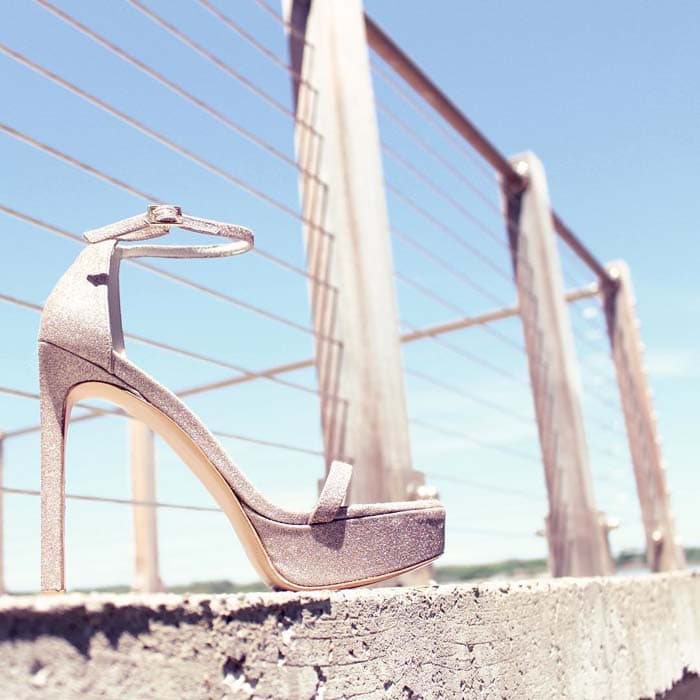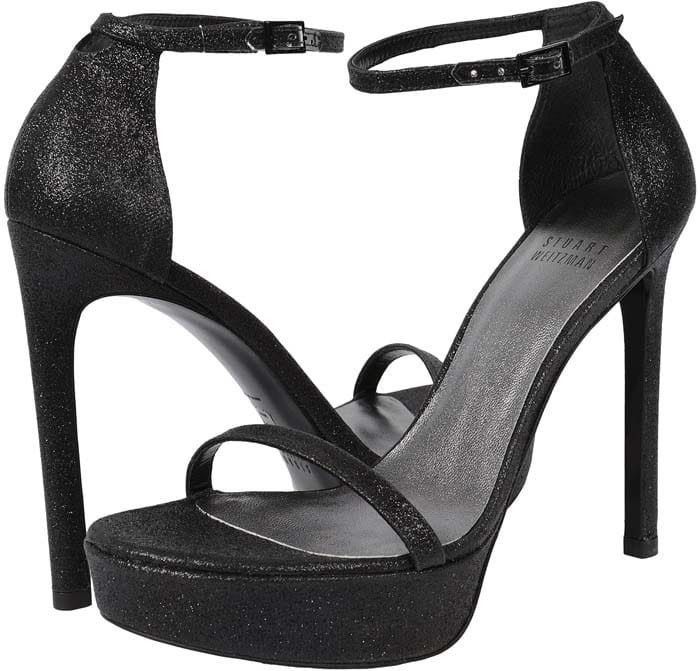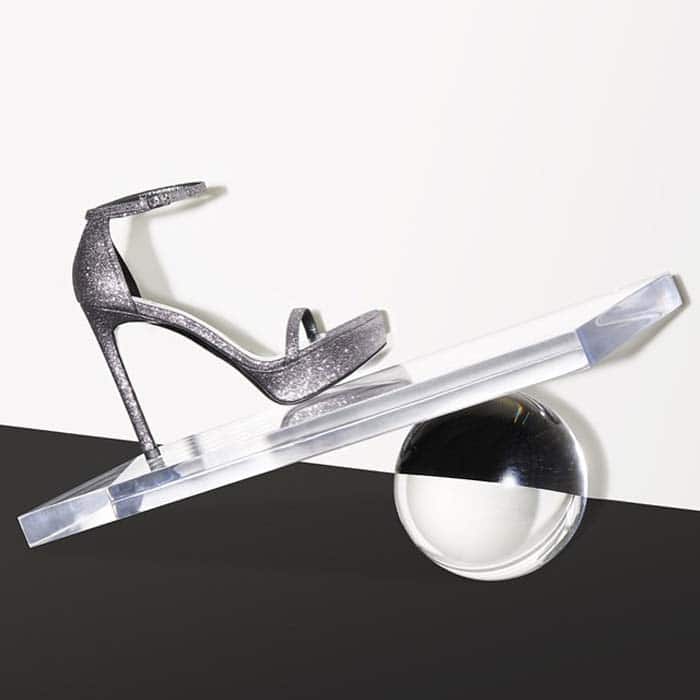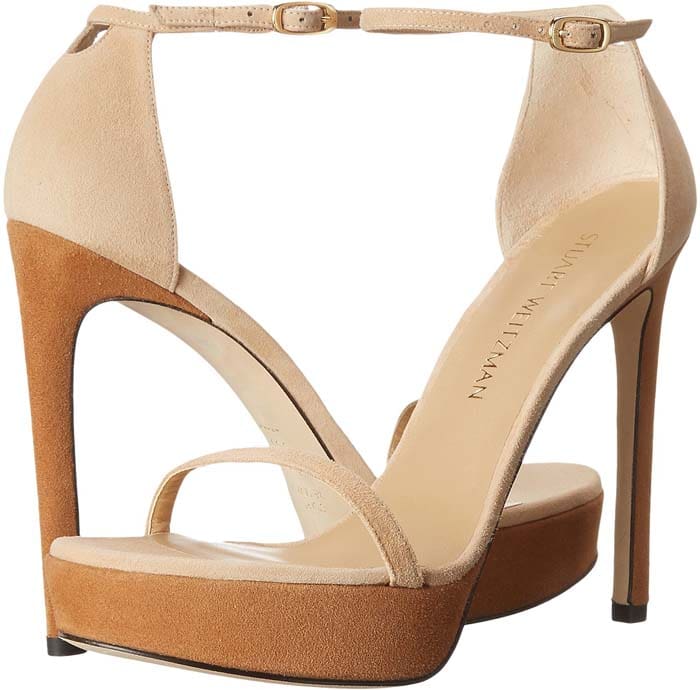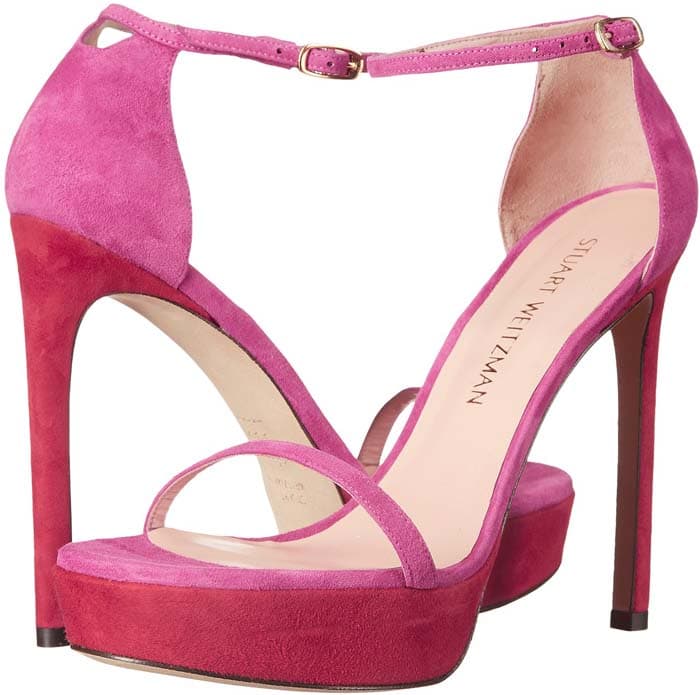 Credit: Judy Eddy / WENN / Chris Connor / Manny Hernandez / Avalon