Has Lady Gaga had plastic surgery to look the part? According to a 2011 interview with Harper's Bazaar, she's never had fillers or gone under the knife.
"I have never had plastic surgery, and there are many pop singers who have. I think that promoting insecurity in the form of plastic surgery is infinitely more harmful than an artistic expression related to body modification," she told the magazine about keeping everything as natural as possible.
Below, you can see how she looked in 2006 (photographed by Gene Bolan) and in 2019 at the Oscars. Do you think her nose and facial structure have changed?
Before and after rumored plastic surgery: Lady Gaga pictured in 2006 (L) and 2019 (R)
"And how many models and actresses do you see on magazine covers who have brand-new faces and have had plastic surgery, while I myself have never had any plastic surgery? I am an artist, and I have the ability and the free will to choose the way the world will envision me," the "A Star is Born" star added in the interview.
Speaking to Sky News in November 2018, Gaga said: "I was told when I was first starting out that I should get a nose job, but I didn't because I wanted to be who I was."
Check out the video below showing how the entertainer looked before she became famous.
In 2013, Lady Gaga discussed plastic surgery rumors and facial injections in an interview with American radio personality Howard Stern.
I've never had any work-work done, but I went through a phase when I was smoking pot when I was really obsessed with getting facial injections…I was going to this strip mall in Chicago in the back…Everybody was like, 'You are a nut job.'…I'm telling you, I wasn't exactly in the best frame of mind, and I would smoke a bunch of joints and have some drinks and I would be like, 'Oh, let's go see my girl' and we would drive to this strip mall and I would get shot up with a bunch of whatever, Juvéderm, and then leave…Now all the stuff is gone. Before I shot the 'Applause' video, [a photographer friend] was like, 'Gaga, I love you but if you don't stop injecting s–t in your face I'm going to just kill you.
Shrouding her eyes with Cooper-esque black makeup, Lady Gaga channeled 70s rock god Alice Cooper during her performance on the finale of the reality show Dancing With the Stars on May 19, 2009
Lady Gaga has never been one to shy away from bold fashion choices, and her outfits during a London trip in November 2015 proved it.
In fact, we're so used to seeing her in such outrageous outfits, that when she looks almost normal, we hardly recognize her.
Lady Gaga wears her bleached blonde hair up as she leaves a London recording studio on November 24, 2015
At the time, Mother Monster was spending a lot of time at the recording studio with "Uptown Funk" hitmaker, Mark Ronson.
She also found time to attend the British Fashion Awards in a stunning red Tom Ford dress.
Lady Gaga is never one to shy away from bold fashion choices. It doesn't really matter if that bold choice pays off or not.
Lady Gaga leaves a London recording studio in a one-piece leotard under an embellished leather jacket
November 24 was one of those rare days where we saw both the semi-outrageous and almost normal sides of the "Pokerface" singer.
Gaga stepped out of a recording studio in London wearing a one-piece leotard under an embellished leather jacket paired with tacky black stockings.
Lady Gaga's feet in Azzedine Alaïa combat boots
The then 29-year-old American singer, songwriter, and actress paired the outfit with platform combat booties from one of her favorite footwear brands, Azzedine Alaïa.
Lady Gaga's booties are no longer available, but check out this alternative from the same brand at Mytheresa.
Black Azzedine Alaïa Patent Trecking Boots, $1,255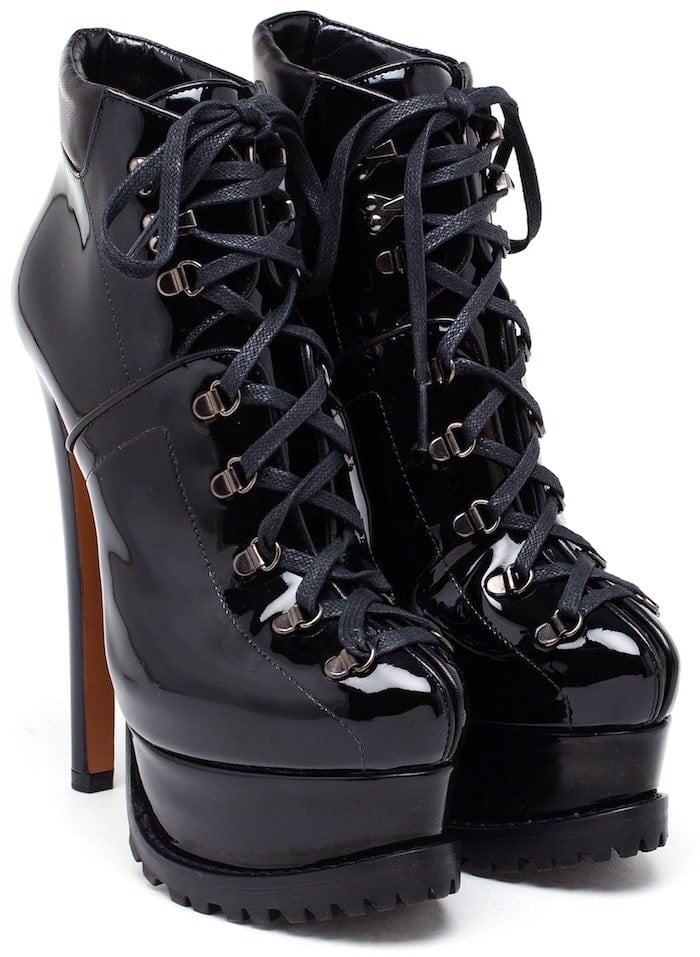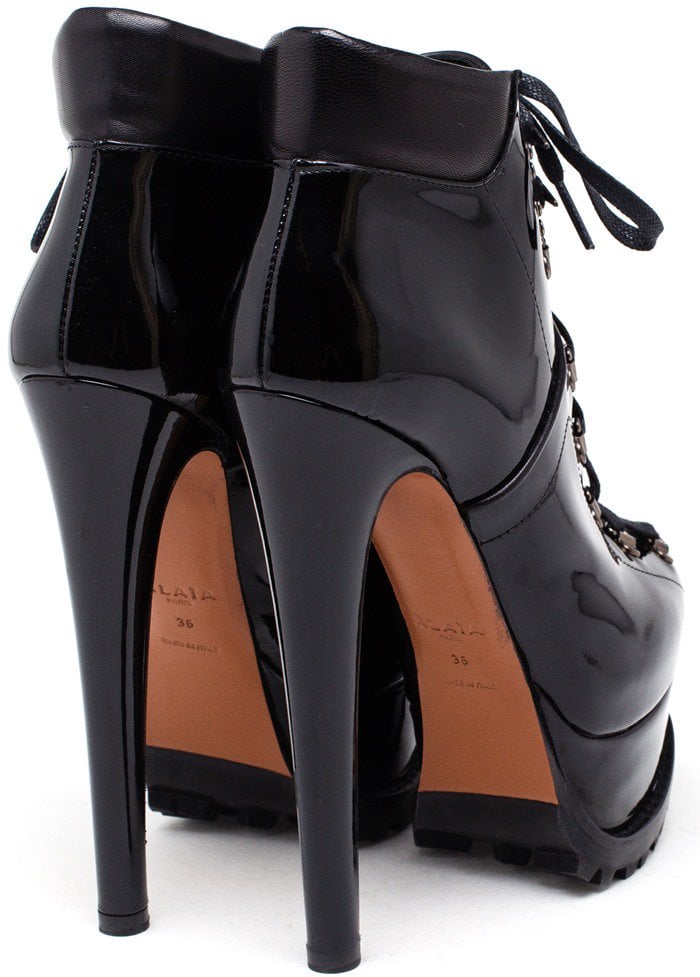 The hit singer went from trash to class as she later emerged from a London supermarket in a pretty normal outfit — normal by Gaga's standard anyway.
Lady Gaga looks shockingly normal as she leaves a London supermarket
She wore a pair of wide-leg pants and a red silk shirt, both of which were embellished with tassels.
Gaga added her signature pop-star vibe with high-heeled studded platform booties.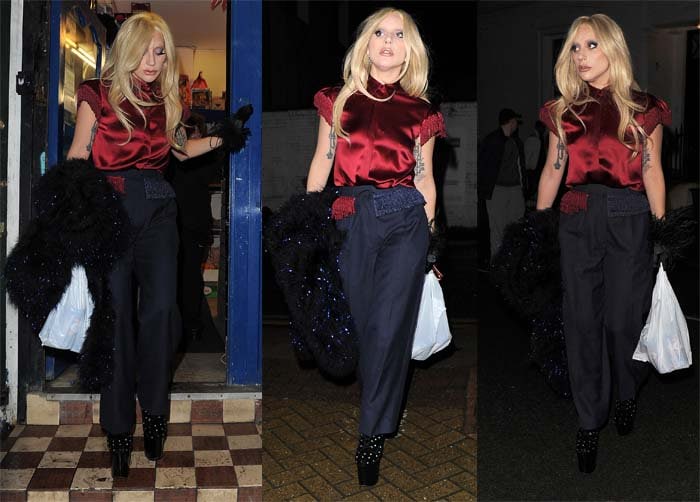 Lady Gaga shows off her arm tattoos as she leaves a London supermarket

Channel your inner pop-star with a different pair of studded boots from Versace that you can buy at Farfetch.
Versace Versus Studded Peep-Toe Ankle Boots, $895
Credit: Will Alexander / WENN / Adriana M. Barraza / R Lawrence