Eleanor Tomlinson, the English actress famed for her role as Demelza in the TV series "Poldark" and notable performances in films such as "Jack the Giant Killer," "Angus, Thongs and Perfect Snogging," and "Alleycats," stands at a height of 5ft 7 ½ (171.5 cm).
Interestingly, her Spotlight casting page once listed her height as 5 feet 8 inches. She reportedly wears a shoe size 9 (US).
To put her height into perspective, the average height for a British woman is around 5ft 5in (165 cm), which means Eleanor is taller than the typical British female.
Aidan Turner is renowned for his portrayal of Ross Poldark, while Eleanor Tomlinson is equally celebrated for her role as Demelza Poldark in the TV series "Poldark" (Credit: BBC One)
Eleanor Tomlinson, Heida Reed, and Aidan Turner are all known for their roles in Poldark. Eleanor Tomlinson stands tall at 5ft 7 ½ inches (171.5 cm). Just a smidge shorter, Heida Reed measures 5ft 7 inches (170.2 cm), making the difference between the two actresses a mere half inch.
On the other hand, Aidan Turner towers a bit above both, with a height of 5ft 10 ½ inches (179.1 cm), making him approximately 3 inches taller than Eleanor and 3.5 inches taller than Heida.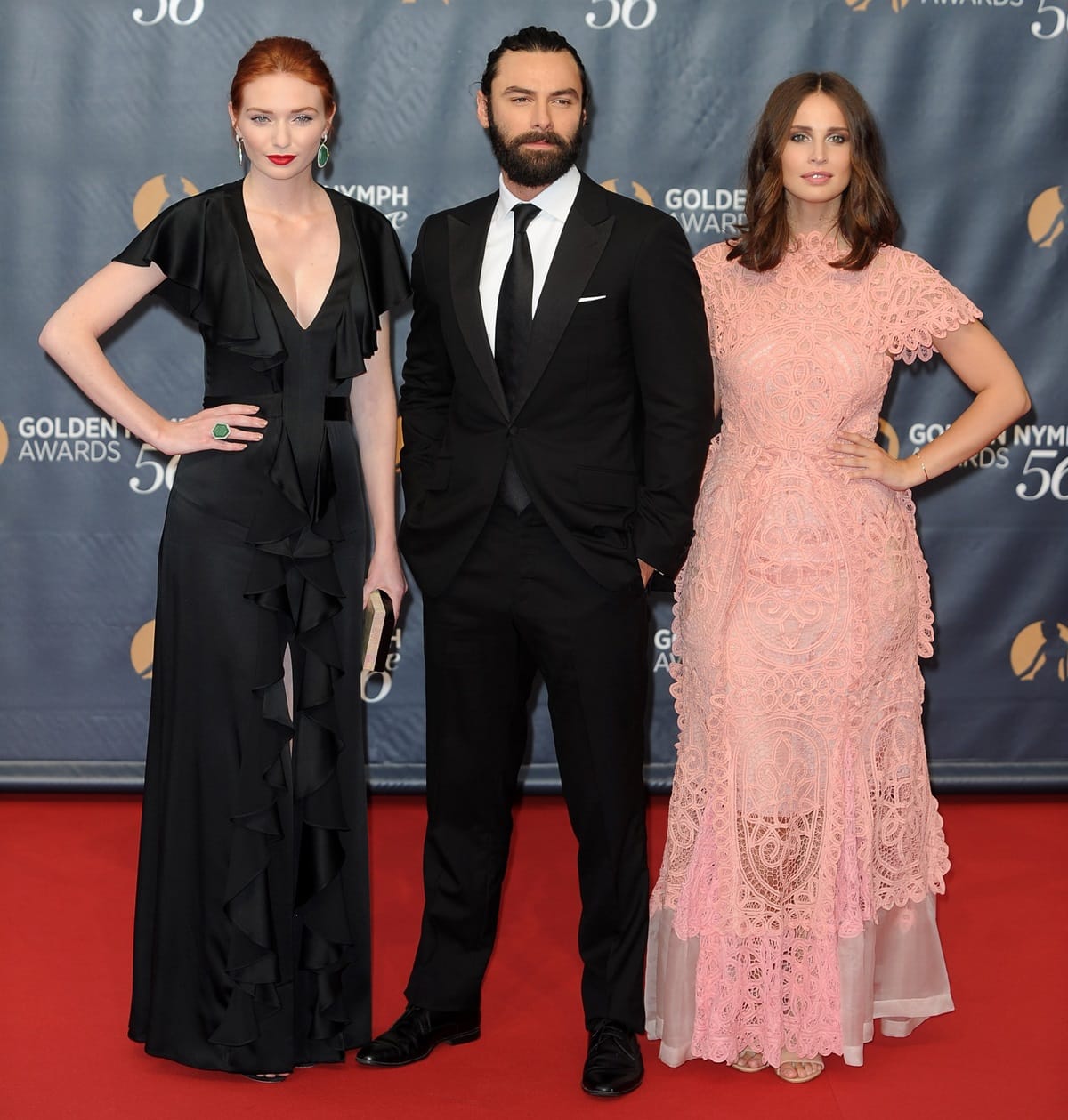 On the red carpet at the 56th Monte Carlo TV Festival Closing Ceremony and Golden Nymph Awards at The Grimaldi Forum on June 16, 2016, in Monte-Carlo, Monaco, Eleanor Tomlinson stood at 5ft 7 ½ inches (171.5 cm), Heida Reed was 5ft 7 inches (170.2 cm) tall, and Aidan Turner towered at 5ft 10 ½ inches (179.1 cm) (Credit: INFphoto)
Eleanor May Tomlinson was born on May 19, 1992, in Sutton, Surrey, England, U.K. Her ethnicity is English and she has a net worth of $3 million as of 2023.
Will Owen and Eleanor Tomlinson tied the knot in July 2022. Before her marriage with Will, Eleanor had been in several relationships.
She dated Harry Richardson from 2017 to 2018, was with Ben Atkinson from 2015 to 2017, and had a relationship with Sean Bourke back in 2008.
Ross Tomlinson and his sister Eleanor Tomlinson attend the "Allelujah" European Premiere during the 66th BFI London Film Festival at Southbank Centre on October 9, 2022, in London, England (Credit: Aurorer Marechal / ABACA / INSTARimages / Cover Images)
Aidan Turner and Eleanor Tomlinson have never dated. They became good friends filming the British historical drama television series Poldark, but there has never been any confirmation of a romantic relationship between them.
Eleanor Tomlinson: Poldark Star Stuns in Off-the-Shoulder Top and Fringed Jeans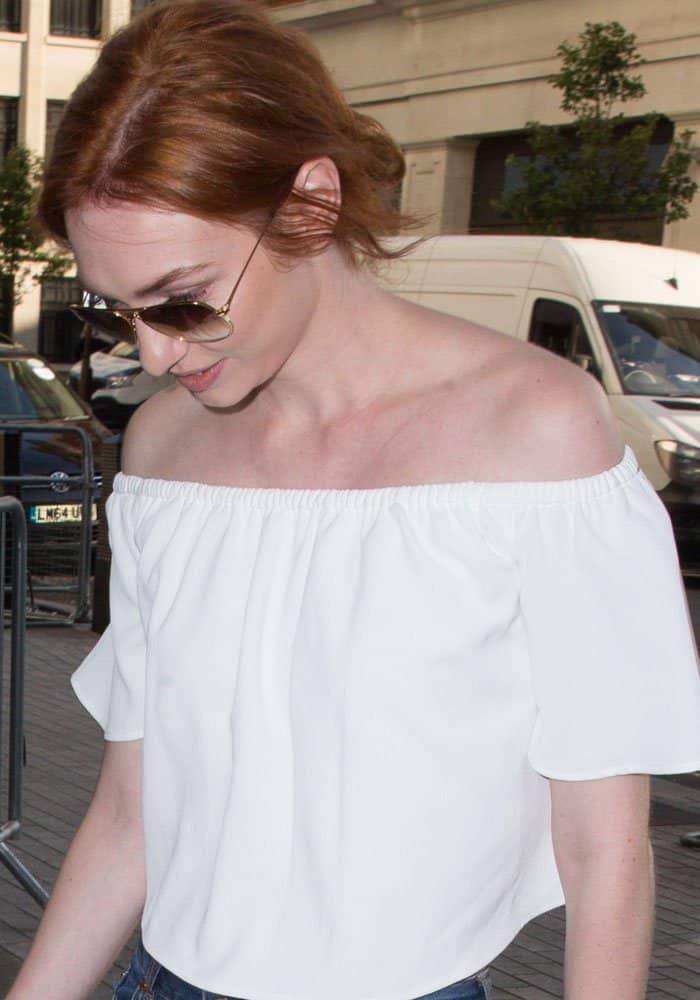 Eleanor Tomlinson donning an off-shoulder Bardot "Haiti" top in white with Ray-Ban Aviator shades (Credit: Tony Oudot / Mario Mitsis / WENN)
Following the immense success of the English series "Poldark," which debuted in 2015, Eleanor Tomlinson returned for its second season in August 2016. She was said to be already in the midst of filming the third season.
At the age of 24, the actress experienced a surge in popularity. Eager photographers and fans gathered outside the BBC Radio 1 studios early in the morning, hoping to see her before she made her guest appearance on "The Radio 1 Breakfast Show With Nick Grimshaw" in London.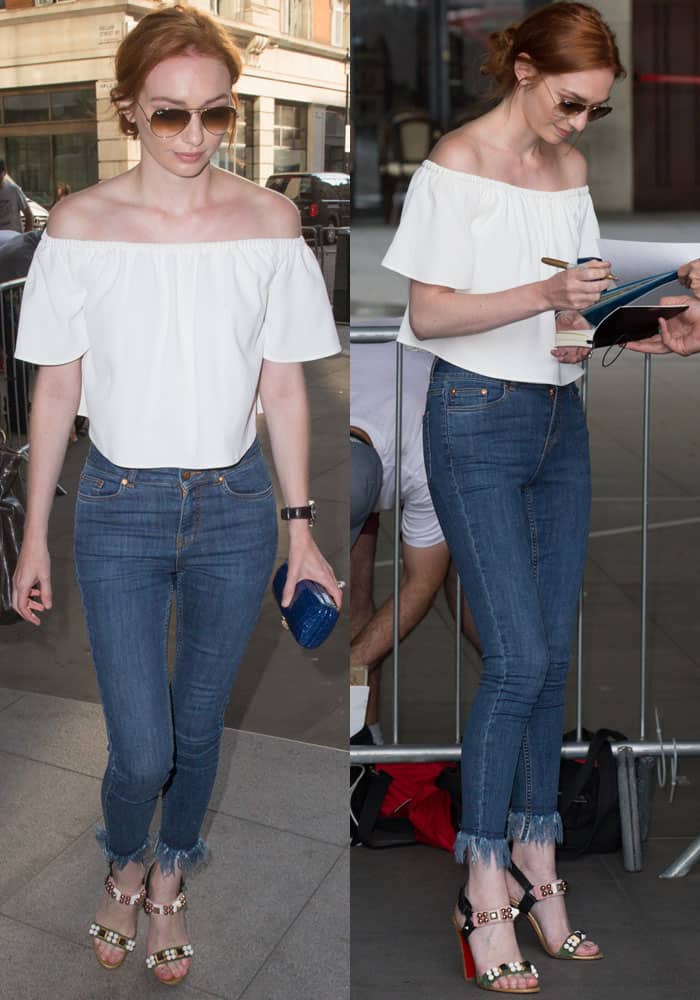 Eleanor Tomlinson rocks trending long fringed hem denim outside BBC Radio 1 in London on August 30, 2016 (Credit: Tony Oudot / Mario Mitsis / WENN)
Eleanor showcased the perfect summertime outfit by wearing the off-shoulder Bardot "Haiti" top in white paired with the latest denim trend: the long fringed hem.
Eleanor Tomlinson shows off her feet in quirky studded Christian Louboutin "Pyrabubble" sandals (Credit: Tony Oudot / Mario Mitsis / WENN)
The actress kept her look casual with Ray-Ban Aviator sunglasses, a blue rectangular clutch, minimal jewelry, and Christian Louboutin's "Pyrabubble'"studded sandals.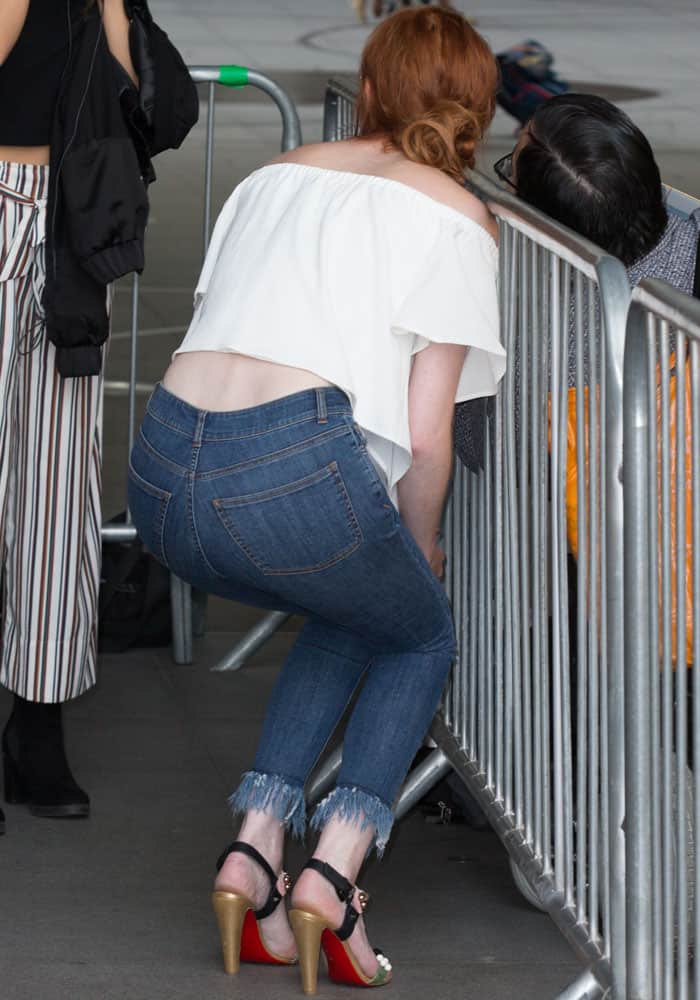 Eleanor Tomlinson stops to sign autographs and pose with fans before leaving the radio station
Eleanor was at the BBC studio with "Poldark" co-star Aidan Turner, who talked for most of the interview.
In response to Aidan's current "James Bond" rumors, the actress joked that she, too, will play the role of a ginger James Bond in the future.
How do you like the trendy Christian Louboutin "Pyrabubble" studded sandals?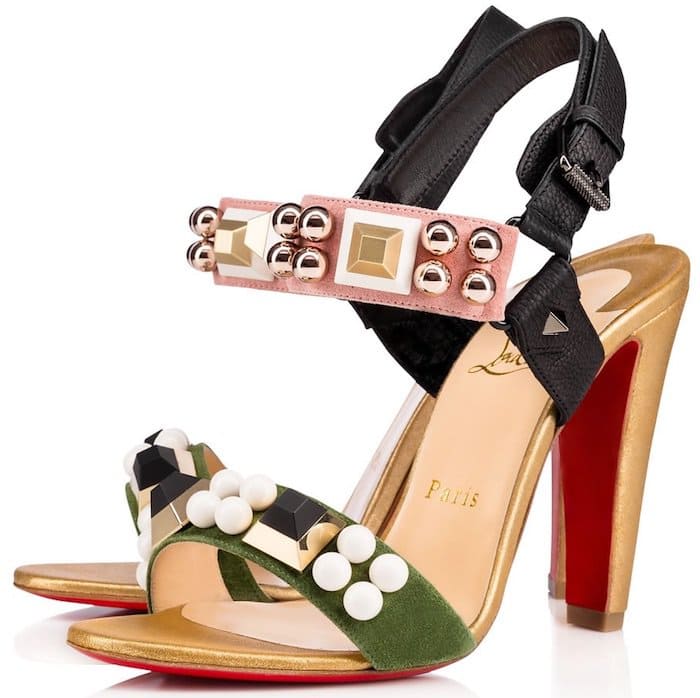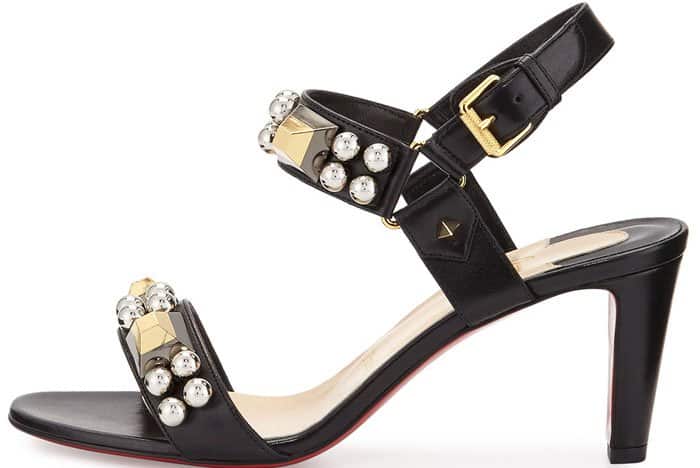 Christian Louboutin "Pyrabubble" 100mm Sandals, $995