In a video directed by Lena Dunham that was published by Vogue on October 26, Emily Ratajkowski announced that she's expecting her first child with her hubby Sebastian Bear-McClard.
"When my husband and I tell friends that I'm pregnant, their first question after 'Congratulations' is almost always 'Do you know what you want?' We like to respond that we won't know the gender until our child is 18 and that they'll let us know then. Everyone laughs at this. There is a truth to our line, though, one that hints at possibilities that are much more complex than whatever genitalia our child might be born with: the truth that we ultimately have no idea who—rather than what—is growing inside my belly. Who will this person be? What kind of person will we become parents to? How will they change our lives and who we are? This is a wondrous and terrifying concept, one that renders us both helpless and humbled," she says in the interview when asked about her child's gender.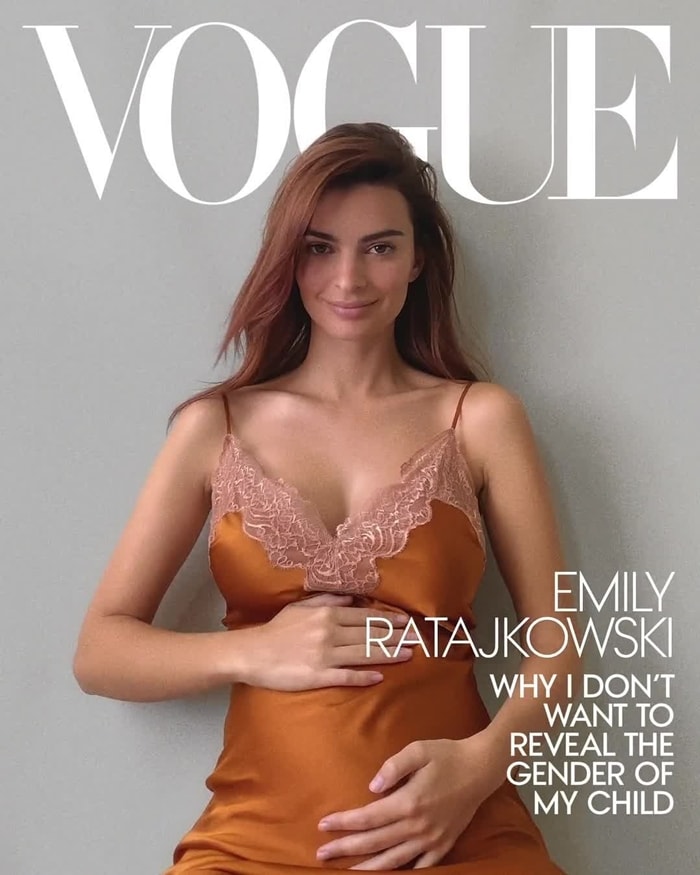 Pregnant Emily Ratajkowski shares with Vogue why she doesn't want to reveal the gender of her baby
The victim of sexual assault, she opens up about the fears of having a baby boy. "I'm scared of having a son too, although not in the same way. I've known far too many white men who move through the world unaware of their privilege, and I've been traumatized by many of my experiences with them. And boys too; it's shocking to realize how early young boys gain a sense of entitlement—to girls' bodies and to the world in general. I'm not scared of raising a "bad guy," as many of the men I've known who abuse their power do so unintentionally. But I'm terrified of inadvertently cultivating the carelessness and the lack of awareness that are so convenient for men. It feels much more daunting to create an understanding of privilege in a child than to teach simple black-and-white morality. How do I raise a child who learns to like themself while also teaching them about their position of power in the world?"
"I wince and think of my own mother and her tales of being homecoming queen, the way I knew the word jealous at the age of three (I pronounced it 'jealoust,' telling my mother that her female colleagues were 'just jealoust' of her), and the early understanding I had of how beauty could equate to power. I prayed for beauty, pinching my nose tightly on either side before falling asleep, willing it to stay small. I think of the other physically beautiful mothers I've known—the stage moms with their own mini-mes. The way their daughters, even as young girls, seem to know their own beauty, as if they have already lived entire lives in a grown woman's body. I think about how women compare one another constantly, doing acrobatic calculations in their heads: In this way I'm similar to her, in this way I'm not; in this way I'm better, in this way I'm not," she adds about the fears of raising a daughter.
In December 2015, Emily Ratajkowski definitely took Rihanna's "shine bright like a diamond" advice to heart as she arrived at the singer's annual Diamond Ball in Santa Monica dressed to the nines and ready to twirl like a princess.
Emily Ratjkowski wears her hair up at the 2nd Annual Diamond Ball hosted by Rihanna and The Clara Lionel Foundation at The Barker Hanger on December 10, 2015, in Santa Monica, California
The actress arrived on the red carpet in a simple one-shoulder gown with a thigh slit by Rhea Costa.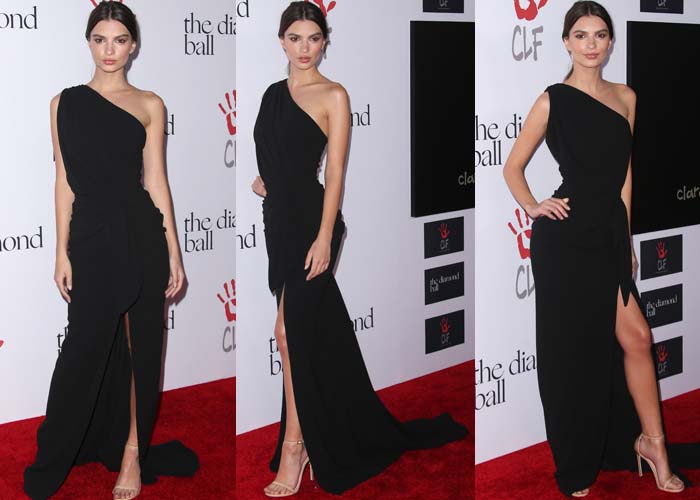 Emily Ratajkowski wears a Rhea Costa dress on the red carpet of Rihanna's Diamond Ball
The "Gone Girl" starlet kept the look simple with a pair of Stuart Weitzman "Nudistsong" sandals in nude patent.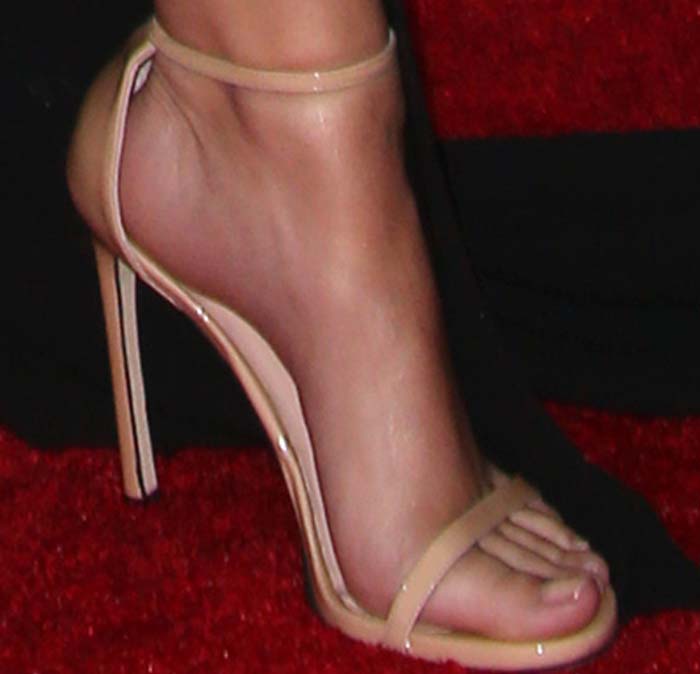 Emily Ratajkowski's feet in Stuart Weitzman sandals
Too simple, in our opinion. We've seen Emily dressed up and we certainly expected more from her at an event such as the Diamond Ball.
Emily Ratajkowski shows off her winged eyeliner as she blows a kiss from the red carpet
Nevertheless, the simplicity of her look for the night didn't stop her from twirling away.
To get Emily's wear-with-anything heels from Stuart Weitzman, hop on over to Farfetch and Nordstrom.
Nude Patent Stuart Weitzman "Nudistsong" Sandals, $398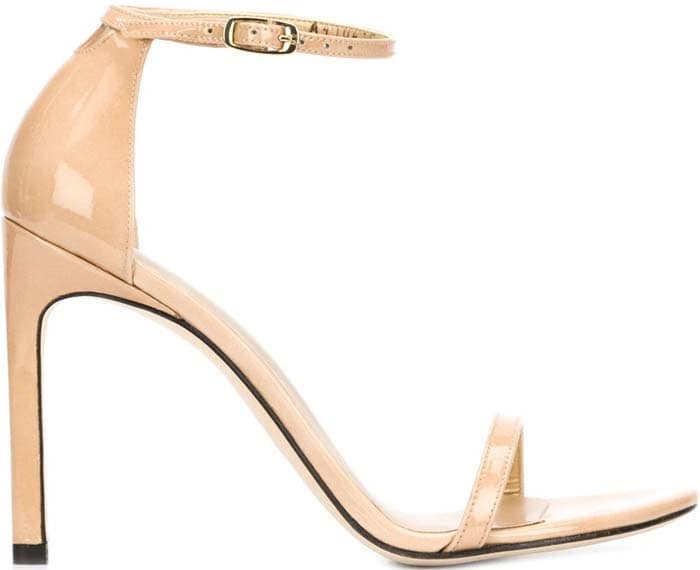 Credit: FayesVision / Apega / WENN