Rebecca Romijn sure is a sight for sore eyes. The actress looks like she has not aged a single day! Most of you may know her as the uber sexy Mystique in 'X-Men', as Alexis Meade in 'Ugly Betty', or as John Stamos' ex-wife, but the statuesque beauty actually started out as a swimsuit model (for Sports Illustrated) and even walked the runways of Victoria's Secret and Giorgio Armani back in the '90s. Fast forward to 2013, and she still looks just as good.
Just yesterday, we found the blonde stunner shopping around Beverly Hills while looking fabulously fresh and fantastic in red leather skinnies and studded pumps. The mix was simple and elegant, but it was also edgy and striking.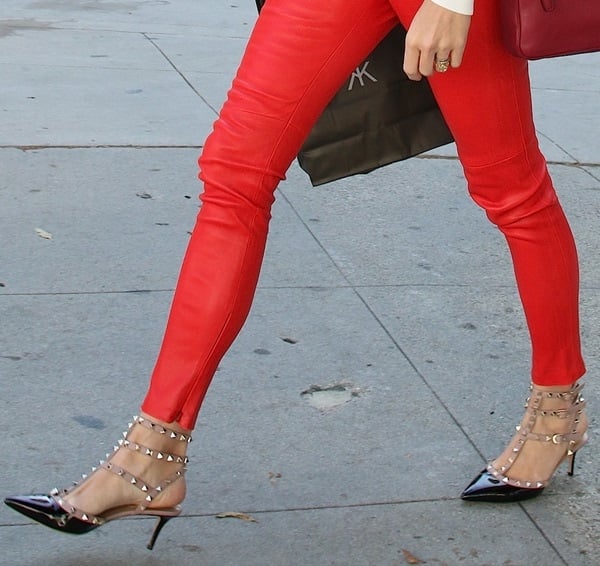 Rebecca Romijn sporting red leather skinnies and a pair of studded pumps from Valentino while shopping around Beverly Hills, California, on October 8, 2013
Doesn't she look amazing?
Seriously, wouldn't you want to look that good when you turn 40? Yes, she's 40. Actually, make that almost 41 because her birthday is coming up soon (this November!).
Now, on to her Valentino pumps from the Rockstud line. It's amazing how the people behind Valentino were able to turn the brand around with this iconic collection. It's the perfect blend of edgy and luxe, and the appeal is literally addictive.
Like the oh-so covetable Rockstud trapeze tote, the Rockstud pumps have become a perennial favorite and are available in several renditions. There's a mid-heel version that features three horizontal straps, as seen on Rebecca, and there's a taller variant that comes with 4 inch heels, but with just two horizontal straps. Both styles have various interpretations (from classic to crystallized).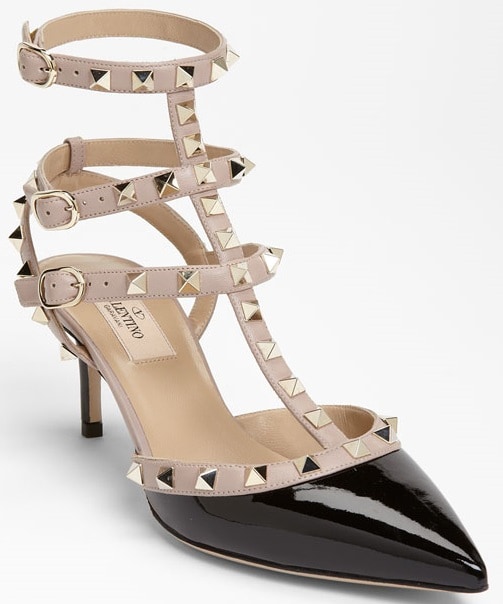 Valentino Rockstud Mid-Heel Pumps in Black/Nude, $945
Valentino Rockstud Pumps in Black/Nude, $945
Mixed with red and white, the black-and-nude variant becomes more than just a pair of classic-colored heels; it's the perfect finish that pulls an outfit together. In fact, we can't wait to copy Rebecca's look. The only thing we need to figure out is how we can get our hands on a pair of Rockstud pumps without breaking the bank because $945 isn't exactly what one may call an affordable figure.
That said, there is another option from Alice + Olivia — the 'Drixie' pumps. These are just as rock chic, but sadly, they don't come in a two-tone combination, and they will still set us back a significant $495.
Alice + Olivia Drixie Strappy d'Orsay Pumps, $495
Luckily, we have Ivanka Trump to thank for today. These alternatives aren't as strappy, but a lot of the elements needed to steal Rebecca's style are there — black-and-nude combination, pointy toes, and, of course, those studs. Best of all, a pair will only set us back a more attainable $150.
Ivanka Trump 'Galyn' Pumps, $150
Credit: Winston Burris / WENN