Just two days after attending the 2021 Earthshot Prize at Alexandra Palace, Catherine, Duchess of Cambridge (aka Kate Middleton) helped launch the Taking Action on Addiction campaign at BAFTA in London, England.
To launch the campaign, which aims to increase the understanding of drug and alcohol addiction's various causes and impacts, the 39-year-old member of the British royal family wore a Christopher Kane crystal-embellished pleated skirt that you can buy for $995 at Farfetch. She opted to remove the crystal embellishments and fringe details.
The Duchess of Cambridge wore a red turtleneck sweater from Ralph Lauren with a pleated skirt from Christopher Kane (Credit: MEGA / WENN)
She styled her skirt with a matching Ralph Lauren turtleneck sweater, her favorite Ralph Lauren Celia pumps, a tiny DeMellier "Nano Montreal" bag, and a pair of ASOS twisted hoop earrings.
"Addiction is not a choice. No one chooses to become an addict. But it can happen to any one of us. None of us are immune. It is all too rarely discussed as a serious mental health condition and seldom do we take the time to uncover and fully understand its fundamental root causes," she said during her speech.
"The journey towards addiction is often multi-layered and complex. But, by recognizing what lies beneath addiction, we can help remove the taboo and shame that sadly surrounds it," Kate added.
Catherine, Duchess of Cambridge (aka Kate Middleton) attends the launch of the Taking Action on Addiction campaign, hosted by the Forward Trust, at BAFTA on October 19, 2021, in London, England (Credit: MEGA / WENN)
"As a society, we need to start from a position of compassion and empathy. Where we nurture those around us, understand their journey, and what has come before them."
"The pandemic has had a devastating impact on addiction rates. And families and children are having to cope with addiction in greater numbers than ever before," she said. "We know that over one and a half million people across the U.K. who did not have substance misuse prior to lockdown may now be experiencing problems associated with increased alcohol consumption."
Catherine, Duchess of Cambridge discusses addiction with Ant McPartlin, Declan Donnelly, and Tom Walker prior to making her keynote speech (Credit: MEGA / WENN)
"Around 2 million individuals who were identified as being in recovery, may have experienced a relapse over the past 18 months," she added.
Kate Middleton tops her hair with a hat as she attends a service with the royal family at Westminster Abbey in London on May 14, 2016, to celebrate Commonwealth Day (Credit: Euan Cherry / WENN)
Kate Middleton is pretty well-known for repeating outfits at different events, so it's not often we get to see her wearing new shoes. We've grown accustomed to her black Stuart Weitzman and Gianvito Rossi pumps.
Thankfully, Kate got herself a new pair of gray pumps just in time for Commonwealth Day in London in March 2016.
The Duchess of Cambridge showed up in a gorgeous printed gray coat by Erdem, which she paired with a royally fitting hat by designer John Boyd.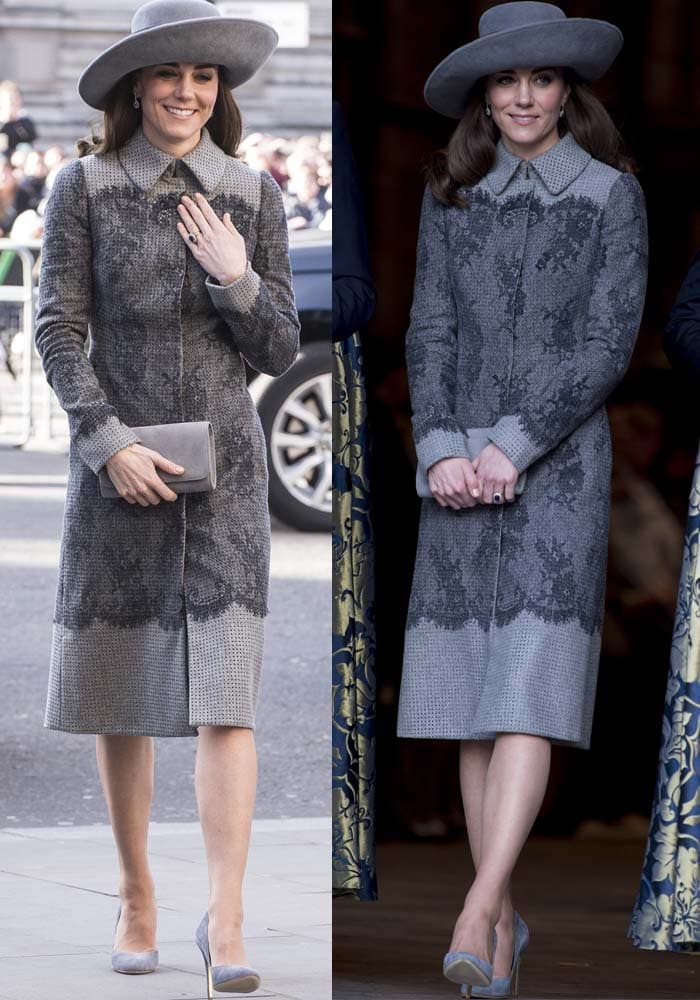 Kate Middleton wears an Erdem jacket and a John Boyd hat at Westminster Abbey (Credit: Euan Cherry / WENN)
Kate styled her outfit with drop earrings, her wedding ring (passed on to her from the late Princess Diana), a gray suede clutch and the gray suede "Winona" pumps from Rupert Sanderson.
Kate Middleton's feet in gray Rupert Sanderson pumps (Credit: Euan Cherry / WENN)
Kate arrived with her husband, Prince William, and her brother-in-law, Prince Harry.
Kate Middleton, Prince William, and Prince Harry arrive at Westminster Abbey (Credit: Euan Cherry / WENN)
The three shared a laugh as they entered Westminster Abbey's gates, arriving shortly after their grandmother, Queen Elizabeth II, was escorted inside.
The Rupert Sanderson "Winona" pumps are no longer available online, but you can check out similar styles from the same designer at Farfetch and Matches Fashion.
Rupert Sanderson "Tracey" Mid Heel Pumps, $675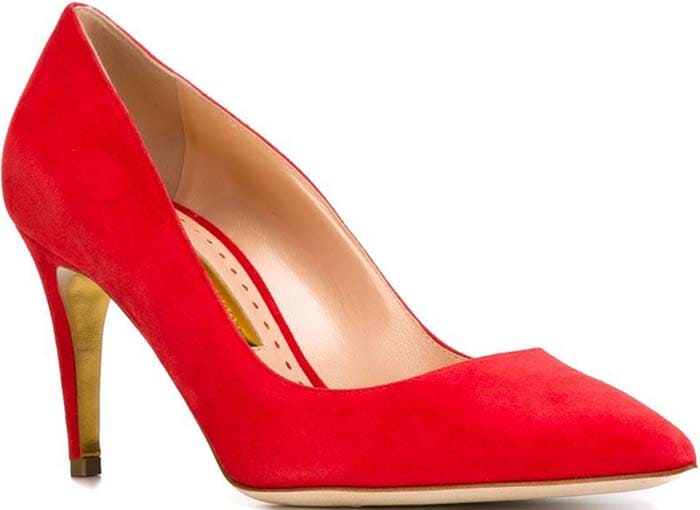 Red Rupert Sanderson Pointed Toe Pumps, $483.51
Black Rupert Sanderson Suede Pumps, $665