Making an appearance on the Tonight Show Starring Jimmy Fallon early this year, Anne Hathaway revealed that she does not want to be called "Anne" anymore.
"Anything but Anne," she told Jimmy Fallon when asked if he should call her Anne or her preferred nickname Annie.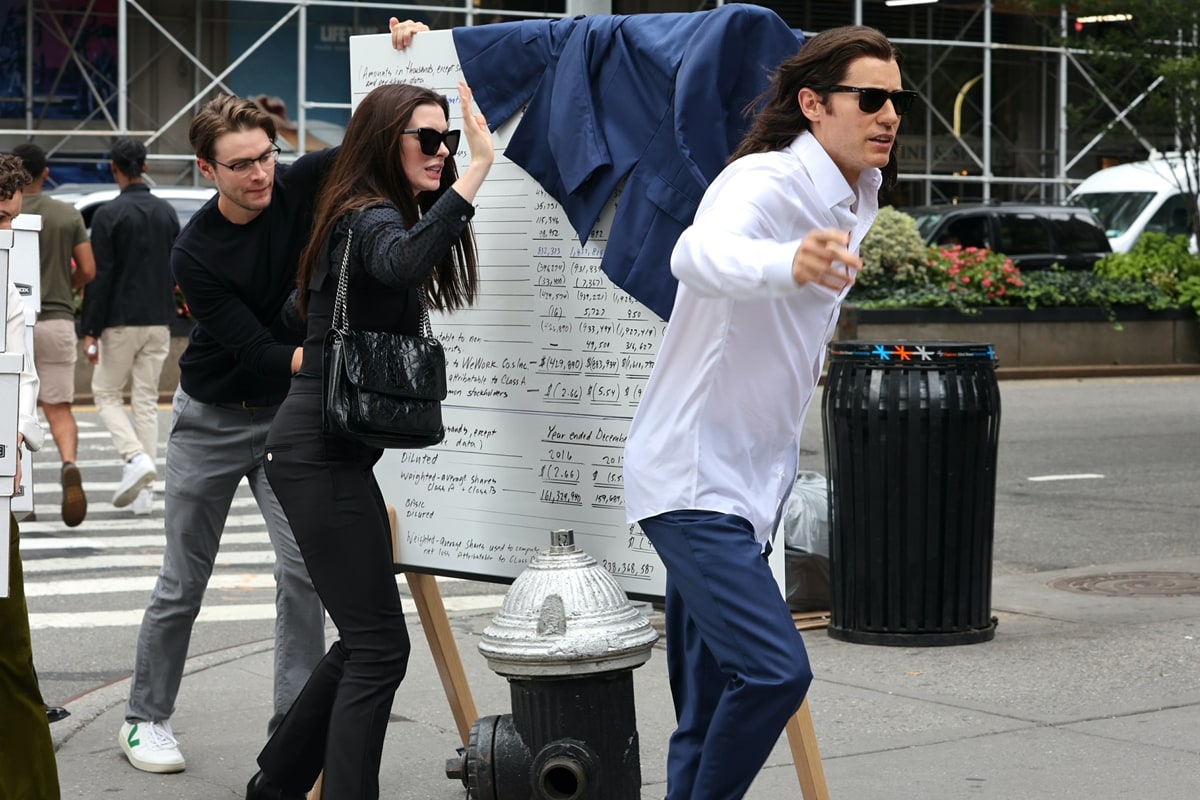 Jared Leto and Anne Hathaway film scenes for their upcoming Apple TV+ series WeCrashed on September 8, 2021, in New York City (Credit: Jose Perez / Instar / WENN)
"Call me Annie, everybody, everybody, call me Annie, please," she added. "It's…can we talk about my name for a second?"
"The only person who calls me Anne is my mother and she only does it when she's really mad at me, like really mad," The Princess Diaries actress said about her mom Kate McCauley Hathaway. "So every time I step out in public and someone calls my name, I think they're going to yell at me."
"When I was 14 years old, I did a commercial, and I had to get my SAG card and they asked me, 'What do you want your name to be?'" she added.
Anne Hathaway is not a fan of her own name and wants to be called anything but Anne (Credit: MEGA / WENN)
"And I was like, 'Well, it should be my name. My name's Anne Hathaway.' So that seemed like the right choice, but it never occurred to me that for the rest of my life, people will call me Anne."
"People are like, 'Anne!' And I'm like 'What? What did I do?' People are so lovely they don't want to be presumptuous and so I think they come up with workarounds on set because the truth is nobody's comfortable with calling me Anne ever. It doesn't fit. I'm an Annie," she made clear.
"People call me Miss H, people call me Hath, so feel free, call me anything but Anne," the actress said about her other nicknames
A pregnant Anne Hathaway wears her hair down while hiking in Los Angeles on March 12, 2016 (Credit: Cousart / JFXimages / WENN)
Pregnancy wasn't stopping Anne Hathaway! In March 2016, the then 32-year-old actress was seen hiking and hitting the gym with a huge baby belly.
Anne was first spotted out in the woods with her husband Adam Shulman.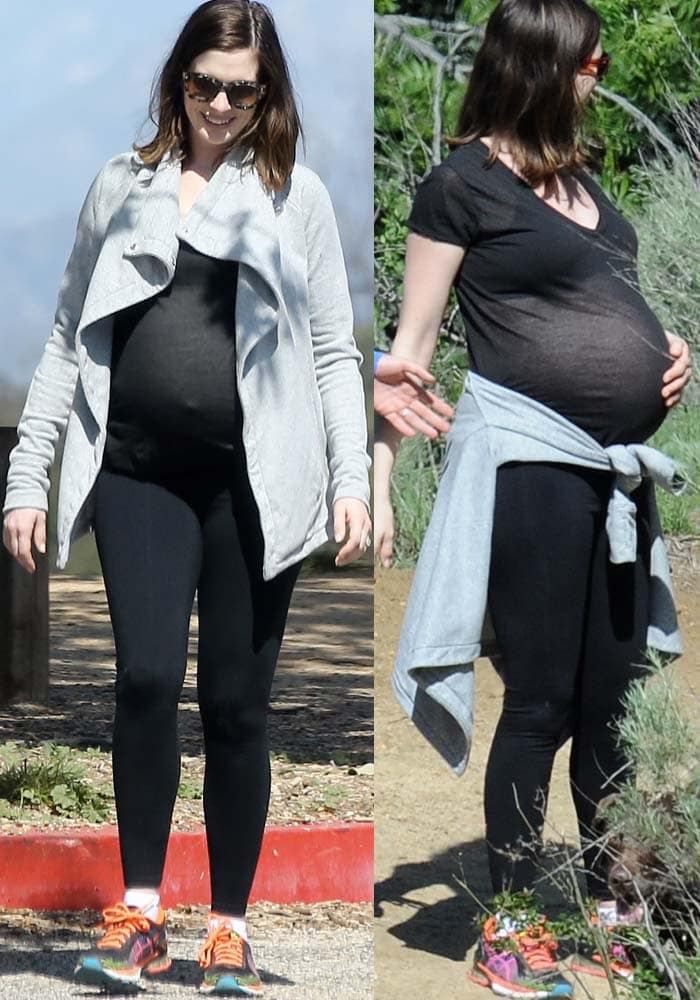 Anne Hathaway wears a black shirt and leggings while on a hike (Credit: Cousart / JFXimages / WENN)
The Brokeback Mountain star wore a sheer black shirt which she paired with black leggings and her Asics Gel-Kinsei 6 trainers.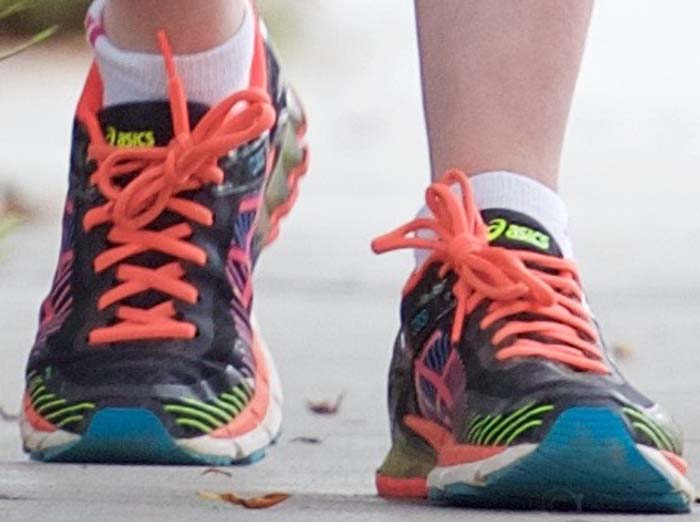 Anne Hathaway wears a colorful pair of Asics gel "Kinsei 6" running shoes (Credit: Cousart / JFXimages / WENN)
The popular actress also had a gray jacket with her, which she later tied to her waist.
Anne Hathaway's husband Adam Shulman touches the actress's growing baby belly (Credit: Cousart / JFXimages / WENN)
Anne was also spotted leaving the gym in a pink top, printed mesh leggings, a gray jacket, and the same pair of Asics shoes.
The actress tried to avoid the cameras by hiding behind an umbrella until she reached her car.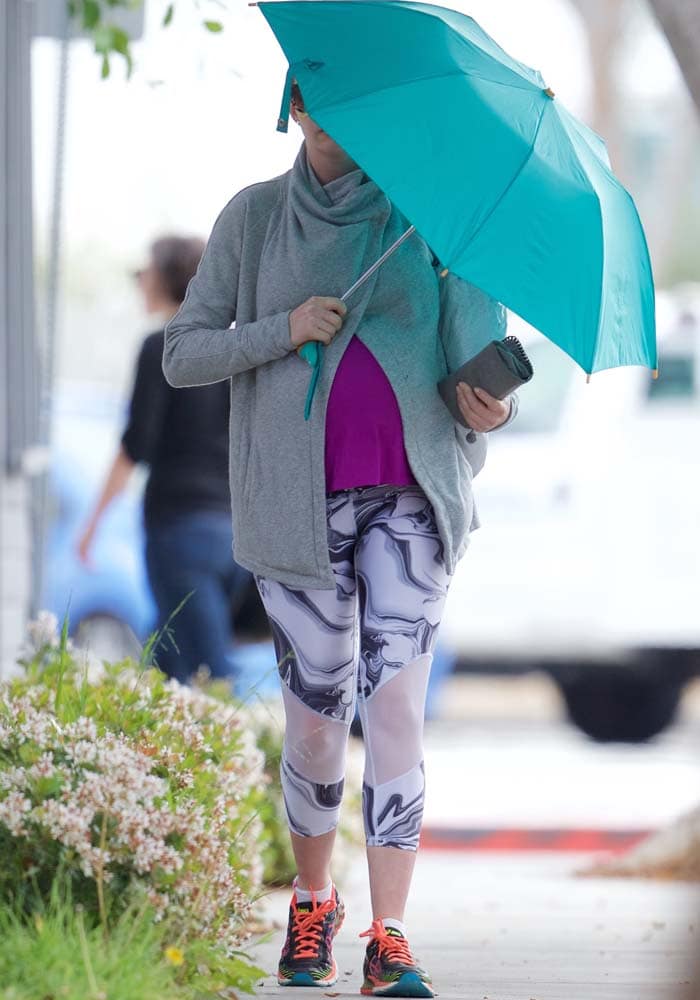 Anne Hathaway hides behind an umbrella as she leaves the gym (Credit: Michael Wright / WENN)
You can order Anne's go-to pregnancy running shoes (no, you don't have to be pregnant to use them) at Zappos and Nordstrom.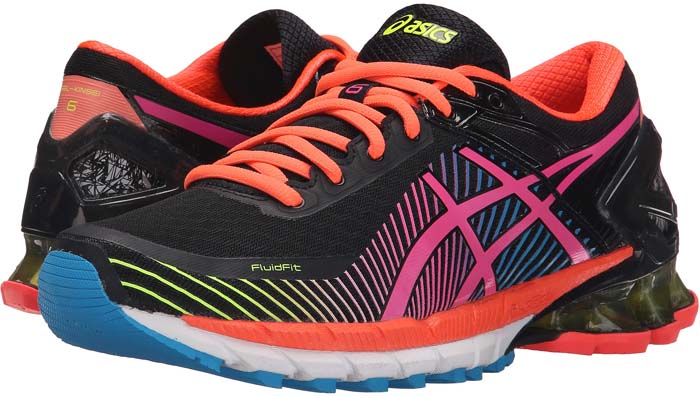 Asics Gel-Kinsei 6 Running Shoes, $199.95 – $200