Having taken off her bra to display her breasts in the 2005 American crime drama film Havoc, Anne Hathaway was happy to comply when Jake Gyllenhaal asked to touch her boobs during the filming of Brokeback Mountain.
She portrayed Jack Twist's (Jake Gyllenhaal) unsuspecting wife Lureen Newsome Twist in the 2005 American Neo-Western romantic drama film.
To make a sex scene in Brokeback Mountain seem more authentic, Jake Gyllenhaal politely asked to touch Anne's breasts.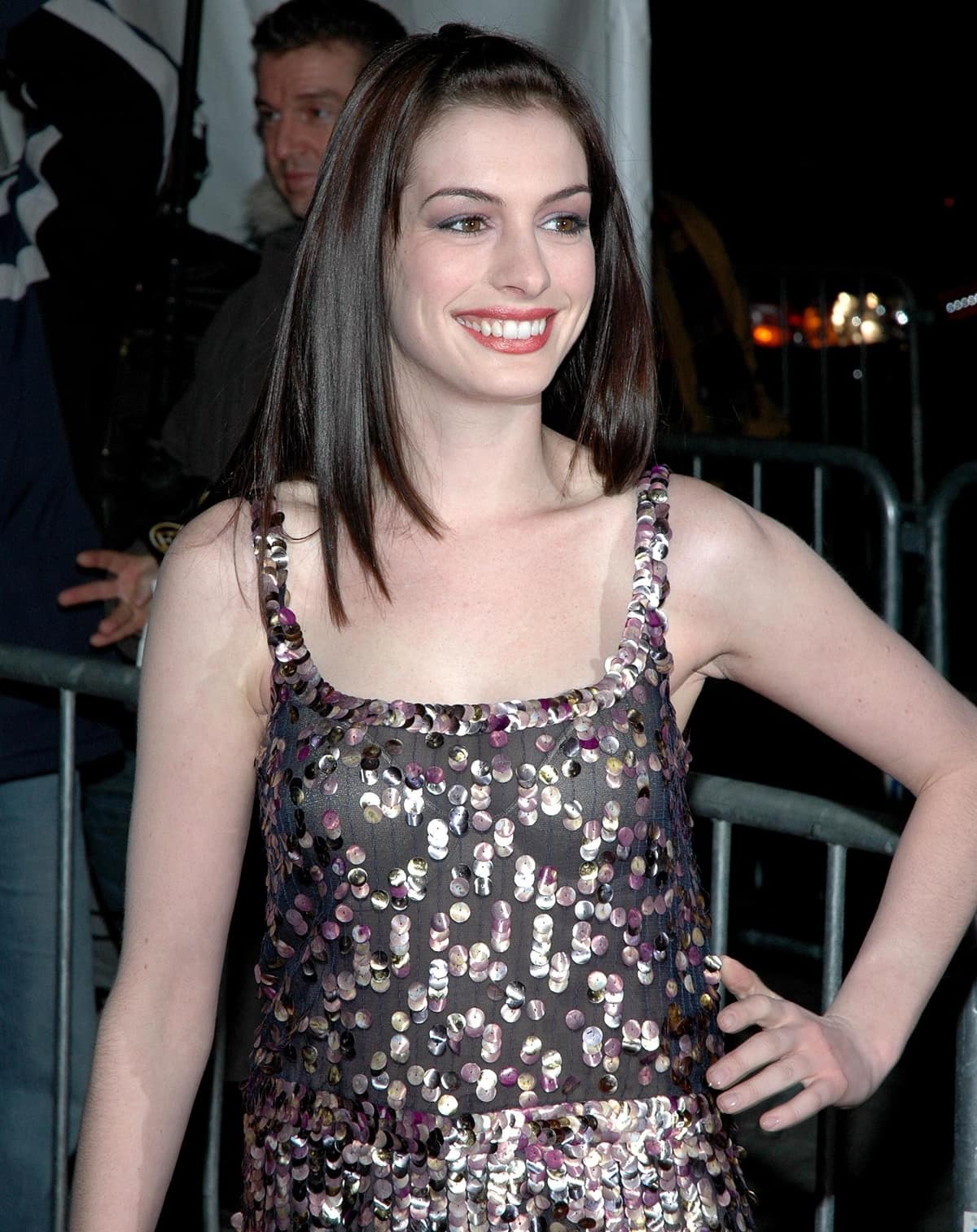 Anne Hathaway at the New York premiere of Brokeback Mountain at Loews Lincoln Square in New York City on December 6, 2005 (Credit: WENN)
"Sometimes you work with actors, and they can be lovely guys, but they have kind of dodgy instincts when it comes to kissing in scenes. They want to try to make it look a bit too real if you know what I mean," Anne said in an interview with radio station Heart.
"With James, right before we started he turned to me and said 'closed mouths, no tongue' and that's what I normally say to people – so it was a pleasure," Anne said about her co-star James McAvoy in the 2007 British-Irish biographical romantic drama film Becoming Jane.
"There was this scene in Brokeback Mountain where I get my kit off and I'm in the car with Jake Gyllenhaal and he's touched my shoulder and he's touched my stomach and he's touched around my back," she said about filming Brokeback Mountain.
Anne Hathaway allowed Jake Gyllenhaal to touch her boobs when filming Brokeback Mountain (Credit: Vince Maher / WENN)
"Everywhere except for, you know, 'the girls'. "So the director yells cut and we go behind a screen and I'm putting my clothes back on and Jake comes up to me and says: 'Annie, the thing is, the scene, in real life I would… and the director's not yelling cut, so… can I?' "I just turned to him and said: 'It's okay Jake, yes, you can touch my boobs.'"
In December 2012, Anne Hathaway showed off her feet in statement-making Tom Ford Spring 2013 RTW sandal boots. Later the same month, the American actress showed us more high heels from her shoe collection.
Anne Hathaway shows off her pixie-cut hairstyle at the Ed Sullivan Theater for a guest appearance on the "Late Show with David Letterman" in New York City on December 10, 2012 (Credit: HRC / WENN)
Anne was a guest on the David Letterman show before she attended the premiere of Les Miserables.
The Princess Diaries actress styled a red floral patterned cocktail dress from Mafalda with a pair of Aldo "Fronime" platform pumps. This style has unfortunately sold out online.
Anne Hathaway wears a Mafalda dress while out in New York City for a guest appearance on David Letterman's show (Credit: Kyle Blair / HRC / WENN)
The following day, Anne hit the red carpet along with "Les Miserables" co-stars Eddie Redmayne and Hugh Jackman.
The event was held to honor Hugh Jackman and his achievements and raise funds for the museum's programs, exhibitions, and educational activities.
Anne Hathaway attends The Museum of Moving Images Salute to Hugh Jackman held on December 11, 2012, at Cipriani Wall Street in New York City (Credit: C.Smith / WENN)
Anne donned an embellished light pink dress by Nina Ricci styled with a Jill Milan clutch and Kwiat jewelry.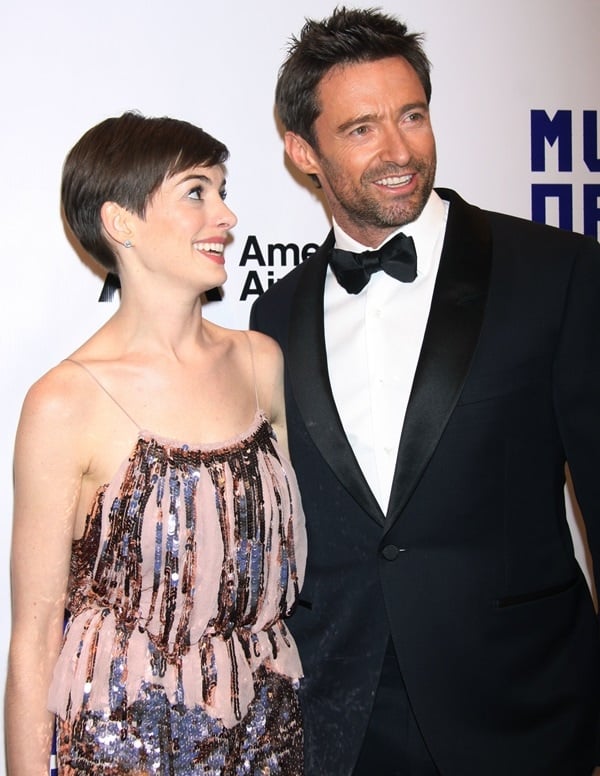 Anne Hathaway wears a sequined pink Stella McCartney dress while posing with Hugh Jackman (Credit: C.Smith / WENN)
She complemented her stunning sequined peplum slip dress from the Spring/Summer 2013 Collection with a pair of triple strap blush satin sandals by Stella McCartney.
Anne Hathaway wears a sequined pink Stella McCartney dress while posing with Hugh Jackman (Credit: Joseph Marzullo / WENN)
Anne's sandals unfortunately aren't available online yet. Which of the two outfits is your favorite?