It's quite surprising that Reese Witherspoon and Beyonce weren't friends in the past. They have been in the industry for many years now, and they have built successful careers both as entrepreneurs and entertainers.
Moreover, they also have the same circle of friends in Hollywood. It wasn't until this year, however, that the two built a new power friendship.
Reese and Beyonce's 2020 Golden Globe encounter
It all started at this year's Golden Globe ceremony. Dressed in a custom Roland Mouret gown with Tiffany & Co. jewelry, Reese Witherspoon mustered up the courage to ask power couple Beyonce and Jay-Z for some of their champagne after their table ran out of water.
Of course, the two gladly shared their Armand de Brignac champagne.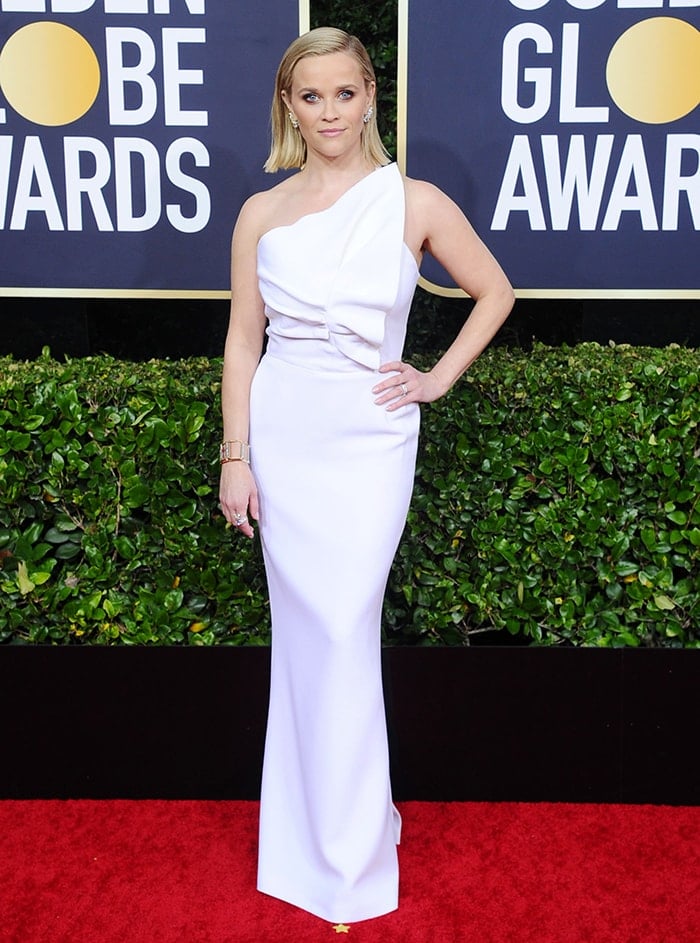 Reese's The Morning Show co-star Jennifer Aniston later posted a photo on her Instagram story, showing herself, Reese and producer Kristin Hahn raising their glasses.
Jennifer Aniston, producer Kristin Hahn, and Reese Witherspoon received Armand de Brignac champagne from Jay Z and Beyonce
She captioned the photo: "Reese!? This is one of the many reasons I love you. We ran out of water at our table. So naturally, she asked Jay Z and Beyonce for a glass of their champagne."
Reese receives a case of champagne from Jay-Z and Beyonce
Four days after the encounter, Reese received a case of Armand de Brignac champagne from Bey and Jay-Z. The package came with a signed note from the couple that read, "More water, from J & B."
Reese Witherspoon receives a case of Armand de Brignac champagne from Beyonce and Jay-Z
Reese shared her reaction to her Instagram story. She also posted a video with her mom, Betty, opening a bottle at 11:30 in the morning.
Reese Witherspoon and mom Betty try Bey and Jay-Z's Ace of Spades champagne
This came just right after Reese flew back to Los Angeles from New York, where she attended the New York Film Critics Circle Awards.
Wearing a floral-embroidered dress from Andrew GN's Autumn/Winter collection, Reese presented Laura Dern with the Best Supporting Actress award for her work both in Marriage Story and Little Women.
She teamed the monochrome outfit with Chopard jewels and a pair of Saint Laurent 'Zoe' pumps in cream leather with contrasting black ankle straps.
Reese Witherspoon at the New York Film Critics Circle Awards on January 7, 2020
Jay-Z owns 100 percent of Armand de Brignac, also known as Ace of Spades, after buying the champagne brand in 2014. Prior to acquiring the label, Jay-Z introduced Ace of Spades in his music video for Show Me What You Got in 2006.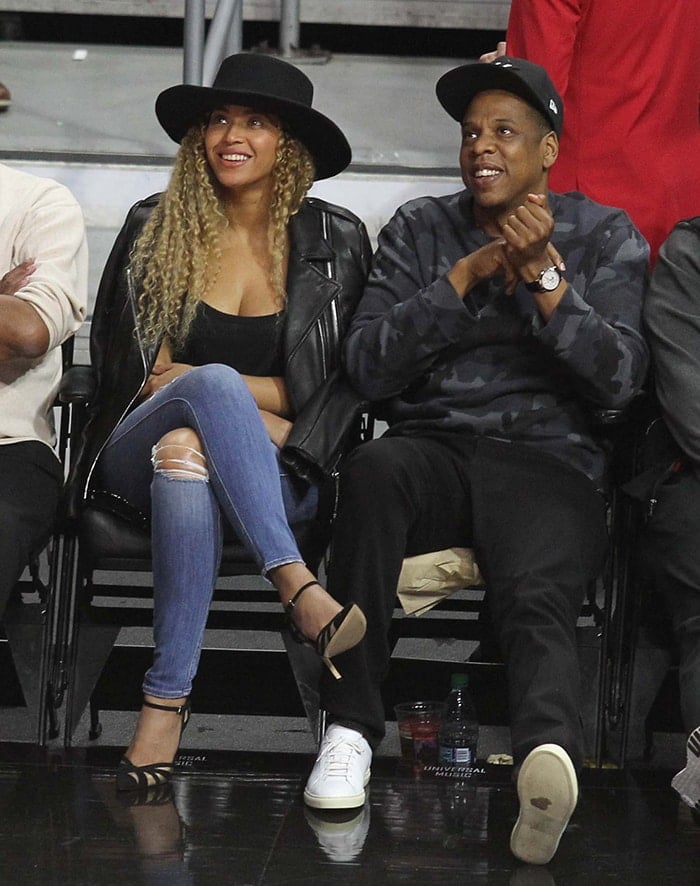 Beyonce and Jay-Z at the Los Angeles Clippers game on March 2, 2016
Reese receives Ivy Park collection from Beyonce
To celebrate their burgeoning friendship, Beyonce sent another surprise package to Reese just a week after sending her the champagne.
The actress shared an Instagram video of herself wheeling a huge package down her driveway. She's trying to guess what's inside the box with her mom, who actually thought that it might be a motorcycle.
After unsnapping the cover, Reese slipped inside the box and revealed that Bey sent her a ton of clothes from her new Ivy Park x Adidas collection. She even modeled some of the outfits in the video, which she captioned: "Does this officially make me the newest member of the #Beyhive?" She added: "Thank you, @Beyonce for the #IvyPark swag!"
View this post on Instagram

Putting aside Bey's activewear clothing collection, Reese graced the 2020 Screen Actors Guild Awards red carpet dressed in a floor-length embellished Celine gown.
The 43-year-old actress was at the event to represent HBO's Big Little Lies, which was nominated for Outstanding Performance by an Ensemble in a Drama Series.
Reese Witherspoon at the 26th Annual Screen Actors Guild Awards in Los Angeles on January 19, 2020
Reese sparkled in the black column dress adorned with black sequins, beads, and crystals. It also has a silver crystal-embellished looped shoulder strap that created an asymmetric neckline and a cutout across the chest. Her legs were on display as the dress also features a sexy thigh-high split.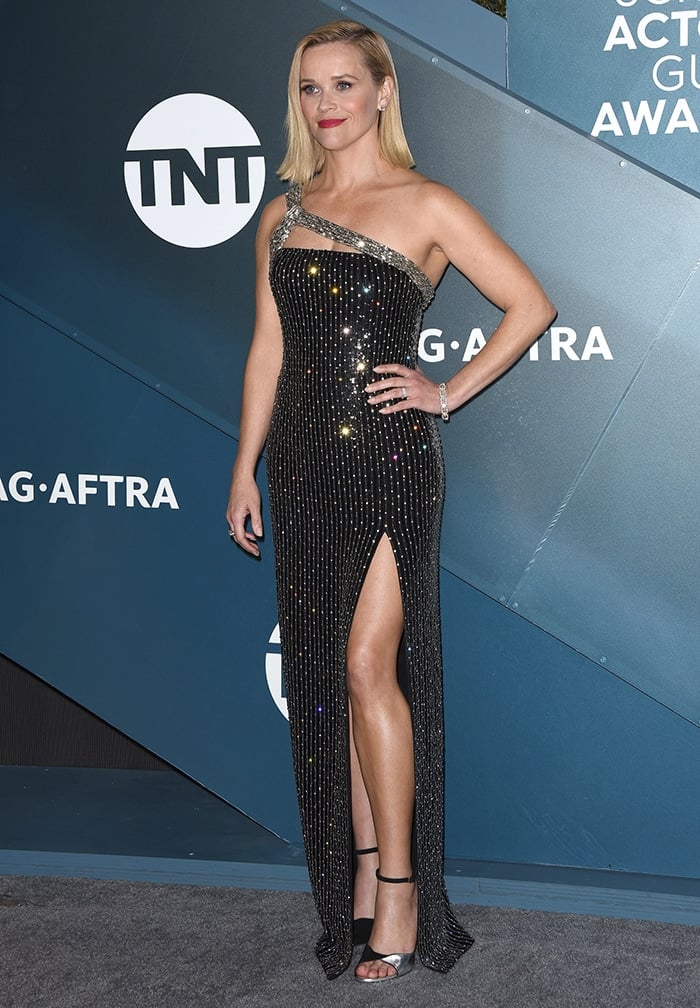 Reese Witherspoon shows off her legs in Celine embellished gown
Reese looked beautiful as always. Makeup artist Molly Stern applied mascara, eyeliner, a hint of brown eyeshadow, a swipe of red lipstick, and matching blush. Hairstylist Lona Vigi simply styled Reese's hair straight and swept over to one side.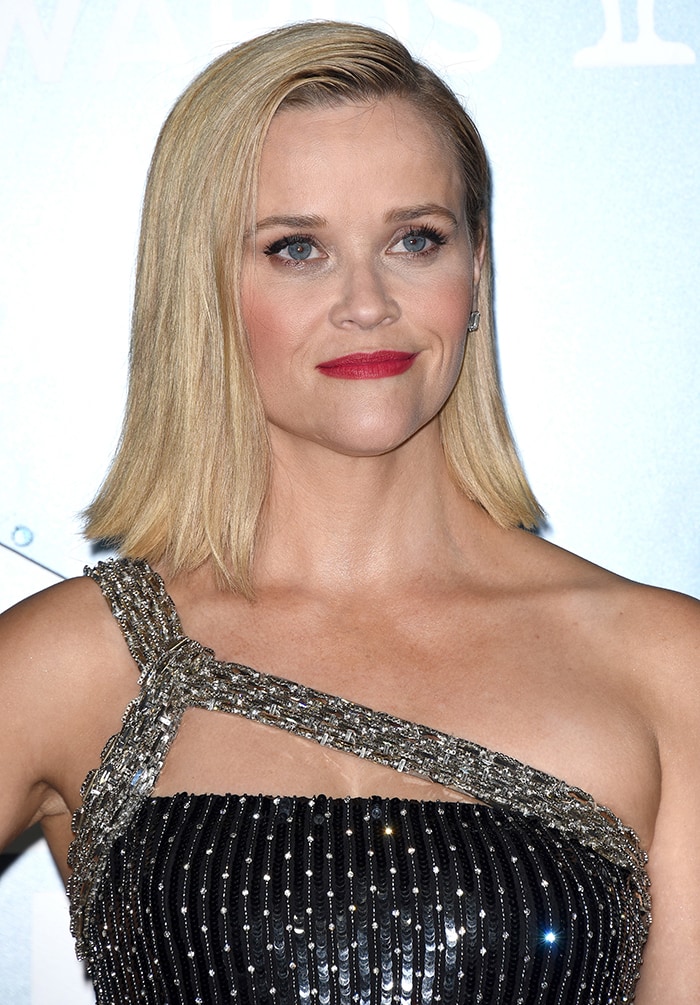 Reese Witherspoon wears side-swept straightened locks with red lipstick
Stylist Petra Flannery added more sparkle to Reese's look with diamond jewelry by Harry Winston. She wore emerald-cut diamond studs, a Diamond Links bracelet, a Crossover Diamond ring, and a River Diamond ring.
For her feet, she wore a pair of Celine sandals in black suede and metallic silver leather. Charlize Theron wore the same pair at the Critics' Choice Awards last week.
Reese Witherspoon shows her sexy feet in Celine sandals
Credit: Nicky Nelson / Adriana M. Barraza / Instar / WENN