Best known as a Victoria's Secret Angel from 1999 to 2018, Adriana Lima grew up in a devout Roman Catholic family who attended Mass every Sunday.
"I'm very spiritual. I believe in nature, I believe in energy, I believe in spirits," said Lima in an interview to publication Ocean Drive.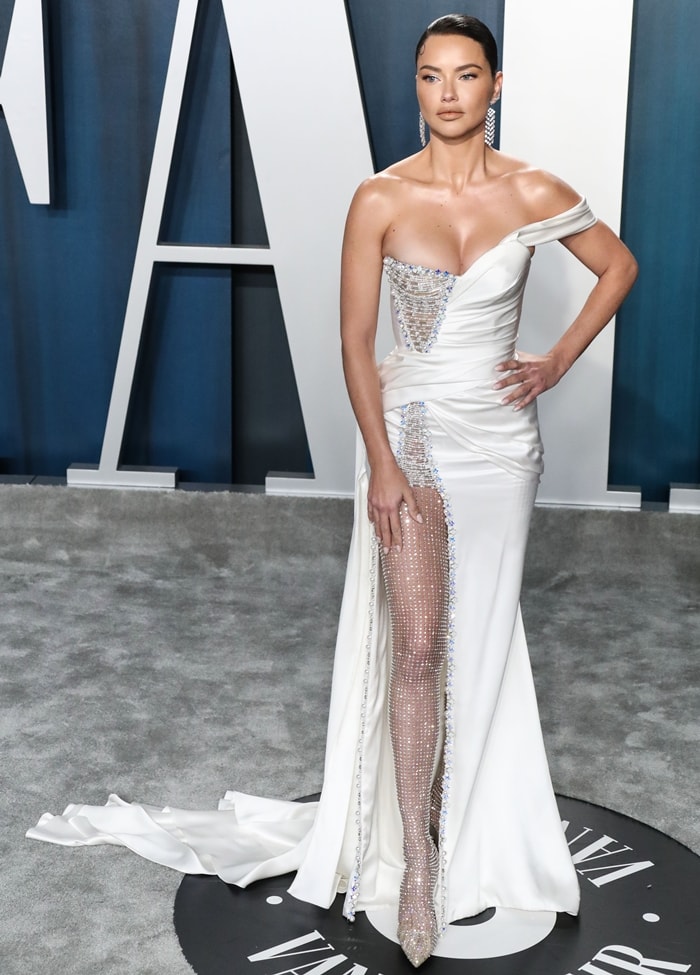 Religious supermodel Adriana Lima in a Ralph & Russo Spring 2020 Couture look the 2020 Vanity Fair Oscar Party hosted by Radhika Jones at Wallis Annenberg Center for the Performing Arts on February 9, 2020, in Beverly Hills, California
"The church is in me—I always connect. If you're connected with the divine and always have pure intentions with everything you're doing, you're protected by the angels," she added and revealed that she wanted to become a Catholic nun when growing up.
"Sex is for after marriage… (men) have to respect that this is my choice. If there's no respect, that means they don't want me," she said in an interview with GQ in 2006.
She famously held onto her virginity until marrying then-husband Marko Jarić in 2009.
Christian model Adriana Lima claims she was a virgin until marrying Marko Jarić in 2009
"You have to stick up for your beliefs, whatever makes you comfortable," the Victoria's Secret model told The Huffington Post in 2013.
As she dated Nicole Kidman's ex Lenny Kravitz for three years, some find Adriana's virginity claim hard to believe.
"I went through a really awkward phase. I was short and brown, surrounded by tall girls with boobs and blonde hair," she explained. "And my dad was dating supermodels, so I was waking up to Adriana Lima. I didn't have beauty as a crutch, and I'm thankful for that because I had to develop my personality," Lenny's daughter Zoë Kravitz said in an interview with Instyle in November 2018.
What's better than one Adriana Lima? Two Adriana Limas.
In November 2015, Madame Tussauds in New York created a wax replica of the longest-running Victoria's Secret Angel, Adriana Lima.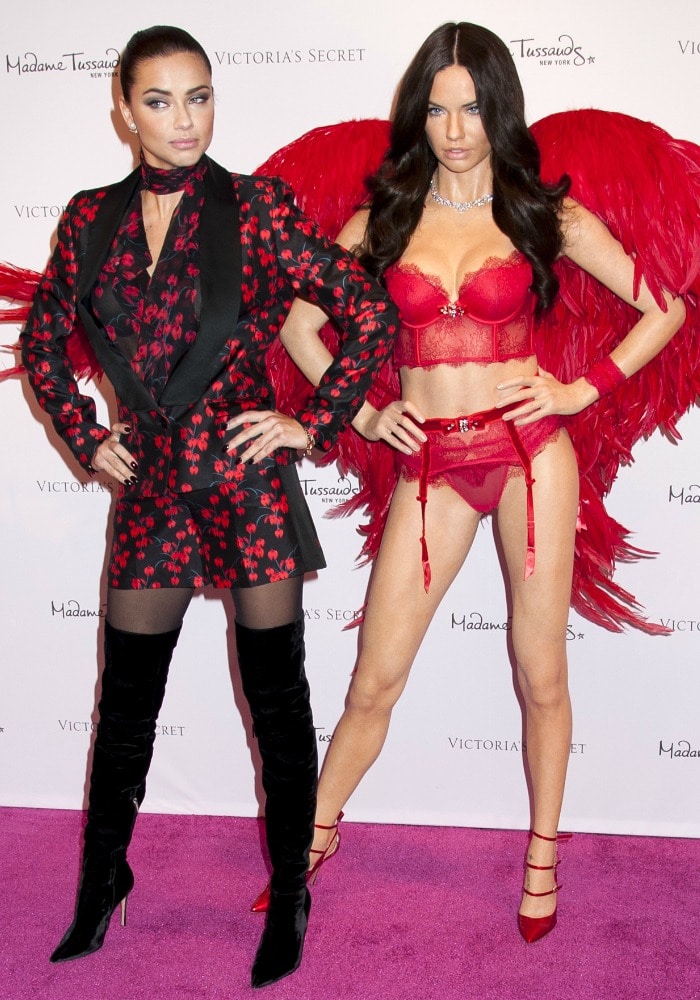 Adriana Lima poses with her new Madame Tussauds wax figure in New York on November 30, 2015
Adriana — the real model, not the wax version — attended the pink-carpeted unveiling in a black and red Rachel Zoe short suit and over-the-knee Gianvito Rossi black suede boots.
The wax Adriana, on the other hand, looked sexy in the same red lingerie that the real Adriana wore on the runway of the 2013 Victoria's Secret Fashion Show.
Adriana Lima wears her hair back in a braid as she inspects her wax figure doppelganger
Considering real Adriana immediately went from gawking to groping to taking selfies with wax Adriana, we're going to guess that she was impressed with her doppelganger.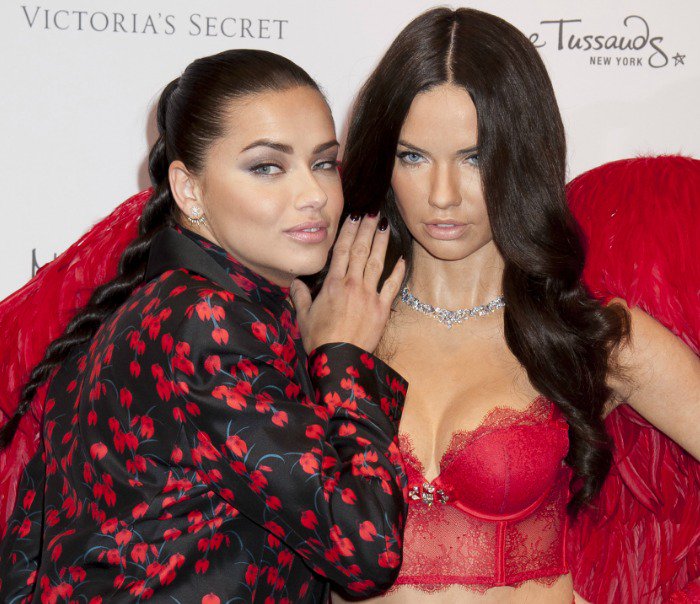 Adriana Lima poses with her wax figure at Madame Tussauds
While the similarities between the fake and real supermodel were impressive, overall, the real Adriana won us over with her killer outfit.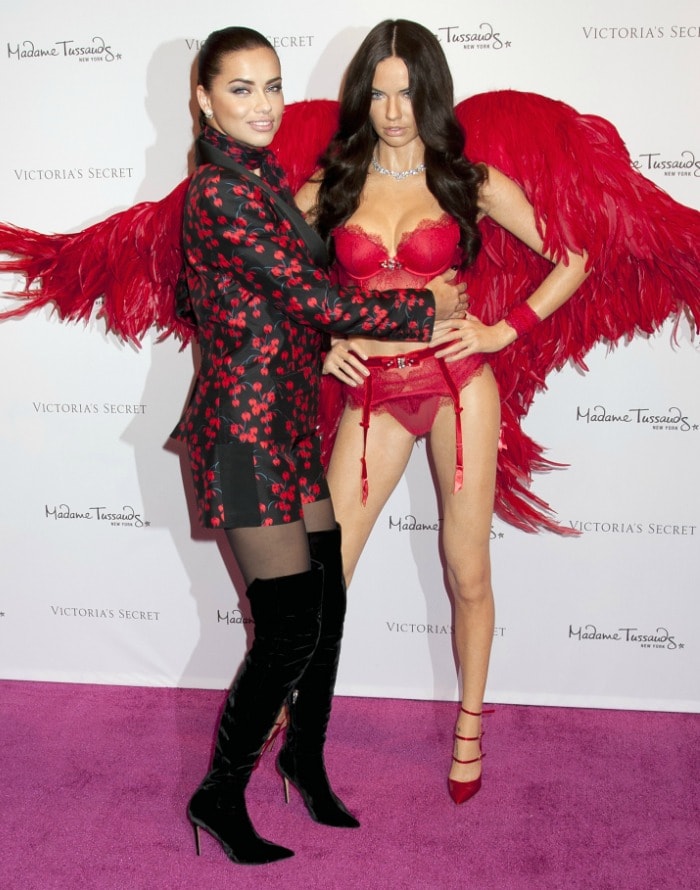 Adriana Lima hugs her wax figure at Madame Tussauds
The real Adriana opted to wear a short suit from Rachel Zoe's Resort 2016 collection.
The ruffled chest, tuxedo-style satin collar, and loose-fitting jacket made her look almost as if she were the sexy masculine counterpart to her scantily-clad wax twin.
Adriana Lima wears a Rachel Zoe short suit at the unveiling of her wax statue
Adriana finished her ensemble with a gorgeous pair of over-the-knee boots from Gianvito Rossi that accentuated her incredible physique and long legs.
Her towering stiletto boots are exactly what this outfit needed to take it over the edge, and Lima rocked the sleek footwear flawlessly.
The Victoria's Secret Angel finished her look by styling her hair into a slick high pony with a twist braid.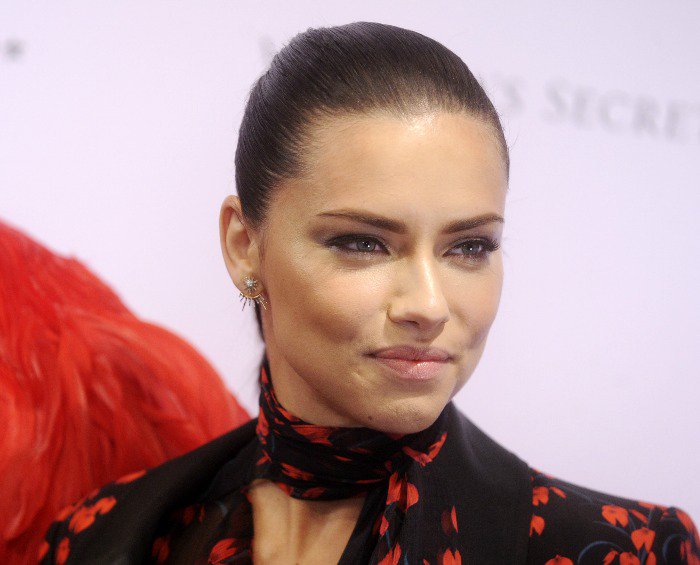 Adriana Lima wears her hair slicked back at the Madame Tussauds wax replica unveiling
What's your impression of the model's ensemble? Would you give the real Adriana or the Madame Tussauds Adriana more style points?
If you're interested in snagging Adriana Lima's exact Gianvito Rossi boots, you can shop at Farfetch and Nordstrom.
Gianvito Rossi Suede Over-the-Knee Boots, $1,795
Credit: WENN / Flashpoint / Avalon