Taraji P. Henson, who gave birth to her son Marcell Johnson while in university, hasn't had an easy life.
Her son's father, William LaMarr "Mark" Johnson, was murdered in Northeast Washington on January 26, 2003, after a confrontation over a slashed tire.
Taraji P. Henson's son Marcell Johnson's father William LaMarr "Mark" Johnson was murdered in 2003
According to The Washington Post, Charlotte Nickelson and Russell Nickelson were charged with first-degree murder while armed in the death of William Johnson. They were still in the same room as their dying victim when police arrived.
According to police, William LaMarr "Mark" Johnson had come to the couple's apartment to confront Charlotte Nickelson because of an incident in which his friend's tires were slashed. He was found by police semiconscious on the living room floor, with stab wounds to his head, body, and legs. One hour later, he was dead.
One year after her ex-boyfriend's murder, Taraji P. Henson attended the premiere of American sports comedy film Mr. 3000 at the El Capitan Theatre in Los Angeles on September 8, 2004
Russell Nickelson reportedly knocked Johnson down with a ceramic lamp before kicking and punching him. Charlotte Nickelson proceeded to stab him in the legs and torso.
"This [expletive] knocked on my door and punched me in the face. So I punished" him, Charlotte Nickelson allegedly said to officers. "So I split his [expletive] head."
When he asked for water, Nickelson allegedly told him "Shut up [expletive], you ain't getting no water in here."
Two years after his death, Charlotte Nickelson and Russell Nickelson entered a guilty plea in court. Convicted with voluntary manslaughter, she was ordered to spend 36 months behind bars, while he received a sentence of 50 months.
Actress Taraji P. Henson attends the "Rush Hour 2" Hollywood premiere on July 26, 2001, at Mann's Chinese Theatre in Hollywood, California
"His dad was murdered when Marcell was 9," Taraji told Star Magazine in 2015. "He's had to deal with life in a way that a lot of young kids haven't yet." And although she and Johnson were no longer together when he was killed, "we would sit and weep about it," Taraji added.
"Do I mourn for him? Absolutely. I wish my son had his dad. But sometimes things line up and they have to happen and we don't know why."
In November 2015, Taraji P. Henson oozed sass and sex at the VH1 Big In 2015 With Entertainment Weekly Awards ceremony.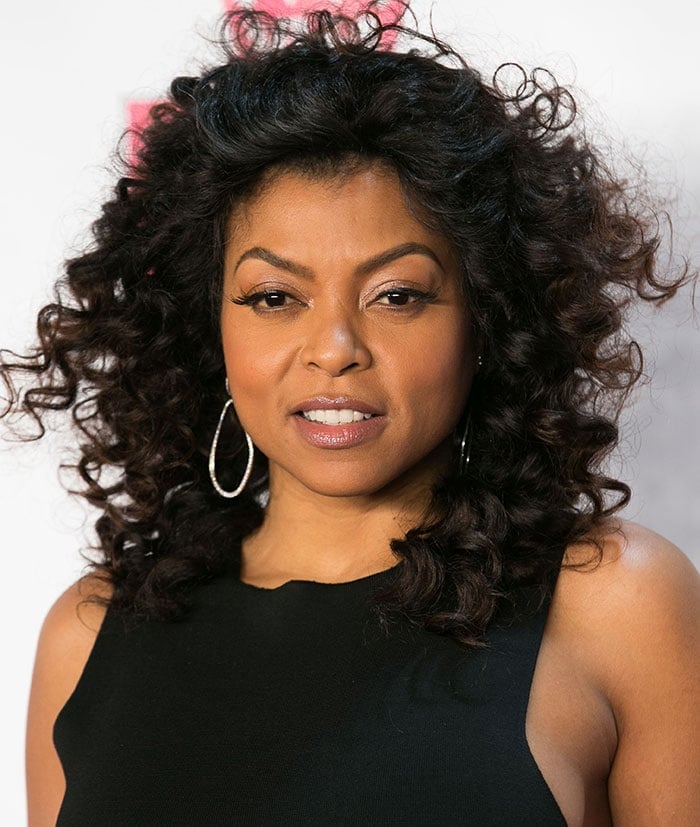 Taraji P. Henson wears her curly hair down at the VH1 Big in 2015 with Entertainment Weekly Awards held November 15, 2015, in Los Angeles
The awards ceremony was held at the Pacific Design Center in West Hollywood. The honorees were also featured in EW's Entertainers of the Year issue.
Taraji, who also is musically gifted, was honored at the event for her work as Cookie Lyon on the Fox drama hit series Empire.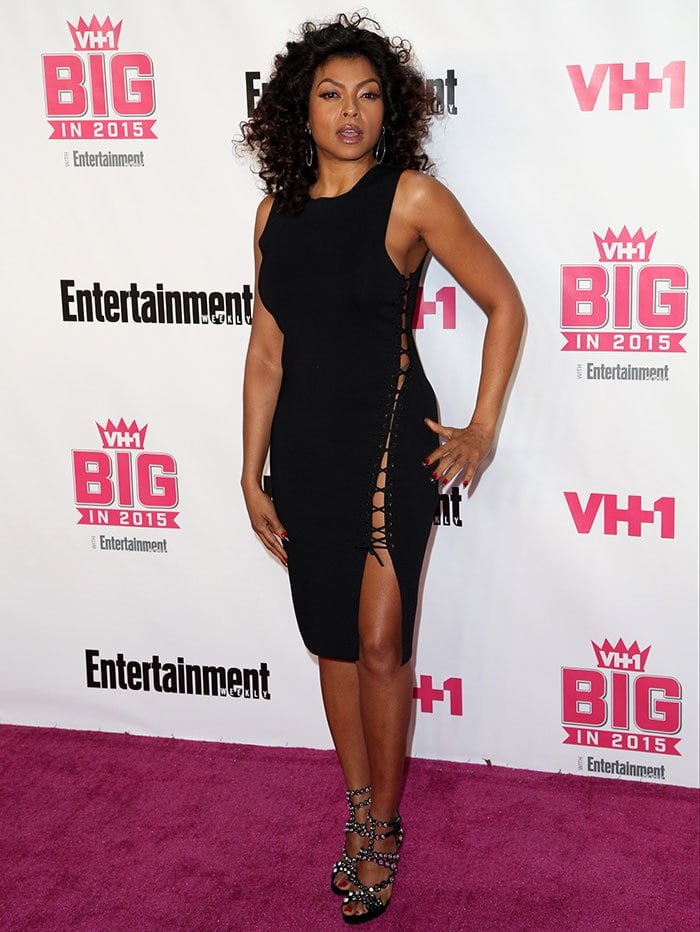 Taraji P. Henson wears a skin-baring dress from Alexander Wang on the red carpet
The then 45-year-old actress hit the red carpet in a black Alexander Wang Spring 2016 dress that features a skin-baring alluring lace-up detailing down the side.
Taraji P. Henson blows a kiss on the red carpet
She styled the flattering frock with a pair of dangling hoop earrings and mirror-embellished sandals.
Taraji P. Henson shows off her body in a black form-fitting Alexander Wang dress
She wore her curly hair down and finished her look with dark eyeliner and mauve lipstick.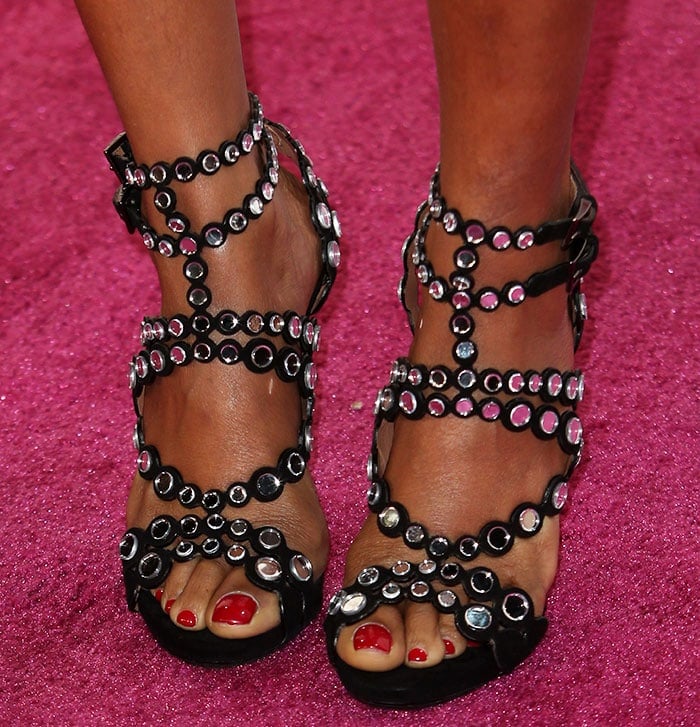 Taraji P. Henson shows off her sexy toes in shoes with circular mirror embellishments
We last spotted Taraji wearing these same Alaïa sandals at a live-streaming panel event for Empire last May.
These laser-cut suede shoes feature circular mirror embellishments, open toes, double buckled ankle straps, 0.5-inch platforms, and 4.5-inch heels.
Taraji P. Henson's feet in Alaïa sandals
These Alaïa sandals are now on sale at Saks Fifth Avenue and Net-A-Porter.
Alaïa Mirror-Embellished Laser-Cut Suede Sandals, $2,110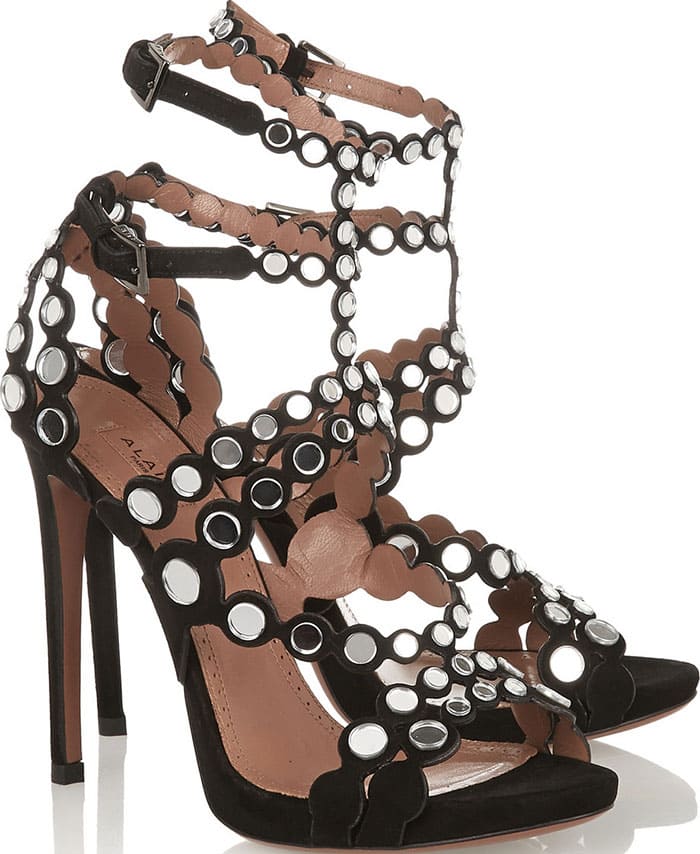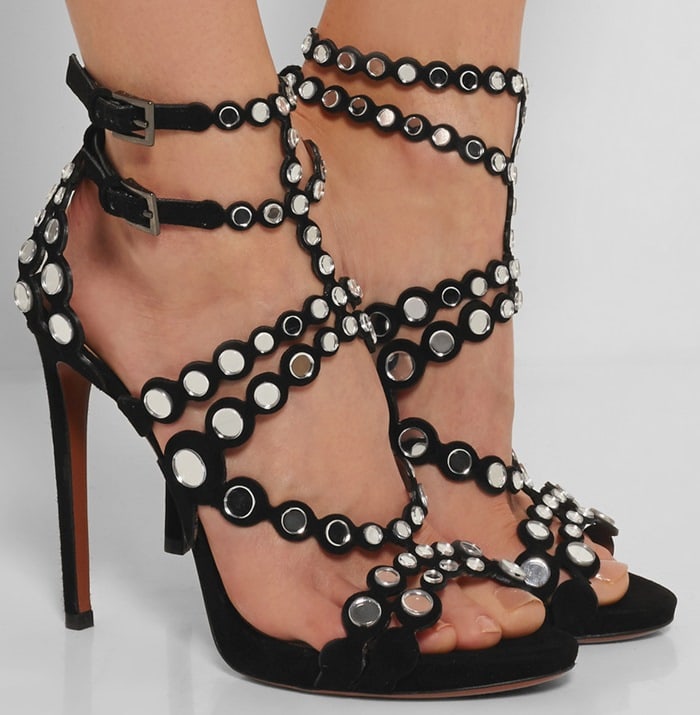 Credit: FayesVision / Apega / Brian To / WENN / Nicky Nelson / Adriana M. Barraza