The highly-anticipated second season of the American hit sitcom Abbott Elementary has added another big name to its impressive cast.
Renowned actress Taraji P. Henson joins the show for an upcoming episode, which will air on April 12, playing the estranged mother of schoolteacher Janine Teagues, portrayed by Quinta Brunson.
View this post on Instagram
The exciting news was announced during The Paley Center for Media's annual PaleyFest LA event, where stars of the show, including Sheryl Lee Ralph, Lisa Ann Walter, Tyler James Williams, and William Stanford Davis, gathered in person as well as Janelle James and Chris Perfetti via Zoom to discuss the upcoming season.
Unfortunately, Brunson, the show's lead and executive producer, couldn't attend the occasion in person because she was hosting "Saturday Night Live" that evening.
In the upcoming episode titled "Mom," which serves as the 21st episode of Season 2, Janine is preparing to go on a Memorial Day weekend trip alone when her mother, Vanetta, portrayed by Henson, unexpectedly appears and asks for her daughter's help.
Quinta Brunson, the co-executive producer, writer, and lead actress in the sitcom "Abbott Elementary" on ABC, along with fellow series regulars Tyler James Williams, Janelle James, Lisa Ann Walter, and Sheryl Lee Ralph, and executive producer/director Randall Einhorn, gathered for an advanced screening of the season one finale and reception at NeueHouse in Hollywood on April 10, 2023 (Credit: Michael Simon / Startraksphoto)
While details about the episode are still under wraps, Henson teased during the event that it will be a "riot" and that she's thrilled to be part of the "Abbott Elementary" team.
The 52-year-old actress said, "Now, I can't share too many details with you, so you'll have to tune in to ABC, April 12, but I can guarantee you that it is going to be a riot."
She continued, "I have been a fan of Abbott Elementary since day one. I'm so proud of Quinta, and I was excited to join her and the amazing cast."
Bold and Elegant in All-Black Ensemble
On April 6, Taraji P. Henson graced ABC Studios with her stunning presence as she prepared to appear as a guest on "The View."
The actress made quite the fashion statement as she arrived at the studio, clad in a sleek and stylish ensemble.
Henson looked sharp and sophisticated in a classic black waistcoat vest and straight-leg pants, exuding confidence and professionalism.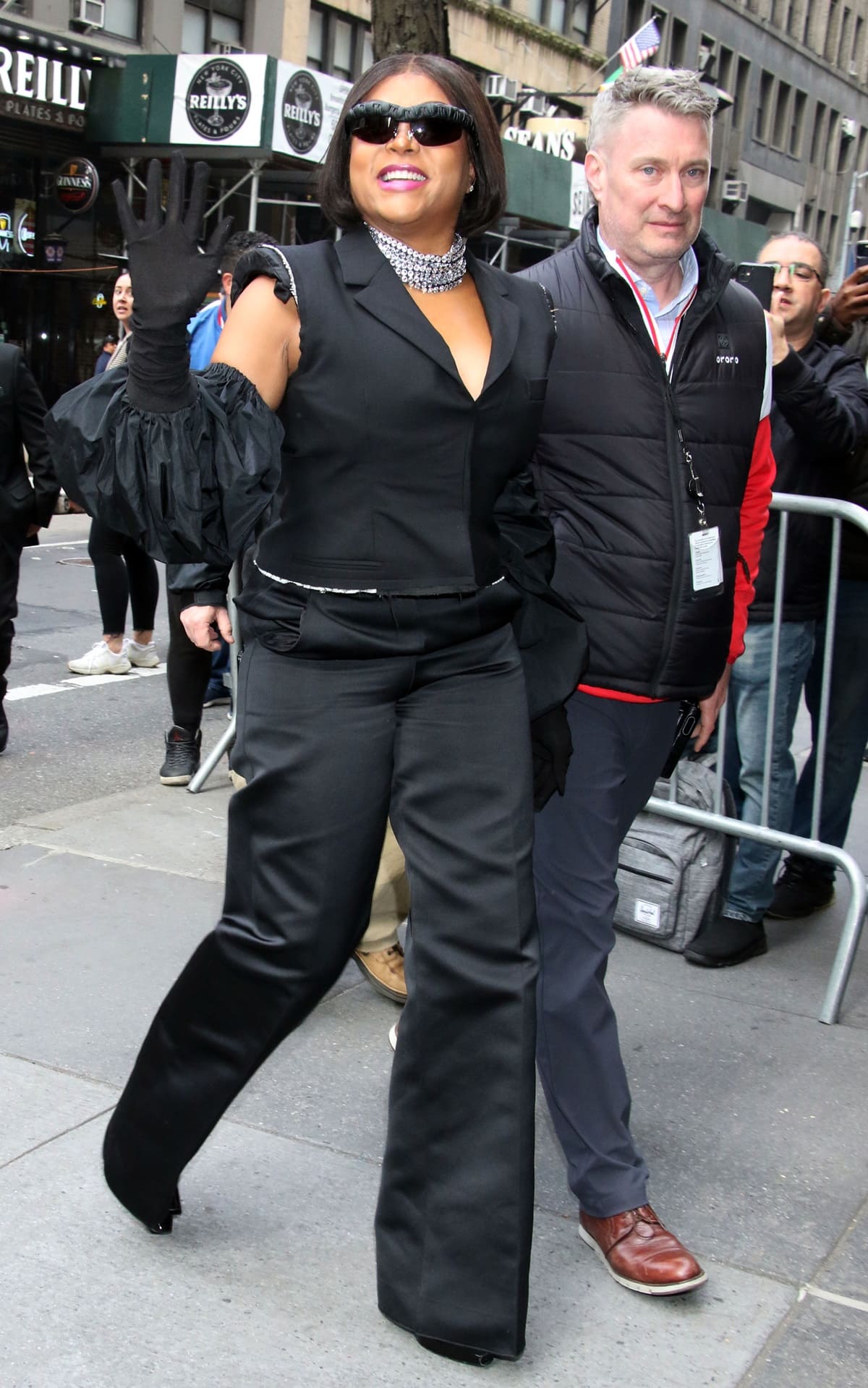 Taraji P. Henson arrived to tape an episode of The View in New York City in a black jumpsuit with a plunging neckline, voluminous elbow-length gloves, and a silver choker necklace on April 6, 2023, in New York City (Credit: Roger Wong / INSTARimages)
But that's not all – the "Hidden Figures" star also brought a touch of drama to her look with striking puff-sleeve gloves, adding a unique and eye-catching element to her outfit.
To complete her chic and polished look, Henson wore a pair of shiny black pumps that elongated her legs and gave her a confident stride.
The "Smokin' Aces" actress didn't shy away from accessorizing either, donning a silver choker that delicately hugged her neck and matched the overall tone of her outfit. Henson added a touch of drama to her attire with a pair of oversized black sunglasses.
Taraji P. Henson's makeup was on point with hot pink lipstick for a pop of color, dramatic false eyelashes, and bronzer that gave her a sun-kissed glow (Credit: Roger Wong / INSTARimages)
Her hot pink lip added a pop of color to her otherwise monochromatic outfit, making her stand out in all the right ways. Henson's sleek and edgy black bob perfectly framed her face, giving her an elegant look.
What Henson Says About Working in Abbott Elementary
Henson rocked a more casual outfit during her appearance on "The View," opting for a green sweater with a sequined butterfly and white leggings.
However, her outfit was not the main focus of her visit. Instead, the "What Men Want" actress talked about her haircare business and shared her excitement for her upcoming guest spot on the teacher-focused show.
When discussing her role as Vanetta, Janine's estranged mother on the show, Henson was visibly delighted. She revealed she is a sitcom fan and requested to be on the series.
Henson said, "I love it. I was a fan. Actually, I requested to be on the show. Quinta and I were competing on Jimmy Fallon's That's My Jam, and I was singing her praises. I was telling her how proud of her I was. And I was like, 'Girl, you know, any time you need me, call me.' And she called! I was like, 'Absolutely, I'll do it.'"
During her interview, Henson had nothing but praise for the "Abbott Elementary" cast and the show's writing.
She noted, "It was just so much fun. That cast is incredibly talented. The writing is very witty. It's smart, it's funny."
The "Think Like a Man" star also shared that she has a unique connection to the school system, having worked as a substitute teacher before her acting career took off.
Henson said, "And I have an affinity for teachers because I was a substitute teacher before my career took off. I love that show in a whole other way."
Unapologetically Dramatic in Marc Jacobs Fur Dress and Heels
After appearing on "The View," Henson left the ABC studios in a show-stopping Marc Jacobs ensemble that made a bold fashion statement.
The award-winning actress wowed onlookers with her opulent faux fur dress, part of the designer's ready-to-wear Spring 2023 collection.
Her outfit had an oversized jacket attached around her waist, creating a unique layering effect on the ensemble.
But the real showstopper was her footwear – a towering pair of platform heels from Marc Jacobs' Fall 2016 collection.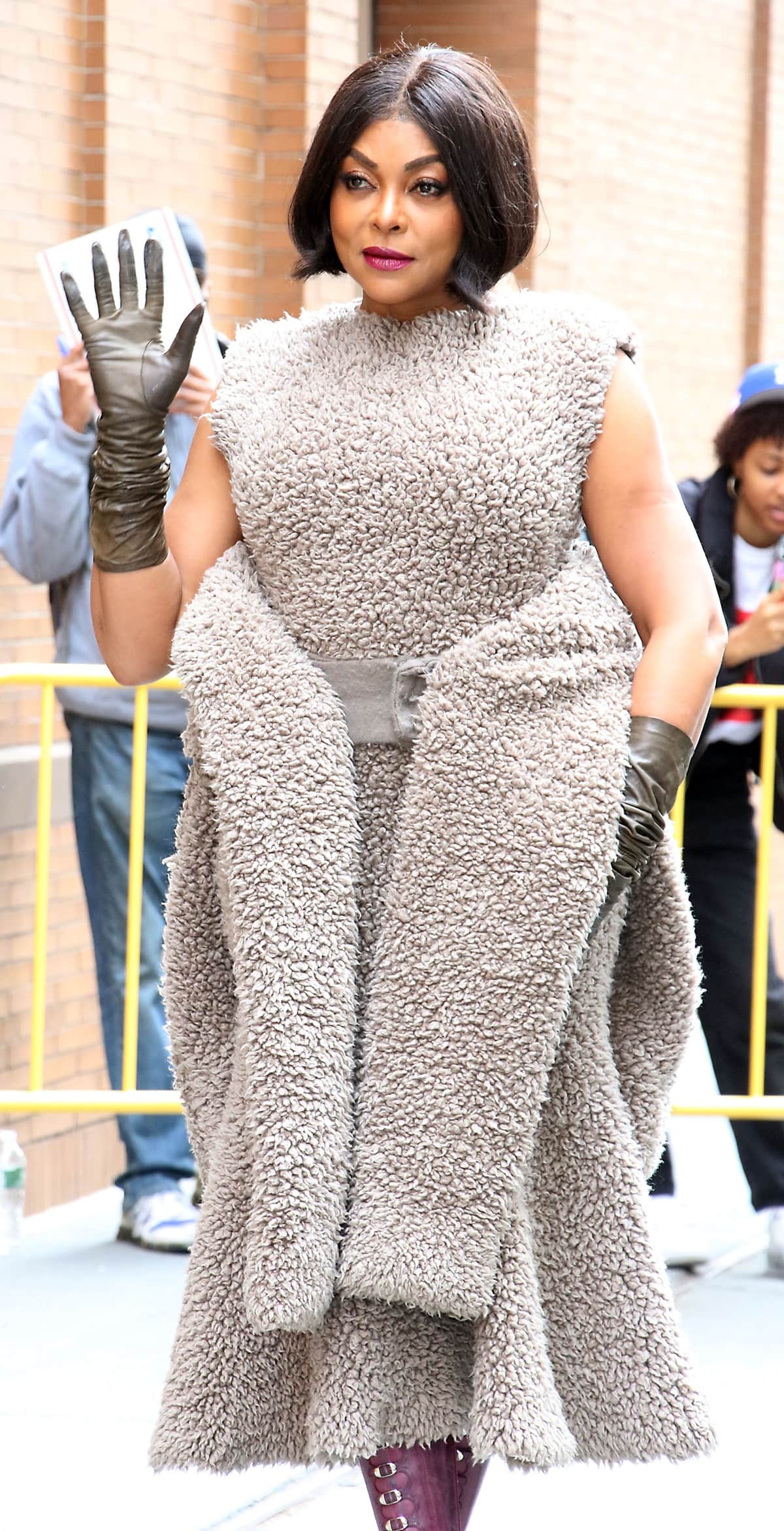 Taraji P. Henson left The View's taping in New York City in a grey dress with statement-making sleeves that resembled octopus tentacles (Credit: Roger Wong / INSTARimages)
While the dress, which walked the runway at Jacobs's Fall 2023 presentation, was sculptural and fuzzy, it was Henson's movement that brought it to life.
She swung the sleeves around, showcasing the dress's movement and making it look as if she was an octopus herself. To complete the look, Henson added a pair of bronze gloves and sky-high purple boots, which she managed to maneuver in flawlessly.
These statement-making shoes had an 8-inch heel and a relatively high platform, making them a bold choice for anyone. The pumps also had elaborate straps extending up the shaft, adding an edgy touch to the fierce outfit.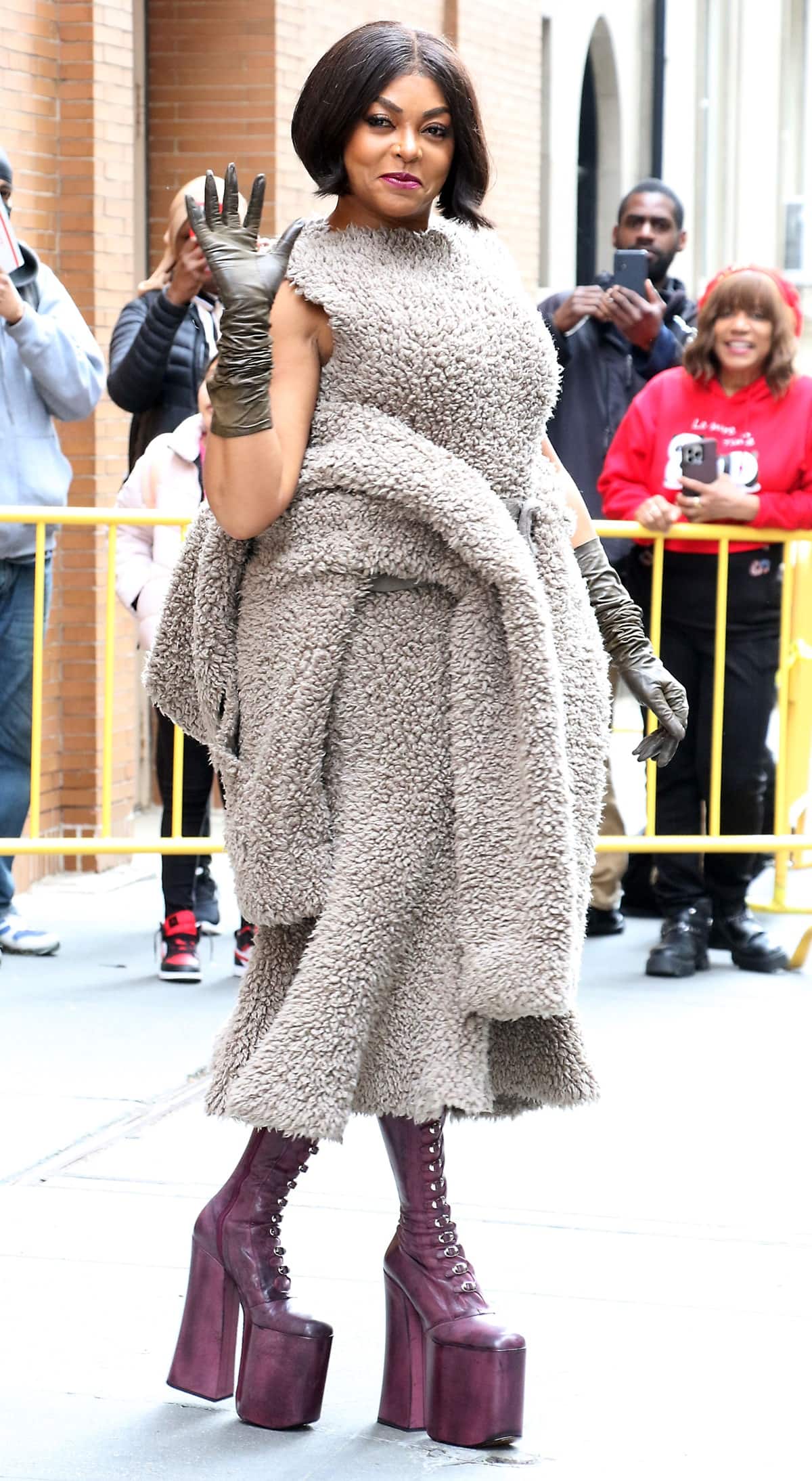 Taraji P. Henson styled her grey midi dress with bronze gloves and completed her Marc Jacobs outfit with sky-high purple boots (Credit: Roger Wong / INSTARimages)
To add some color to her ensemble, Henson opted for a burgundy lip, which perfectly complemented the shades of the dress. She was also accessorized with a pair of dark brown gloves that added a touch of elegance to the outfit.
Taraji P. Henson is a talented actress who has consistently proven herself to be a force to be reckoned with, having garnered numerous awards and nominations for her work on both the big and small screen.
Her portrayal of Cookie Lyon on the popular television show "Empire" earned her three Emmy nominations, a Golden Globe, a Critics' Choice Award, and three BET Awards.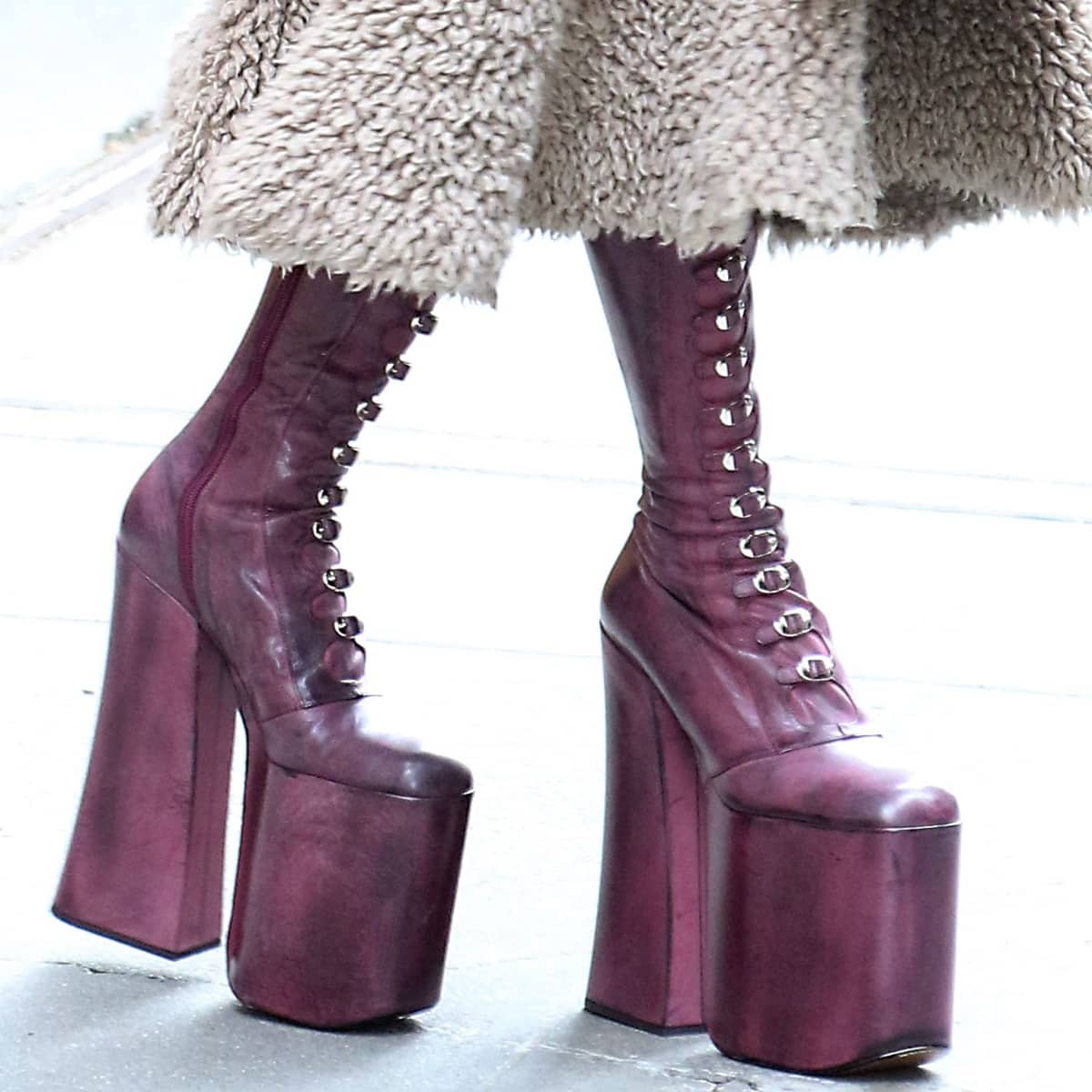 Taraji P. Henson turned heads with 8-inch purple platform boots by Marc Jacobs (Credit: Roger Wong / INSTARimages)
Her breakthrough performance in "Hustle & Flow," among her other roles, brought her recognition and a BET Award for Best Actress.
Henson is a formidable presence in the entertainment industry, and her inclusion in the cast of Abbott Elementary is sure to generate even more buzz for the show.