Adding to their numerous public sightings while jet-setting all over Europe, rumored couple Rihanna and Drake were seen hitting London hotspot Cirque le Soir for yet another date night on Monday. They arrived separately but were photographed sharing the same table once inside the club.
A source even told WENN that the two had "their tongues down each other's throats and didn't seem to care about everybody seeing." What's the real deal between these two?
Rihanna and Drake separately making their way into the Cirque le Soir club in Soho, England, on March 10, 2014
For her night out with Drake, Rihanna wore a baggy white sweatshirt, Hudson "Nico" skinny jeans, a huge padlock necklace, and sneakers. A view from the front shows a seemingly unsexy outfit for a date with a boy you're interested in, but wait until you see the back, or what little there is of it anyway.
Rihanna showing her toned bare back to the cameras while making her way into the Cirque le Soir club
What need is there for an itty-bitty dress and sky-high heels when you've got on a completely backless top? If what WENN reported is true, we're sure Drake couldn't keep his hands off Rihanna in this "easy access" Anne Sofie Madsen exaggerated cutout sweatshirt: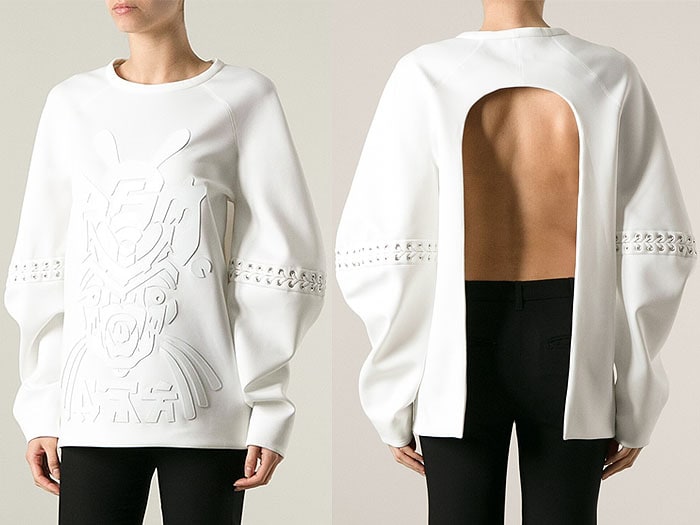 Anne Sofie Madsen "Ninja Storm" Top, $676.73
With a top like that, Rihanna was able to ditch her clubbing heels for these somewhat rugged-looking Air Jordans:
Nike Air Jordan 1 Mid "Nouveau" Sneakers in Sequoia, $94.99–$140
As for the gigantic padlock around Rihanna's neck, you may remember seeing it at the supermarket-themed Chanel Fall 2014 fashion show. Rihanna is a well-known lover of Chanel, so we expect to see her wearing more of the outrageous accessories from that collection. We bet she got herself a pair of the tweed sneaker boots!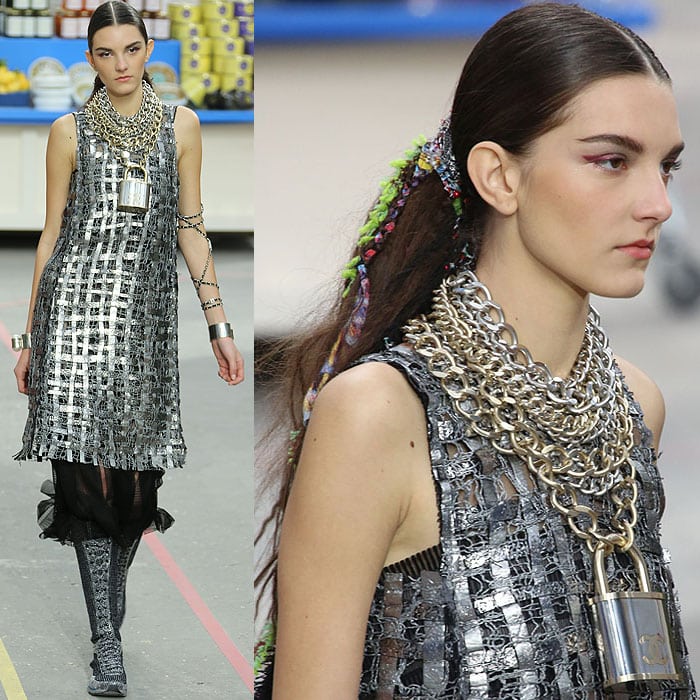 A model wearing a gigantic padlock and chain necklace at the Chanel fall 2014 fashion show held during Paris Fashion Week Womenswear Fall/Winter 2014–2015 in Paris, France, on March 4, 2014
Credit: SIPA / WENN