The Chanel show at Paris Fashion Week always brings the style icons out to play, and the Spring 2014 presentation was no different. Guests wore an array of footwear from thigh-high boots to classic pumps. Here are our favorites:
Miranda Kerr
Miranda proved that she's still got it. We last saw her in a ladylike look. Now, we feature her in an edgy, rock-chick vibe. Her tartan Chanel Pre-Fall 2013 jacket was the perfect cover-up for her simple black blouse. Of course, also notable were her leather shorts and those legs that go on for days.
Miranda Kerr at Chanel's Spring 2014 show in Paris, France, on October 1, 2013
Miranda was one of the few who didn't wear Chanel shoes. Heeled ankle boots by Isabel Marant were seen on the 30-year-old model instead. Leather button straps, suede detail, and black-and-white printed calf hair can all be found on these pointy-toed booties.
Miranda Kerr's Isabel Marant heeled ankle boots
Isabel Marant Ankle Boots, $1,505
Leigh Lezark
Chanel's beauty ambassador, Leigh Lezark, was ready for fall in a multicolored sweater from the Chanel Pre-Fall 2013 collection. She paired her chunky knit outerwear with a pleated miniskirt and some incredible leather thigh-high boots.
Leigh Lezark at Chanel's Spring 2014 show in Paris, France, on October 1, 2013
These Chanel Fall 2013 heeled boots are decorated with silver chains and are one of the coolest pair of shoes around. It takes courage to pull this look off, but Leigh managed to do so and looked super stylish, too.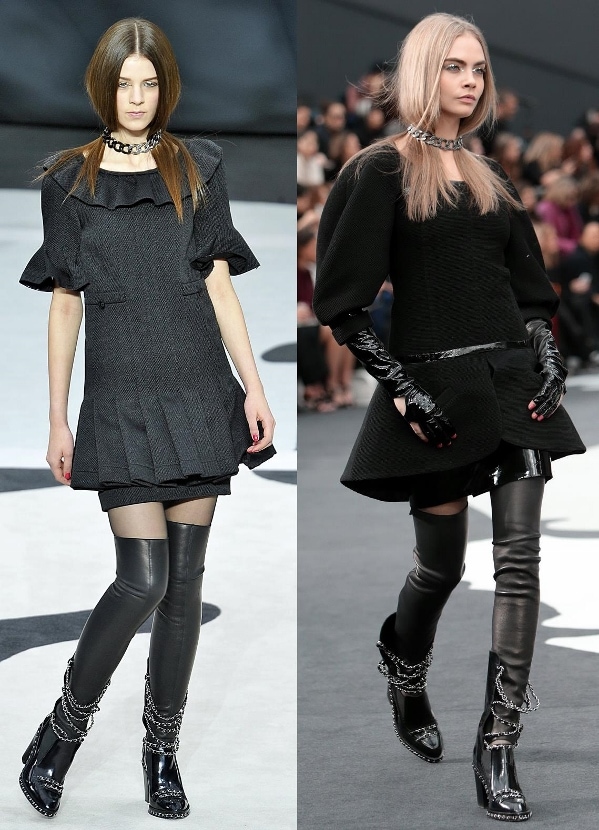 Leather thigh-high boots seen at Chanel's Fall 2013 runway show
Leigh Lezark's leather boots with chain detailing from Chanel's Fall 2013 collection
Katy Perry
The 28-year-old singer has transformed since the last time we saw her. The Gothic girl has vanished, and a more feminine and elegant Katy has taken her place. Attending a Chanel show usually means dressing head to toe in clothes and accessories by the designer, and Katy didn't disappoint. She chose a gown from Chanel's Resort 2014 collection that features a mixture of floral prints on the top and the skirt.
Katy Perry at Chanel's Spring 2014 show in Paris, France, on October 1, 2013
Her chunky choker and Lego purse gave an edge to her outfit, but our favorite in Katy's ensemble has to be her Chanel cap-toe pumps. They were hidden under her dress for most of the time, but we did catch a glimpse of these beauties that have been seen on everyone from Rihanna to Tilda Swinton. These classic pumps work for any look and contain that extra Chanel twist in the knot detail on the heels.
Rihanna wearing the same Chanel pumps at the Paris Haute Couture Fashion Week in France on July 2, 2013
Elena Perminova
The Russian beauty looked cute in a Chanel Fall 2013 skater dress and a chic monochrome sleeveless jacket from the same collection. Elena's white Chanel biker boots detailed with the signature Chanel chain from the Fall 2013 runway showed off her long legs. It's hard to believe that this woman is a mother-of-two with that body!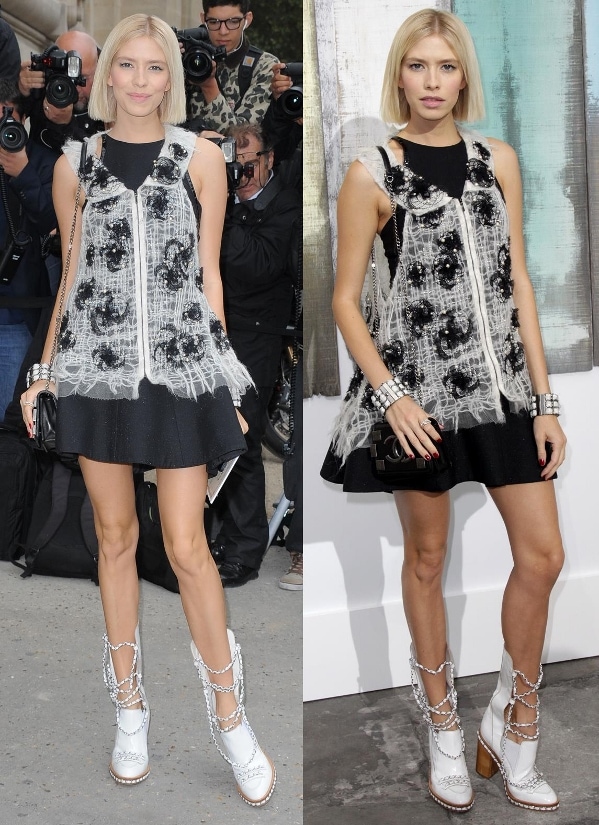 Elena Perminova at Chanel's Spring 2014 show in Paris, France, on October 1, 2013
The boots come in a variety of colors, including black, white, and light pink, and can be easily spotted by their wooden block heels. Elena sure paired these boots with a much better outfit than Miley Cyrus did at the iHeart Radio Music Festival.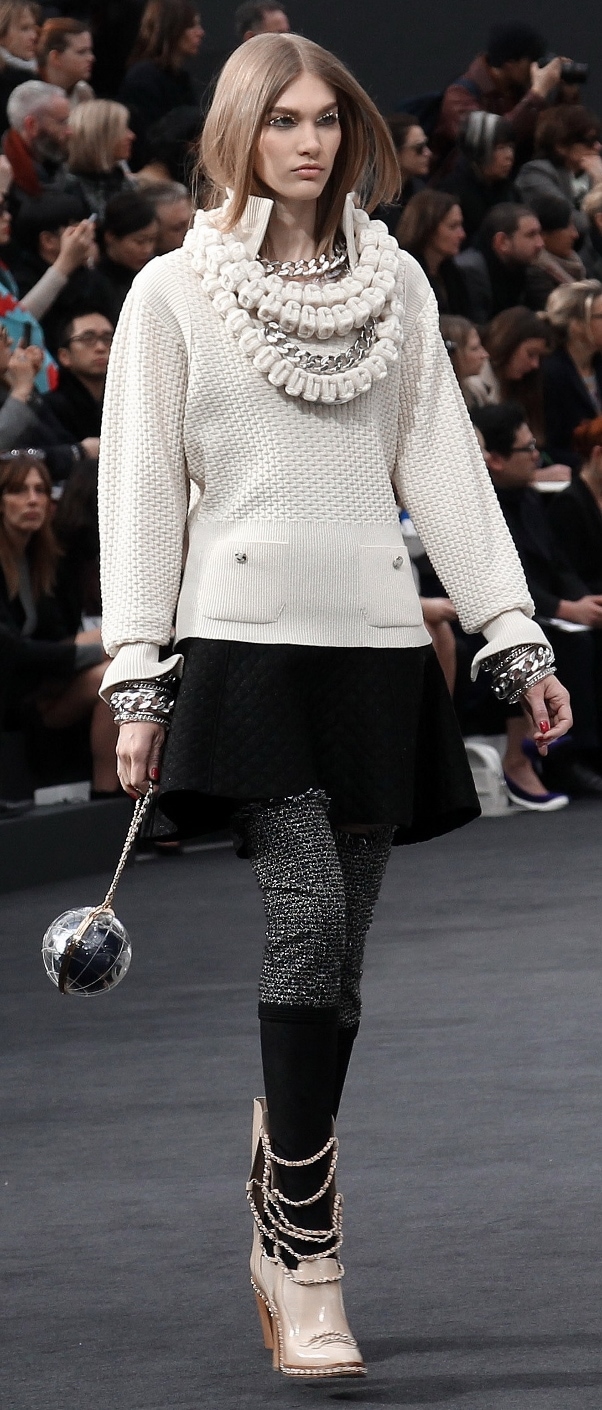 Chain biker boots seen at Chanel's Fall 2013 runway show
Elena Perminova's white biker boots from Chanel's Fall 2013 collection
Chanel doesn't sell any products from their collections online. If you're dying to buy any of their shoes, take a trip to the nearest store.
Credit: Marco Madeira/News/Pictures/JSB/JSB2/PixPlanete/WENN