It's the Supermarket Sweep all fashionistas would kill to join. Chanel set their fall 2014 collection in a grocery store where all the shoppers were couture-clad models and all the merchandise brandished the French fashion house's label.
For such a bizarre setup, the shoes were surprisingly sensible. On the models' feet were athletic sneakers reworked in holographic leather, tweed, and Chanel's trademark quilting. And they weren't even the fashion sneakers type but the kind that everyday people would wear for a grocery run.
Some of the sneakers were knee-high, which reminded us of Jeremy Scott's own tall sneaker boots. In fact, the whole supermarket setup reminded us of Jeremy Scott's fast-food-themed collection for Moschino fall 2014. But nevermind that; there were so many crazy things that happened on Chanel's own runway that we can only process them one at time. The 25 most ridiculous moments from the Chanel fall 2014 show are as follows:
1. The Grand Palais was transformed into a supermarket.
It was an ultra-fashionable supermarket called the "Chanel Shopping Center," so at least there's that.
2. The Chanel Shopping Center sold Chanel-branded grocery goods, such as pasta, rice, flour, soda, biscuits, mushrooms, eggs, and liquor.
When will these be sold at supermarkets near us?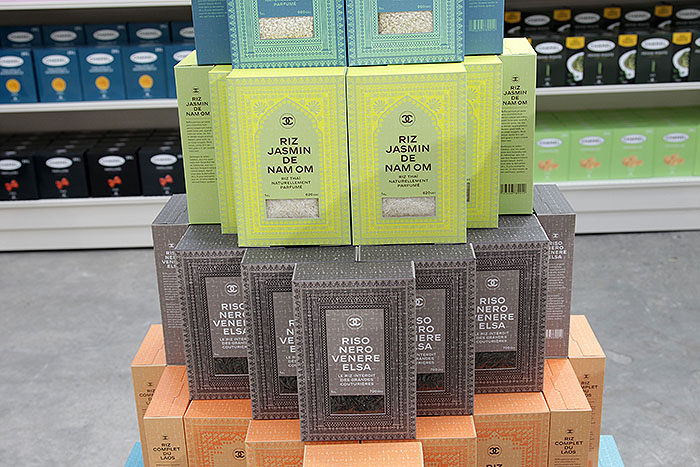 4. Karl Lagerfeld and Rihanna did the prom pose.
Bonus: the giant pearl bracelet on Rihanna's wrist.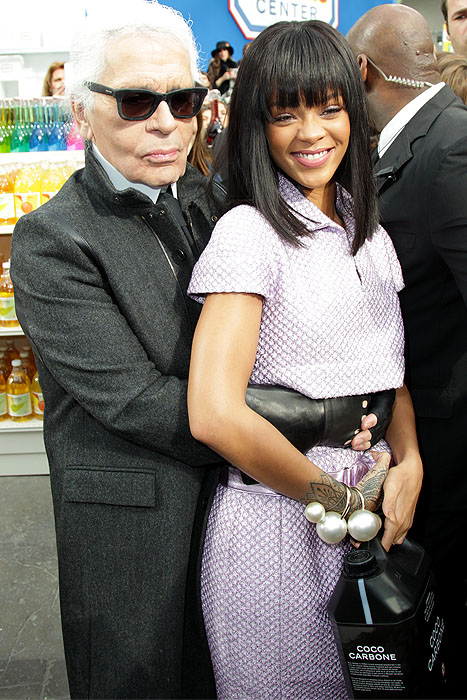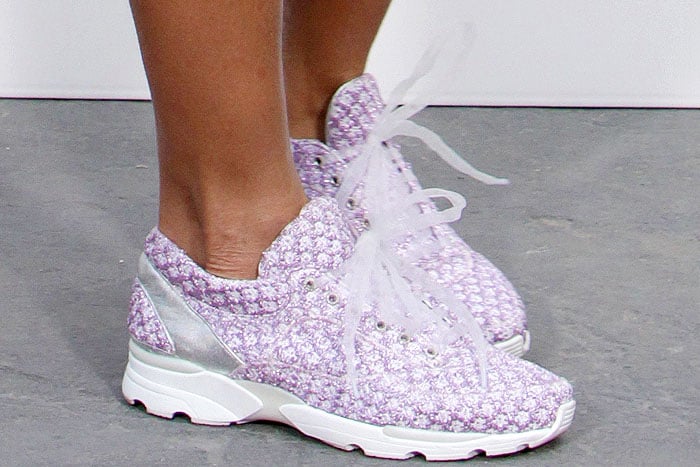 5. Rihanna at first couldn't believe that Cara Delevingne wanted her to go shopping cart riding, but she went ahead and did it anyway.
And it looked like she, Cara, and Joan Smalls had lots of fun doing it, too.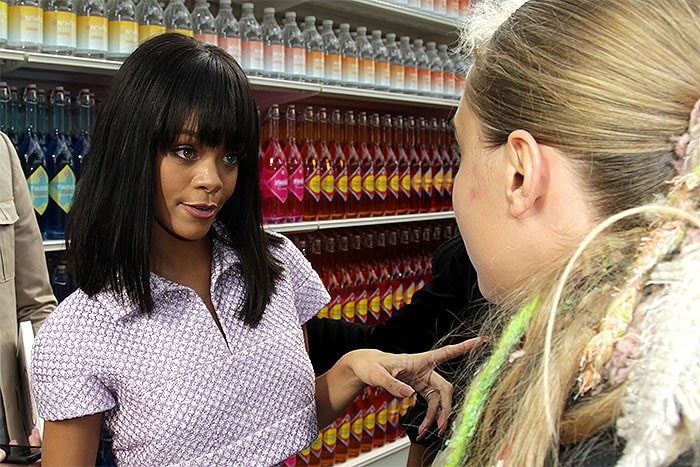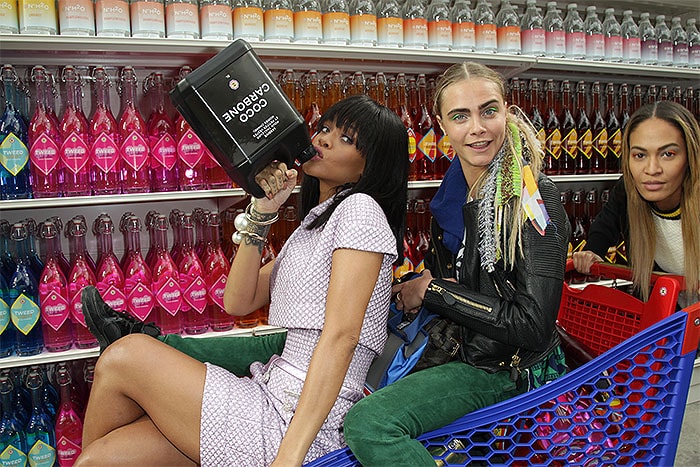 6. Rihanna was like, "girl, hold up" when they passed by the coco flakes display, and she made a beeline for it.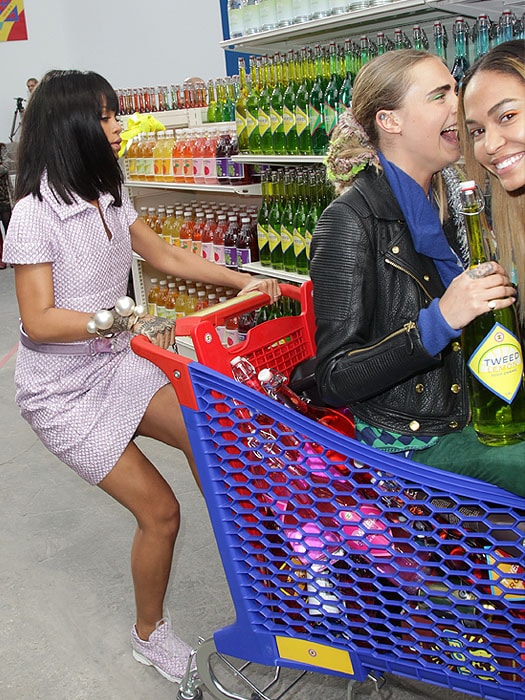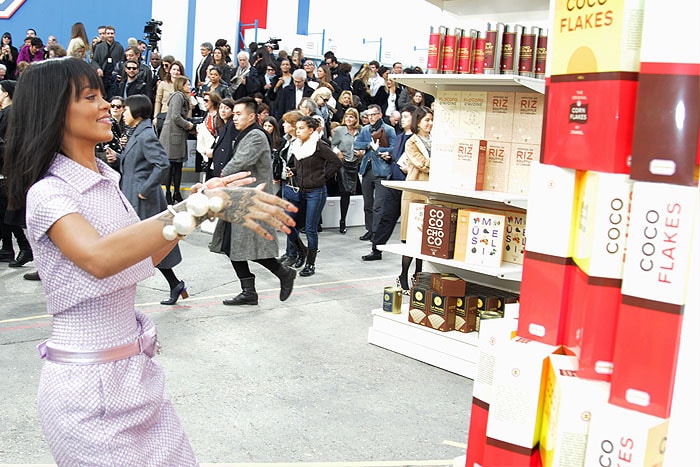 7. Rihanna hoarded the coco choco, coco flakes, and coco rico.
Even Karl Lagerfeld couldn't resist them.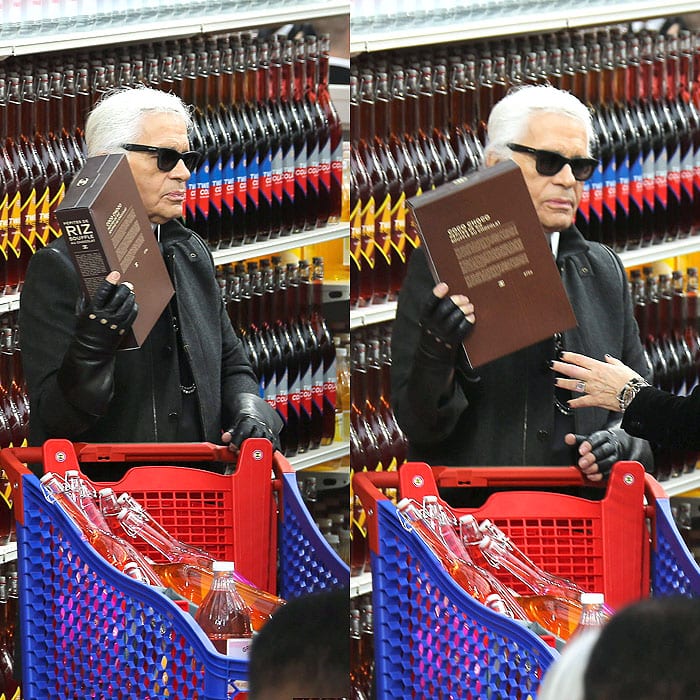 8.  When it was the models' turn in the supermarket, this model didn't waste time and grabbed a basket straight away.
9. One model filled up an entire shopping cart.
10. One model knew that the grocery baskets embellished with chains, locks, and keys were major scores on their own.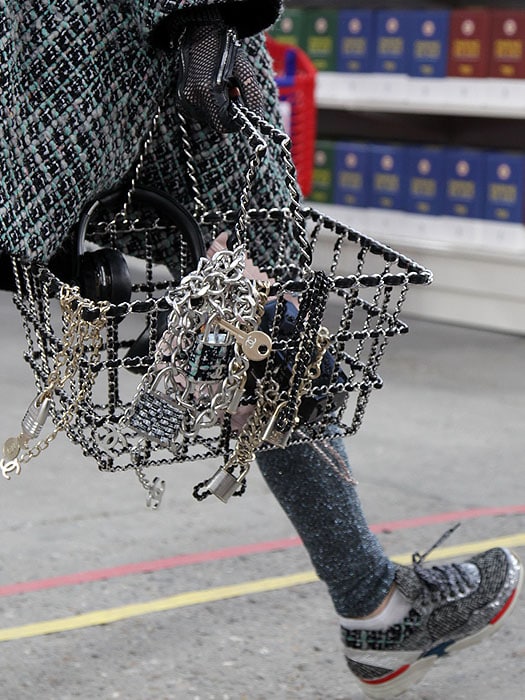 11. A model filled up her basket with Chanel handbags.
She clearly knew what she was doing.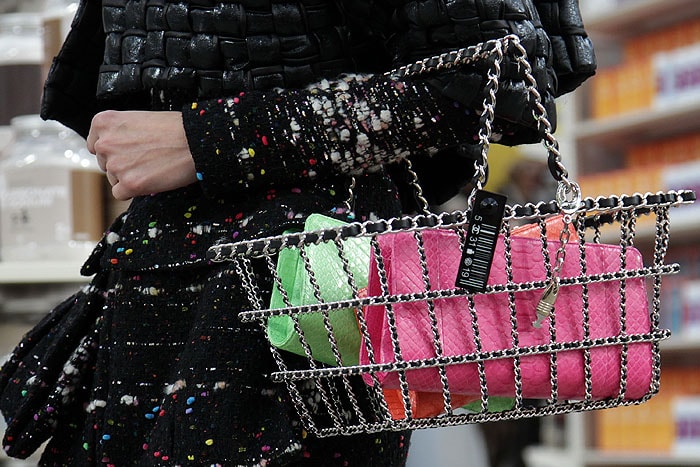 12. This pink-garbed model perused the sugar aisle, making for a saccharine-sweet scene.
13. One model picked up parsley, of all things.
We get it that being a model entails eating healthy, but, c'mon, she was in a supermarket filled with Chanel grocery items!
14. One model couldn't be bothered with the food items and studied the dishwashing soaps.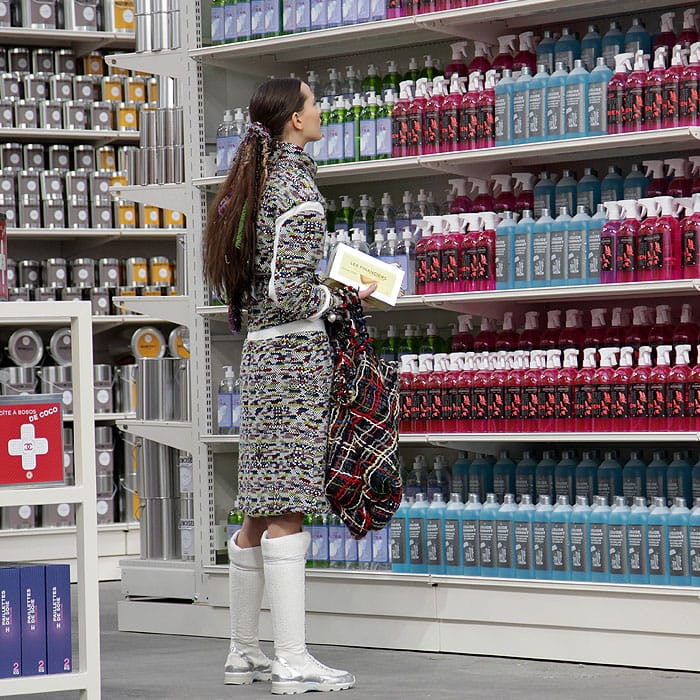 15. One model picked up a giant bag of cotton balls.
Chanel cotton balls! That also appears to be a doormat in her other hand.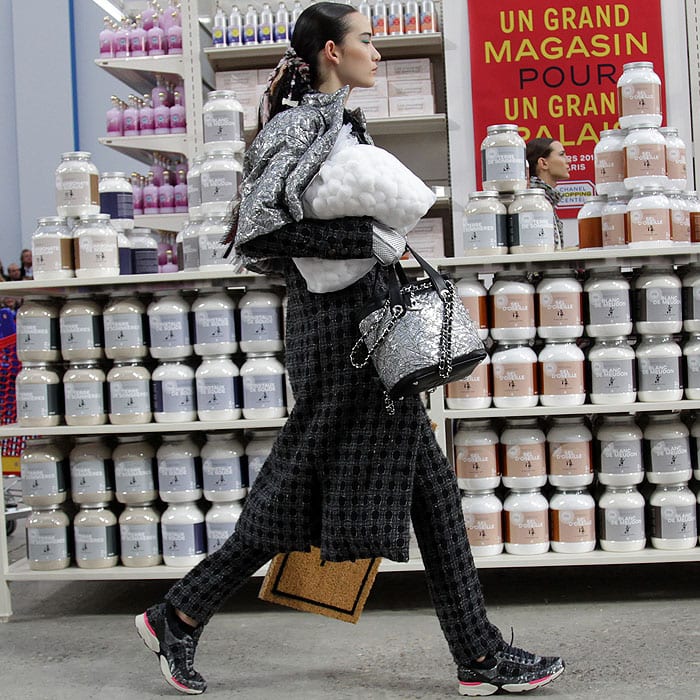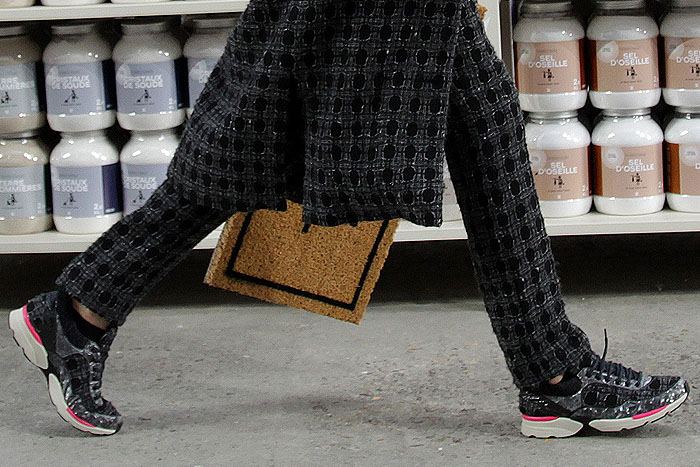 16. One model was mesmerized by the soap tower display.
17. One model picked up a Chanel chainsaw.
It's a chainsaw. By Chanel.
18. One eco-friendly model toted a reusable shopping bag that matched her outfit.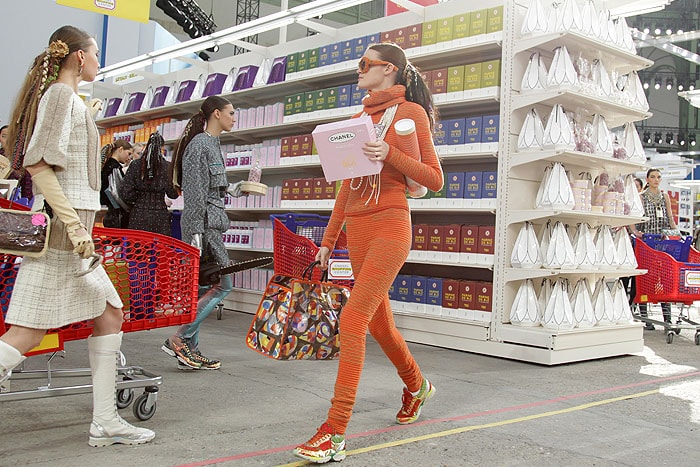 19. Another model took it one step further by being a trolley-toting bag lady.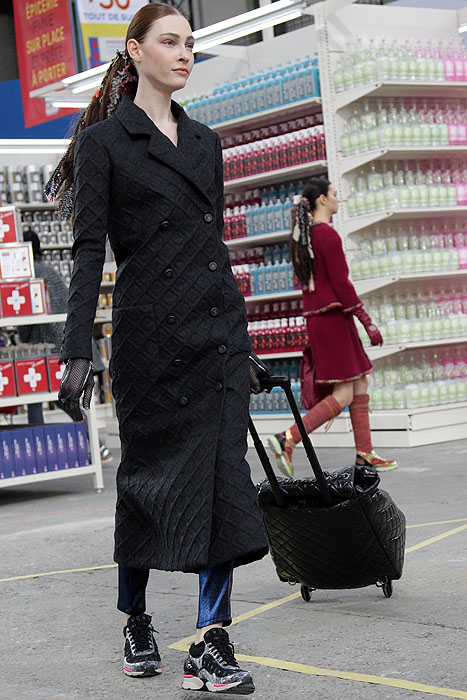 20. A couple holding Chanel shopping bags showed up and looked out of place.
They look like they should be strolling Avenue des Champs-Élysées instead of the Chanel shopping center.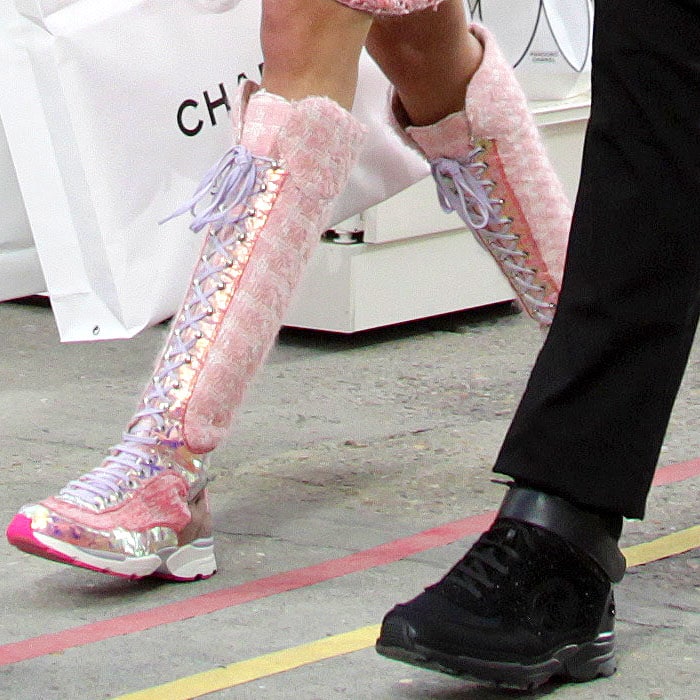 21. Other models couldn't care less about the merchandise and were just there to model.
And they showcased some pretty cool accessories, such as a Chanel handbag shrink-wrapped as if it were meat, a giant padlock necklace, tweed-covered sunglasses, and more fierce sneaker boots.
22. Kendall Jenner walked the runway.
There were so many things happening all at once, we almost missed her.
23. One model had to walk with her shoelaces untied.
We hope she didn't trip.
24. Cara Delevingne continued with her grocery shopping when it was her turn to walk the
aisles

runway.

She added a feather duster, a water bottle, liquor, a paint roller, and a reflective safety vest to the soda bottles she picked up earlier when she went shopping cart riding.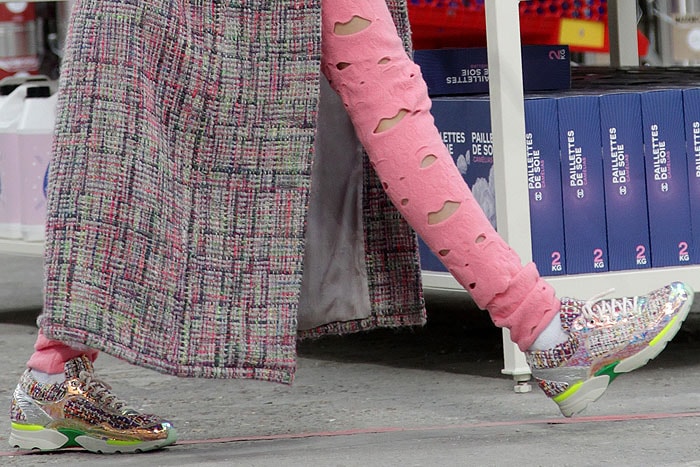 25. Cara Delevingne and Karl Lagerfeld strolled hand-in-hand down the supermarket aisles.
Cara Delevingne and Karl Lagerfeld walked down the aisle like they were regular people of Walmart, except much more high fashion. But would anyone question it if Cara Delevingne's holey pink hobo outfit did show up on the People of Walmart website?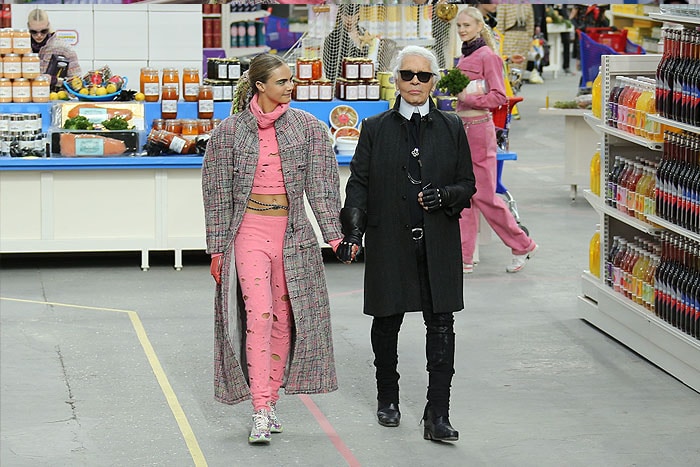 Credit: JSB / PixPlanete / SIPA / WENN