Move over, Hollywood, because the real queen of Instagram, Rihanna, is back.
The Barbadian singer left the photo service back in May after her account was suspended over topless magazine cover photo posts. Instagram tried to win her back by immediately reinstating her account, but it was already too late: Rihanna had already abandoned @badgalriri, including her 12 million followers.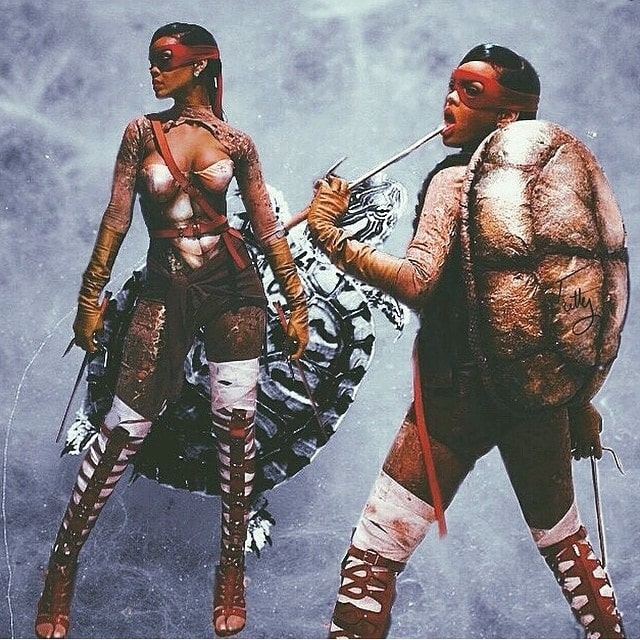 Rihanna's Instagram picture of her Ninja Turtles Halloween costume – posted on November 3, 2014
Now, after a six-month hiatus, Rihanna has rejoined Instagram. She broke her silence with a series of snaps, including one of a stick drawing of her holding hands with a kissy-face Instagram logo. The posts quickly garnered thousands of likes and comments.
If Instagram is happy to have Rihanna back, it looks like Rihanna is also happy to be back as she's still posting photos one after the other today. Her most recent are the shots of her Halloween costume from last weekend. She went as the Teenage Mutant Ninja Turtles' Raphael with a touch of vogue chic — she switched the Ninja Turtle's tabi shoes for knee-high gladiator heels.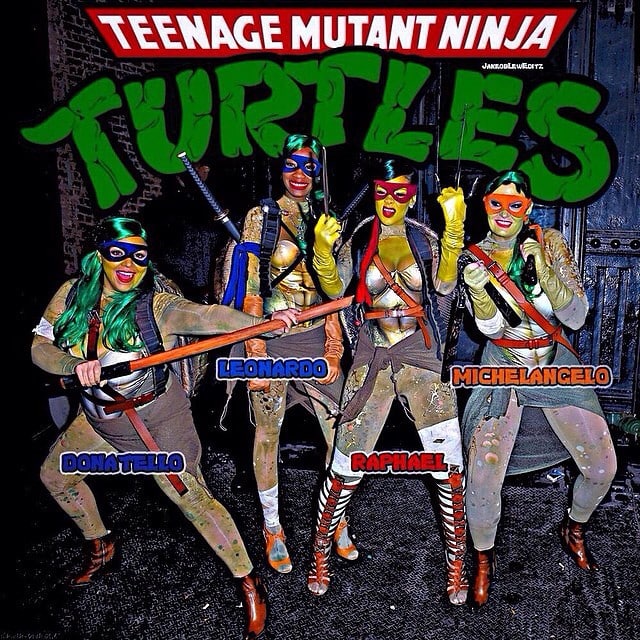 Rihanna and her posse in their Ninja Turtles costumes for Halloween – posted on November 3, 2014
Rihanna redesigned the Ninja Turtles costume with $2,715 Altuzarra sandals. We previously spotted the sandals on Rita Ora and Ciara and they are now sold out.
We did, however, find a great look-for-less version of these shoes from Breckelles, which is shown below. Those of you in winter climates will have to wait until spring to wear them, but they are going for a great price right now!
Altuzarra x Gianvito Rossi Knee-High Gladiator Sandals, $2,715
Breckelles "Diva-31" Knee-High Gladiator Sandals, $24.85 at Amazon
Credit: Rihanna's Instagram