So, ladies and gentlemen, Lady Gaga went as a ghost for Halloween. She of red meat outfits, ankle-breaking heels, and jagged-sole platform boots as go-to shoes. We get it that having to get dressed the way she does must take a lot out of her, but going as a white-sheet ghost for Halloween is just so embarrassingly uncreative for her.
Would you say this was the lamest costume for Halloween 2014 or, like, ever?
Lady Gaga wearing her makeshift ghost Halloween costume in Paris, France, on October 31, 2014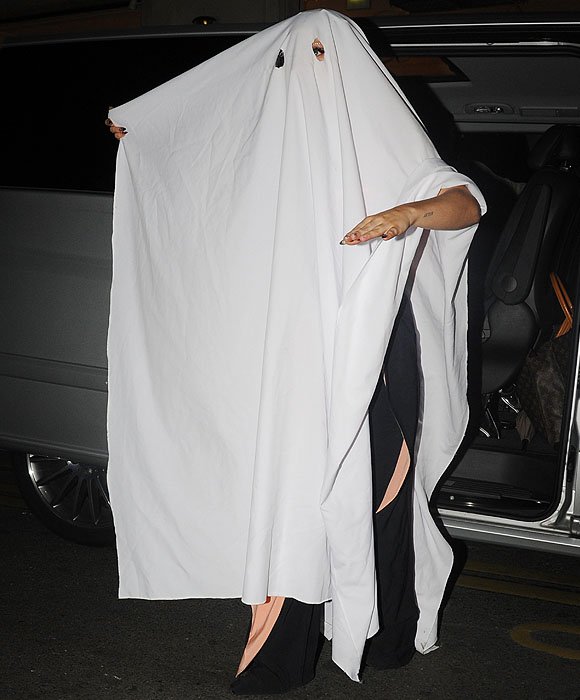 Lady Gaga using the tablecloth from the restaurant where she had dinner as a last-minute Halloween costume
The pictures below show the drapey strapless top and underwear-showing trousers that Lady Gaga wore to the restaurant. We're trying to imagine what happened: it was the night of October 31, and Lady Gaga showed up to dinner in her ordinary outfit. The awaiting fans and paparazzi might've kept asking Gaga where her costume was. Feeling pressured, Lady Gaga took the white sheet off her dinner table, cut holes for eyes in it, and used the tablecloth as her last-minute Halloween costume.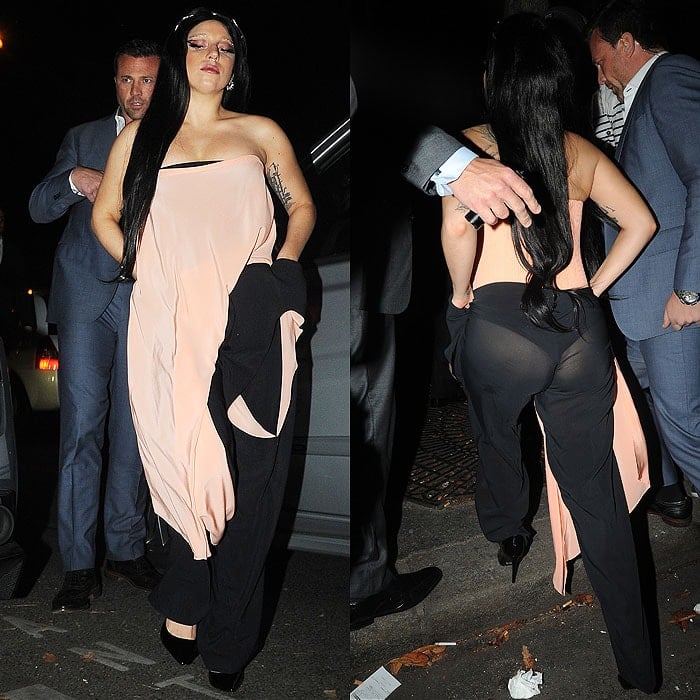 Lady Gaga arriving to have dinner at a restaurant in Paris, France
What really happened, Lady Gaga? The bondage-style top with heart-shaped nipple pasties she wore the next day was more of a Halloween costume. Even the shoes she wore to the Paris dinner were uninspiring. They were black patent pointy-toe pumps in the most basic of styles. They could be Pradas on account of the gold logos on the black soles, but they also look very similar to the Stuart Weitzman "Queen" pumps.
Closeup of Lady Gaga's black patent pumps
Stuart Weitzman "Queen" Patent Pumps, $385
Credit: WENN