Rihanna has been having a blast checking out the shows at Paris Fashion Week, and yesterday's Miu Miu fashion presentation was no exception.
The Barbadian singer, songwriter, and actress brightened up the arrivals in a colorful, chic, and cozy-looking Prada outfit. She exuded a strong diva vibe through her sharp Cleopatra bob, dark cat-eye sunglasses, multiple ear cuffs, and slim, long black-clad legs.
Rihanna arriving at the Miu Miu Fall 2014 fashion presentation held during Paris Fashion Week in Paris, France, on March 5, 2014
Rihanna chose the following brown chevron-striped sweater dress and black-red-and-yellow shearling coat from the Prada Fall 2014 collection:
Rihanna's chevron-striped sweater dress and black-red-and-yellow shearing coat on the Prada Fall 2014 catwalk presented during Milan Fashion Week Womenswear Fall/Winter 2014–2015 in Milan, Italy, on February 20, 2014
We think going for the "older sister" Prada was a wise choice for Rihanna because, to be honest, we don't think Miu Miu's quirky designs quite match her fierce personality.
However, we were let down when the singer decided to cap off her Prada ensemble with Manolo Blahnik "Chaos" sandals. We get it that they're her favorite go-to sandals, but, sigh, what a combo breaker.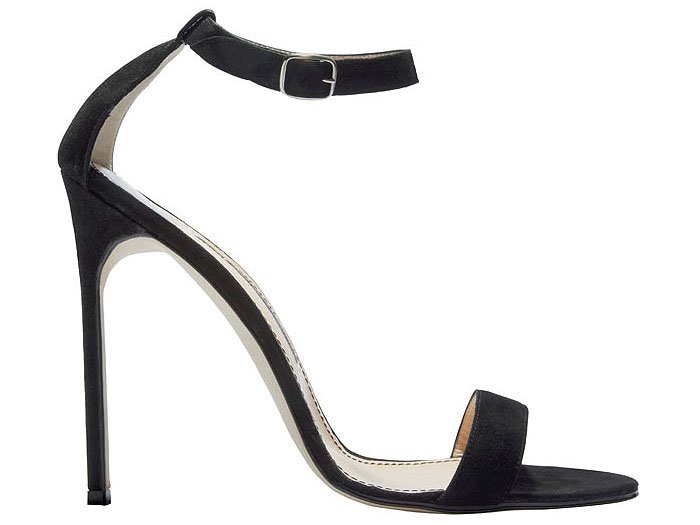 Manolo Blahnik "Chaos" Sandals in Black Suede
We wish RiRi fully committed to the look and wore these retro-futuristic wedges from the same Prada collection:
Prada fall 2014 metal-plated strappy wedge sandals
We're sure Miu Miu or Prada wouldn't have minded! What about you? Do you think Rihanna should have worn the full Prada look to the Miu Miu show, or are you fine with her outfit?
Credit: SIPA / WENN