Rita Ora rocked out on stage at the recent 2014 V Festival in a leopard-print leotard with long fringes down the sleeves.
Rita Ora performing in a leopard-print leotard on day 1 of the 2014 V Festival in Chelmsford, England, on August 16, 2014
Now, where have we seen this cheeky, butt-baring look before? Oh, that's right, on Miley Cyrus who has pretty much made the high-cut leotard her signature look on her Bangerz tour. Rita didn't go as all out as Miley and chose to censor her leotard with a more modestly cut skin-tone bikini underneath. Do you think she was copying Miley?
Rita turned around and twerked on stage just like Miley.
Rita Ora vs. Miley Cyrus in leotard outfits
She made sure the audience got plenty of views of her barely covered butt.
Rita Ora and Miley Cyrus show off their barely covered butts
At one point, she even did the legs-spread-wide move that Miley infamously did on the hood of her stage prop car.
Rita Ora and Miley Cyrus with legs-spread-wide
The only thing missing was Rita sticking her tongue out.
Miley Cyrus had her tongue out, Rita Ora forgot to copy
Who do you think did it better — Rita Ora or Miley Cyrus?
Miley is the original, but we've got to give points to Rita for her cuter footwear. Her pointy-toe booties with gold sculpted heels beat Miley's white studded cowboy boots by a mile.
Rita Ora's gold-heeled Gianmarco Lorenzi booties
The British performer's boots are called "N.8" from Gianmarco Lorenzi's autumn/winter 2014 collection, which boasts other styles that are just as awesome and red-carpet-worthy.
Gianmarco Lorenzi Fall 2014 "N.8" Sculpted-Heel Ankle Boots, £460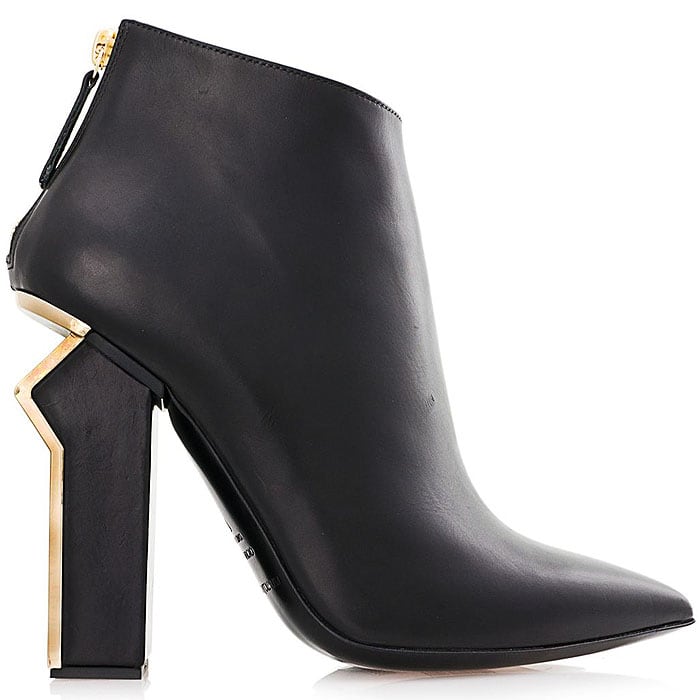 Credit: Ray Garbo / DyD Fotografos / Future Image / KIKA / Sakura / WENN