Rita Ora put her star power to good use as she lent her voice to speak to the youth about reaching out to refugees at this year's We Day event held at Wembley Arena in London on Wednesday.
The 25-year-old singer opened up about the "racism and indifference" that her family suffered as refugees after they were forced to flee war-torn Kosovo in 1992.
"I was born in Kosovo, and when I was one year old, had to flee the country with my parents and sister," Rita told the crowd. She added, "The word refugee carries a lot of prejudice… and not everyone is comfortable having refugees settle into their environment."
Rita Ora speaks on stage during WE Day event at SSE Arena, Wembley in London on March 9, 2016
The "How We Do (Party)" singer called for countries to show compassion, saying: "Some people make negative judgments on new immigrants and others simply turn a blind eye."
"This is an opportunity for all of us to reach out and embrace families and people in a time of need. So many positives are coming out of this situation, but two of these issues my family faced when we first arrived are ever-present: racism and indifference. These attitudes need to change… and we can approach this crisis with compassion and care. If we take action, we help everyone thrive."
Rita kept things nude and relatively modest for the event, showing only her toned stems and a glimpse of cleavage in a bohemian-inspired dress from Etro's spring/summer 2016 collection (available at Neiman Marcus). This paisley-printed chiffon frock has heavy lace trims at the hem, cuffs, and v-neckline, a relaxed silhouette, long sleeves, and a ribbon that cinches the waist.
She teamed the thigh-skimming nude number with a fur-trimmed velvet coat, some jewelry, and a pair of nude pumps.
Rita ditched her extensions and styled her hair in an ethereal Heidi-inspired braids. She completed the rather girly look with glowing, bronzed makeup, highlighting her eyes and bone structure.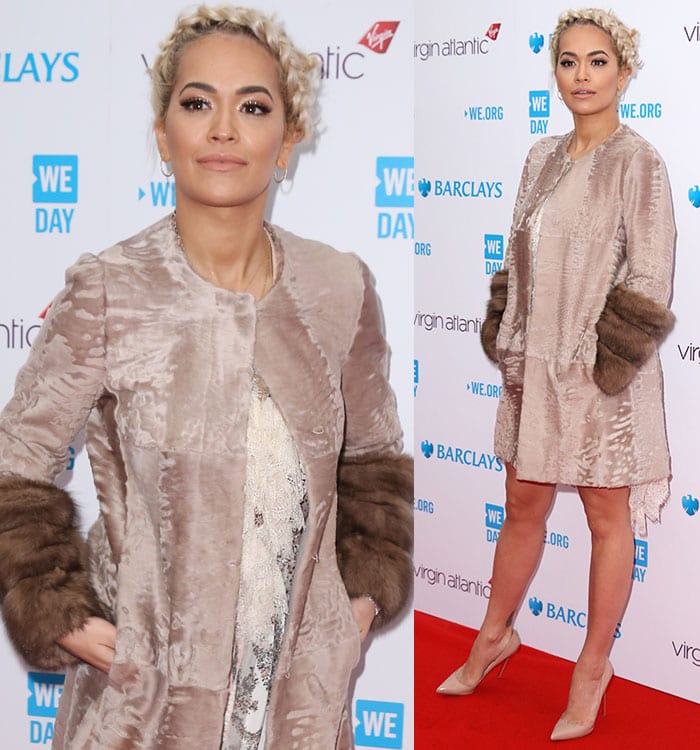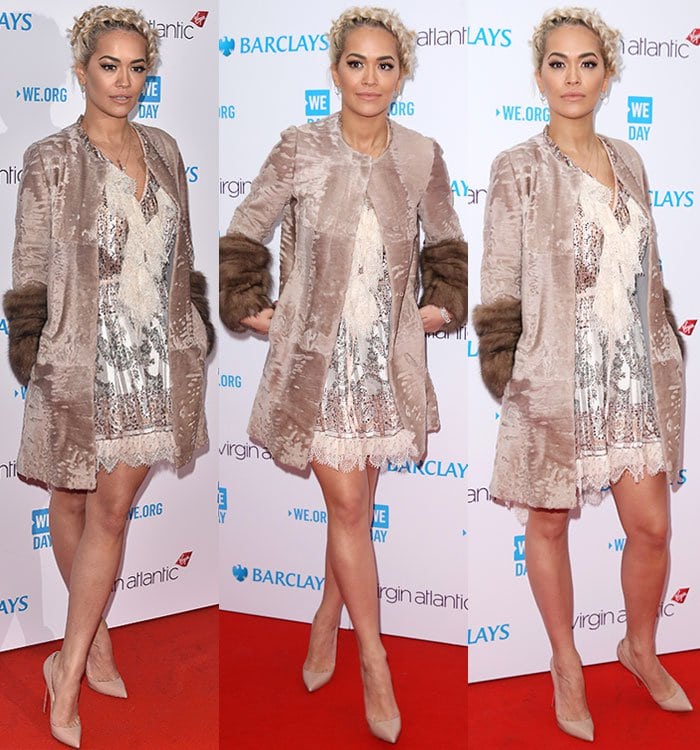 Rita Ora in Etro dress at We Day event in London on March 9, 2016
Rita's pumps are the "Pigalle Follies" by Christian Louboutin. They are made of nude patent and have low-dipped vamps, pointed toes, and about 4-inch heels.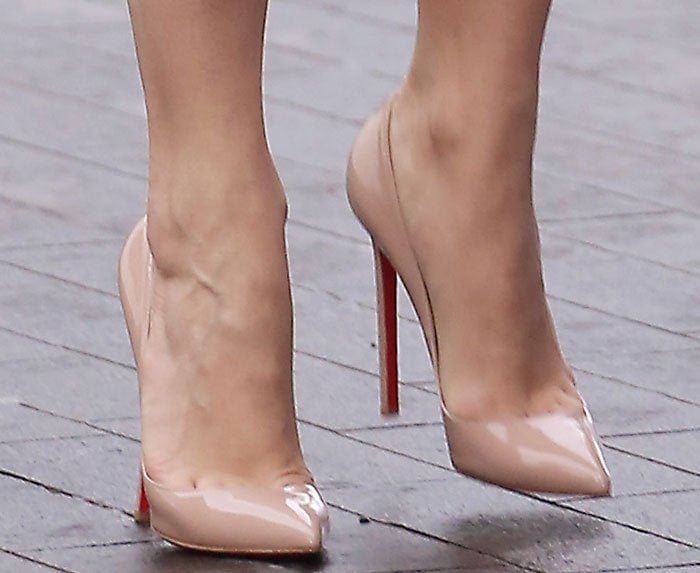 Rita Ora in Christian Louboutin pumps
You can buy these Christian Louboutin pumps in a variety of colors at Saks, Barneys New York, Neiman Marcus, and Nordstrom.
Christian Louboutin "Pigalle Follies" Pumps, $675 at Saks, Barneys New York, Neiman Marcus, and Nordstrom
Credit: Lia Toby/Daniel Deme/WENN