Olivia Rodrigo recently made a guest appearance on Jimmy Kimmel Live!, where she discussed visiting the White House, songwriting, and appearing on the cover of Rolling Stone magazine with Alanis Morissette.
Pop music's latest breakout star dished that President Joe Biden gave her a couple of gifts when she was invited to the White House to encourage the youth to get vaccinated over the summer.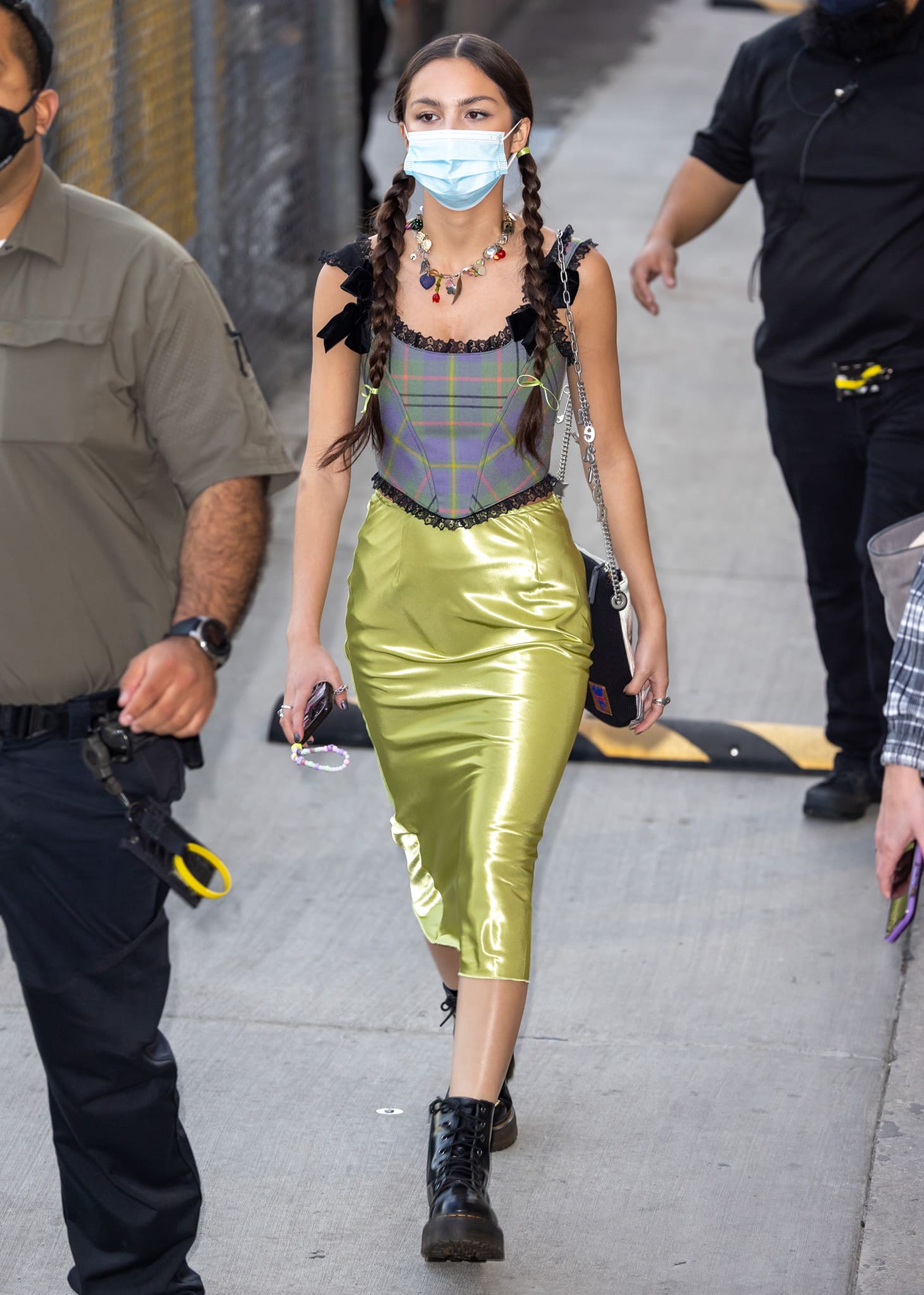 Olivia Rodrigo in Dr. Martens "Jadon" combat boots heads to Jimmy Kimmel Live! studio on October 26, 2021 (Credit: Mega / WENN)
Speaking to Jimmy Kimmel, Olivia said: "It was such an honor to go and support such an important cause that I feel so passionately about. Everyone was just so kind. I got to meet Biden and Fauci."
"The White House is just the coolest place. I was so nervous to go, but I walked in there, and there are all these plates, like George Washington used to eat his dinner on that I'm like, all of this crazy stuff, and I was just scared I was gonna sneeze and break such priceless artifacts."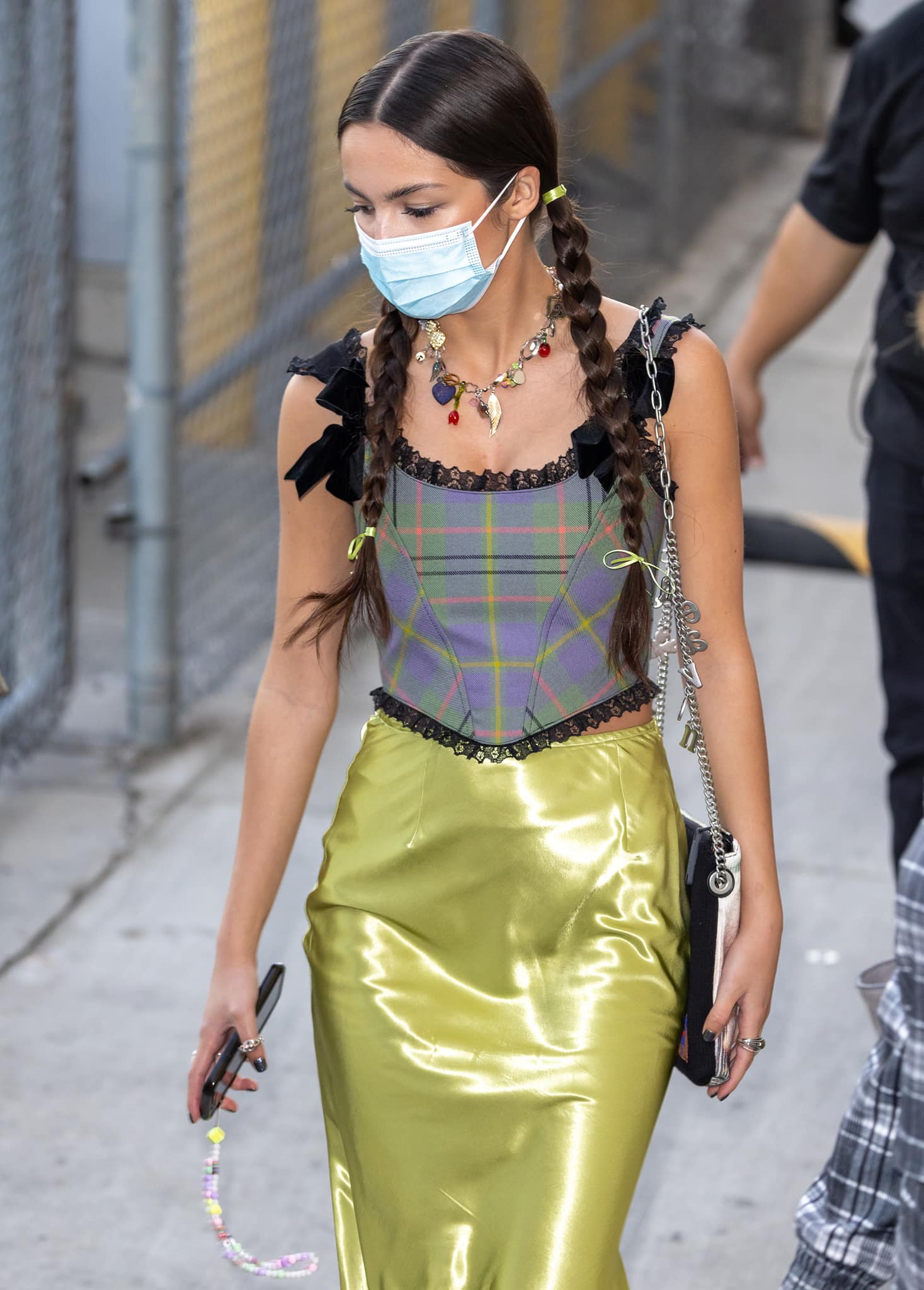 Olivia Rodrigo shares that President Joe Biden gave her gifts, including a shoehorn with a presidential emblem, during her White House visit in July (Credit: Mega / WENN)
President Biden then handed her a bag of gifts with a pair of Ray-Bans, some M&Ms, and a shoehorn, which she described as "strange."
"It had like the Presidential emblem on it. I'm serious it's in my house," she added.
On her way to the studio, the 18-year-old singer showed her penchant for '90s pop-punk style. She highlighted her figure in a No Dress olive green satin midi skirt teamed with a Pristine "Candy Tartan" corset top with black lace ruffled trims and ribbon straps.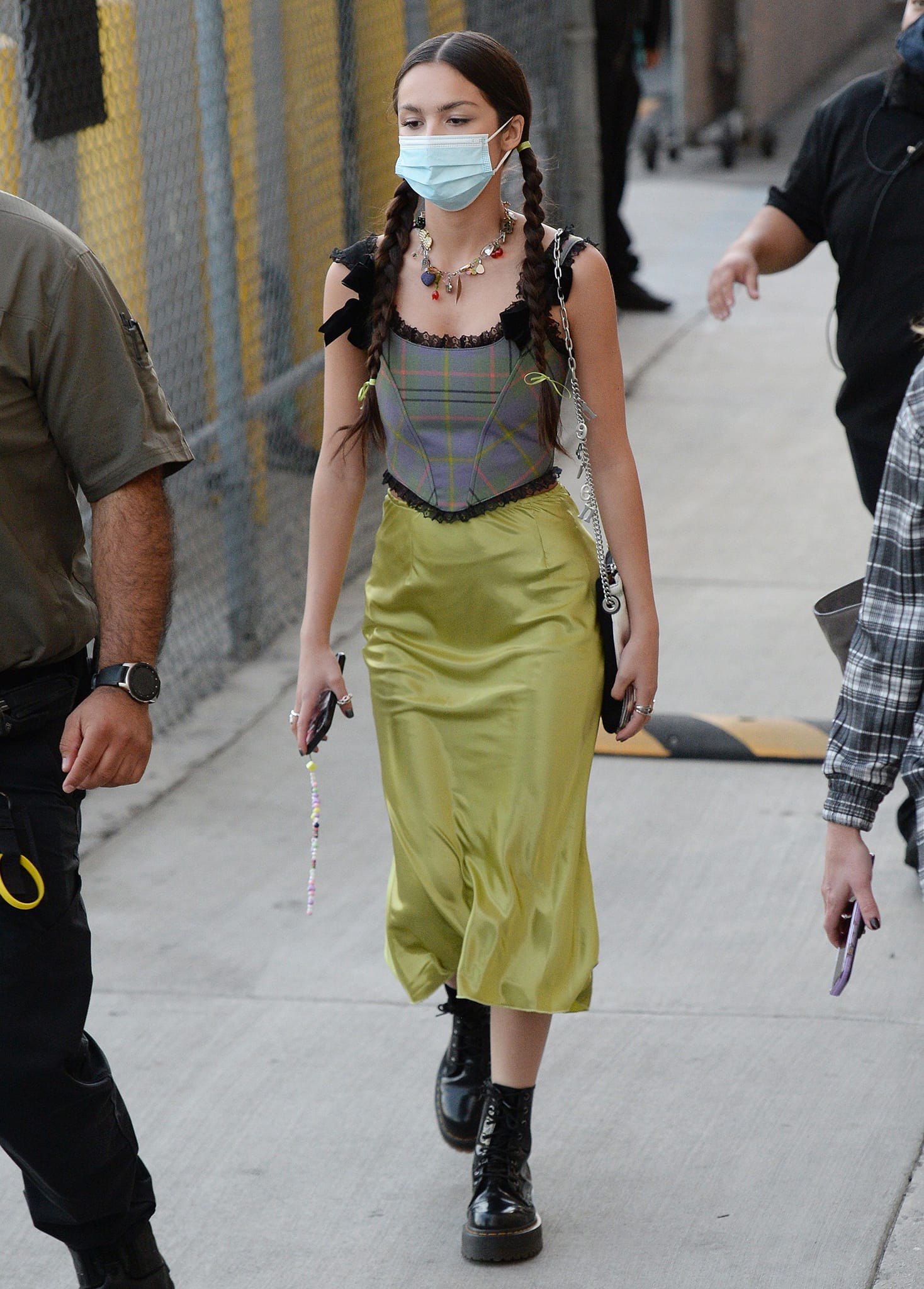 Olivia Rodrigo highlights her figure in a gray plaid crop top and a green midi skirt (Credit: Mega / WENN)
The Drivers License hitmaker also shared that she began playing piano and writing songs when she was nine.
"I think songwriting is a great medium to express emotions like that, that you know aren't really fun to talk about. It's kind of this nice therapeutic way to talk about feelings that are uncomfortable."
Olivia Rodrigo opens up about her songwriting and her Rolling Stone magazine cover with Alanis Morissette (Credit: Mega / WENN)
The Gen-Z star accessorized with several silver rings and a $285 Marland Backus colorful charm necklace that coordinated her $225 Heaven by Marc Jacobs Knitted Charm bag.
For her beauty look, she simply wore minimal makeup and styled her tresses in pigtail braids with lime green ribbons that coordinated her outfit.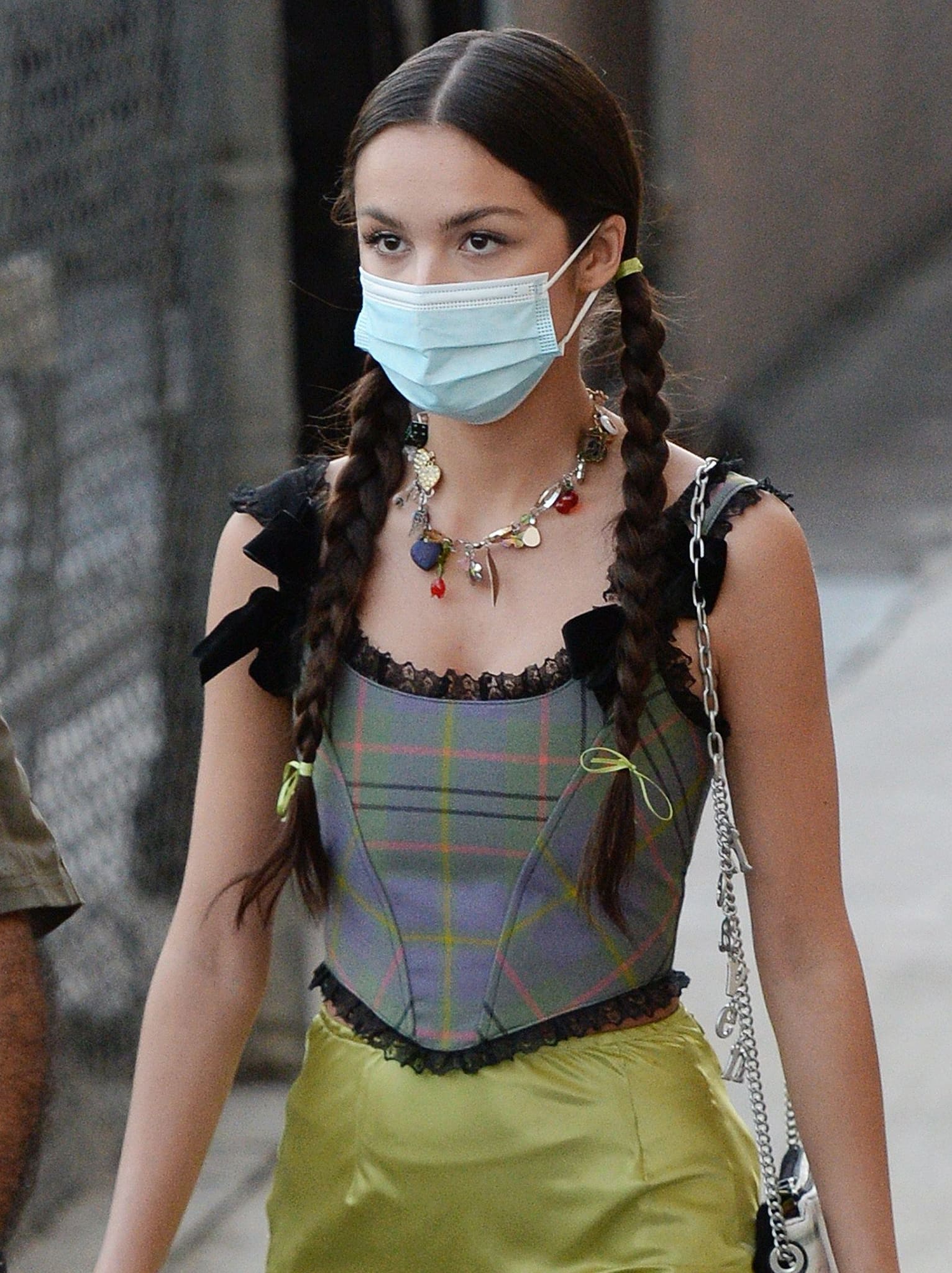 Olivia Rodrigo wears minimal makeup with mascara and styles her hair in braided pigtails (Credit: Mega / WENN)
Completing Olivia's retro look was a pair of Dr. Martens "Jadon" combat boots.
Olivia Rodrigo completes her '90s outfit with Dr. Martens Jadon boots (Credit: Mega / WENN)
Available at Zappos, these '80s mid-calf combat boots have Docs' classic DNA with signature yellow stitching and thick Quad Retro soles that are about two inches high.
Dr. Martens 'Jadon' Boots, $190 – $200 at Nordstrom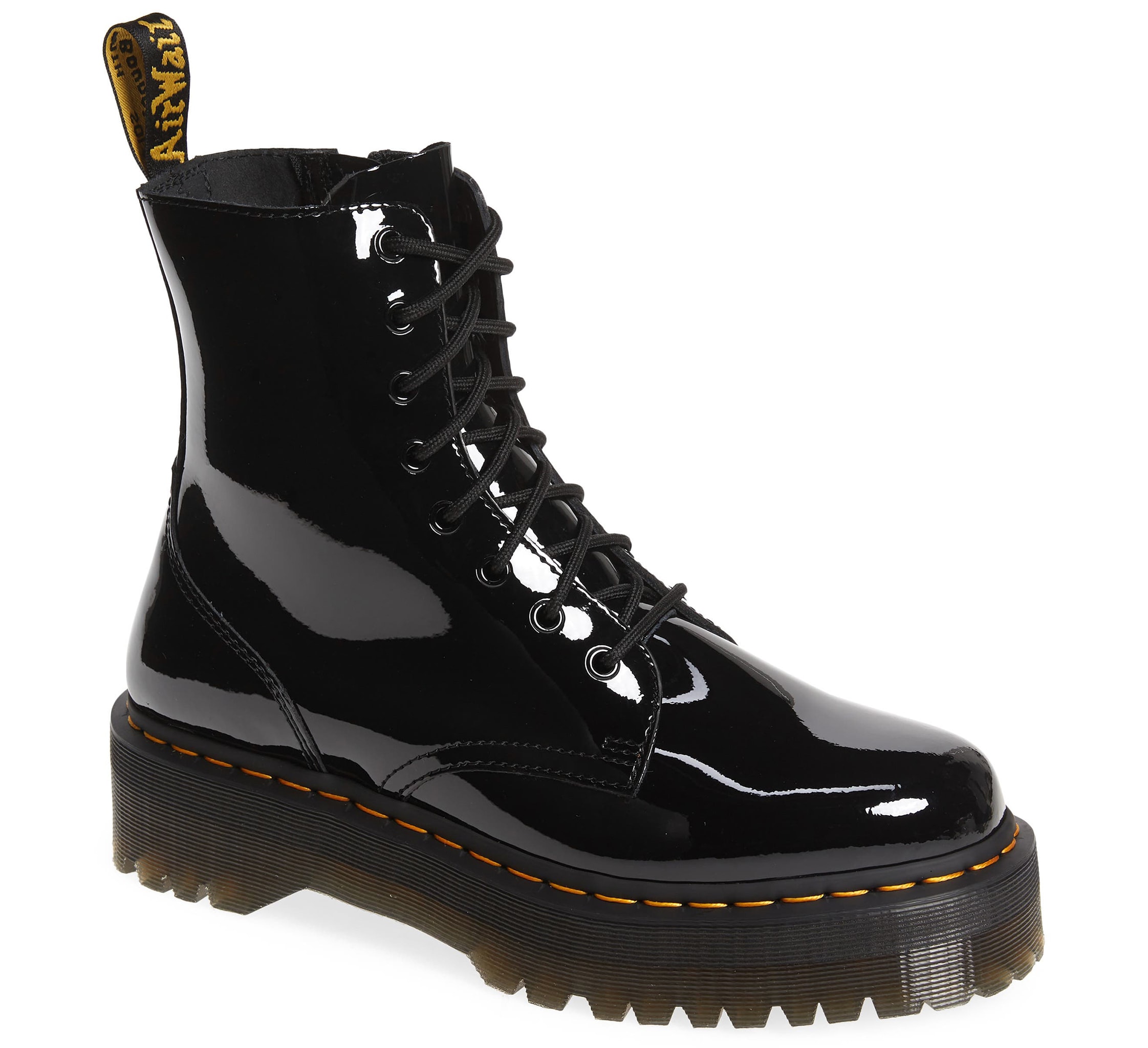 The Dr. Martens Jadon boots feature an '80s-rewind profile with a thick Quad Retro sole
Just recently, Olivia landed a Rolling Stone magazine cover with Alanis Morrissette. She revealed to Jimmy Kimmel that the '90s alternative singer is one of her role models.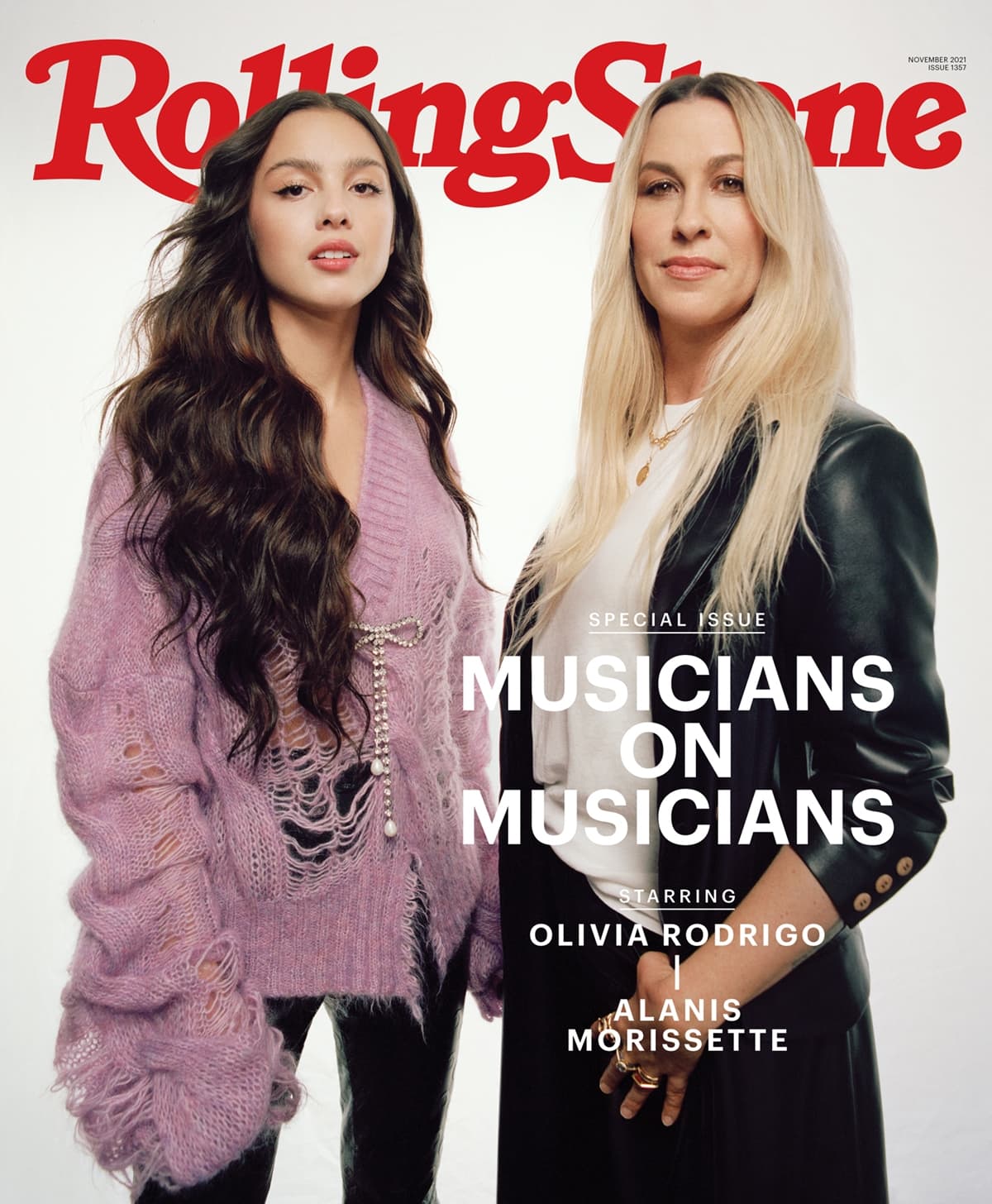 Olivia Rodrigo and Alanis Morissette grace the cover of Rolling Stone's Musician To Musician issue (Credit: Rolling Stone / Yana Yatsuk)
"I look up to her so much, and I just think she's the coolest person and the most amazing songwriter, and it was such an honor to meet her."
"She gave me dating advice too, which I think is so cool. To get dating advice from Alanis Morissette, like that's pretty iconic," she added.