It happens without fail every single time.
Whenever we see celebs in a sheer dress with underwear on full display — paired with a gorgeous ankle-strap sandal heel — one celebrity comes to mind: Kim Kardashian.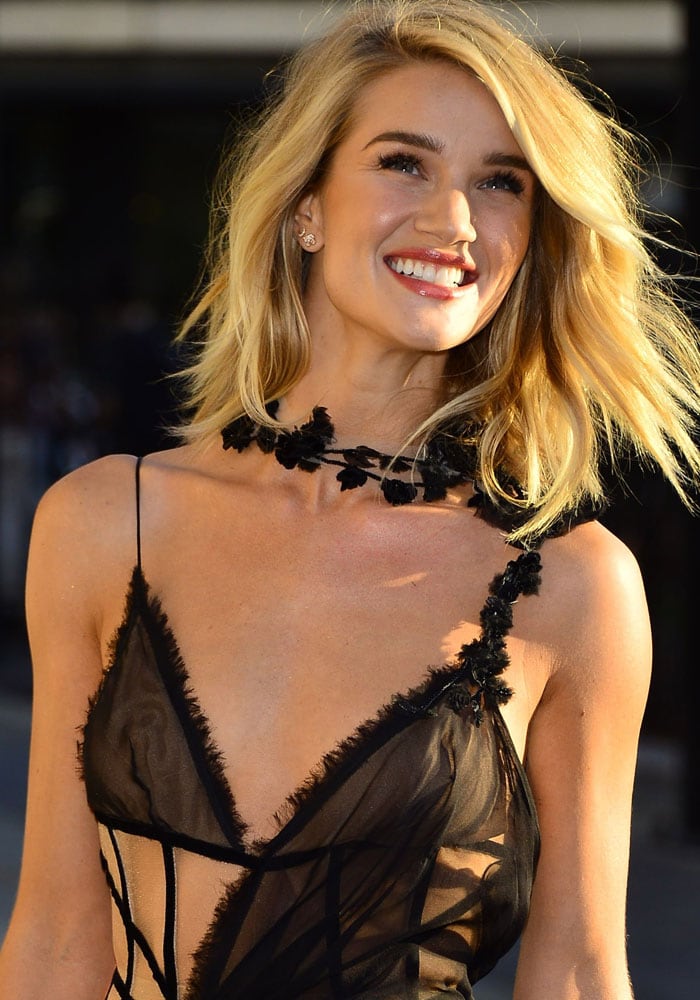 Rosie Huntington-Whiteley arrives at the Versace show at the Paris Haute Couture Fashion Week Winter 2015/2016 on July 5, 2015
It doesn't even matter if those celebrities physically look absolutely nothing like Mrs. Kanye West. The Kardashian uniform still stands out.
So, when we saw Rosie Huntington-Whiteley at the recent Versace show in Paris, dressed in a sheer ensemble coupled with strappy heels? Kim K. came to mind.
Rosie Huntington-Whiteley waves and shows off her model body in a sheer all-black outfit
We're used to seeing the leggy model-turned-actress in colorful dresses or dark, short numbers that show off her legs for miles.
Rosie Huntington-Whiteley put on a cheeky display in a sheer black Versace creation that showed off her taut model body
This time, she slayed the sheer trend by donning Versace's recent statement silhouette, which shows off way more skin than the fashion house usually goes for.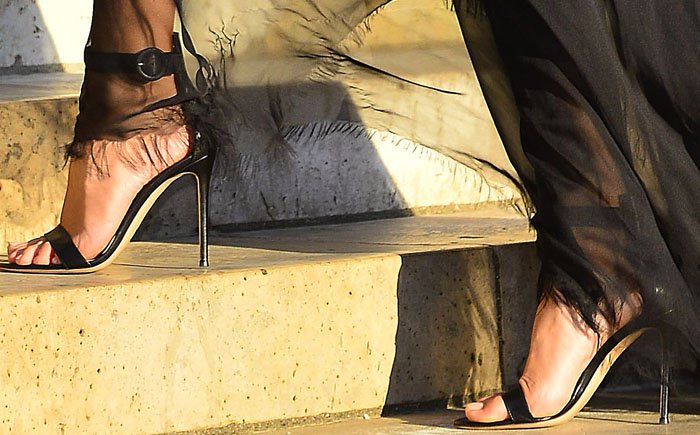 Rosie Huntington-Whiteley showed off her pedicure in a pair of strappy black Gianvito Rossi sandals
Rosie wore her black sheer Versace dress with a pair of Gianvito Rossi sandals.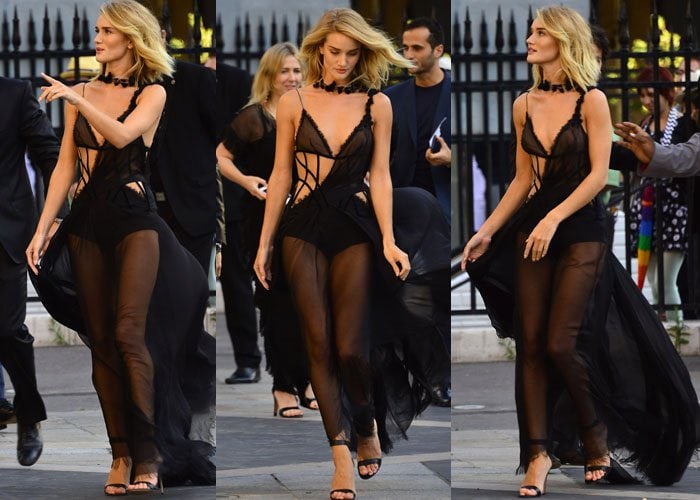 Rosie Huntington-Whiteley was all confidence as she showed off her leggy blonde figure in her sheer black Versace creation
She even showed off her relationship with designer Donatella Versace by uploading a photo of the two arriving together at a separate event, for which she wore a similar dress.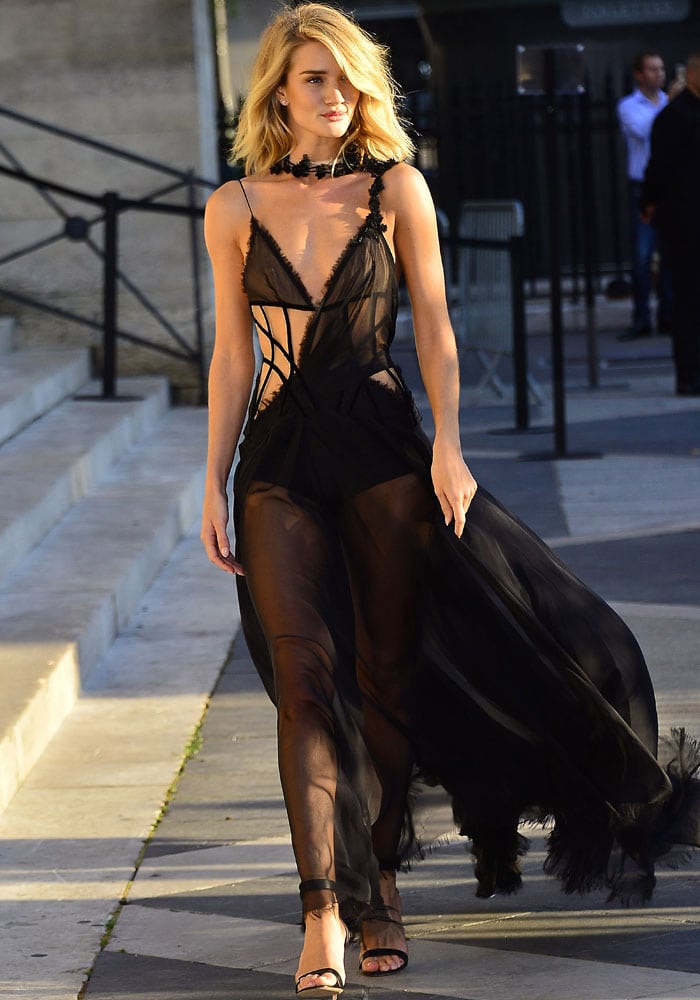 Rosie Huntington-Whiteley finished her all-black look with smoky eye makeup and a tousled blonde hairstyle
Rosie Huntington-Whiteley shows off her friendship with fashion giant Donatella Versace and the rest of the Versace team
These strappy Gianvito Rossi sandals have been taking over red carpets, and there's no question why. They're a totally timeless pair of heels. Invest in a pair by heading over to Farfetch.
Gianvito Rossi Ankle-Strap Sandal, $765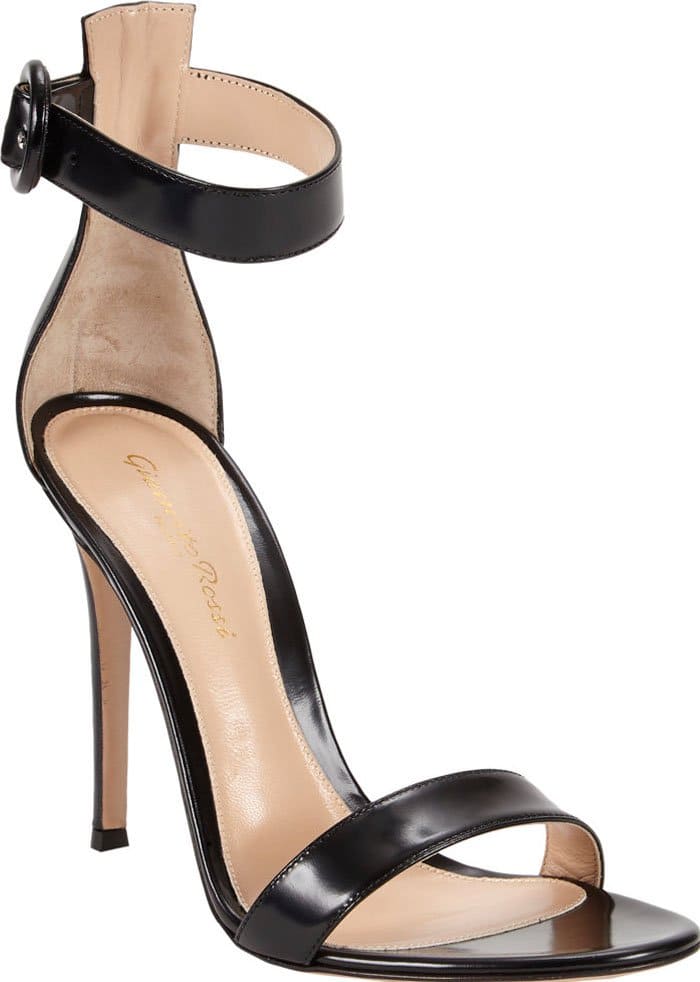 Credit: Rosie Huntington-Whiteley's Instagram / Radoslaw Nawrocki / WENN