Over the past six years, 33-year-old footballer Russell Wilson and 36-year-old singer Ciara have built one of the most aww-worthy relationships and a family to match.
With three adorable children — 7-year-old Future Zahir Wilburn, 4-year-old Sienna Princess Wilson, and 19-month-old Win Harrison Wilson — you would think that the couple would be finished having kids… but it sounds like Russell wants a few more!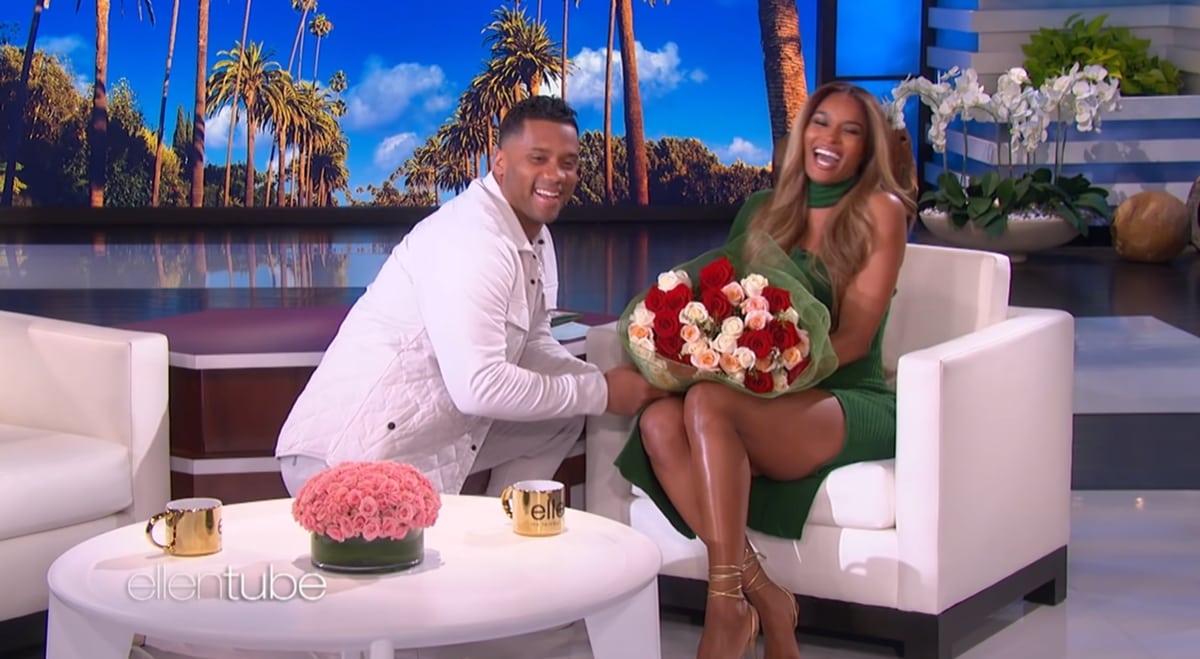 Ciara asked Russell Wilson a very important question: "Can we have more babies?" (Credit: YouTube)
On March 4, Ciara was guest-hosting Ellen when her hubby appeared with a giant bouquet of multicolored roses.
The singer was flattered, but jokingly said to the audience that she thought Russell had ulterior motives with the gift, saying, "Guys, the funny thing is that Russ makes me really nervous… You do, for some reason. I don't know — I kind of know why. I always feel so vulnerable when I'm with you in this setting."
As it turns out, Ciara was right to be nervous.
"Well, I do know everything about you, first of all. And second of all, I'm about to make you more nervous. You guys want me to make her more nervous?" Russell asked the crowd, before turning to his lady love and asking her to have more children.
"Just give me one more, at least."
Not too chagrined about her husband's sneaky proposal, Ciara let out a boisterous laugh before nodding and saying, "We definitely can, be we [need a little more time before we get there. So silly. I was like, 'What? We've already been there before.' But I'm down to do it again with you!"
Though this public question would be way too much attention for some, Ciara took it all in stride and seemed perfectly giddy to add another to the family with her beloved Russell Wilson, with whom she recently co-wrote a new children's book. Good luck, you two!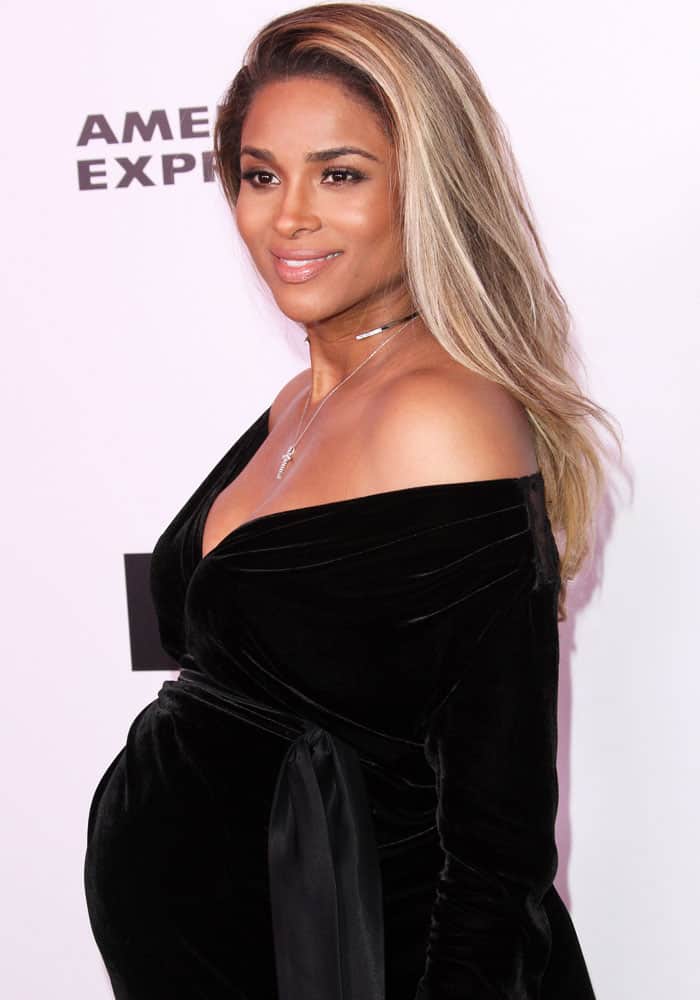 Ciara wears a cross pendant necklace at the Harper's Bazaar Celebrates 150 Most Fashionable Women at Sunset Tower Hotel on January 27, 2017, in West Hollywood, California (Credit: Adriana M. Barraza / WENN)
Two months before she gave birth to her second child, Sienna Princess Wilson, Ciara was not letting her pregnancy deter her style at all.
At around seven months pregnant, Ciara was not only making red carpet appearances — she was slaying them.
The pop star attended Harper's Bazaar's "150 Most Fashionable Women" held at the Sunset Tower Hotel in Los Angeles. From the looks of her red carpet outfit, she'd earned every right to be there.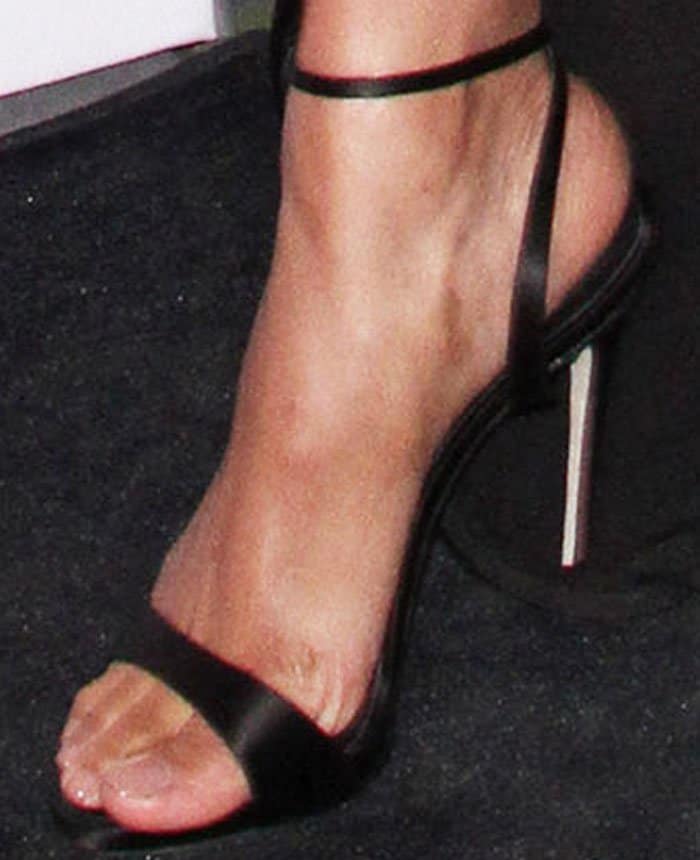 Ciara shows off her feet in Giuseppe Zanotti sandals (Credit: Adriana M. Barraza / WENN)
As if her baby bump wasn't heavy enough, the "I Bet" singer decided to clothe herself in a velvet dress by Rhea Costa.
The empire-cut dress had a sash that highlighted the bump, opening up at the shoulders to balance the bulk of her plus one. Her gown also featured a front slit that showed off her toned legs.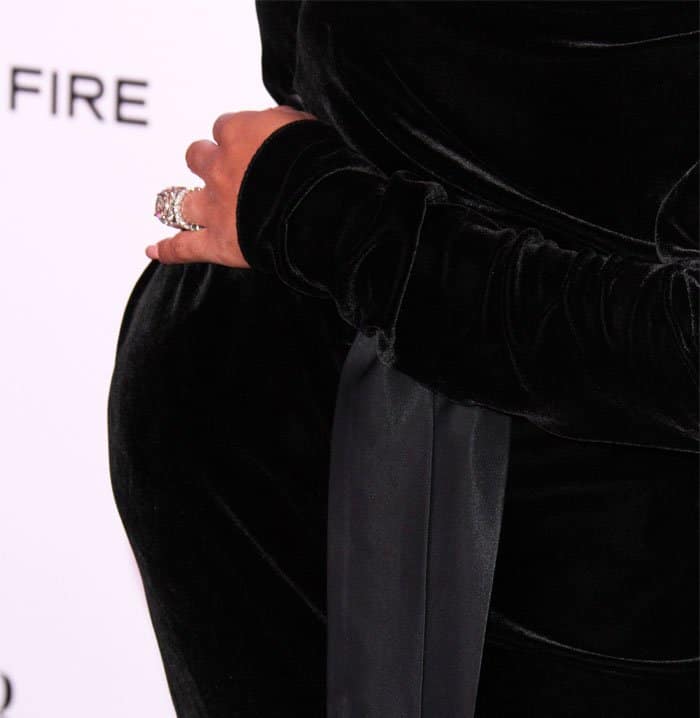 Ciara shows off her seven-month baby bump (Credit: Adriana M. Barraza / WENN)
Ciara refused to retire her sexy high heels as she paired her Rhea Costa dress with towering satin sandals by Giuseppe Zanotti.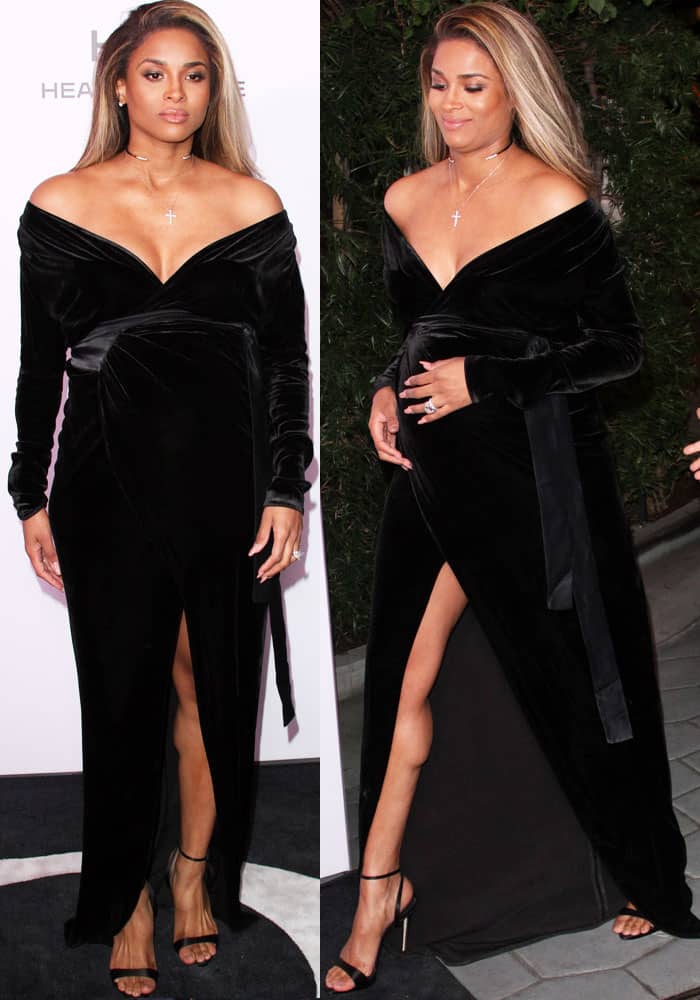 Ciara basks in her pregnancy glow in a velvet dress by Rhea Costa (Credit: Adriana M. Barraza / WENN)
Ciara welcomed a baby girl, Sienna Princess, on April 28, 2016, at 7:03 PM.
"Dear Sienna Princess Wilson, No matter how big the wave, we will always be your calm in the storm. We Love You. Love, Mommy & Daddy," the proud mother sweetly wrote on Intagram.
View this post on Instagram