Mila Kunis and Ashton Kutcher don't have to "Imagine"… they're putting their money where it matters.
Together, the couple has launched a GoFundMe called Stand With Ukraine intended to help refugees and those who have been affected by the brutal Russian invasion in Ukraine.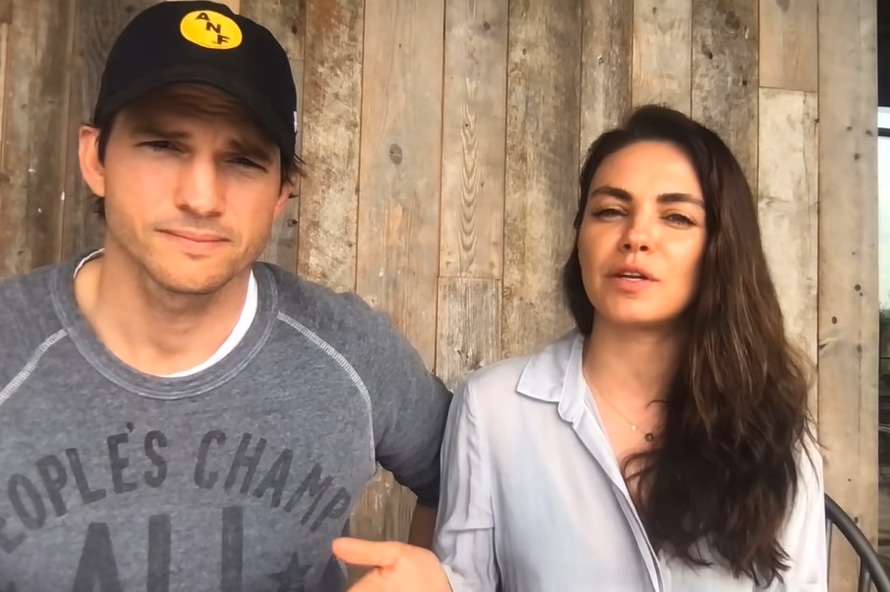 Ashton Kutcher and Mila Kunis have launched a fundraiser with a goal of reaching $30 million (Credit: YouTube)
The pair has always been outspoken about making real change in the world, but this is especially personal for Kunis, who gave fans a glimpse into why this fundraiser is so important to her, saying, "I was born in Chernivtsi, Ukraine, in 1983. I came to America in 1991 and I have always considered myself an American. A proud American. I love everything that this country has done for myself and my family. But today, I have never been more proud to be a Ukrainian."
In the fundraiser's accompanying video, the celebrity couple urge fans to support the cause.
"While we are witnessing the bravery of Ukrainians, we are also bearing witness to the unimaginable burden of those who have chosen safety," Kunis writes in the fundraiser statement. "Countless amounts of people have left everything they know and love behind to seek refuge. With nothing but what they could carry, these Ukrainian refugees are in need of housing and supplies right away."
Better yet, Kunis and Kutcher have pledged to match $3 million of their own money. Currently, the pair have raised more than $20 million for Ukrainian refugees, a number which is expected to rise. If you are interested in donating, visit their GoFundMe page.
Mila Kunis also discussed her Ukrainian roots in an interview with Maria Shriver for her Conversations Above the Noise digital series.
"I very much have always felt like an American… People were like, 'Oh, you're so Eastern European.' I was like, 'I'm so LA!'… This happens and I can't express or explain what came over me, but all of a sudden I was like, 'Oh my God, I feel like a part of my heart just got ripped out.' It was the weirdest feeling," Mila said.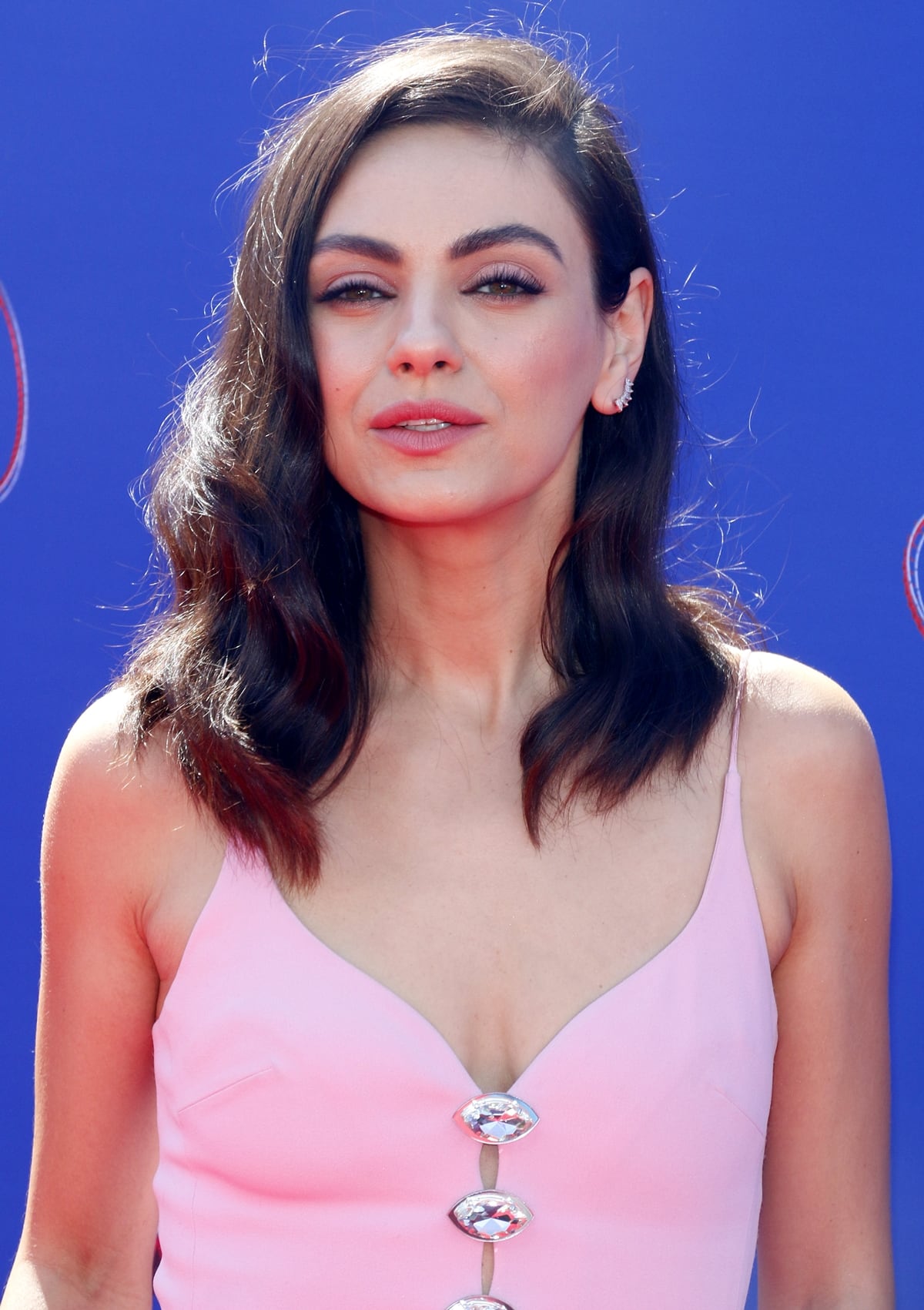 Mila Kunis came with her family from Chernivtsi, a city in western Ukraine, to the States when she was 7 years old (Credit: Tinseltown / Shutterstock)
'You are half-Ukrainian, half-American!'" she told her children Wyatt Isabelle Kutcher and Dimitri Portwood Kutcher.
"Like, I literally was like, 'Look, you!' And my kids were like, 'Yeah mom, I get it.' And I was like, 'No! You are Ukrainian and American.' I was like, 'You are half Iowa, half Ukraine.' And they're like, 'Okay, I get it.'"
"I don't think that we need to consider the people of Russia an enemy. I do really want to emphasize that. I don't think that that's being said enough in the press. I think that there's now, 'If you're not with us, you're against us' mentality. And I don't want people to conflate the two problems that are happening. I don't think it's the people of Russia… I do encourage people to look at it from the perspective of, 'It's the people in power, not the people themselves,'" she added.
View this post on Instagram
"And I also don't want people to get discouraged and conflate different issues in the world, and I don't want people to compare. I think that one thing that's happening a little bit that I've noticed is people are like, 'Why is everybody paying attention to this problem, but nobody paid attention to all these other issues that have been happening?' And I don't want people to conflate. Like everyone, people just to focus on what is at hand right now and right now this issue can get incredibly catastrophic for the rest of the world – not just for that part of the world, and I don't want people to lose sight of that."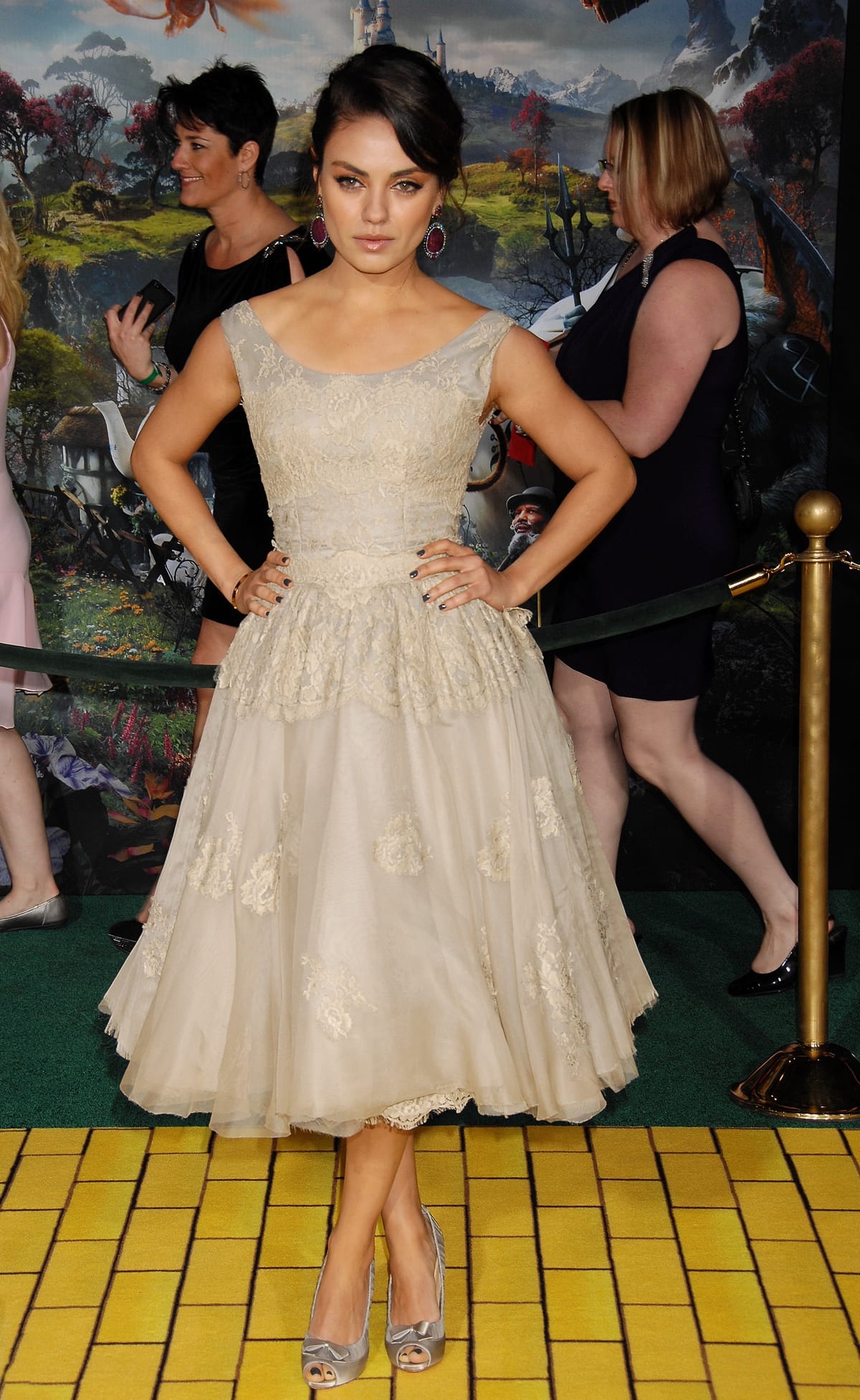 Mila Kunis on the yellow brick carpet in a Dolce & Gabbana lace flare dress at the Los Angeles Premiere 'Oz The Great and Powerful' at the El Capitan Theatre on February 13, 2013, in Hollywood, California (Credit: Ga Fullner / Shutterstock)
Besides Angelina Jolie, another strikingly beautiful face in Hollywood you likely won't forget is Mila Kunis. She's got those large dark eyes and pouty lips that guys just can't resist.
In February 2013, she attended the premiere of the 2013 American fantasy adventure film Oz the Great and Powerful at the El Capitan Theatre in Los Angeles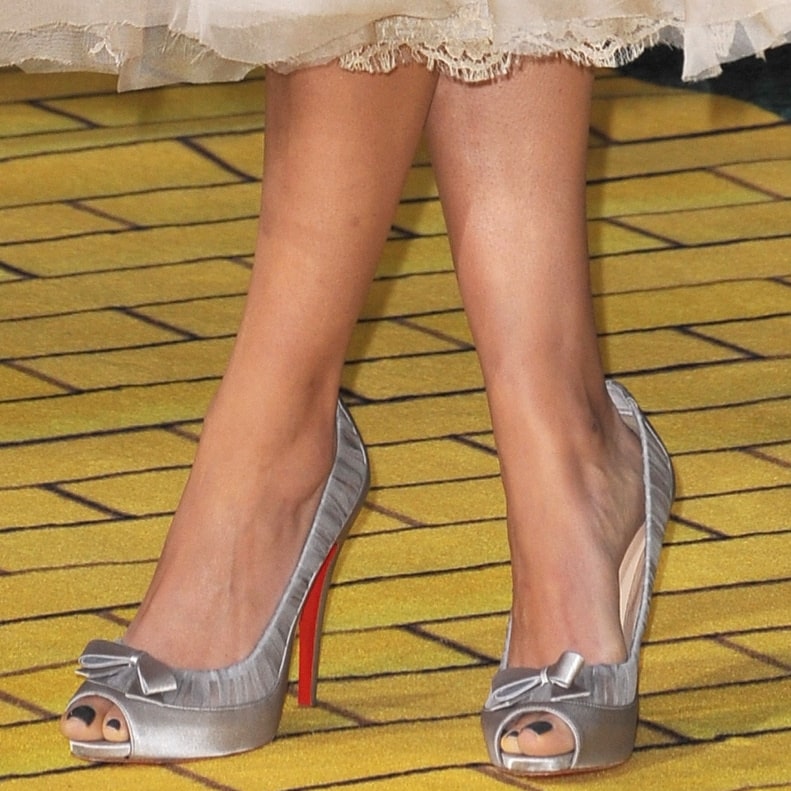 Mila Kunis shows off her feet in Christian Louboutin Angelique pumps (Credit: Jaguar PS / Shutterstock)
For the yellow brick carpet (yep, that's precisely how the carpet looked like at the premiere), Mila wore a beautiful tea-length Dolce & Gabbana frock and accessorized it with exquisite drop earrings by Sutra, a clutch by Bottega Veneta, and a pair of bow-detailed heels by French shoe designer Christian Louboutin.
Mila Kunis styled her dress with violet Sutra earrings (Credit: Jaguar PS / Shutterstock)
How do you like Mila's yellow carpet style? Does she look pretty or a little too old-fashioned? And what do you think of her chiffon-trimmed red bottoms? Are those delightfully dainty or simply not your type?
Mila rocked Christian Louboutin's "Angelique" pumps in satin and shirred chiffon. Below is the black leather version for you to check out. Delicate bows punctuate these pumps for that feminine touch.
Angelique Leather and Chiffon Peep-Toe Pumps, $895