Boy meets girl, they fall in love, have a highly publicized marriage, then are closely scrutinized by the media for years. It's a Hollywood tale as old as time, and the ill-fated romance between A-list actors Ryan Reynolds and Scarlett Johansson is no different.
Reynolds, the titular star of Deadpool, and Johansson, the assassin Black Widow in the Avengers series, began dating in 2007 and were married from 2008 to 2011.
Ryan Reynolds and Scarlett Johansson got married in 2008 and divorced in 2010 (Credit: Dominic Chan/ WENN / Sean Thorton)
The couple was notoriously private about their relationship, carefully avoiding being photographed together by the paparazzi and actively not discussing one another in press interviews.
However, after two years of marriage, the couple announced they were separating with a vague joint statement, which reads: "After long and careful consideration on both our parts, we've decided to end our marriage. We entered our relationship with love and it's with love and kindness we leave it. While privacy isn't expected, it's certainly appreciated."
After Johansson and Reynolds' split, there was much speculation from the media over their reasons for divorce. Rumors quickly began to swirl. Did infidelity take place? Did they have conflicting views on family? Or was it simply the pressure of being in a highly publicized relationship?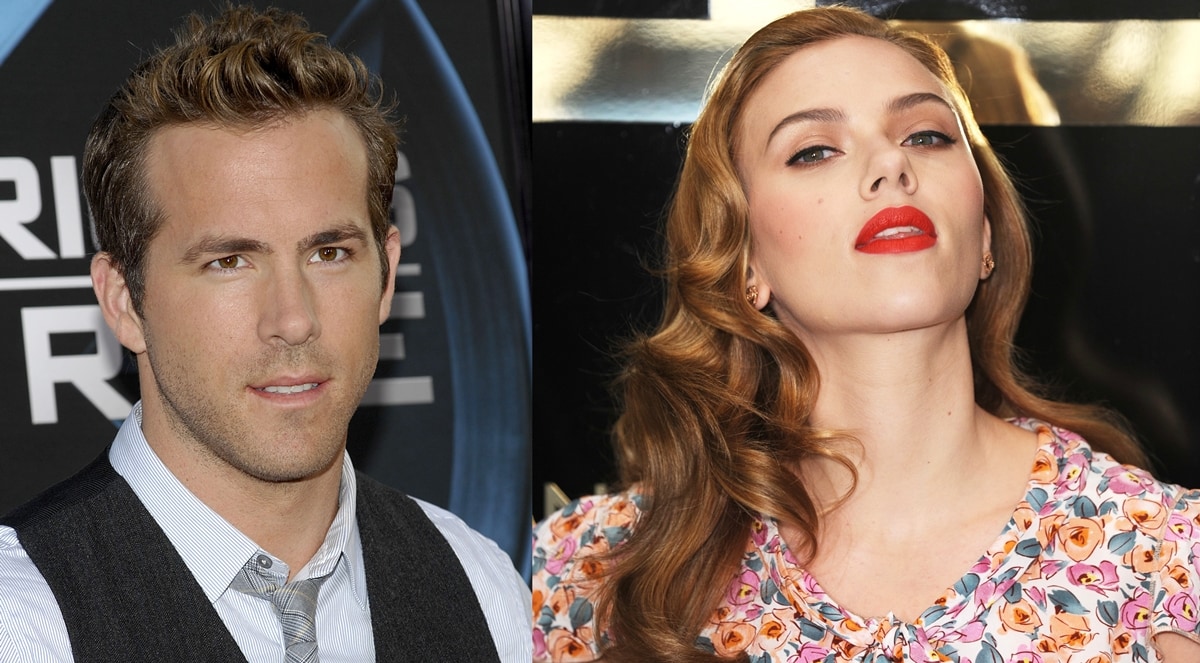 Fans are speculating why Ryan Reynolds and Scarlett Johansson decided to get divorced (Credit: Apega / WENN)
The largest question on fans' minds was simple: if this beautiful, young picture-perfect couple (despite very few photos being taken of the two) can't withstand the test of marriage, is there hope for any of us?
The relationship between Reynolds and Johansson was star-studded from the start. Both already household names, the two had high-profile relationships before they ever even got together.
In 2006, Johansson split with then-boyfriend Josh Harnett, of The Virgin Suicides and Penny Dreadful fame, after two-ish years together.
Then, in 2007, Reynolds announced that his engagement with Canadian pop icon, Alanis Morissette, was being called off after five and a half years together.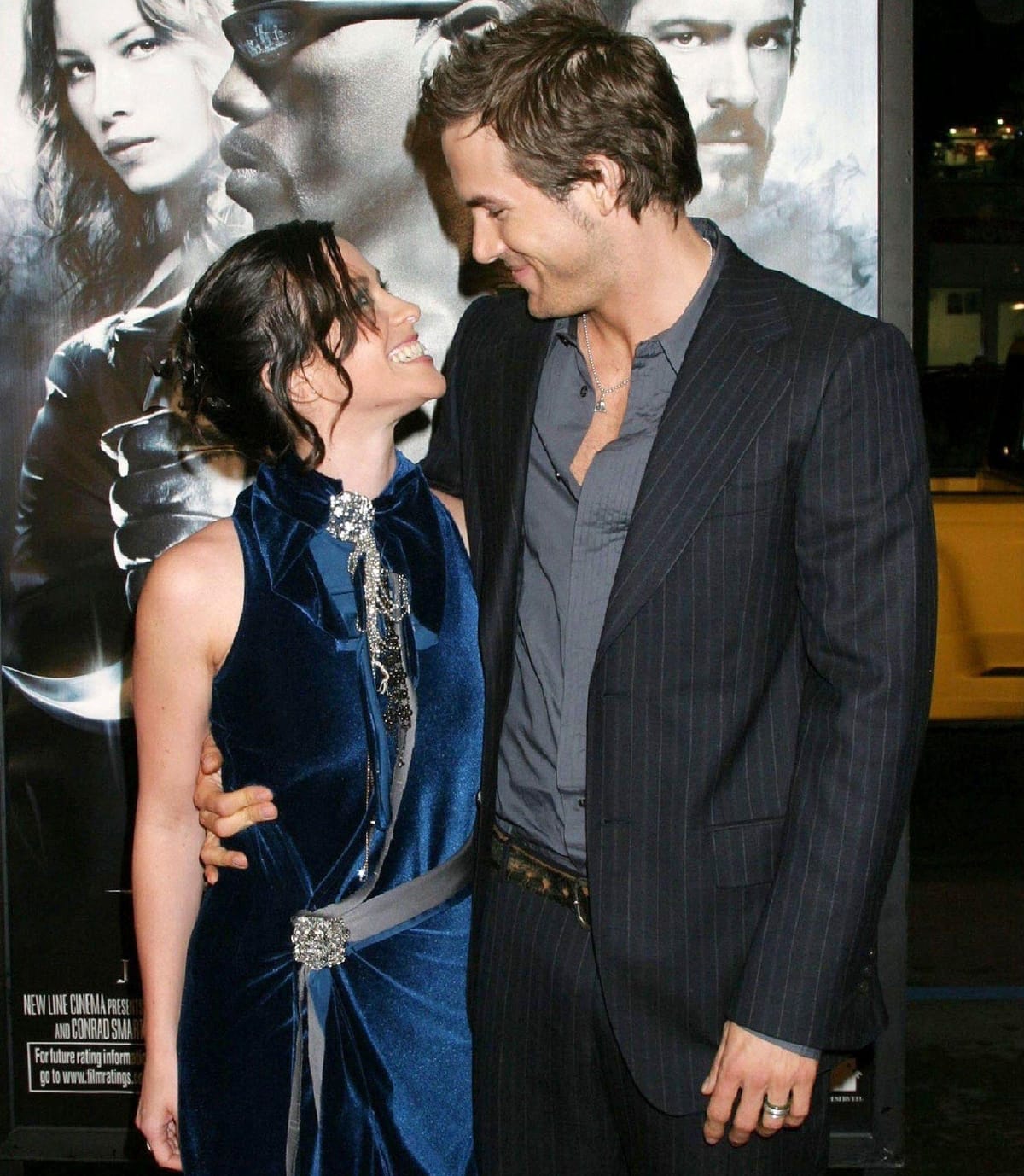 Ryan Reynolds and Alanis Morissette began dating in 2002 and broke up in 2008 (Credit: Nikki Nelson / WENN)
Shortly after his breakup with Alanis Morissette in February of 2007, Reynolds and Johansson began publicly dating after being spotted canoodling just two months later.
Despite their eight-year age difference – Johansson was 23 and Reynolds was 32 – they continued their habit of moving quickly by announcing their engagement just a year after they got together. Funnily enough, Reynolds was filming The Proposal with Sandra Bullock right around this time.
The couple swiftly got married four months after being engaged, tying the knot just outside of Reynolds' childhood hometown of Vancouver.
The wedding was a private affair, held at a wilderness retreat in front of a small group of family and friends. On the Late Show, Johansson said to David Letterman about the ceremony, "there were bears and whales and eagles… it was like Avatar."
Also around this time, Johansson tells Glamour, "I never really thought about getting married–it just kind of happened. You hope that the relationship makes you better, that you learn things about yourself."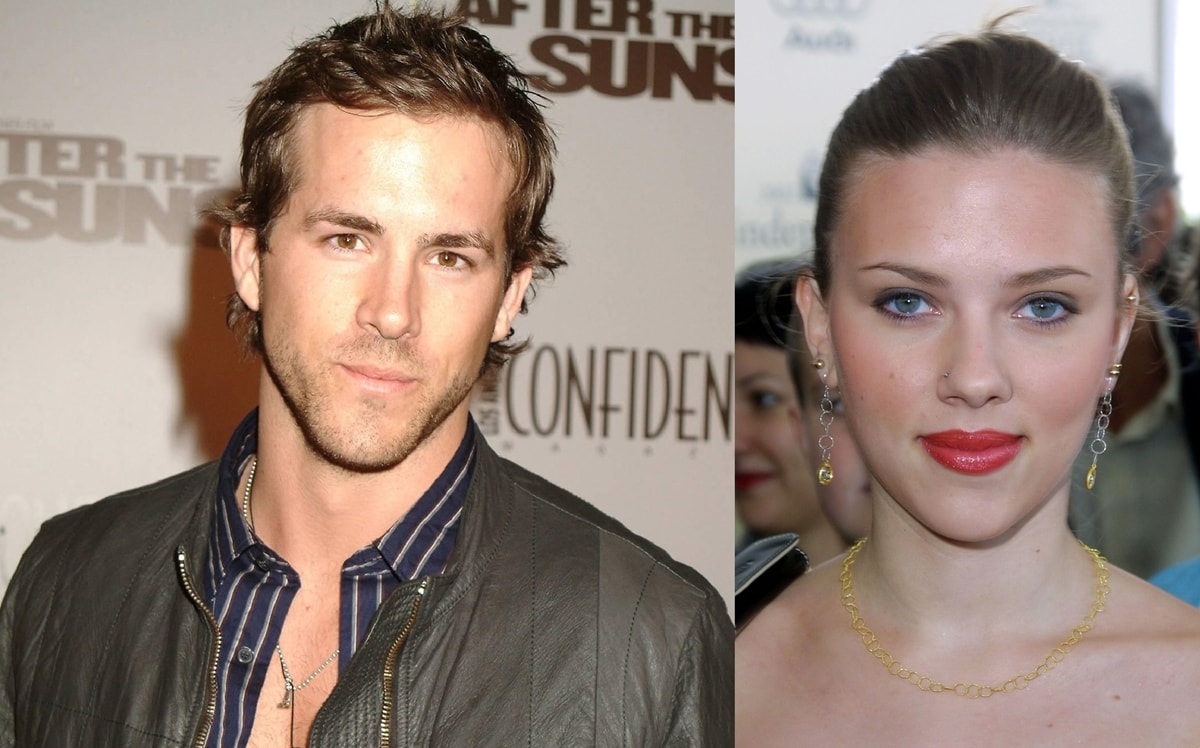 Ryan Reynolds is eight years older than Scarlett Johansson (Credit: Jody Cortes / WENN)
After Reynolds was rolling in the dough after the 2009 Deadpool release and around the time that Johansson was cast as Black Widow in Iron Man 2, the couple purchased a $2.9 million home in Los Angeles, California together.
However, there was trouble in paradise. Both actors had jam-packed schedules, and Johansson later admitted that their busy schedules may have contributed to their inevitable split, telling Cosmopolitan, "Both of us were extremely busy. We spent so much time apart. It's very difficult. It's bad."
In 2009, Johansson reiterated this statement when talking to Time Out New York, saying, "We have no time for dates. We work and then go home and—I, anyway—just stare at the wall for a few hours before I go to sleep…Like in any profession, it's difficult. You want to make sure you have time to invest in your family. It's a challenge, but it's worth it."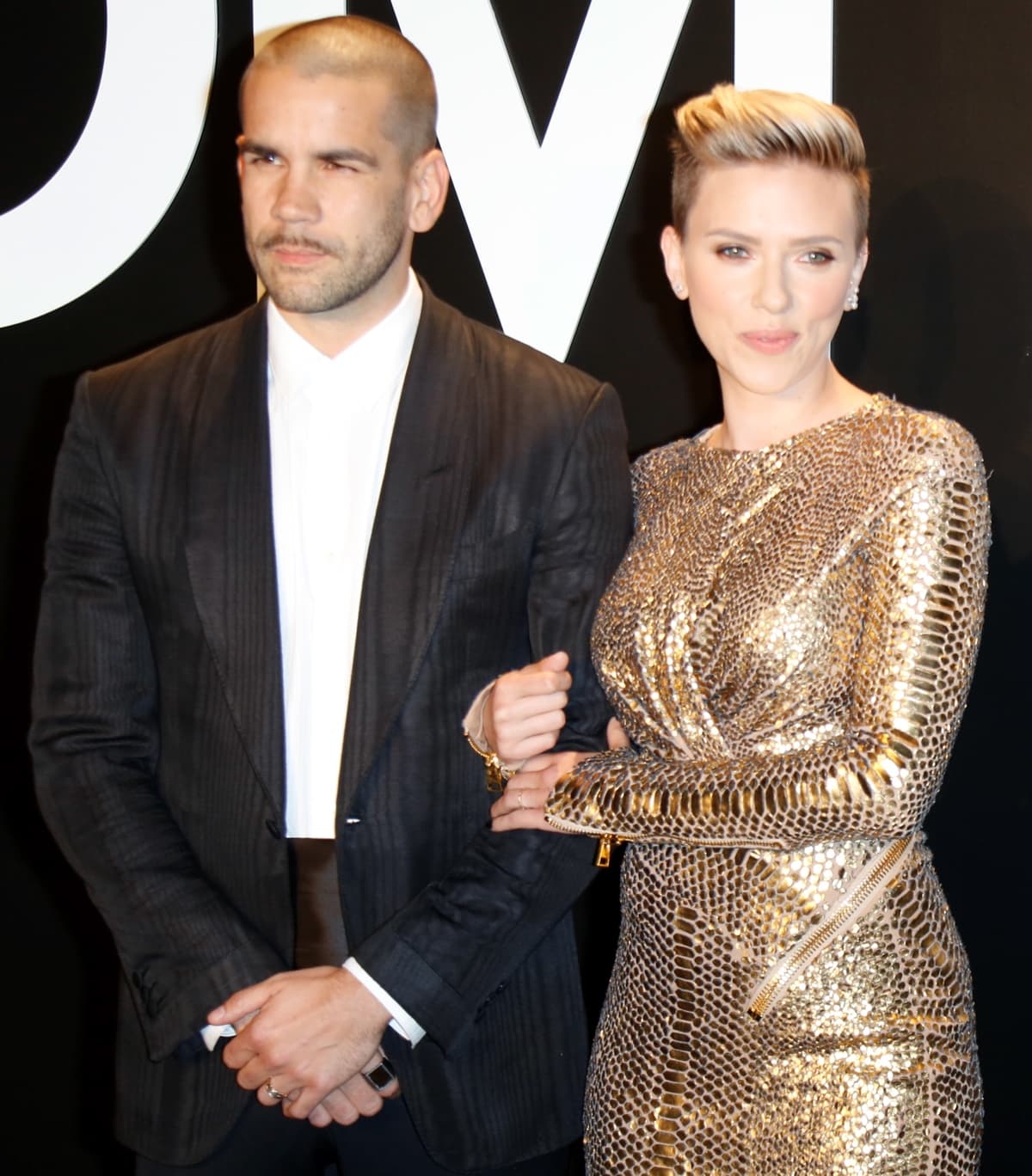 Scarlett Johansson and Romain Dauriac were married for nearly three years and divorced in 2017 (Credit: WENN)
Despite this, the couple remained relatively mum about their split in 2010, save for their vague joint breakup announcement. It wasn't until 2019, nine years later, that Johansson opened up about her split from Reynolds in an interview with Vanity Fair—though never naming him directly. She shared the things she learned from the relationship while on a press tour for her film, Marriage Story.
"I mean, the first time I got married I was 23 years old," she told Vanity Fair. "I didn't really have an understanding of marriage. Maybe I kind of romanticized it, I think, in a way."
Considering the age difference between Johansson and Reynolds, it is no wonder she was excited to fall in love and rush into a relationship. However, Johansson doesn't seem to hold any animosity towards her ex, saying "It's a different part of my life now. I feel like I'm in a place in my life, I feel I'm able to make more active choices. I'm more present, I think, than I've been before."
"The logistics of being with another actor are challenging. There has to be a real understanding of how you share your time, especially when two people's careers are going at the same rate. Or even if one person is more successful than the other, that also proves challenging. There may be a competitive thing," Scarlett Johansson told Cosmopolitan about her failed marriage.
Thankfully, there is no need to lose hope. Since Reynolds and Johansson split, both parties have found love and happiness.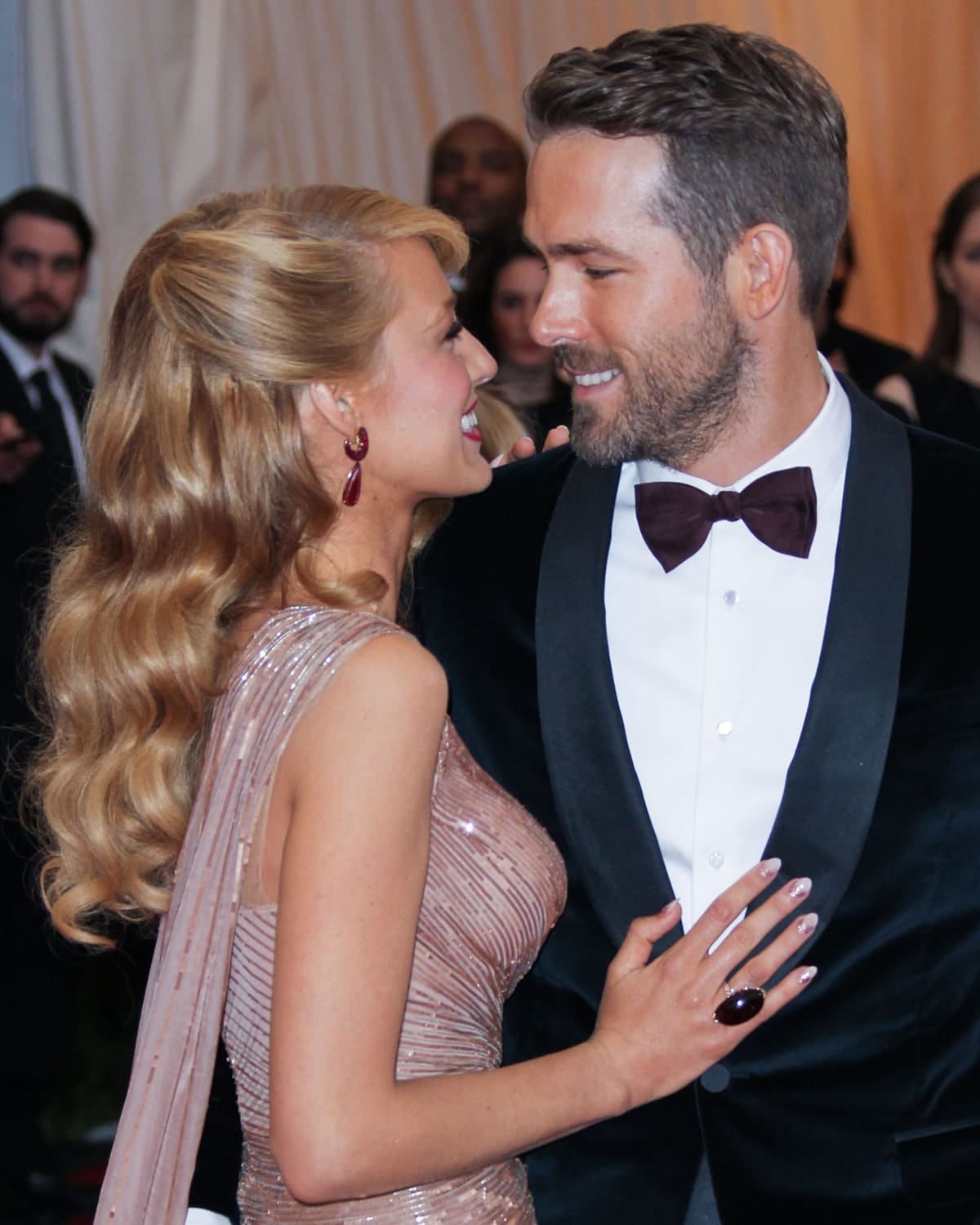 Ryan Reynolds is eleven years older than his wife Blake Lively (Credit: Avalon / WENN)
Reynolds has been married to Gossip Girl alumna Blake Lively since 2012, whom he met on the set of Green Lantern shortly after his separation from Johansson. The couple has three beautiful daughters together, named James, Inez, and Betty.
In 2014, Johansson had her daughter, Rose, with French advertising mogul Romain Dauriac. In 2020, she married the co-head writer of Saturday Night Live and Weekend Update host, Colin Jost, and the two speak fondly of one another very often.
Johansson told Ellen DeGeneres about the proposal, "It was surprising; he's got a lot behind that news desk he's hiding. He's very charming and very thoughtful and romantic."
"He's very charming and very thoughtful and romantic. I was surprised, even if you imagine what that moment is going to be like, it's still, it's a beautiful moment," she added.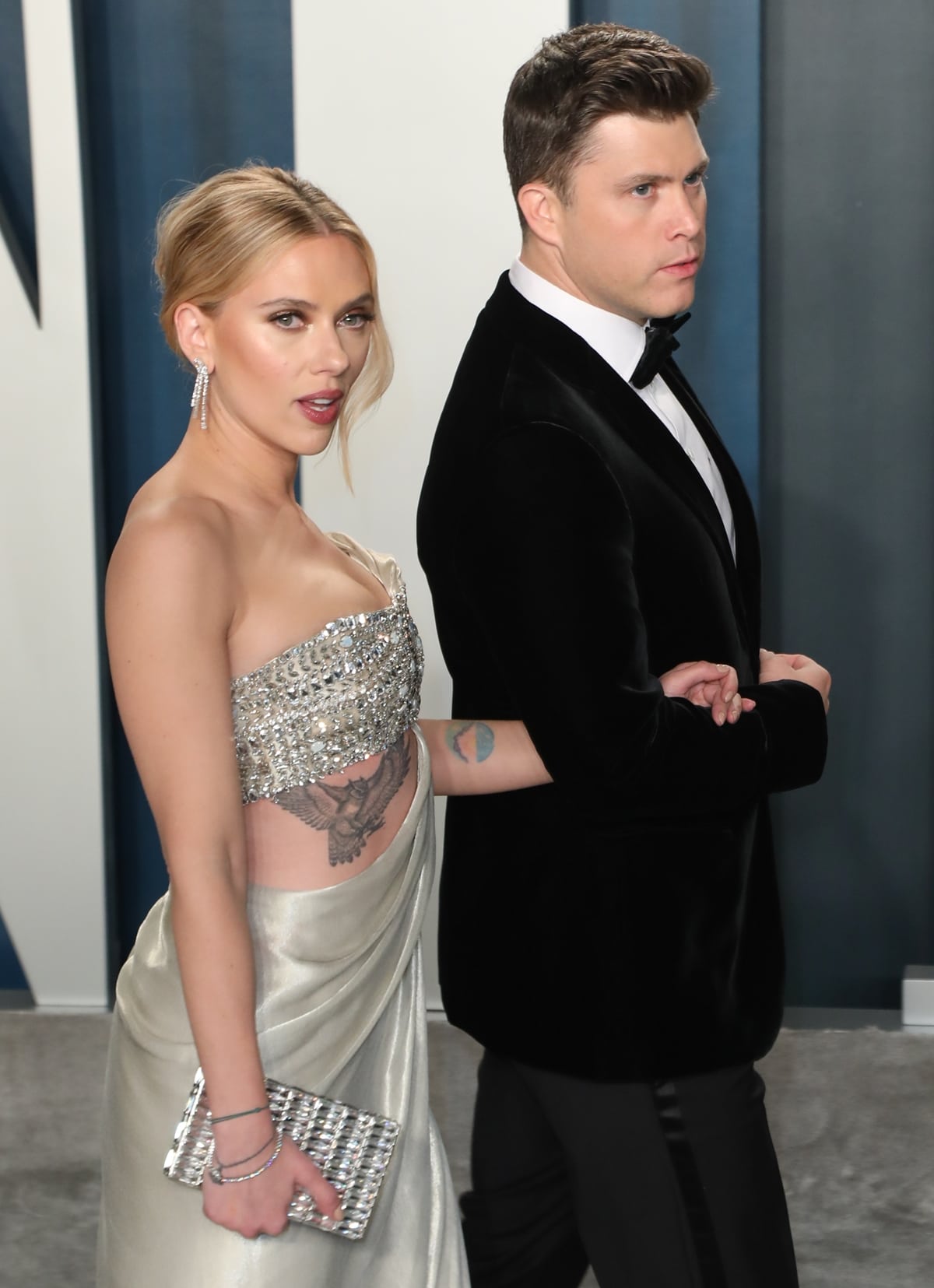 Scarlett Johansson met her future husband Colin Jost on the set of SNL in 2006 when she was hosting for the first time (Credit: Sheri Determan / WENN)
Though it didn't work out for these two A-listers, it seems that was for the best, as both Johansson and Reynolds are happily married with their own families now.
Scarlett Johansson has been quite experimental with her fashion, and while we do appreciate a star that sticks to a signature style, it has been a pleasure watching ScarJo go from one look to another.
Scarlett Johansson won a Tony Award in 2010 for her performance in A View From The Bridge (Credit: Dennis Van Tine / Future Image / WENN)
At the "Ghost in the Shell" premiere in April 2017, she opted for an edgier ensemble in head-to-toe Alaia, while just a few months prior she chose a very feminine red ensemble.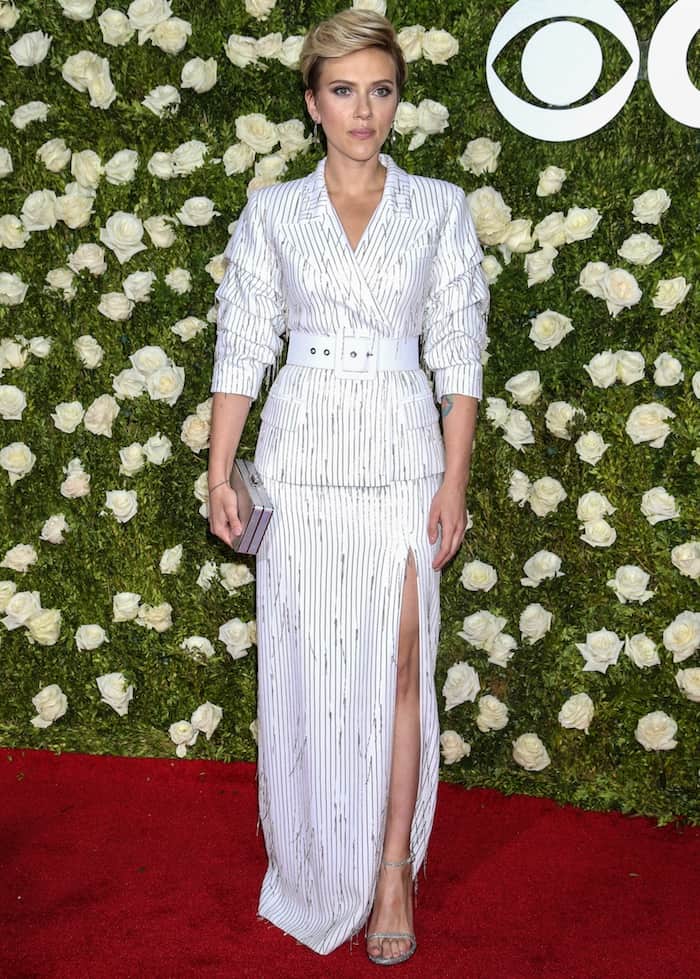 Scarlett Johansson wore Stuart Weitzman sandals with a blazer and skirt from Michael Kors (Credit: Joseph Marzullo / WENN)
The Ghost World actress doesn't work with any stylist, which might be what makes her chameleon fashion sense more notable.
Scarlett showed yet another side at the Tony Awards in a skirt-suit combination from American fashion designer Michael Kors, executed flawlessly.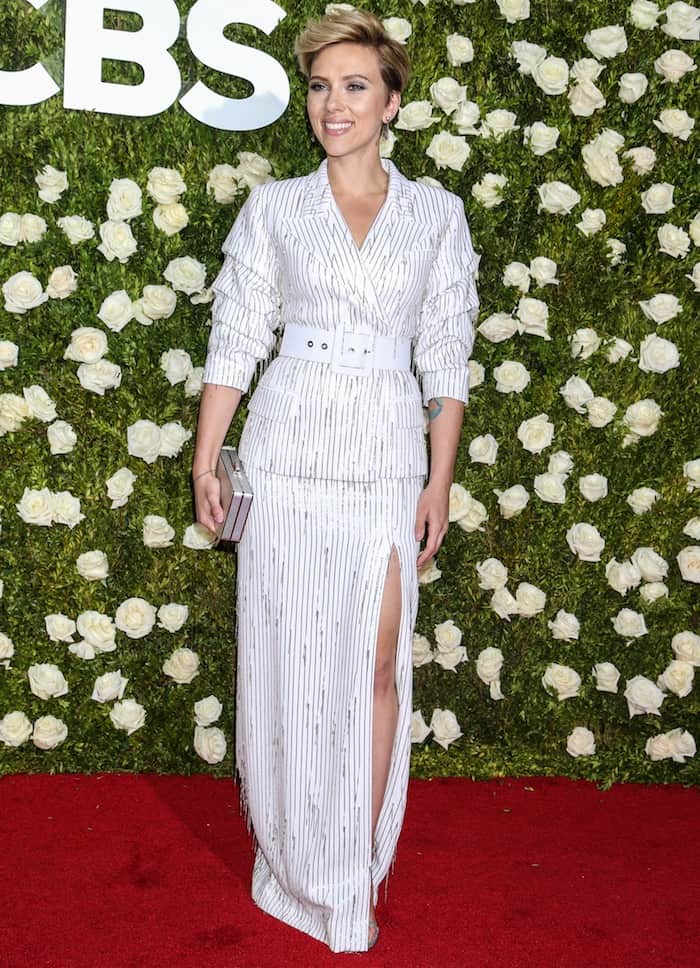 Scarlett Johansson attends the 2017 Tony Awards on June 11, 2017, at Radio City Music Hall in New York City in a Michael Kors suit-skirt combination (Credit: Joseph Marzullo / WENN)
Sandals ruled the red carpet at the event, and Scarlett was in theme with her Stuart Weitzman 'Nudist' sandals in noir platinum. The famous ankle-straps feature lamé fabric and 4.5-inch heels.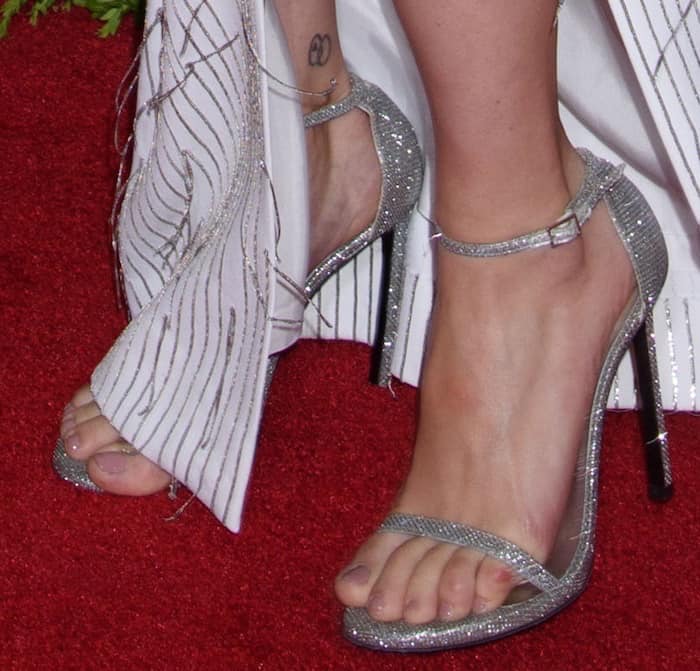 Scarlett Johansson shows off her feet in Stuart Weitzman's "Nudist" sandals (Credit: Dennis Van Tine / Future Image / WENN)
The then 32-year-old capped off her ensemble with chandelier earrings and a silver clutch.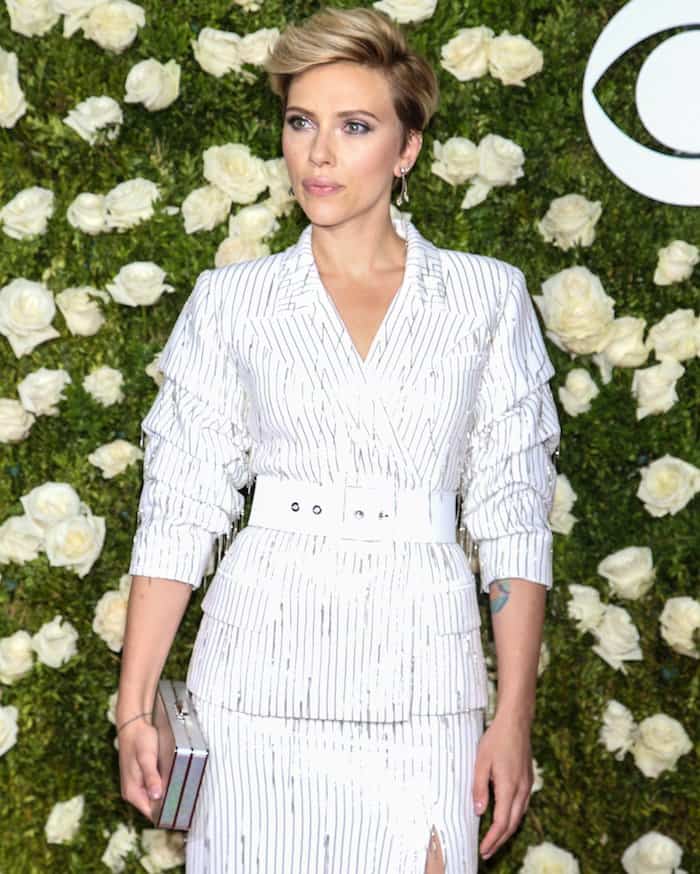 Scarlett Johansson finished off with chandelier earrings and a silver clutch (Credit: Joseph Marzullo / WENN)
Copy Scarlett's elegant style with the "Nudist" sandals available at Zappos and Nordstrom in a variety of colors.
Stuart Weitzman Nudist Ankle-Strap Sandals, $398 – $415