Sarah Jessica Parker is famous for her Met Gala looks. Not once has she attended the event looking less than stunning or not meeting the theme.
In 2016 she wore a white pantsuit by Monse and two years later she showed up with an altar headpiece.
Sarah Jessica Parker wearing a Christopher John Rogers gingham gown at the 2022 Met Gala Celebrating "In America: An Anthology of Fashion" at The Metropolitan Museum of Art on May 2, 2022, in New York City (Credit: John Nacion / Startraksphoto)
The former co-chair of the event recently interviewed with Vogue, reviewing all of her past Met Gala outfits. She noted to the outlet how time-consuming and difficult it should be to meet the theme and that it is indeed an assignment.
Who could forget her red carpet arrival with late designer Alexander McQueen at the "AngloMania" exhibition?
"When I was invited and told the theme, I said out loud [that] I really wish I could go with — we called him Lee — I wish I could go with Lee. I wish I could go with McQueen," SJP said about Alexander McQueen and the 2006 theme, "AngloMania: Tradition and Transgression in British Fashion."
"A bunch of things came to mind. A — he would say no, he's already been asked, he's called for, he's obliged. And I didn't really know him well enough to be so presumptuous. I summoned the courage or whatever was needed, and I reached out and asked would he consider attending with me, meaning more so, me with him. Could I be with him that night? And he said yes."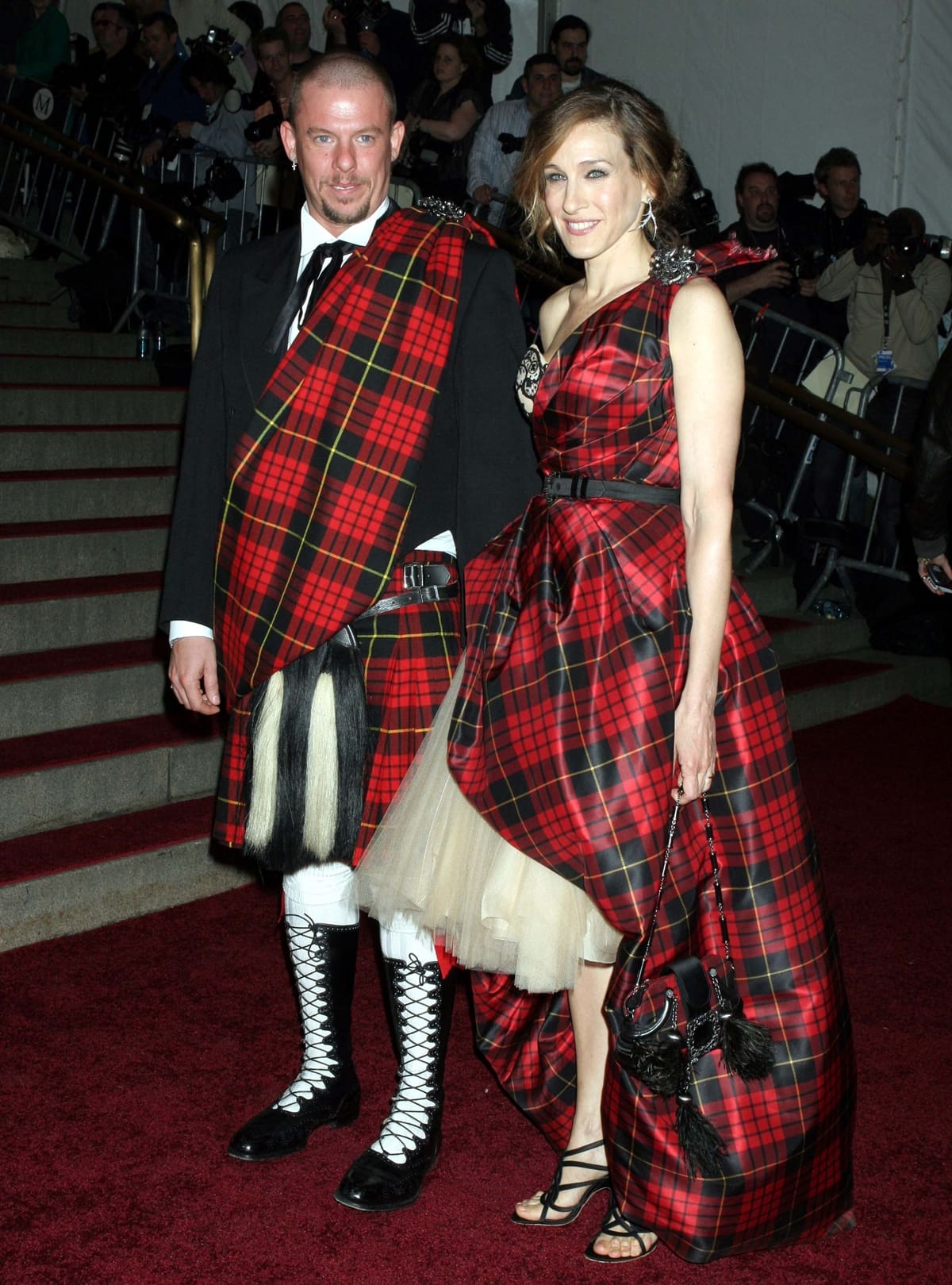 Alexander McQueen and Sarah Jessica Parker attend The Metropolitan Museum of Art Costume Institute Spring 2006 Benefit Gala celebrating the exhibition AngloMania: Tradition and Transgression in British Fashion sponsored by Burberry and Conde Nast in New York on May 1, 2006, in New York City (Credit: Roger Wong / INFGoff)
"What strikes me about this photograph is where our heads are and how careful I'm being, or cautious, or the shyer he was, the more shy I became. And I see that in this," she added. "I'm being very careful of him. I feel like I'm literally saying, 'Are you ok?'"
"It wasn't a fun night," she continued. "It was, but it wasn't because I was nervous. I just wanted him to be OK. He knew how I felt about him, and there was like, so much affection and such a deep admiration."

"I have every pin he dropped from his mouth in my possession still. I have everything he cut off in my possession still. I have things that seem like nothing — from every fitting I ever did with him — I have in my possession," SJP added.
If Sarah Jessica Parker were to be graded for her work this year, she'd receive an A+. SJP arrived in a plaid gown from CFDA-award-winning designer Christopher John Rogers that perfectly mimicked the silhouette of the Gilded Age.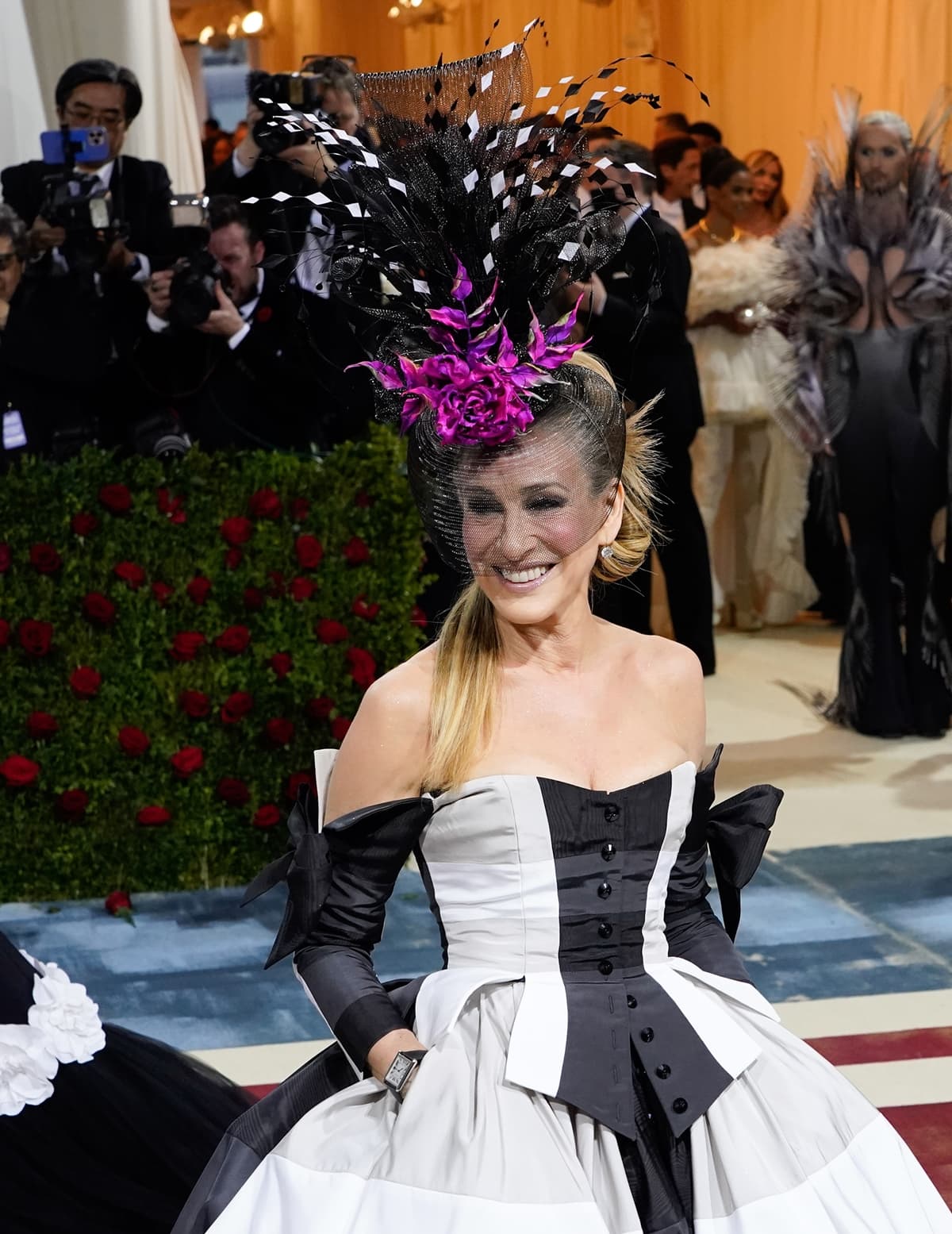 Sarah Jessica Parker completed her look with a colorful Philip Treacy hat and Fred Leighton jewelry (Credit: Jennifer Graylock / INSTARimages)
She accessorized with a fabulous hat from famed Irish milliner Philip Treacy and looked like she could've been plucked right from a history book.
But Parker's attention to detail went beyond that as she celebrated African-American dressmaker Elizabeth Keckley, a former slave who purchased her freedom and became the dressmaker of First Lady Mary Todd Lincoln.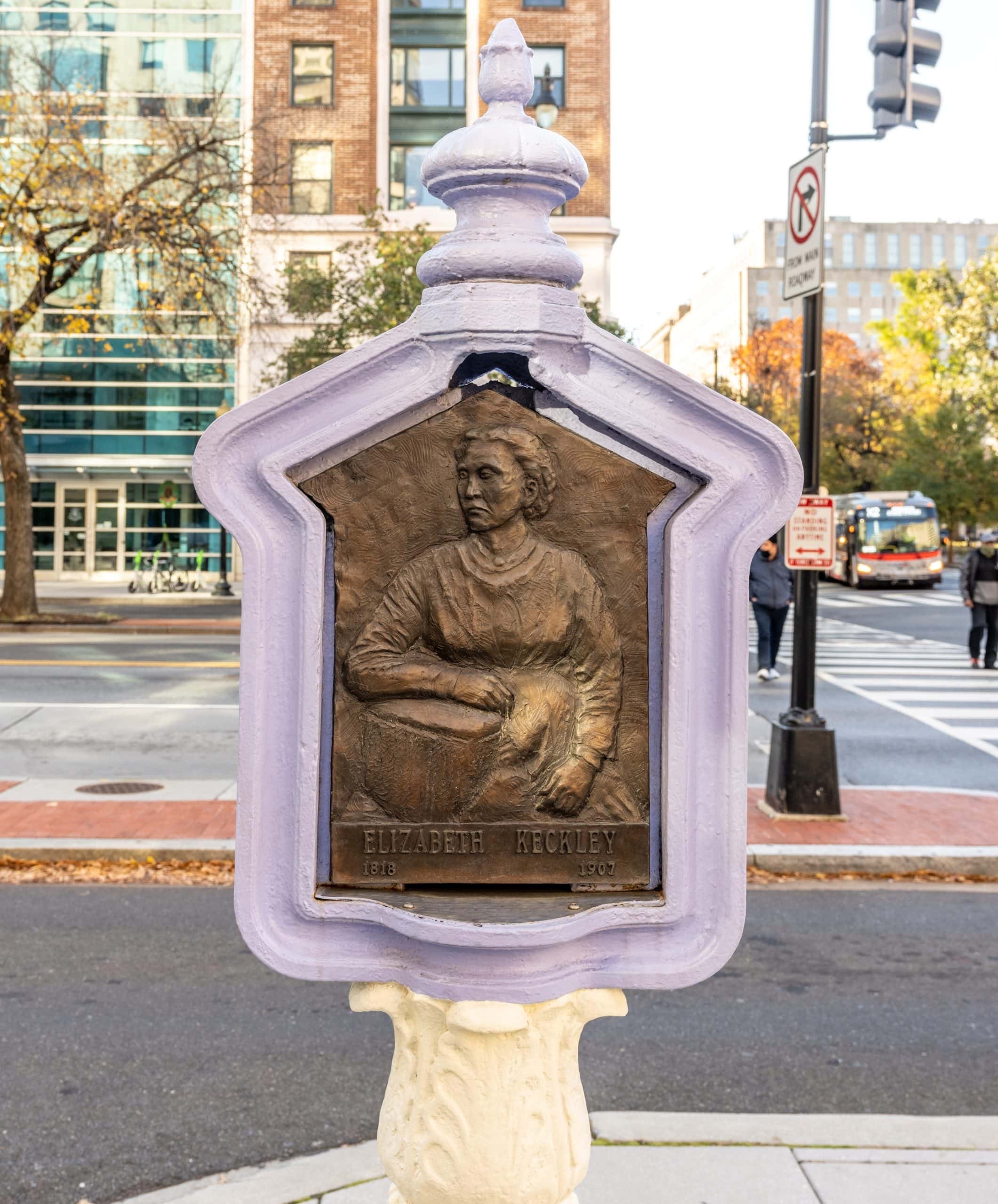 Former slave Elizabeth Hobbs Keckley gained renown as a dressmaker and confidante of First Lady Mary Todd Lincoln (Credit: Rosemarie Mosteller / Shutterstock)
"She was a smaller designer, and someone that people don't really talk about," Christopher John Rogers told Vogue.
"The idea was to highlight the dichotomy between the extravagant, over-the-top proportions of the time period, and the disparity that was happening in America at the time."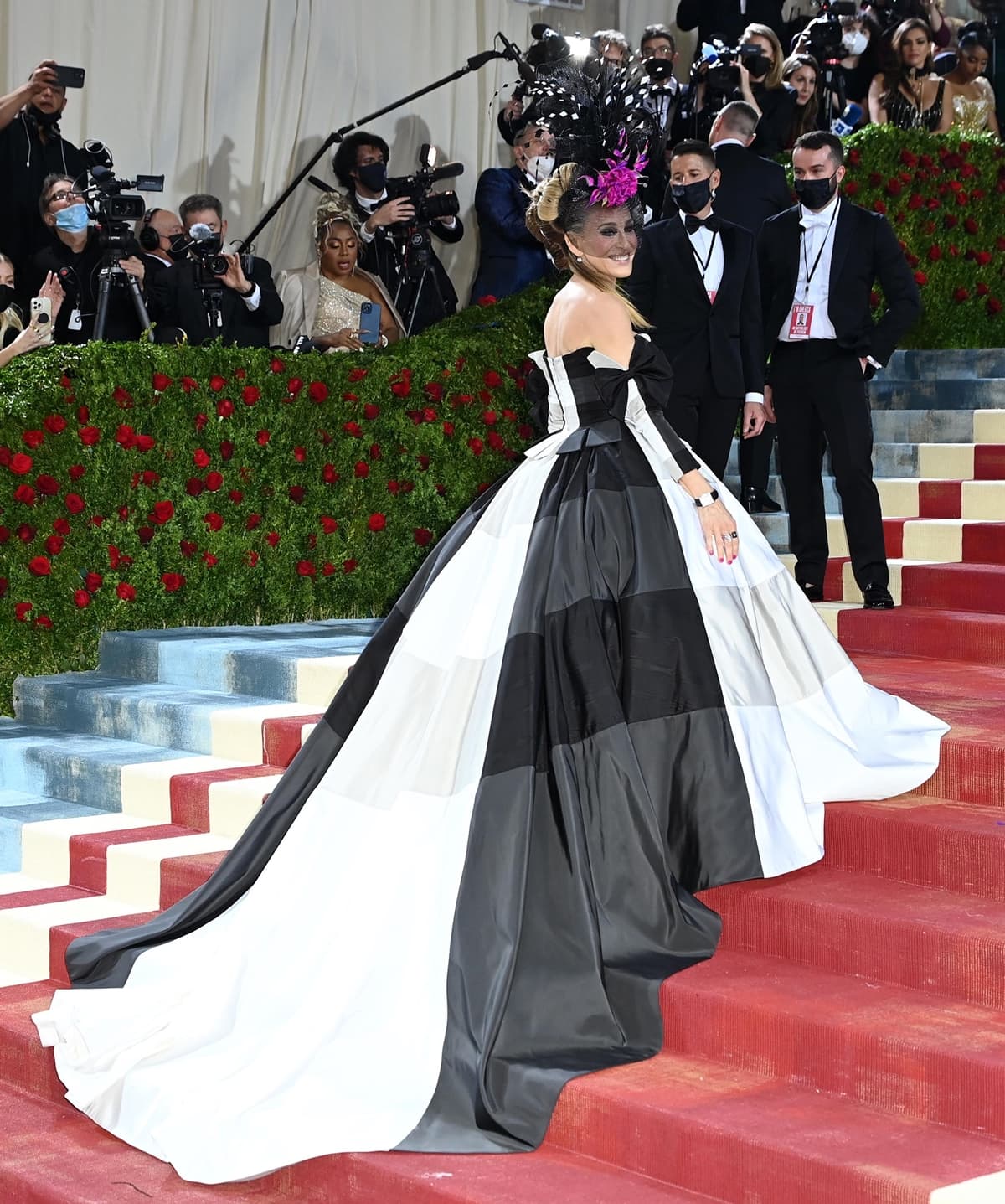 Sarah Jessica Parker's off-the-shoulder gown by Christopher John Rogers paid homage to Elizabeth Hobbs Keckley (Credit: PA IMAGES / INSTARimages)
No one understands themes quite like Sarah Jessica Parker. "What excited me the most about dressing her is how much of a fashion lover and historian she is," Rogers added. "She's intentional about everything that she wears."
In April 2022, Matthew Broderick opened up about falling in love with Sarah Jessica Parker and knowing she was the one. They married in 1997 and have three children together.
Sarah Jessica Parker in a pink Atelier Prabal Gurung gown with her husband Matthew Broderick on the opening night of Plaza Suite in New York City on March 28, 2022 (Credit: Startraksphoto / John Nacion)
"Oh, the first time I met her," he said on Watch What Happens Live with Andy Cohen. "I saw her walking down the street and thought 'That's it.'"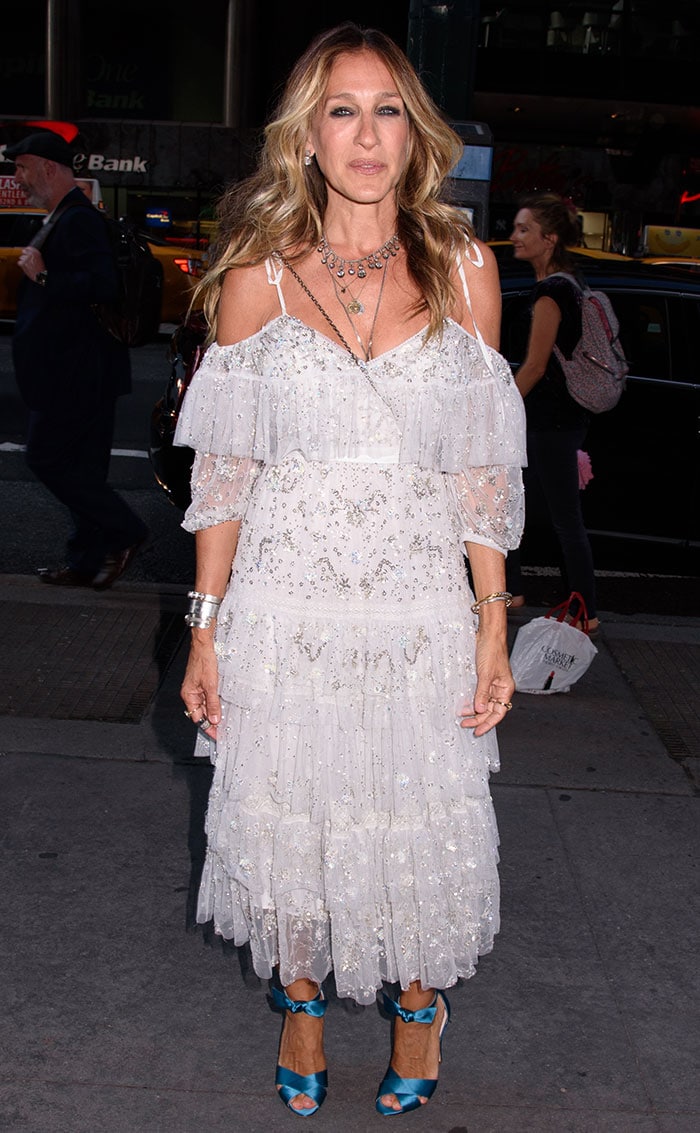 Sarah Jessica Parker received the Brand Visionary award at the annual ACE Awards in New York City (Credit: WENN)
In August 2016, Sarah Jessica Parker received an award from the Accessories Council. The entity celebrated the 20th anniversary of the ACE Awards at Cipriani 42nd Street in New York City.
The event, which honored individuals and companies who "have made great strides in raising the awareness of the accessories industry," presented Sarah with the Brand Visionary award for her footwear line.
"As many of you know, when you start a business, it's the support of your peers and the industry that is most meaningful and always wonderfully encouraging," Parker said when accepting the award.
The actress-turned-fashionista arrived and ensured all eyes were on her in an ethereal white dress by Hannah Coffin's contemporary British womenswear brand Needle & Thread.
Sarah Jessica Parker wears a Needle and Thread 'Supernova' dress for The Accessories Council's 20th-anniversary celebration of the ACE Awards in New York City on August 2, 2016 (Credit: WENN)
The then 51-year-old actress had never been one to shy away from the spotlight and was her usual stylish self in a tulle midi dress.
The tiered and ruffled dress was embellished with silver beads, sequins, and crystals. It also featured dainty shoulder straps, flouncy sleeves, and a full skirt with an ankle-length hem.
Sarah didn't skimp on jewelry! She accessorized with multiple layered necklaces, bracelets, cuffs, several rings, and a pair of drop earrings.
Sarah Jessica Parker in a ruffled Needle & Thread open shoulder dress (Credit: WENN)
Beauty-wise, she opted for her signature hair and makeup look. She wore her blonde locks down in loose waves and sported dark eyeliner and nude lipstick.
The Sex and the City star added a pop of color to the look with a pair of blue heels from her shoe collection.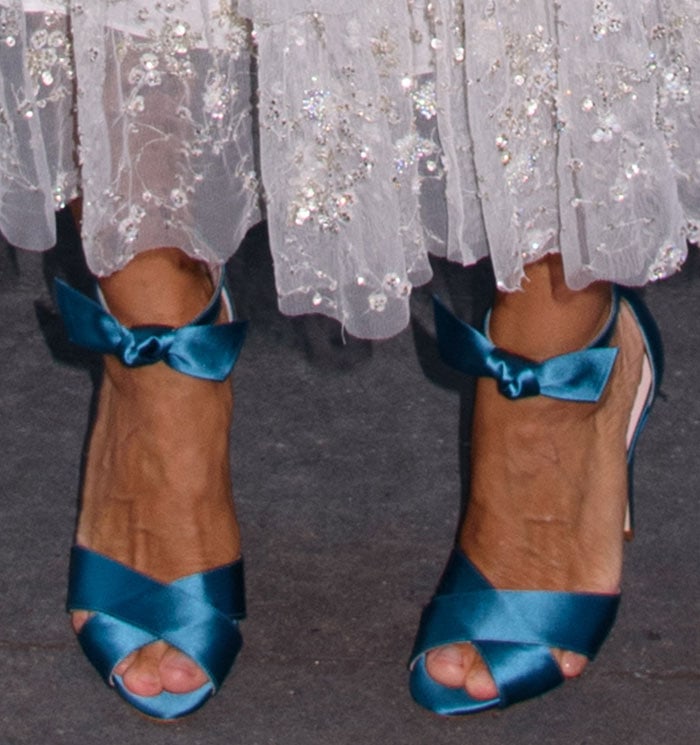 Sarah Jessica Parker displays her toes in blue heels from her own footwear collection (Credit: WENN)
These satin sandals boast crossover front straps, front-tie fastenings, and about four-inch heels.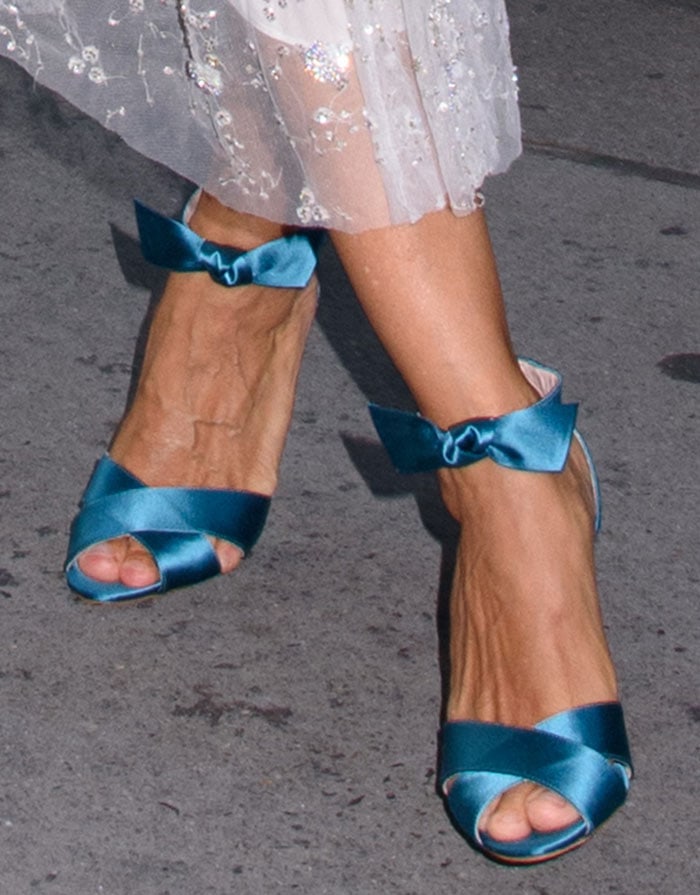 Sarah Jessica Parker shows off her feet in SJP Spring 2017 sandals (Credit: WENN)