Let's forget about all the nakedness we've seen for the past week or two and focus on the celebrities who got it right on the red carpet with zero hitches and glitches — for a change.
One name worth mentioning is Scarlett Johansson. The actress simply stole the spotlight at the premiere of her latest movie, "Her", in Italy the other day. Scarlett was stunning in her printed and beaded Versace dress and metallic strappy sandals. She finished her outfit with orange lips that matched the dress so perfectly, and some delicate drop earrings encrusted with dazzling diamonds.
Scarlett Johansson attends the premiere of 'Her' at the 8th Rome Film Festival held in Rome on November 10, 2013
Really beautiful, yes? We like how she went with a feminine look sprinkled with a little bit of Grecian drama instead of the usual sexy-va-va-voo- vixen kind.
As for Scarlett's strappy sandals, those are actually from Jimmy Choo. Below is a closer look at the pair for you.
A closer look at Scarlett's Jimmy Choo sandals
Very glam indeed. We've previously featured Cat Deeley and Hilary Rhoda wearing the same style.
They're quite perfect for the holiday season too, thanks to all the shine and glitter. Scar's Jimmy Choo sandals are called the "Besso". They feature the ankle-hugging gladiator silhouette and are made from a mix of metallic mirror and coarse (metallic) leather materials. They also sit on 4.5-inch tall covered heels. Below is the black-and-gold pair in mirror and matte leather:
Jimmy Choo Besso Mixed Media Sandals in Black/Gold, $895 at Neiman Marcus and Nordstrom
On a side note, a shorter version with 3.5-inch tall heels called the "Berlin" can be had via Neiman Marcus. They feature the same materials as Scarlett's sandals. Both styles retail at $895 a pair. If you don't mind splurging on a pair, then scoot over to the store and order away.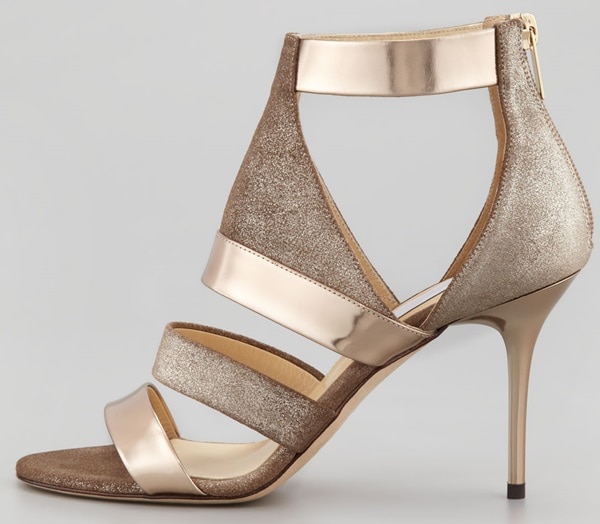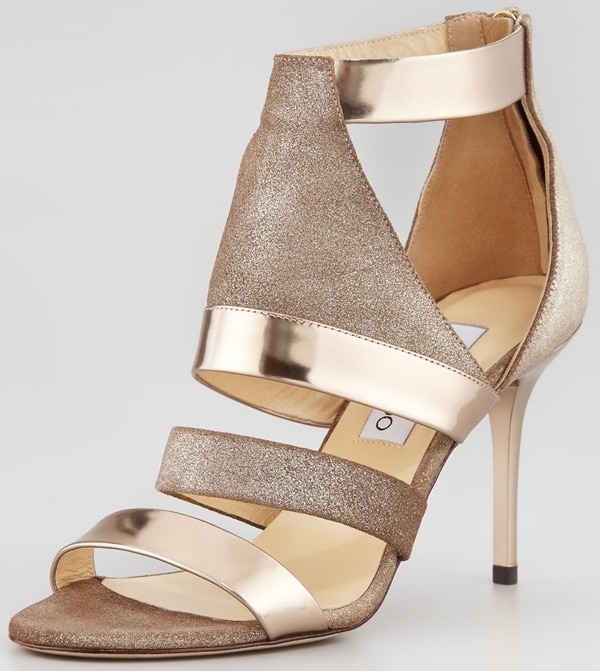 Jimmy Choo 'Berlin' Mixed Media Sandals in Bronze, $895 at Neiman Marcus
Credit: KIKA / WENN