Well, that's one way to go matchy-matchy with polka dots. Dressed in a salmon pink bralette and mini skirt, Rumer Willis found an unusual match to her white-dotted ensemble: a pair of Sergio Rossi "Marissa" black patent pumps with cutaway circles on the sides.
It's as if someone took a bite out of the shoes, which is very apt since we find them to be so stylishly delicious.
Check out Rumer looking hot in dots-on-dots in her interview with Mario Lopez for Extra at Universal Studios Hollywood last Friday: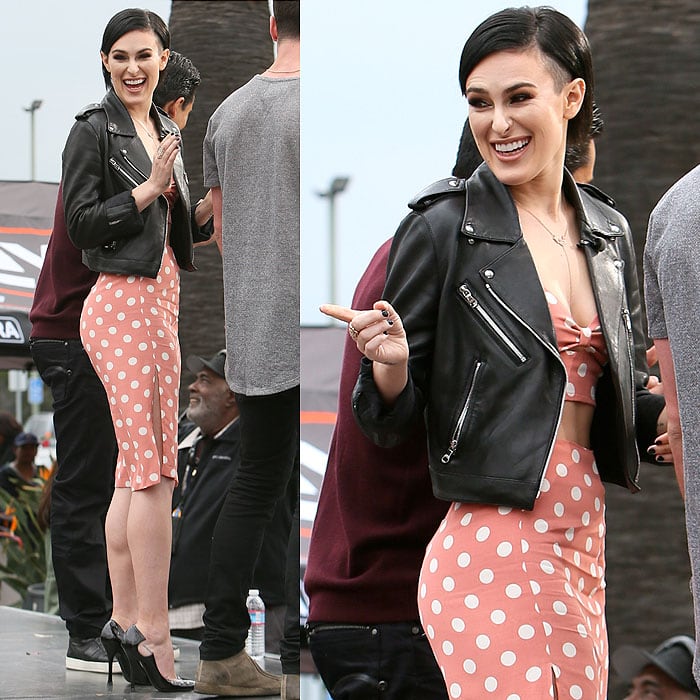 Rumer Willis has a laugh while being interviewed by Mario Lopez for the TV show, "Extra", at Universal Studios Hollywood in Universal City, California, on February 27, 2015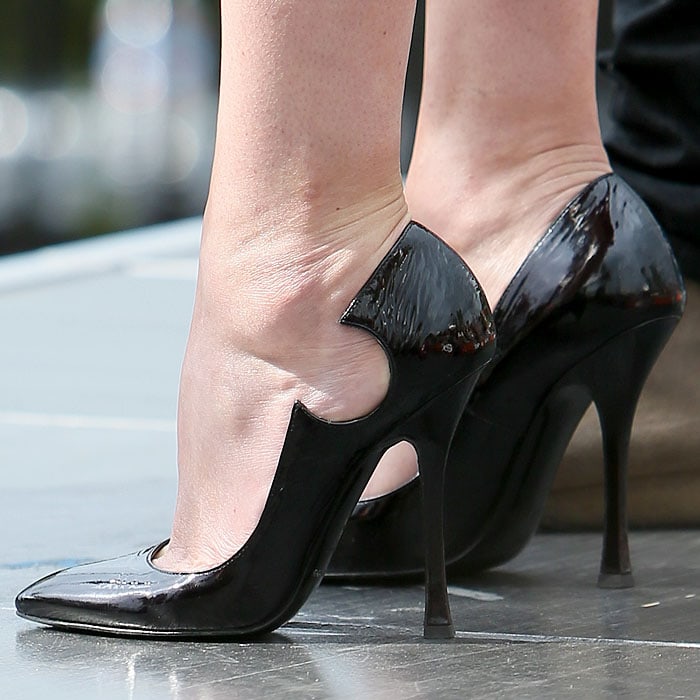 Rumer Willis' hot feet in Sergio Rossi "Marissa" pumps with circle side cutouts
Rumer actually arrived on set not wearing the pumps but carrying them by the heels in her hand instead. But as soon as she put them on, she was instantly in fierce mode.
Rumer Willis carrying a Starbucks drink and Sergio Rossi shoes in her hand as she makes her way to the "Extra" studios
Add that to the shaved sidecut, black leather jacket, black nails, and piercings, Rumer's rocker accessories completely nullified the sweetness of her pink polka-dot ensemble.
Rumer Willis' shaved sidecut, black leather jacket, black nails, and piercings
We don't say this often, but we think the black flats looked better with Rumer's tough-yet-sweet outfit than the heels. Not only did she look more comfortable in them, but also seemed to be more like herself.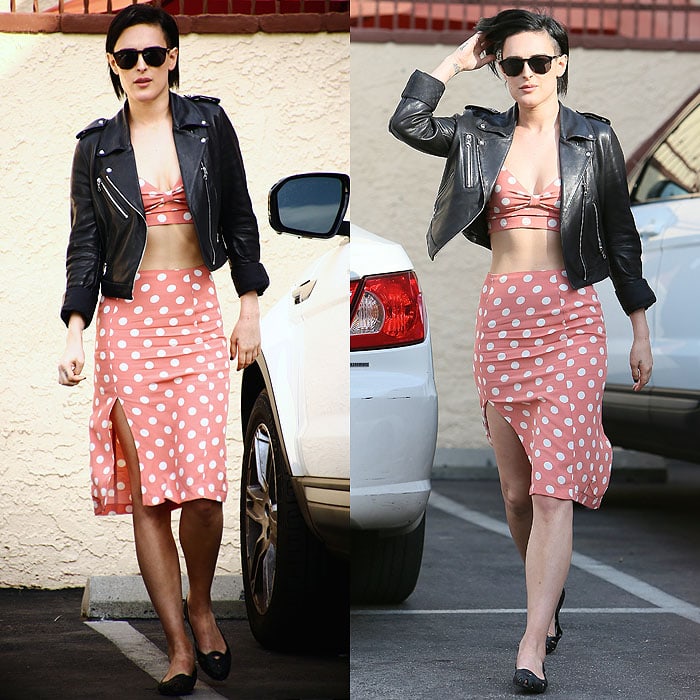 Rumer Willis wears a sexy salmon pink bralette and mini skirt
Digging through our photo archives, we found out that Rumer first wore the very same Sergio Rossi pumps to the Late Show with David Letterman back in 2009.
Here's another thing we don't say very often: who do you think wore the pumps better, 2015 Rumer Willis or 2009 Rumer Willis?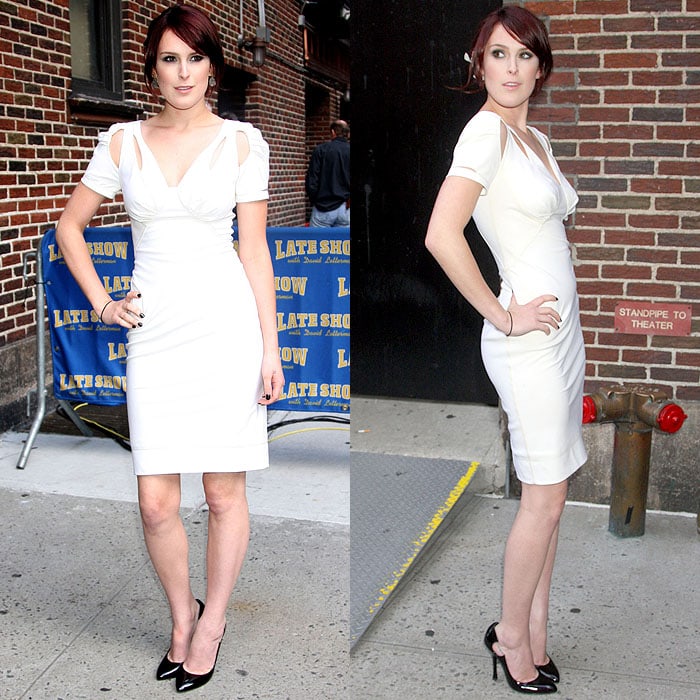 Rumer Willis arriving for the "Late Show with David Letterman" at the Ed Sullivan Theater in New York City on August 31, 2009
The pumps aren't available anymore, but below are some similar Sergio Rossi offerings from Farfetch. Choose among a plain black patent, a buckled open side, or a scalloped-edge and open-heel style.
Sergio Rossi Patent Leather Pumps, $646.47 at Farfetch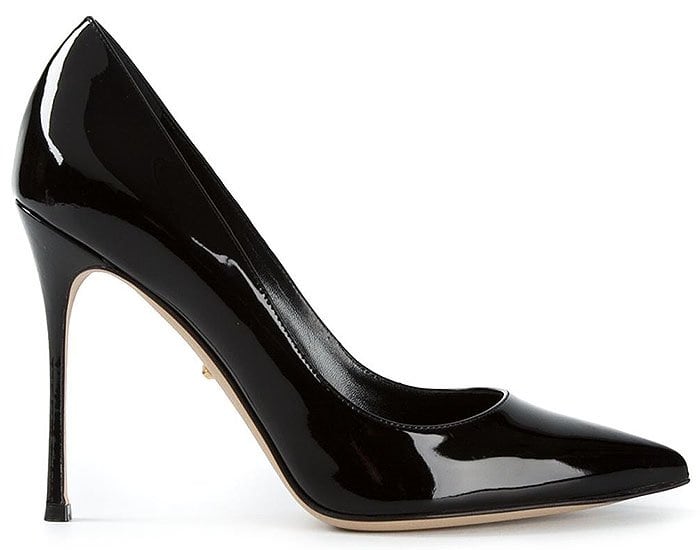 Sergio Rossi Buckled-Side Suede-and-Leather Pumps, $589.20 at Farfetch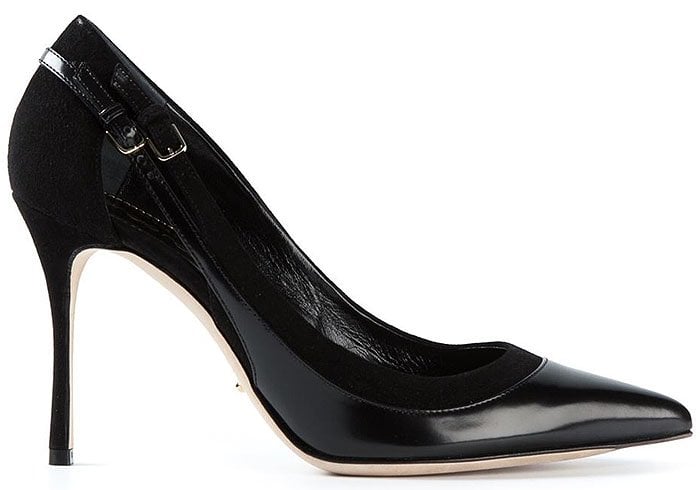 Sergio Rossi "Blink" Suede Pumps, $785 at Farfetch
Credit: Michael Wright / Mr Blue / WENN