While skinny jeans are a classic, they're the topic of much controversy right now. If you take your fashion advice from TikTok, you've probably already thrown out your skinny jeans.
If you're someone who prefers to stick to personal style, you'll probably never break up with your skinny jeans.
These jeans are the ones that flatter your curves, accentuating your figure and making you look and feel amazing. While they're tighter than mom jeans, they're a more versatile style that you can easily wear with your favorite shoes.
Amanda Holden, Kelly Brook, Laura Crane, Julianne Hough, and Georgia Toffolo show how to wear skinny jeans (Credit: Phil Lewis / Michael Wright / WENN)
If you're thinking of rediscovering your love for skinny jeans or investing in a new pair, you want to consider which shoes you're going to style them with.
We're sharing our ultimate guide of which shoes you should (and shouldn't!) wear with your skinny jeans, along with our recommendations for warm vs. cold weather shoes. Spoiler alert: skinny jeans work with pretty much everything!
What are skinny jeans?
Skinny jeans are a closet staple and the one style of jeans that you could wear anywhere, from a day at the office to a trip to the theater. It's all about how you style this denim – including the shoes that you choose.
Skinny jeans are synonymous with their slim silhouette that offer you a snug fit around the legs and your bum, helping to accentuate your natural silhouette and shape.
Compared to straight jeans, skinny jeans have a more fitted and less relaxed look.
Warm vs. cold weather shoes
Skinny jeans are a style that you'll find us wear 365 days a year. As they're amongst the tightest fitting jeans, they're also the easiest to style with both warm and cold weather shoes.
You can slip into slides and sandals for the summer months before switching out to knee-high boots and combat boots for the colder months.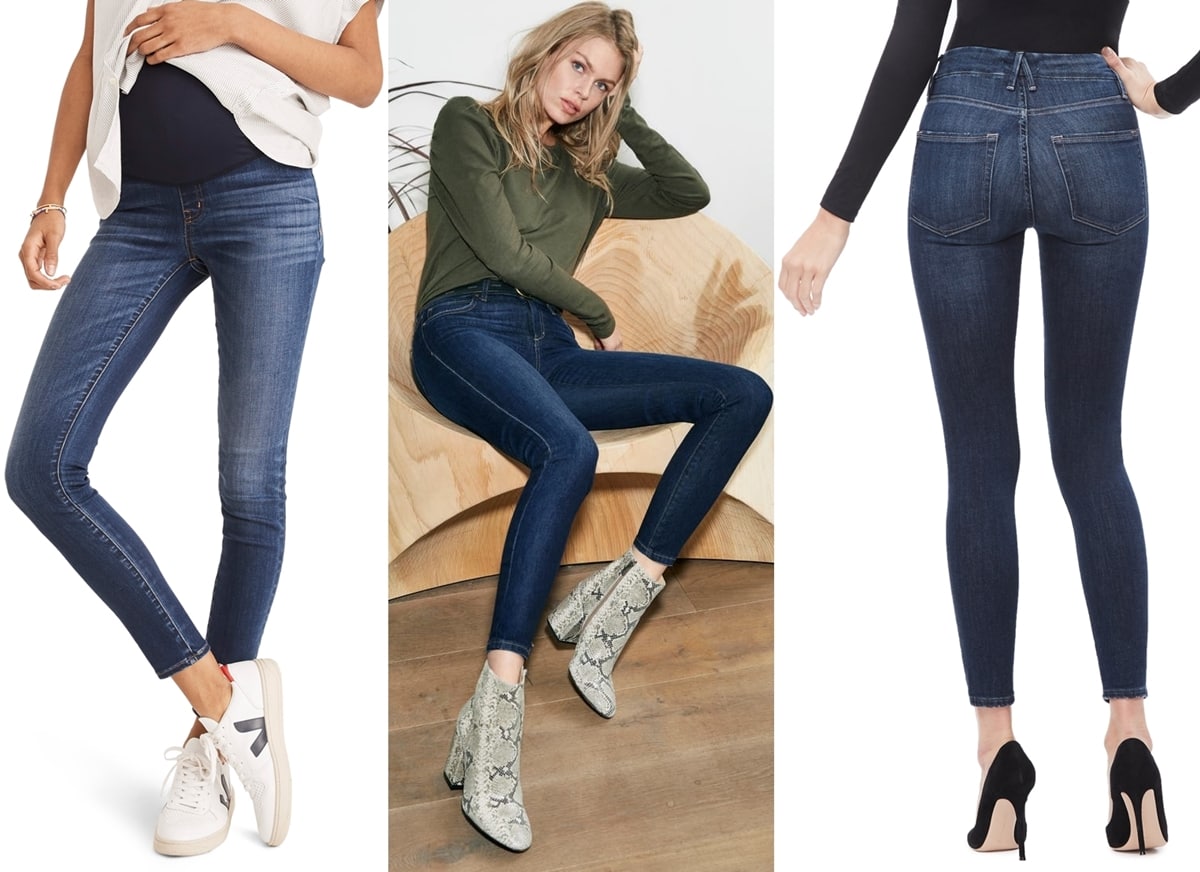 Skinny jeans paired with sneakers, ankle boots, and high heel pumps
Sneakers are always our ride and die for wearing denim jeans of any kind – and work for virtually any weather condition.
Don't overlook the classic ankle boots if you're not sure what the weather will be. Ballet flats are another classic year-round shoe that is effortlessly chic and a tote bag essential.
What shoes you should wear with skinny jeans
The beauty of skinny jeans is that you're guaranteed to have shoes in your closet that will work with this style.
We're rounding up a few of the must-have shoes that you'll want to have to mix and match with your favorite skinny jeans for any occasion. These are the shoes that we love to wear with skinny jeans on repeat.
1. Pumps
You can never go wrong with classic pumps for your skinny jeans. The secret is to choose a pump that has a single sole, meaning you're skipping a platform.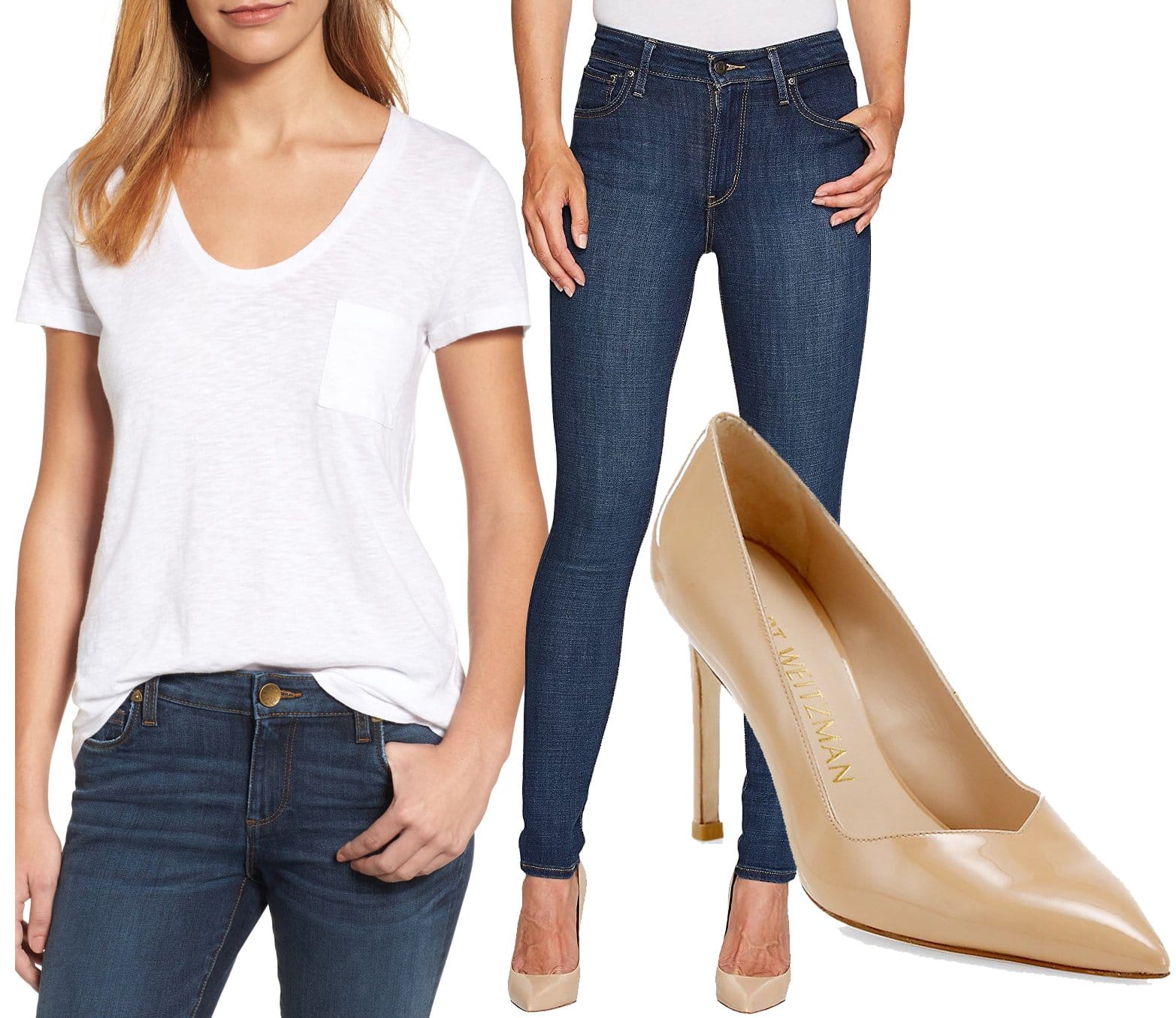 Caslon Rounded V-Neck T-Shirt, $19 at Nordstrom, Levi's 721 High-Rise Skinny Jeans, $69.50 at Zappos, Stuart Weitzman Anny Patent Leather Pumps, $398 at Saks Fifth Avenue
This shoe will help accentuate your ankle, giving you a streamlined look from the leg of your jeans.
2. Ankle boots
If there's one style of shoe that works with (almost!) every style of denim jeans, it's ankle boots. They're universally flattering and the perfect way to protect your feet from the elements or dress up your jeans.
We're fans of pairing ankle boots with a block heel with our skinny jeans to help create a streamlined silhouette.
AG The Farrah Ankle Skinny Jeans, $225 at Nordstrom, Splendid Knit Turtleneck Top, $60 at Saks Fifth Avenue, CL By Laundry Core Ankle Boots, $69.99 at Zappos
It's usually best to avoid ankle boots with a visible platform; instead, opt for a traditional sole or a hidden platform.
3. Wedges
You can take a styling tip from the fashion guide of the Duchess of Cambridge and pair your skinny jeans with classic wedges.
Vince Camuto Fray Hem Skinny Jeans, $79 at Nordstrom, Kate Spade New York Fab Jacquard Spade Flower Wedge Espadrille, $198 at Saks Fifth Avenue, LAmade Boyfriend Tank Top, $48 at Zappos
You want to choose a style with a lower platform and an almond toe shape for the best match with your skinny jeans.
4. Ballet flats
Don't underestimate the power of ballet flats. These classic shoes are an underappreciated staple and an easy way to elevate your style. They're also perfect for days when you want comfort without compromising on style.
Madewell 10-Inch High Waist Skinny Jeans, $128 at Nordstrom, Splendid Paige Button-Up Shirt, $138 at Saks Fifth Avenue, French Sole x Nicky Hilton Paris Flats, $165 at Zappos
These shoes are worth investing in if you're on the lookout for designer shoes, with the classic Chanel ballet flats being amongst the most sought-after.
It's an effortless way to incorporate a touch of Audrey Hepburn into your closet.
5. Loafers
If you're a fan of academic-inspired fashion, loafers will be your perfect alternative to ballet flats. You get a similarly chic look but with a more masculine and vintage feel.
Loafers are one of the most stylish flat shoes that you can add to your closet, helping you show just enough ankle while being comfortable enough to wear all day long.
Jag Jeans Viola Pull-On High-Rise Skinny Jeans, $78.95 at Zappos, Sam Edelman Christy Loafers, $150 at Nordstrom, Toad&Co Byrne Pullover, $75 at Zappos
These shoes will help take your denim jeans from day to night with a minimalistic but elevated look. Loafers are just as comfortable as your favorite slippers!
Which shoes you should avoid wearing with skinny jeans
The golden rule that you want to keep in mind when styling shoes with skinny jeans is that you want a streamlined silhouette.
You want to avoid choosing an oversized or chunky style and instead keep it simple and minimalistic. If you choose the right shoes, you can help elongate your legs and give the illusion of a slimmer silhouette and shape.
Platforms are generally a no-go with skinny jeans, specifically rounded-toe platform pumps that appear dated and out of style. Keep your platform shoes for when you're wearing longer and flared jeans.
The other shoes that you want to avoid wearing with skinny jeans are Birkenstocks or so-called 'ugly sandals'. They juxtapose the tight fight of your jeans and are best suited for wearing with high-waisted mom jeans.
What we love about skinny jeans is their versatility and how easy they are to style with most everyday shoes. You want to stick to classic and streamlined silhouettes, like your favorite sneakers and kitten heels.
Our number one tip when choosing shoes to wear with skinny jeans is to keep it simple and look for styles that help elongate your legs and create a seamless line. With these shoes, you'll never be able to cancel your trusty skinny jeans.