Shorts, which are considered a summer staple, can be intimidating for a plus-size woman—but really, they don't have to be.
They're the perfect way to stay cool and look chic in even the hottest climates. When the temperature starts to rise, it's time to show off those legs and let those thighs breathe.
Plus-size women often struggle to find flattering short styles as it might call for them to step outside of their comfort zone.
We believe that every body is a summer body. It's natural that not every short silhouette is going to flatter every body type, but there are still plenty of options you can choose from as a plus-size woman.
There are plenty of short silhouette options that can look flattering for plus-size women (Credit: Maria Moskvitsova / Dragon Images / kimberrywood / Olesia Bilkei / T.Den_Team / Shutterstock)
We're rounding up the most flattering shorts for plus-size women with styling tips on how to wear these best-selling styles.
Shorts are a closet staple that you can wear almost any time of the year, whether you're going for brunch with your girlfriends or jetting off on vacation.
Can plus-size women wear shorts?
Plus-size women and curvy girls can wear shorts. Embrace body confidence and show your legs some love by stepping out in a pair of shorts. There's a style out there for every body type, including plus-size women.
Finding the perfect shorts for you can take a little trial and error. Every body type is different – from your height to the size of your thighs.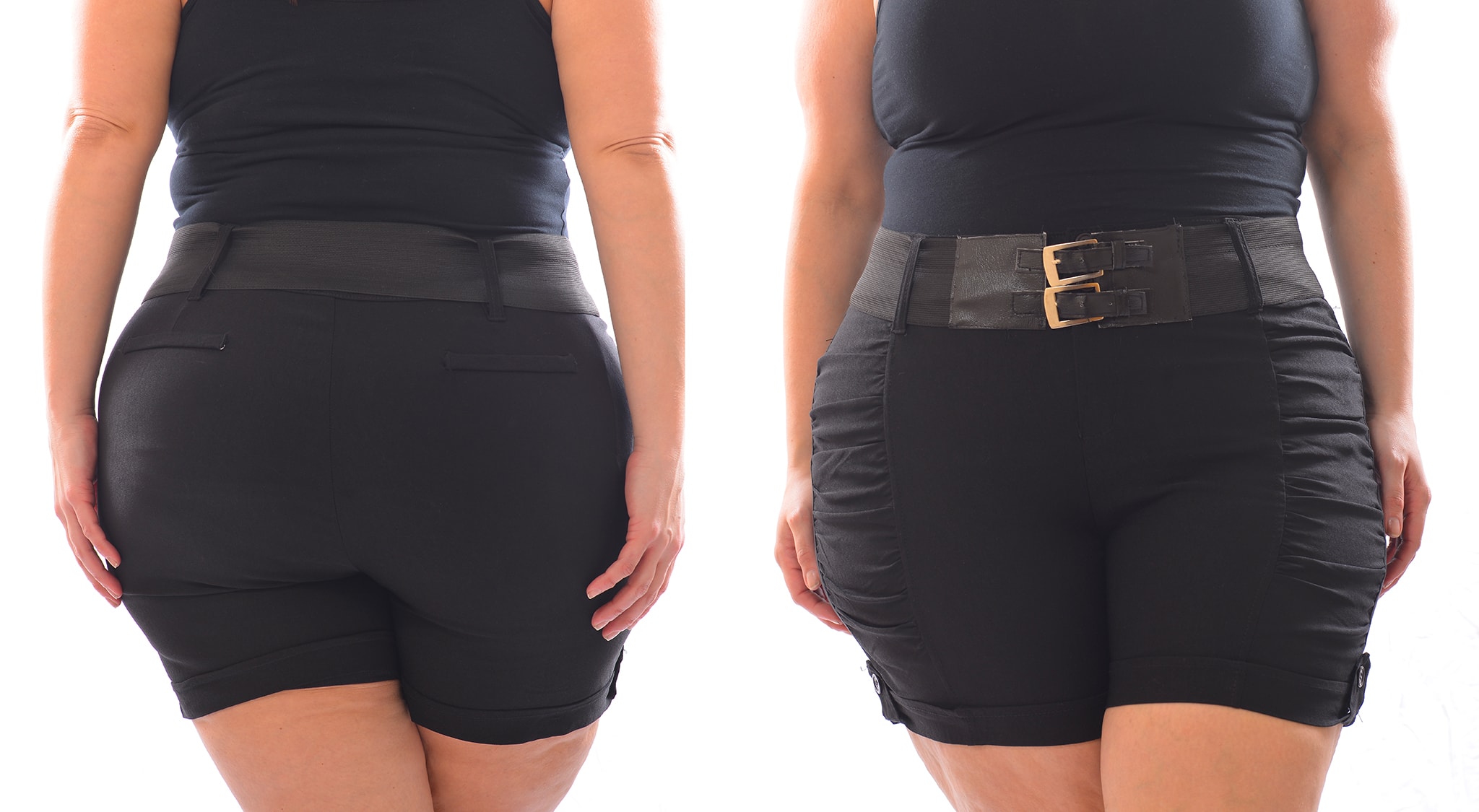 High-rise shorts with longer lengths can help accentuate a plus-size woman's curves (Credit: Nick Starichenko / Shutterstock)
The good news is there are dozens of styles that you can choose from as a plus-size woman.
There are some key characteristics that you want to shop for when buying shorts as a curvy woman. A high-rise silhouette is your best friend. It helps to accentuate your curves and is often more comfortable and flattering.
Fabric and sizing can be just as important. You may get a more flattering look by sizing up your shorts for extra comfort.
The 4 most flattering shorts for plus-size women
There are shorts for every occasion; they aren't just for wearing during summer. Whether you're hitting the gym or going shopping, shorts can help you keep cool and comfortable.
We're rounding up some of the most flattering styles of shorts for plus-size women that deserve a spot in your closet.
1. High-rise bicycle shorts
The athleisure trend shows no signs of slowing down. High-rise bicycle shorts perfectly encapsulate this trend and are effortlessly chic.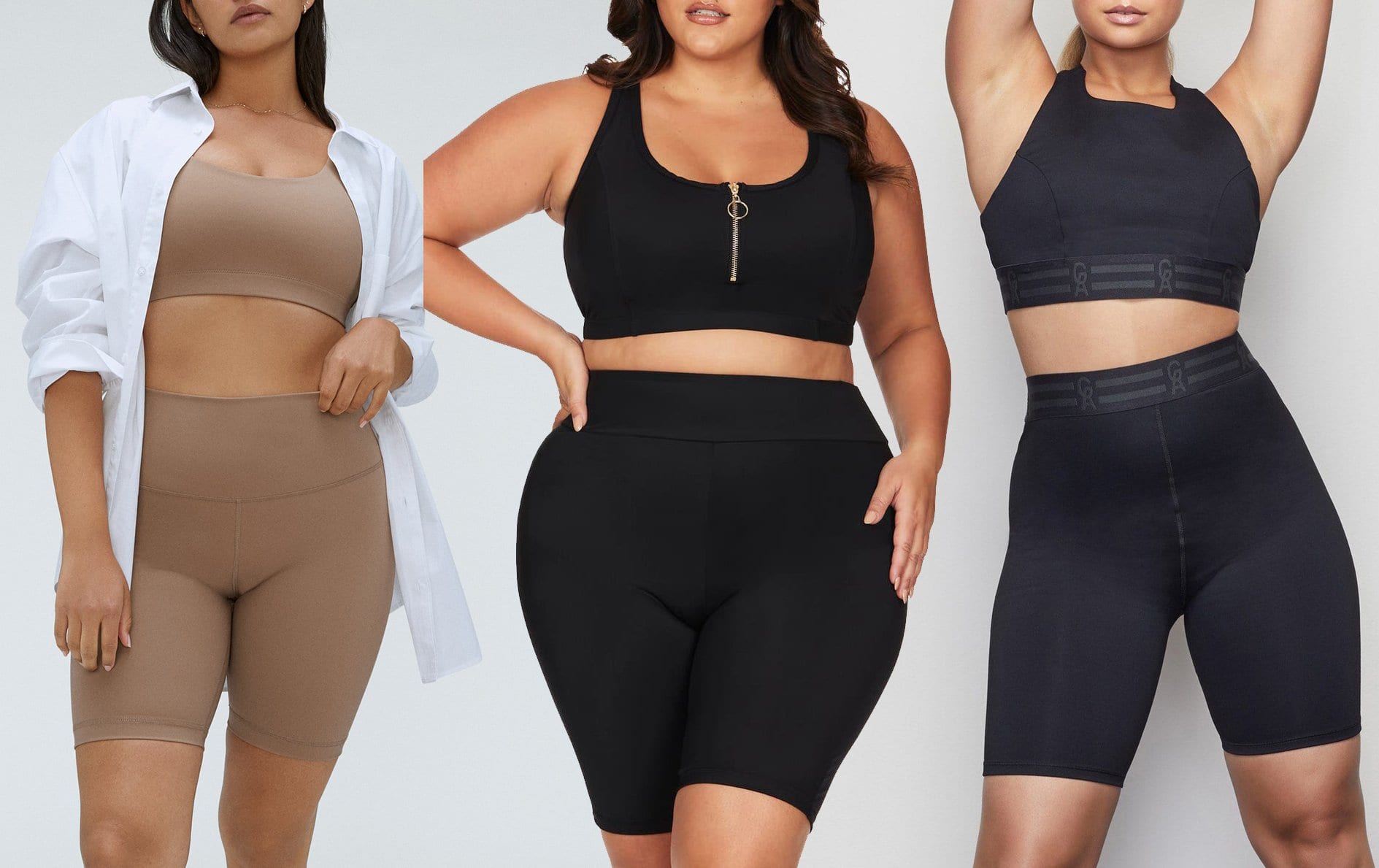 Everlane The Perform Bike Shorts, $48 at Everlane; Artesands Sculpt Michaelangelo Swim Bike Shorts, $99.95 at Nordstrom; Good American The Icon Bike Shorts, $65 at Good American
Bicycle shorts are one of the most versatile styles that you can wear as loungewear or for running errands. Every closet needs a few pairs of neutral bicycle shorts along with a pop of color.
Bicycle shorts can be dual-purpose for curvy women. They're the ideal shorts to wear under dresses to prevent chafing and for added comfort. If you're not a fan of shapewear, bicycle shorts are the next best thing.
2. Denim shorts
Denim is always a good idea, and denim shorts are universally flattering and work for every body type. Choose a style of denim shorts with a similar silhouette to your go-to jeans.
Good American Bombshell Cutoff Denim Shorts, $115 at Nordstrom; Levi's Plus501 Original Shorts, $59.50 at Zappos; Everlane The Relaxed '90s Shorts, $68 at Everlane
Just like jeans, denim shorts have their own shapes and silhouettes. Distressed denim shorts are one of the most flattering styles for plus-sized women as it creates the illusion of a longer silhouette.
Look for denim shorts with a distressed hemline as a transitional staple.
3. Tailored shorts
Coordinated matching sets will take you from the office to a night out with friends.
Pantsuits aren't for everyone, especially if you're a curvy woman. Keep it casual and have fun by swapping your trousers for tailored shorts.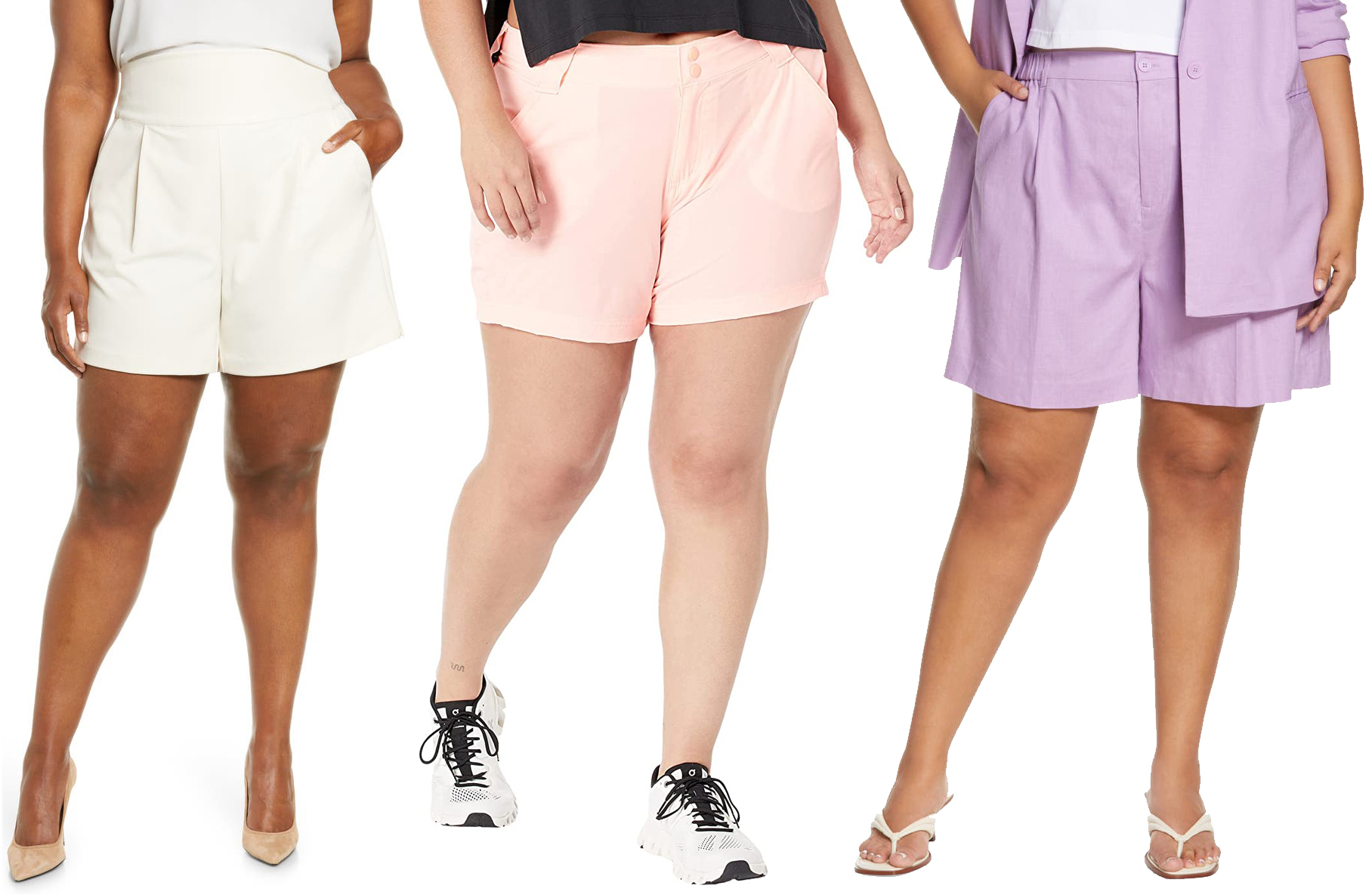 11 Honoré Mara High Waist Shorts, $118 at Nordstrom; Columbia Plus Size Coral Point III Shorts, $50 at Zappos; Open Edit Linen Blend Bermuda Shorts, $49 at Nordstrom
You'll typically find these shorts with either a paper bag waist or a high-waist silhouette.
If you're buying a matching jacket, choose shorts that are longer than the length of your blazer for an elevated look.
4. Leather shorts
Leather never goes out of style. These shorts are the ideal choice for those with a curvy silhouette.
A silk blouse and stilettos will instantly transform your leather shorts and give them an evening-ready look.
Halogen Faux Leather Shorts, $59 at Nordstrom; Good American Better Than Faux Leather Drawstring Shorts, $125 at Nordstrom
It's important to remember that leather will become softer – and more comfortable – with time.
How to find your perfect short size as a plus-size woman
It's not always easy to find the best shorts for curvy women. You may need to try several styles to find the perfect silhouette for you. High-waist shorts will often be the best option for curvy women.
One thing you want to consider is the length of your shorts. Most plus-size women avoid mini shorts and prefer a slightly lower length to prevent chafing. Depending on your comfort level, you may prefer longer shorts to conceal your thighs.
Don't overlook the importance of fabric and fit. Lightweight and breathable fabrics, such as cotton and linen, are more versatile and easier to style.
By comparison, denim shorts may require you to size up for a more flattering fit. If you're choosing a structured fabric like tweed, shop around for an oversized or longer silhouette.
How to style plus-size shorts
One thing to consider when styling plus-size shorts is proportions. The general rule is to wear an oversized or loose-fitting top to balance your shorts.
This styling tip helps to accentuate your natural silhouette and avoid your look becoming too oversized.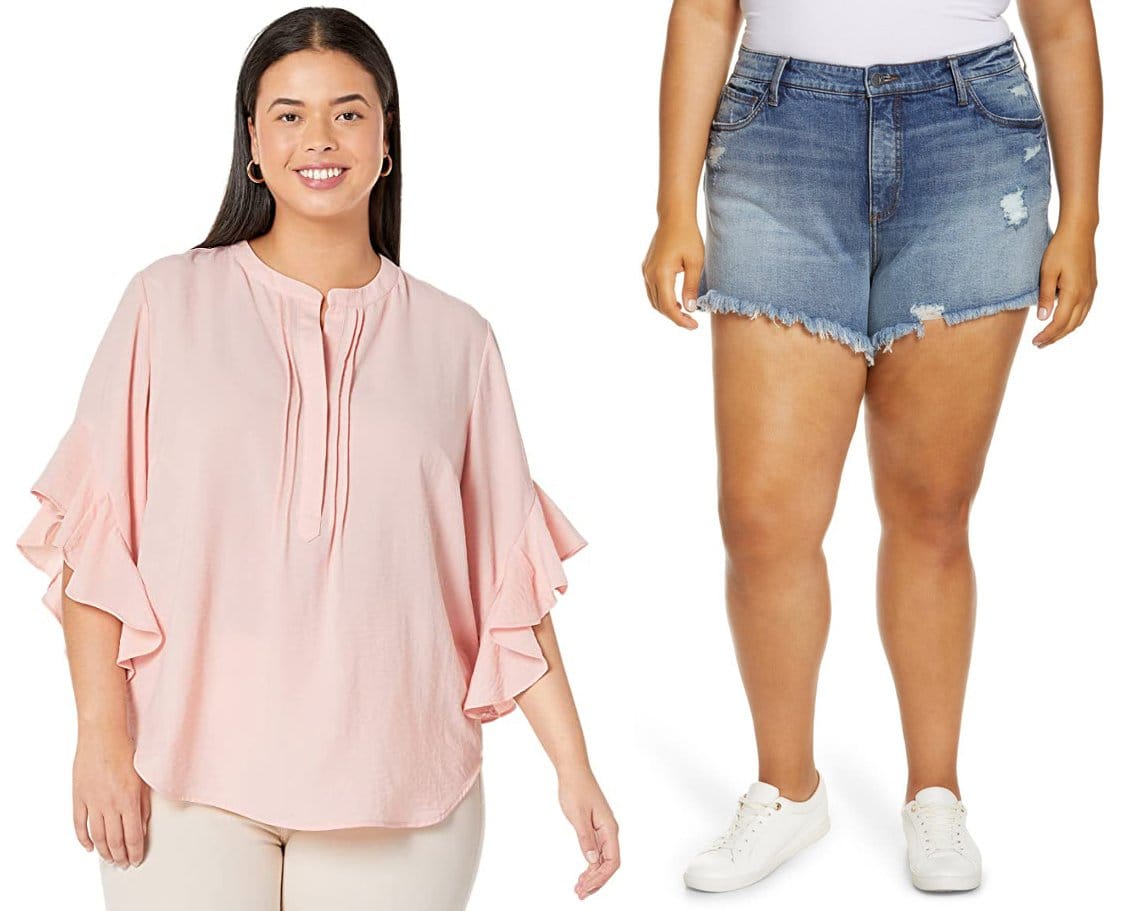 Vince Camuto Plus Size Ruffle-Sleeve Henley Blouse, $89 at Zappos; KUT from the Kloth Jane High Waist Distressed Fray Hem Cutoff, $69 at Nordstrom
Boyfriend-style shorts are ideal for those who have thicker thighs or wider hips. Whatever style you choose, don't shy away from color! Shorts are the perfect way to add personality to your look.
If you're choosing a solid color for your shorts, experiment with a patterned or embellished top.
A statement top can take attention away from your shorts if you're trying a new silhouette and don't want to go too far out of your comfort zone.
MICHAEL Michael Kors Plus Size Palm Asymmetric Cold-Shoulder Top, $88 at Zappos; KUT from the Kloth Catherine Boyfriend Denim Shorts, $69 at Nordstrom; BP. Crochet Cotton Sweater Tank, $49 at Nordstrom; KUT from the Kloth Plus Size Catherine Boyfriend Jean Shorts, $69 at Zappos
Your shoes are just as important as your top. Heels and wedges will help elongate your legs and give you the illusion of a slimmer silhouette. Don't rule out sneakers or flats, though!
Comfort is just as important when styling shorts as a plus-size woman. Look out for low-top sneakers and avoid ankle straps or high-top shoes.
Zelie for She Daisy Floral Ruffle Shorts, $89 at Nordstrom; Dolce Vita Paily Nude Heels, $125 at Zappos; City Chic Sicilian High Waist Linen & Cotton Shorts, $69 at Nordstrom; ECOALF Elioalf Knit Sneakers, $145 at Zappos
What are your favorite shorts for plus-size women? How do you style your shorts for a comfortable but stylish outfit?