The youngest of four sisters, Eva Longoria was joined by her mother, Ella Eva (Mireles), and three older siblings Esmeralda Josephina, Elizabeth Judina, and Emily Jeannette on the Hollywood Walk of Fame in Hollywood.
Eva Longoria was joined by her mother Ella Eva Mireles and her older sisters Elizabeth Judina Longoria, Esmeralda Josephina Longoria, and Emily Jeannette Longoria at a ceremony honoring Eva Longoria with the 2,634th star on the Hollywood Walk of Fame on April 16, 2018, in Hollywood, California
"What a dream come true today! Receiving my star on the Walk of Fame is an honor I can't even believe I'm going to experience! Can't wait to join all the legends and even more so, can't wait for all of y'all to go and visit it! ⭐️⭐️⭐️," Eva wrote on her Twitter account about receiving the 2,634th star on the Hollywood Walk of Fame.
Eva's oldest sister, Liza, was born with an intellectual disability and inspired Eva to become the humanitarian she is today.
"That's really where all of my philanthropy and charity work comes from is living a life with Liza and somebody like Liza," Longoria said in July 2019 at the HollyRod Foundation's 21st annual DesignCare Gala.
"I'm always humbled by everything she shows me and teaches me, especially now that I have a child."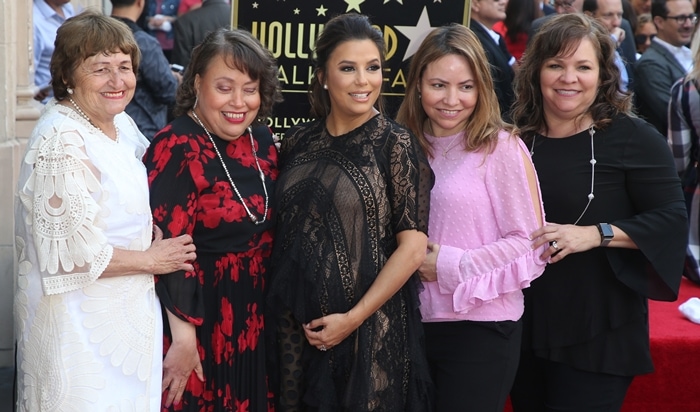 Eva Longoria is the youngest of four daughters born to Mexican-American parents
"I remember being so mad. I wanted to go to the school and kick somebody's ass. I'm going to go find this person," she said about an incident when someone stole her sister's jacket.
"I went to Liza and asked, 'Who stole your jacket?' And she said, 'Somebody who must have been cold.' And she taught me compassion. She never saw or never sees the evil in anybody. She just thinks somebody needed it more than I. And that's what tonight is about. There are families and children that need this more than us."
Upon accepting the HollyRod Humanitarian Award, Longoria talked about growing up alongside her sister's intellectual disability.
"She too was on that never list," Longoria shared about her oldest sister. "She would never talk. She would never have an emotion towards anybody. Today she has a job; she is happy."
In November 2015, Eva Longoria stepped out in Hollywood on Wednesday for the NBC Comedy press junket for her TV series, "Telenovela," which premiered on December 7, 2015, on NBC. It was canceled on May 13, 2016.
Eva Longoria wears her hair down at the NBC Comedy Press Junket Red Carpet for "Telenovela" held November 18, 2015, in Los Angeles
The then 40-year-old actress — who also serves as one of the executive producers of the show — looked chic and modern in an elegantly structured Cooper St mesh dress.
Eva Longoria wears a Cooper St mesh dress on the red carpet
The frock featured a sweetheart neckline and slim black shoulder straps in addition to a flattering fitted pencil silhouette and an above-the-knee hem.
Eva Longoria shows off her toned arms and legs on the red carpet
Eva kept her accessories to a minimum, sporting only diamond earrings, a matching necklace, and a gold watch with an orange dial.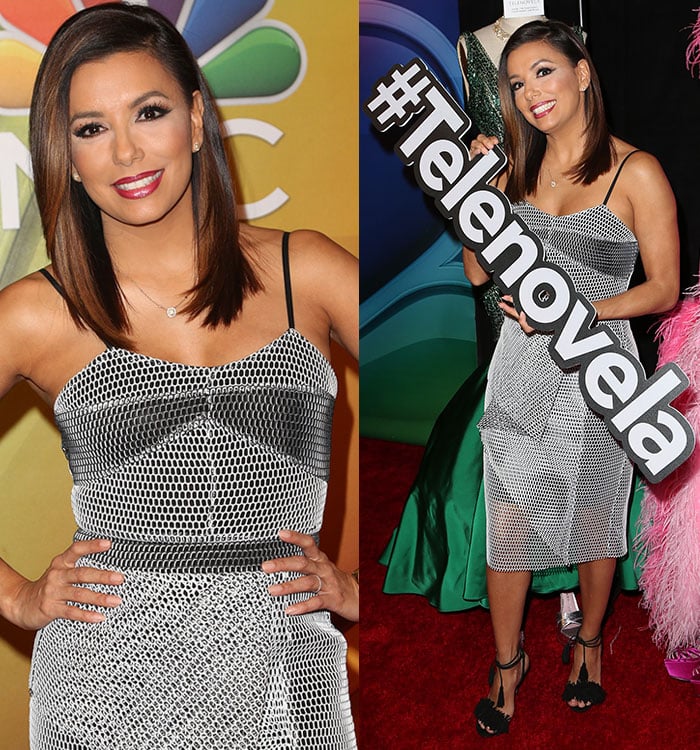 Eva Longoria wears a Cooper St dress at the press junket for her upcoming series "Telenovela"
The wealthy Desperate Housewives actress wore her sleek tresses down and parted to the side. She kept her makeup simple with dark pink lipstick and dark eye shadow.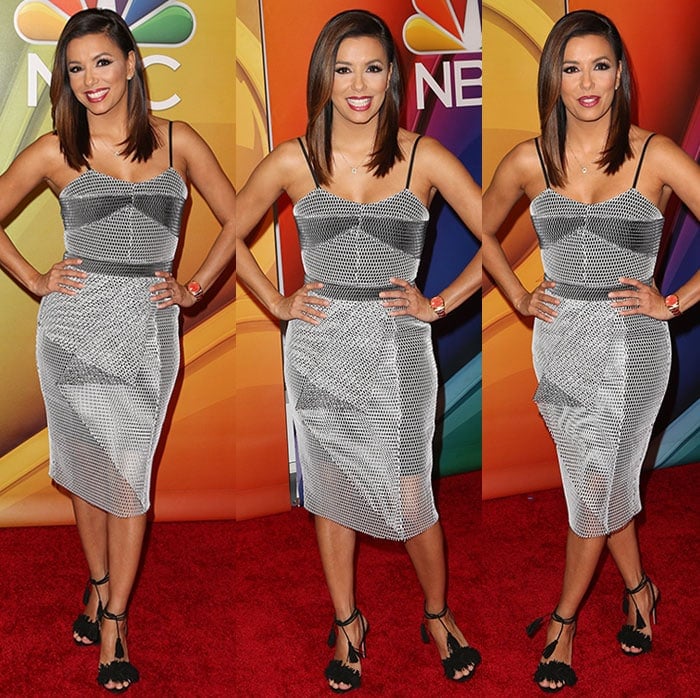 Eva Longoria wears a Cooper St mesh dress on the red carpet
Eva added a few inches to her height with Aquazzura's "Wild Thing" sandals — the same heels spotted on Khloe Kardashian and Jamie Chung a few months ago.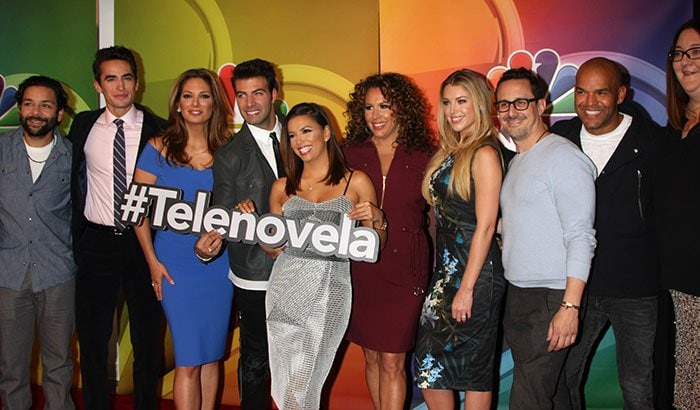 Eva Longoria poses with the cast and crew of "Telenovela" at NBC Universal Comedy Press Junket
These open-toed 4-inch heels are made of velvety suede material and feature playful fringe and ankle-wrap self-tie closures with tassel ends.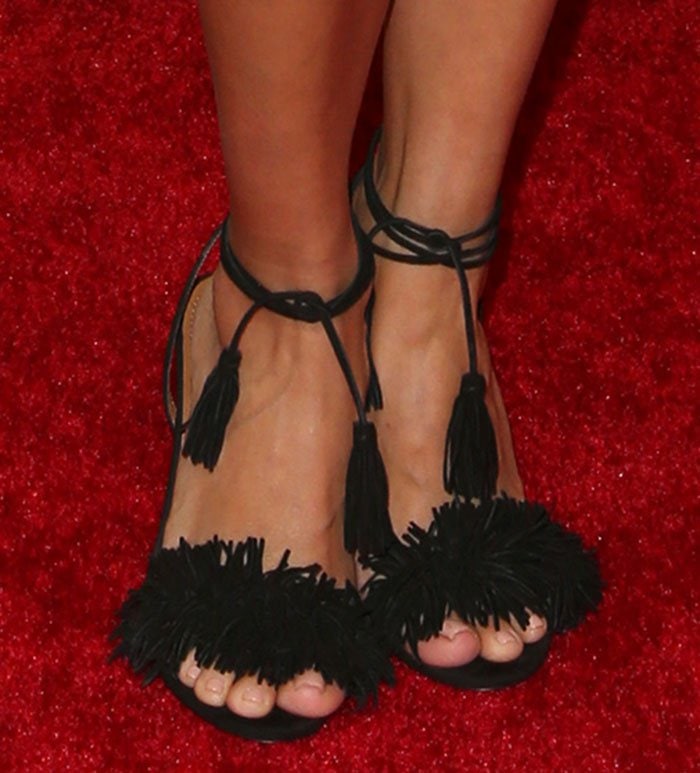 Eva Longoria's sexy toes in Aquazzura sandals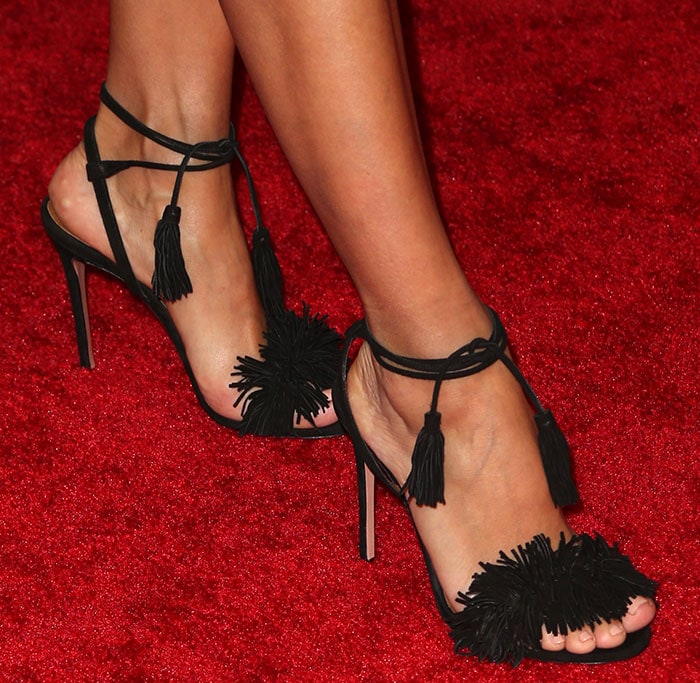 Eva Longoria's feet in "Wild Thing" sandals
You can get these Aquazzura sandals in different color versions at Farfetch and Nordstrom.
Aquazzura Wild Thing Suede Fringe Sandals, $785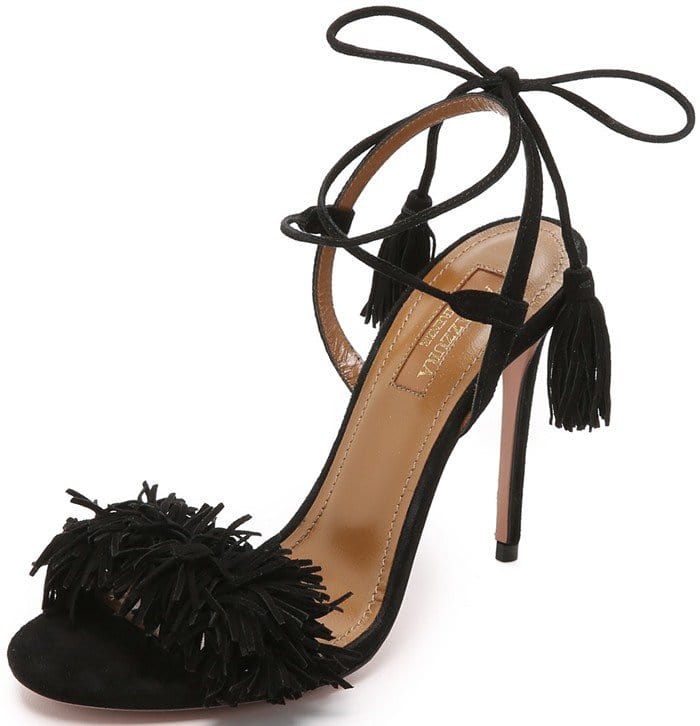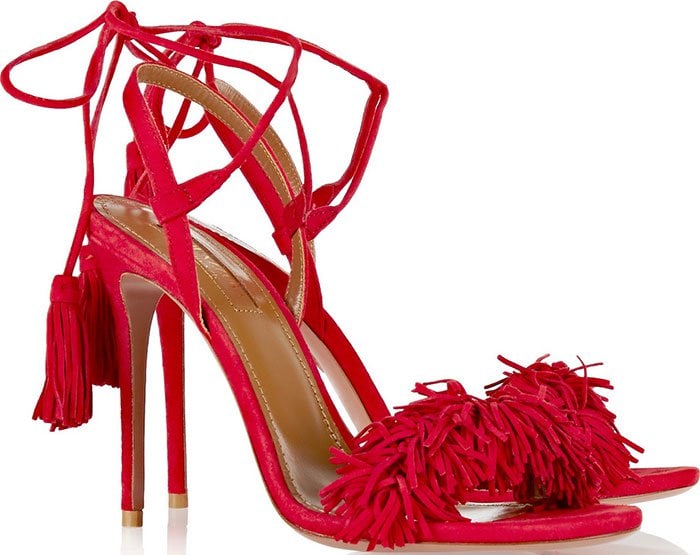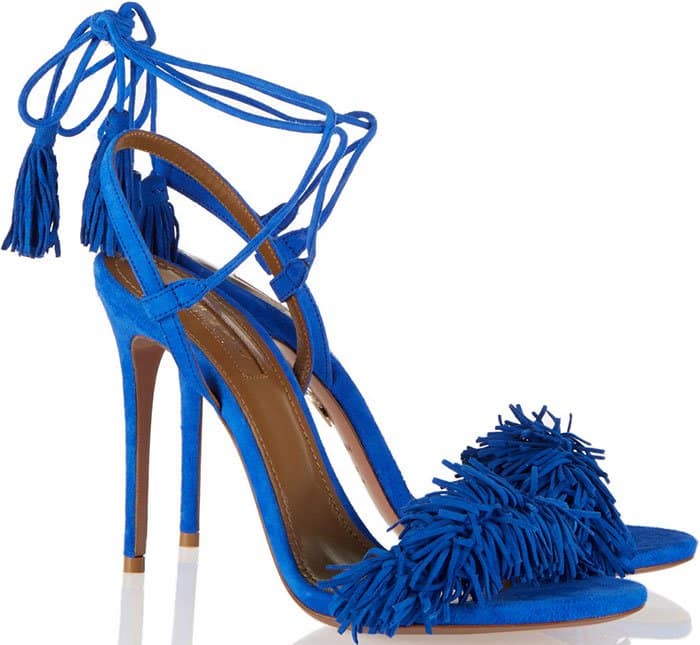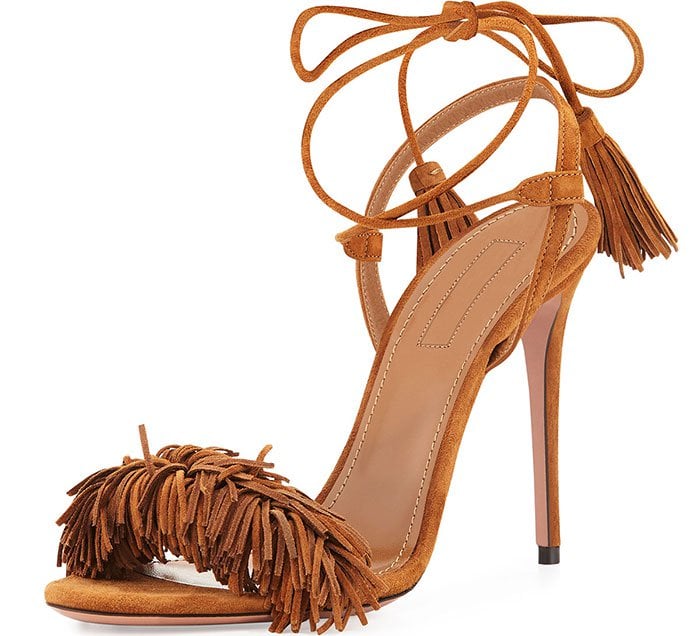 Credit: Nicky Nelson / FayesVision / WENN