Many celebrities, including Sarah Jessica Parker, Andy Cohen, Miley Cyrus, and Paris Hilton, have expressed their support for Britney Spears following the release of the singer's documentary, Framing Britney Spears, last week.
Produced by The New York Times, the controversial documentary takes an inside look at the Grammy winner's career and personal life, including her conservatorship battle with her father, Jamie Spears.
The documentary reignited the #FreeBritney campaign, which was first launched in 2009, one year after Britney was put under a conservatorship. It gives her father the legal right to oversee decisions about her estate and health, including negotiating business deals and limiting who can see her.
While her fans started the campaign, people concerned with the pop star, including celebrities, eventually joined the movement.
As a response to the documentary, Sarah Jessica Parker posted the hashtag "#FreeBritney" on her Twitter account over the weekend.

Sarah Jessica Parker shows support for Britney Spears with FreeBritney hashtag campaign
That same afternoon, SJP was spotted visiting her South Street Seaport shoe boutique in an eclectic mix of patterns and colors.
Never one to shy away from taking fashion risks, the 55-year-old Footloose actress opted for an unusual outfit pairing, which included a leopard-print fur coat and a paisley-printed sleeveless dress.
Sarah Jessica Parker visits her South Street Seaport shoe boutique in a leopard-print coat, paisley dress, and pink leggings on February 6, 2021
Once inside her store, SJP removed her coat, revealing her prairie-inspired checkered blouse with white lace trims. She also wore a pair of vibrant pink paisley-printed leggings.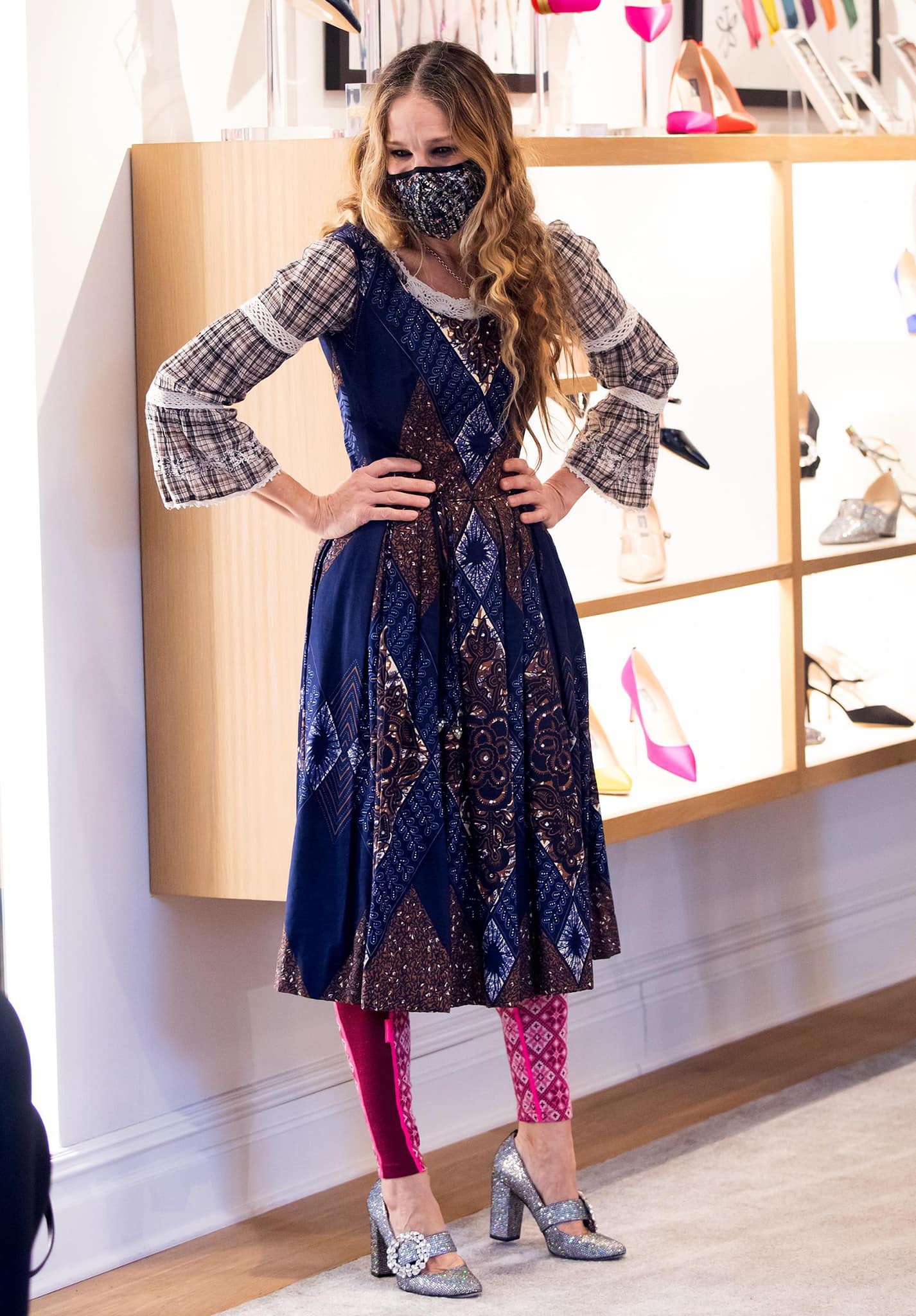 Underneath her coat, Sarah Jessica Parker wears a sleeveless paisley-printed dress with a prairie blouse and pink leggings
The mom-of-three continued with the vibrant theme of her look with a black tweed Masqd face mask and a sparkly pair of SJP Celine pumps.
Her Mary Jane shoes feature a scintillate fabric upper with an oversized crystal-embellished buckle set atop a 3.5-inch heel.
Sarah Jessica Parker adds a glittery finish to her vibrant look with SJP Celine Mary Jane pumps
SJP by Sarah Jessica Parker Celine Pumps, $450 at Amazon
Fabricated SJP by Sarah Jessica Parker almond-toe pumps in a slip-on style with rhinestone-encrusted buckle closure
On Wednesday, SJP revealed the inspiration behind the Sex and the City reboot and how it started as a podcast idea.
In a pre-recorded video played at a virtual benefit for the Central Park Conservancy's Playground Partners program, SJP said: "We weren't planning it. Michael Patrick King and I hadn't discussed it. It actually happened during shelter in place, I was listening to a podcast and it occurred to me that Michael Patrick and I had never talked about our experience working and producing the show."
She added: "We started talking about maybe doing a podcast and as we were talking about that we just realized 'Why are we doing a podcast? Should we maybe think about a new chapter?'"
Sarah Jessica Parker drops by her Seaport District store in a fur-trimmed jacket and SJP Busker boots on February 10, 2021
The Emmy-winning actress also dished that New York City and the pandemic were the inspirations for the reboot.
"This city was experiencing something so unimaginable, so unique. New York shut down in a way that also affects lots of other people because it's the center of finance, it's the center of culture (arguably) and its silence was deafening."
Credit: Instar / WENN