In an October 2014 interview with Latin Times, Christina Milian confirmed that she speaks Spanish and that she's proud of her Cuban ethnicity. She was also asked how her daughter, Violet Madison Nash, keeps in touch with her roots.
She speaks Spanish so that's one thing. We practice Spanish with her because these early years are the most influential. The other component is food! We cook Cuban food and we sit around the table and eat as a family. And we also talk about our family and where we come from, and we still have one living grandparent (our grandma) so we gather enough stories from where they came from and share it with her.
Christina Milian, an American actress/singer/songwriter of Cuban origin, dressed casually wearing a sweatshirt and orange pants in Los Angeles on November 25, 2019
One year later, the American actress/singer/songwriter also discussed her Afro-Latina identity in an interview with HuffPost.
Since early, it'd be like, I'm Cuban but [people] didn't get it because I was also brown-skinned, and you usually see a fair-skinned Latino, so it was just like, 'Oh, what are you? Are you black? Are you white?'" she told host Alex Miranda in a conversation with HuffPost Live. "I didn't feel like I had to make a choice. I am what I am.
Christina Milian with her daughter Violet Madison Nash and her Cuban mother Carmen Milian at the premiere of Aladdin in Hollywood, California, on May 21, 2019
"We're all different, but you have to accept our differences," she emphasized. "As far as Afro-Cuban [goes], I'm finding more and more that there's people opening their eyes to seeing that. Latinos come in all colors, all shades."
"You should see my mom and her brothers and sisters," Milian continued. Born to parents Don Flores and Carmen Milian, she was raised speaking Spanish in Waldorf, Maryland.
"Same parents, but we just vary in color, shapes, and sizes. But we're still Latinos — that doesn't change a damn thing. You can tell it's in the core of our blood."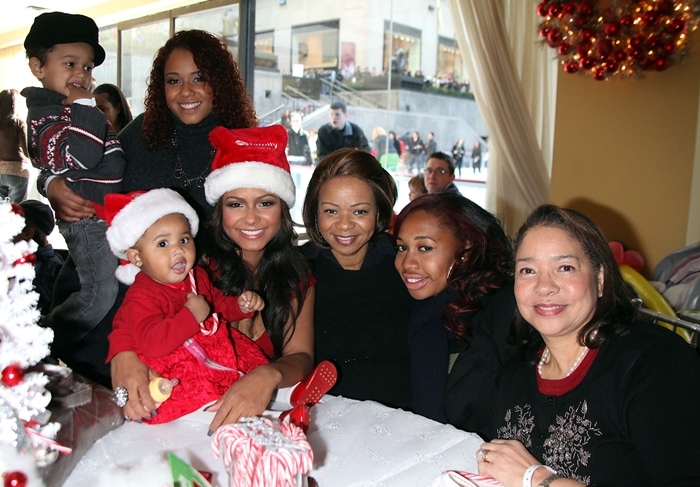 Christina Milian with her daughter Violet Madison Nash, her mother Carmen Milian, her sister Danielle Milian (born as Danielle Whitney Flores), her cousin Doris Milian, and Lauren Milian attending ABC Family's Winter Wonderland at The Rock Center Cafe at Rockefeller Center on December 5, 2010
In June 2013, we were happy to see Christina Milian supporting a great cause. The singer attended the NOH8 Campaign held in Los Angeles.
Christina Milian poses for photos while attending the NOH8 Campaign held during the LA Pride Parade in Los Angeles on June 9, 2013
This wasn't the first time Christina had been spotted supporting LGBTQA+ rights.
She was also seen at the Boo2 Bullying Lounge in West Hollywood during the 2013 LA Gay Pride Festival, and she later joined the LA Pride Parade.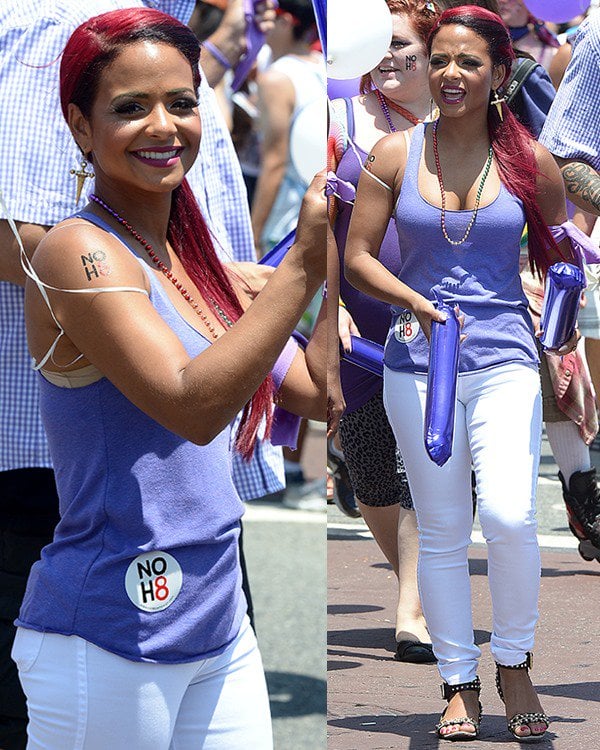 Christina Milian wears a purple tank top and white jeans as she supports NOH8
For her appearance at the NOH8 Campaign, the then 31-year-old singer/actress kept things casual in a purple tank top and white jeans.
Christina Milian finishes off her campaign look with a pair of leopard-print sandals from Zara
She styled her color-appropriate ensemble with bracelets, necklaces, beads and temporary tattoos, and completed her casual look with a pair of flat sandals by Zara.
Christina Milian finishes off her parade look with a pair of flat sandals from Zara
Christina's sandals feature toe straps in leopard print, side straps, and ankle straps with large gold-toned buckles and spiked studs.
Christina Milian shows off her fuschia pedicure in a pair of gold studded sandals from Zara
Zara Leopard-Print Studded Sandals, $79.90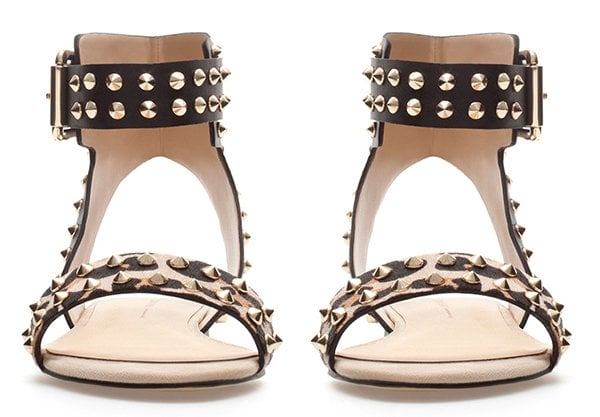 Credit: FayesVision / Ryan / WENN / Instar / PNP