Steve Harvey is known around the world and has appeared on television screens worldwide. It is no surprise that his net worth is huge, but just how big is it? And how did a television host manage to become so popular?
Who Is Steve Harvey?
Let's start with the basics. Steve Harvey was born on January 17, 1957, in Welch, West Virginia. His full name at birth was Broderick Stephen Harvey Sr.
His father was a coal miner, and his mother was a loving mother that also taught Sunday school. Ironically enough, Harvey struggled to overcome a stuttering problem for most of his childhood.
The world learned about Steve Harvey's own experiences with stuttering during his talk show after a guest shared her struggles. Harvey offered advice, including repeating phrases to oneself before speaking, talking out loud in front of a mirror, and avoiding direct eye contact while speaking.
He also spoke about a deli counterman who helped him overcome his stuttering by teaching him to speak slowly and on the exhale and rewarding him with candy. Despite his success, Harvey still mentally prepares himself before every performance.
To promote his book Act Like a Lady, Think Like a Man, Steve Harvey made a guest appearance on Good Morning America in New York City on November 29, 2011 (Credit: Roger Wong / INFphoto)
He worked many odd jobs before he decided to go full-time into comedy. This transition was not an easy one, and he was homeless for three years in the 1980s, depending on gigs to book him a hotel so that he did not have to sleep in his car and shower at the gas station.
Harvey received a break in 1990 when he was a finalist in the Johnnie Walker National Comedy Search, which led to him becoming the host of Showtime at the Apollo.
By 1996, he had his very own show on WB called The Steve Harvey Show, which concluded in 2002. In 2000, he started The Steve Harvey Morning Show, which is a radio broadcast that is still on the air today.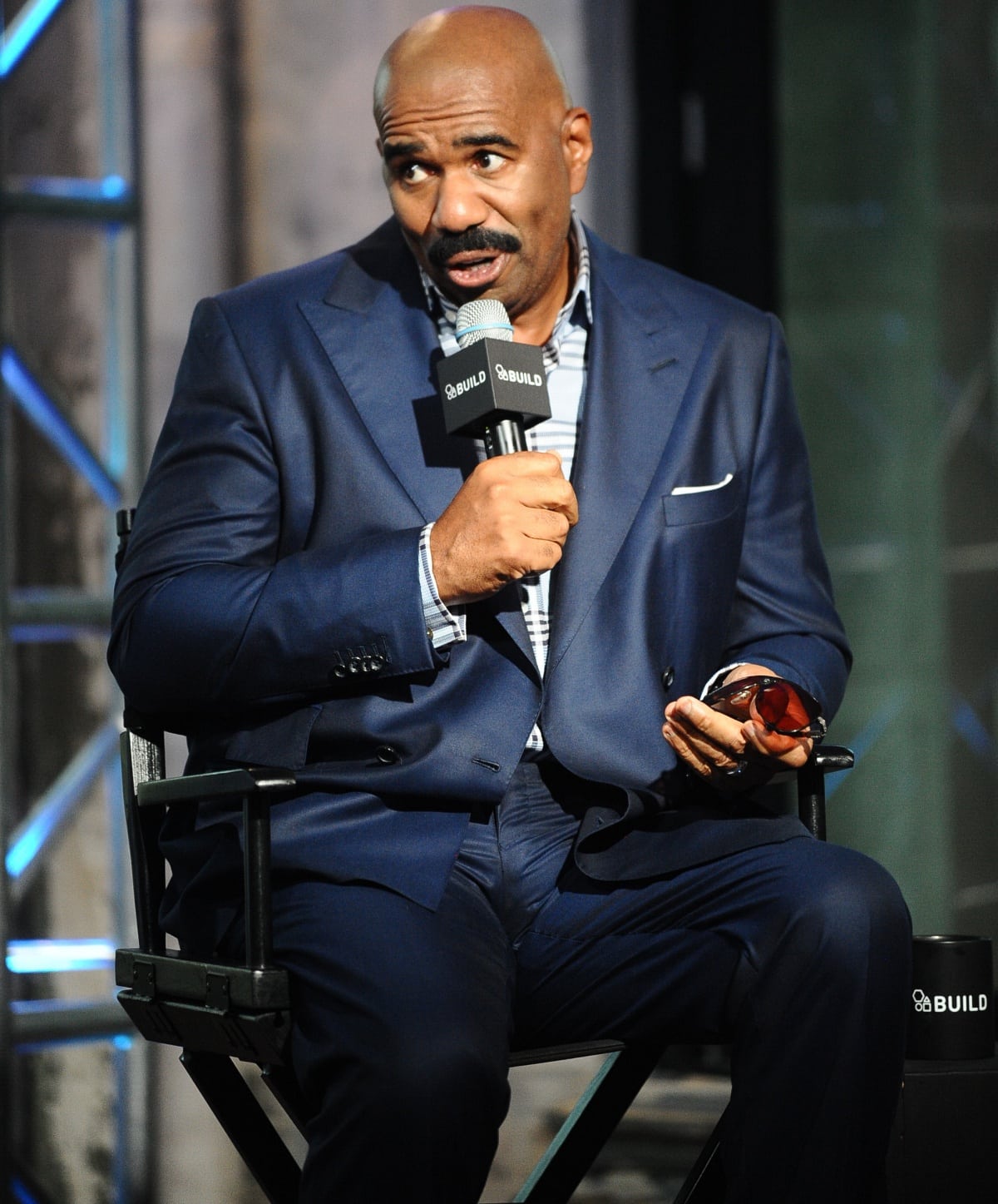 Steve Harvey pictured at AOL's Build to discuss the Steve Harvey show in New York City on September 4, 2015 (Credit: INFphoto)
In 2010, Steve Harvey became the host of the popular Family Feud game show. In 2012, he hung up his hat as a comedian as he performed his very last stand-up act at the MGM Grand in Las Vegas after a 27-year career.
Harvey has also gained worldwide recognition by hosting several Miss Universe pageants. In 2017, he started Steve Harvey Global, a production company that develops digital content, film, and television shows.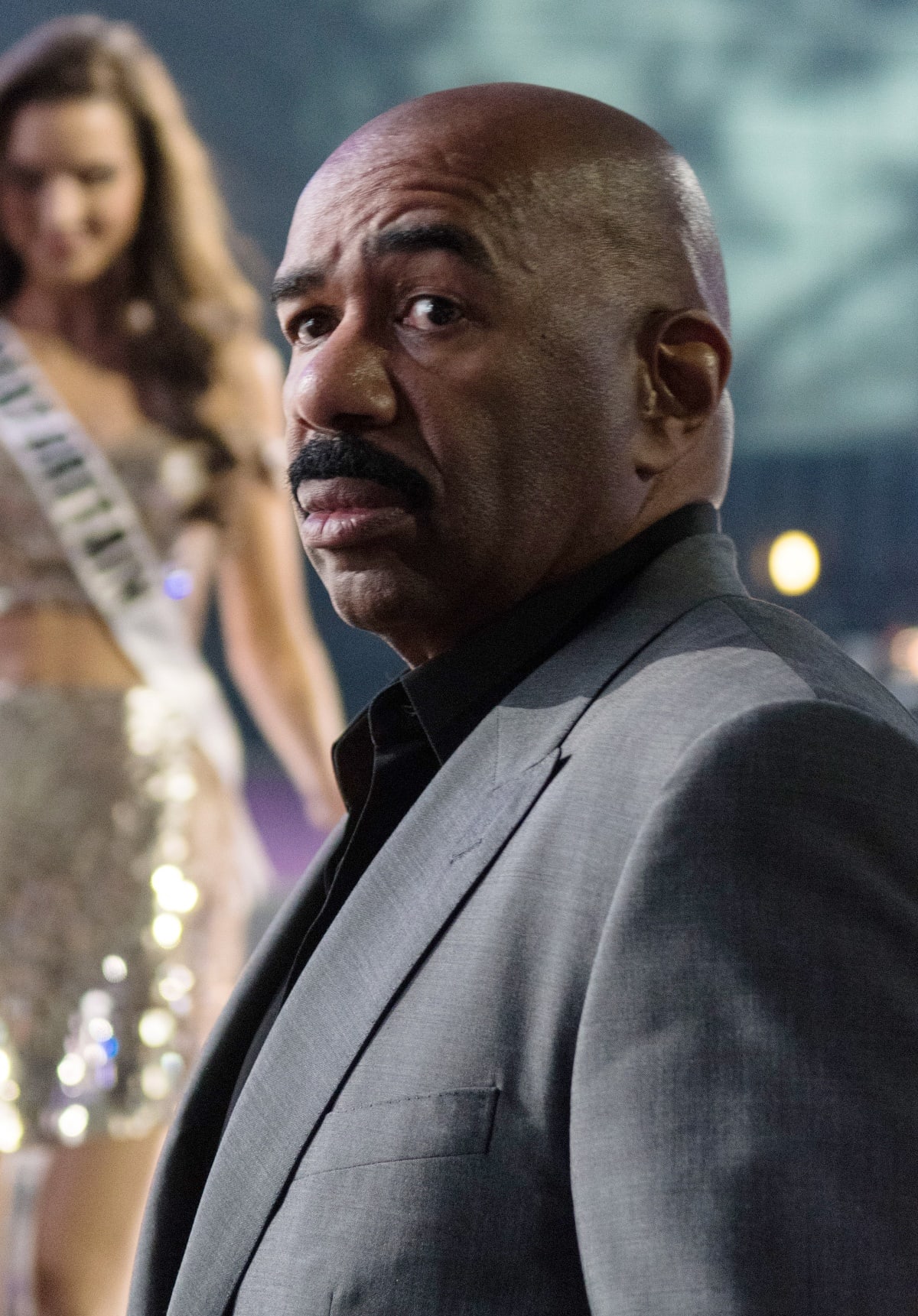 Steve Harvey at the rehearsal for the 66th Miss Universe Pageant at The AXS at Planet Hollywood in Las Vegas, Nevada on November 26, 2017 (Credit: Damairs Carter / Media Punch / INSTARimages)
Steve Harvey's Relationship History
The 65-year-old television personality is currently in his third marriage.
Marcia Harvey was the first woman he married in 1980. This marriage lasted until 1994, and the couple had two daughters and a son together – Broderick Harvey Jr. and twins Brandi and Karli Harvey.
Harvey then married Mary Lee Shackelford in 1996. They remained married until 2005 and had one child together, a son named Wynton Harvey.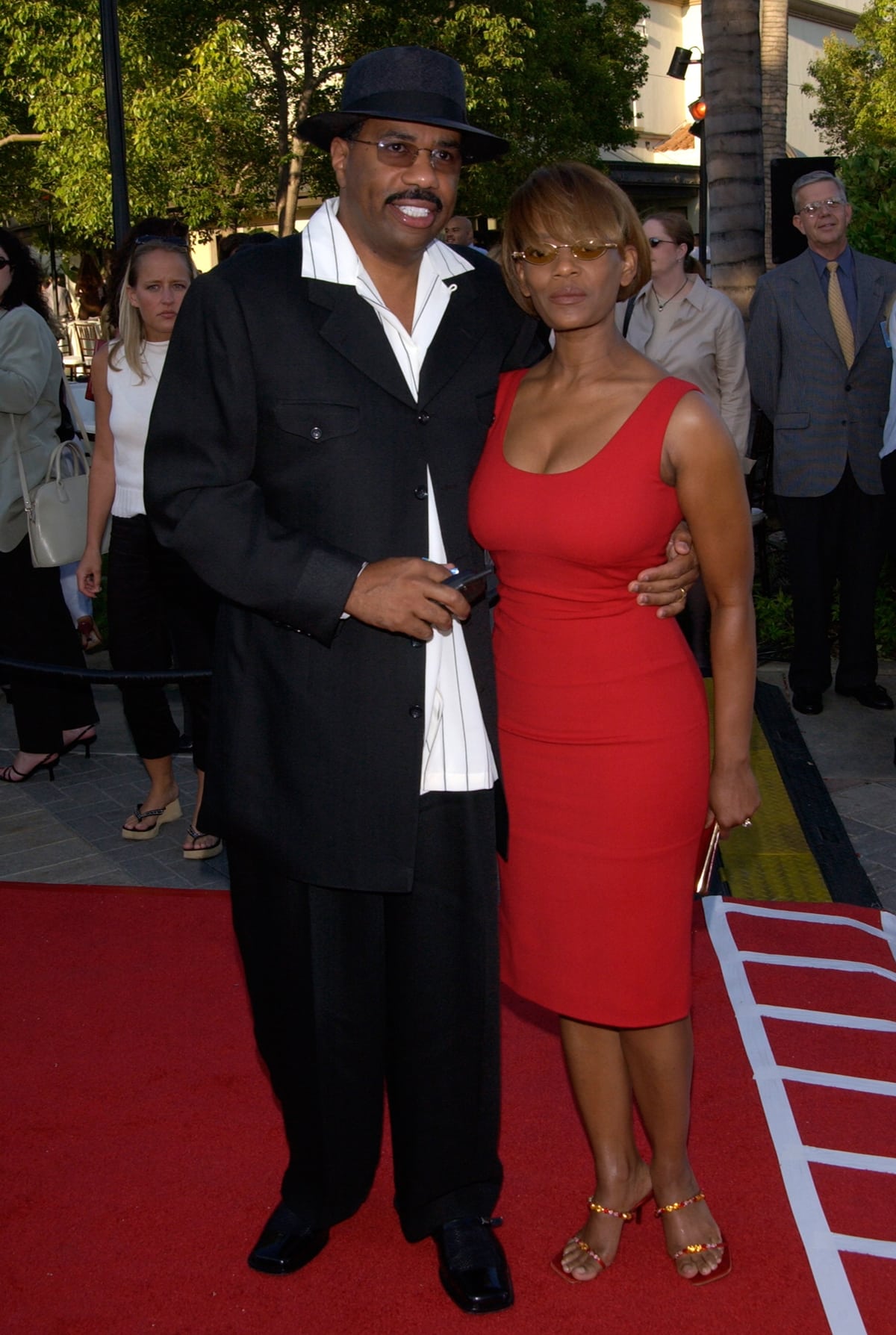 Steve Harvey with Mary Lee Shackelford at the Los Angeles premiere of The Score on July 9, 2001 (Credit: Featureflash Photo Agency / Shutterstock)
In 2007, Steve Harvey married the woman whom he credits with his success in life.
He wrote in their 15th-anniversary letter: "I want to thank you because without you there is no way my life could be this. I owe you a debt of gratitude because you simply changed my life. You are the single biggest reason outside of God's grace that I am where I am today. You're the one."
Steve Harvey with his wife Marjorie Harvey at the Fendi Autumn/Winter 2022 fashion show during Paris Fashion Week Haute Couture in Paris, France on July 7, 2022 (Credit: Laurent Zabulon / ABACA / INSTARimages / Cover Images)
Marjorie Bridges, now Marjorie Harvey, came to Steve Harvey with three of her own children: Lori, Jason, and Morgan. After adopting Marjorie's kids from a previous marriage, Steve Harvey now has a total of seven children.
Drama Surrounding Lori Harvey
The child of Steve Harvey, who has received the most publicity over the last few years, is his daughter Lori.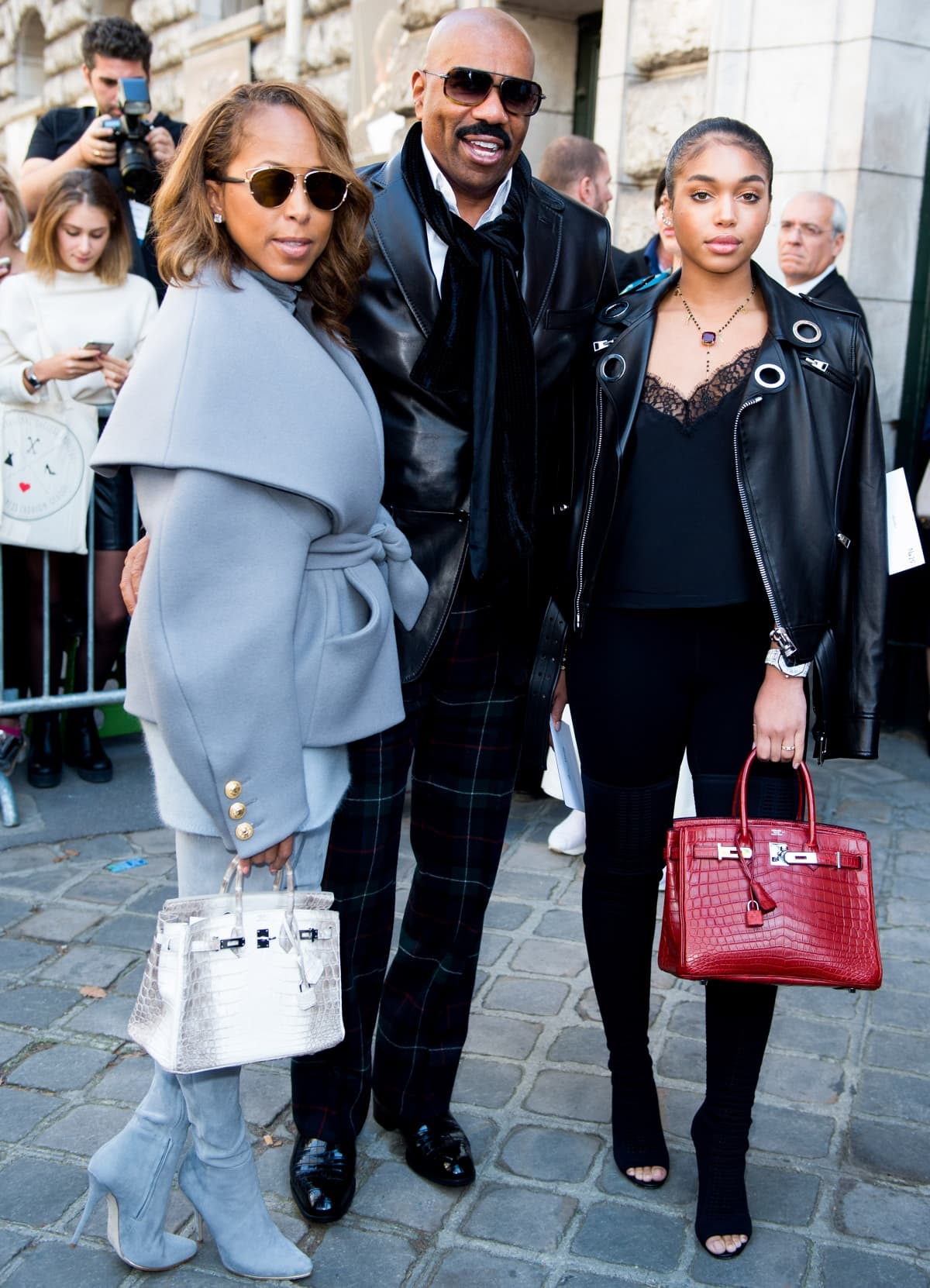 Marjorie, Steve, and Lori Harvey seen at the Hermes Spring/ Summer 2017 runway show during Paris Fashion Week in Paris, France on October 3, 2016 (Credit: INFphoto)
Lori Harvey was born on January 13, 1997, and is a model and socialite. She has hit the press, however, thanks to her impressive dating history.
Most recently, Lori Harvey has been seen dating British actor Damson Idris. She broke up with her previous boyfriend, Michael B. Jordan, in June 2022.
Lori Harvey has also dated Abou "Bu" Thiam, who is the brother of Akon, as well as the rapper Future and Sean "Diddy" Combs.
One of the biggest rumors was that Harvey also dated Diddy's son, Justin Combs. In addition, Lori Harvey has dated Trey Songz, as well as athletes Lewis Hamilton and Memphis Depay.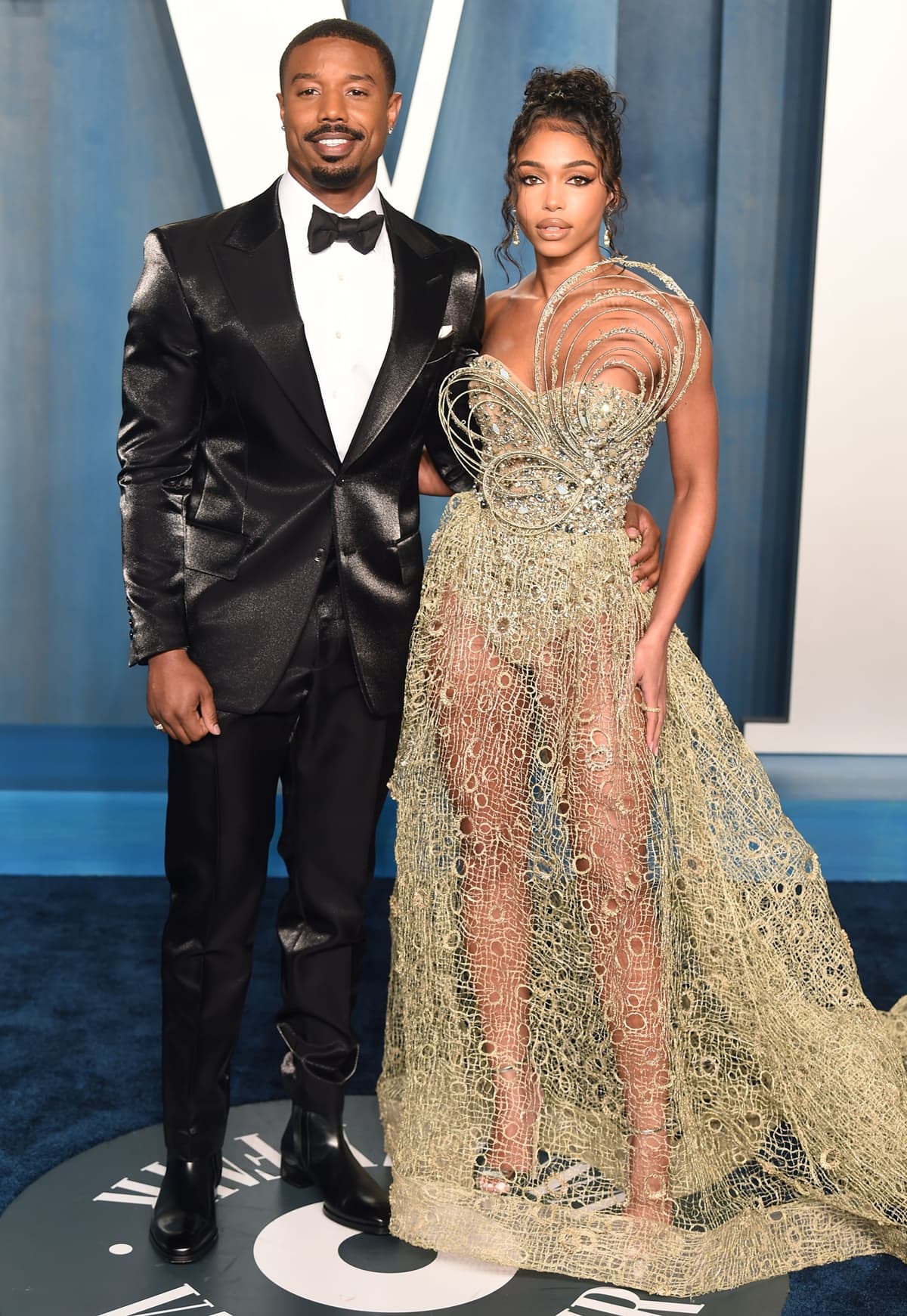 Lori Harvey with then-boyfriend Michael B. Jordan, making their red carpet debut as a couple at the 2022 Vanity Fair Oscar Party (Credit: INSTARimages)
Did Steve Harvey Shrink?
Steve Harvey, at his tallest, was six feet and one inch (185.4 cm). Today, he stands at six feet (182.9 cm). It seems as if the television personality has shrunk and gotten smaller in size, which is not uncommon as people age.
Shrinkage typically begins around the age of 40 and can continue throughout a person's lifetime.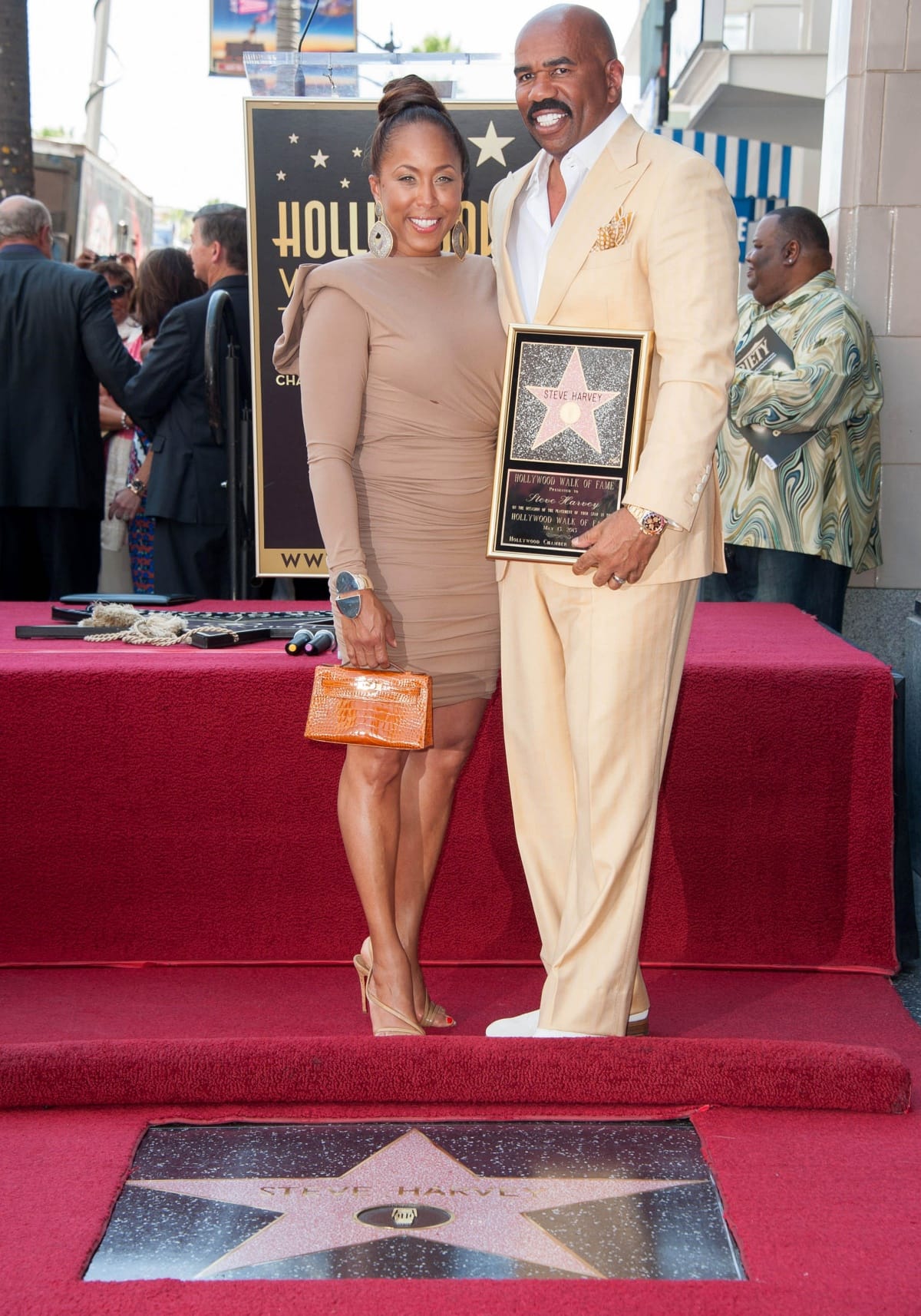 Even in heels, Steve Harvey still towers over his wife, Marjorie Harvey, as they pose in front of his very own star on the Hollywood Walk of Fame on May 13, 2013 (Credit: Giulio Marcocchi / Startraksphoto)
What Is Steve Harvey's Net Worth?
As of 2023, Steve Harvey possesses a whopping net worth of $200 million.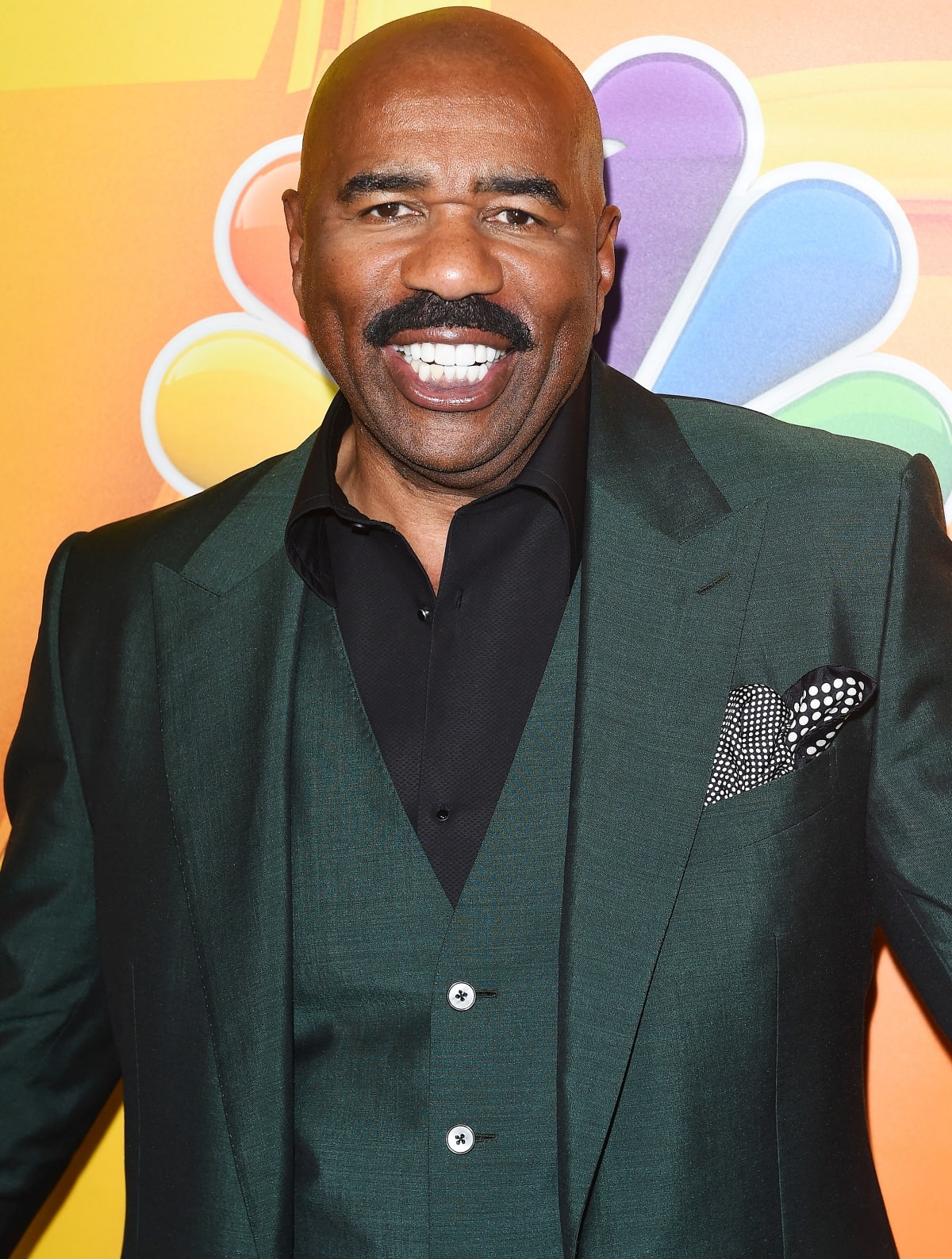 Steve Harvey attending the NBC Universal TCA event in Beverly Hills, California, on August 3, 2017 (Credit: Vince Flores / Startraksphoto)
Steve Harvey Scandals
When you've had a career in the public eye as long as Steve Harvey has, you're bound to be in the limelight for something less than favorable eventually.
In 2015, Steve Harvey was all over the news due to a mistake he made while hosting the Miss Universe pageant. While announcing the winner, Harvey named Miss Colombia Ariadna Gutierrez when the winner was really Miss Philippines Pia Alonzo Wurtzbach. He has since called the week following the worst week of his life.
Aside from that, in 2017, a letter leaked in which Harvey told employees not to come up to him in the hallway or his dressing room.
He has since stated: "I could not find a way to walk from the stage to my dressing room, to sit in my makeup chair, to walk from my dressing room to the stage, or to just sit and have lunch without somebody just walking in." Harvey claimed that a lot of employees were bringing friends to work, which contributed to the number of people constantly approaching him.
In 2019, there was another blunder at the Miss Universe pageant. After announcing Miss Philippines Gazini Ganados as the winner, Miss Malaysia Shweta Sekhon approached to accept the award. Although Harvey was correct about who the real winner was, it was never publicly stated why there was confusion on stage.
There was more confusion in 2021 when Steve Harvey mixed up the countries Portugal and Paraguay.
In 2022, he claimed that the real reason he quit stand-up was because of cancel culture.
Steve Harvey performing stand-up comedy in Durham, North Carolina on February 12, 2012 (Credit: Andy Martin Jr / Startraksphoto)
Steve Harvey has had a wildly successful career and is a great example of someone who came from humble beginnings and made something of themselves.
His incredible net worth of $200 million is a result of hard work and dedication to his pursuits, and there is no doubt that it will only continue to rise in the years to come.