Steve Martin has donned many hats in the entertainment industry throughout his prolific career.
As a writer, comedian, musician, actor, and so much more, this extremely talented creator has always brought a smile to our faces. At 78 years old, Steve Martin hasn't let his age hold him back and has continued to flex his comedic acting muscles without slowing down.
As this beloved actor's birthday passes and we continue to laugh at his outrageous performances, we thought it'd be a joy to look back at the career of this masterful amuser so far.
With such a wide body of work and several decades of experience to consider, there's an absolute sea of content for us to sift through. Join us as we dive into the top 10 best Steve Martin movies and television shows you must check out!
The Road to Stardom: How Steve Martin Became Famous
Born on August 14, 1945, in the scorching hot city of Waco, Texas, Steve Martin had a relatively normal life while growing up.
Tracing his family heritage, Steve Martin's ethnicity is English, Scottish, Irish, and German, with a bit of French and Welsh descent as well.
While working at Disneyland in the mid-1950s, Steve Martin became enamored with performance arts and showmanship, effectively setting his career path at a very young age.
Steve Martin (in the 1982 film Dead Men Don't Wear Plaid) worked at Disneyland in the mid-1950s and became enamored with performance arts and showmanship (Credit: Cover Images)
After attending multiple colleges, including the University of California Los Angeles to learn theater, he dropped out of school at 21 years old.
From there, he began to pursue stand-up comedy and started to appear on various late-night talk shows, ranging from The Tonight Show with Johnny Carson and Saturday Night Live.
During this time, many of his comedy albums received massive support, earning him platinum-level sales. Despite this success, Steve Martin's real dream was to pursue acting, and stand-up comedy seemed like an easy way to leapfrog into the business.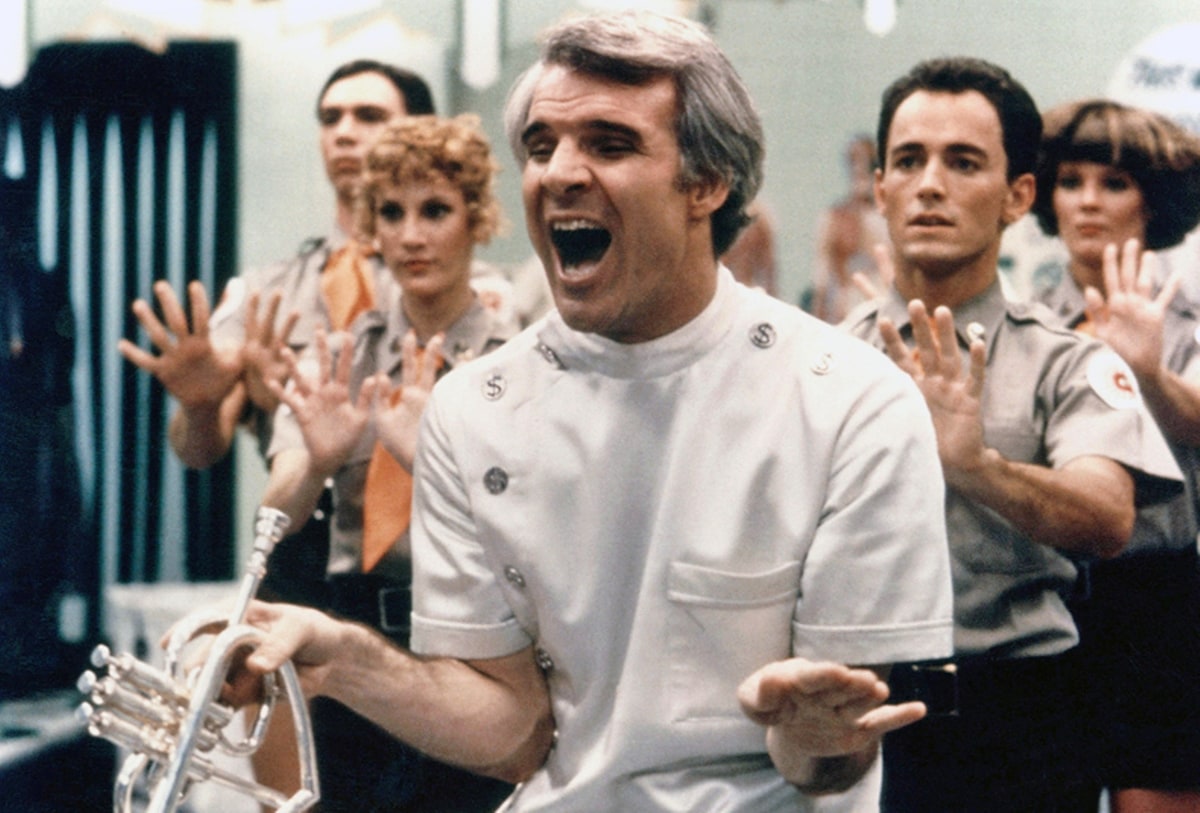 Steve Martin made his feature film debut in the musical Sgt. Pepper's Lonely Hearts Club Band in 1978 (Credit: Universal Pictures / Paramount Pictures)
With his foot already in the door of the entertainment industry, Steve Martin began experimenting with film in his spare time.
In 1977, he wrote and directed a short film called The Absent Minded Waiter, which was ultimately nominated for an Academy Award.
In 1978, he made his feature film debut in the musical film Sgt. Pepper's Lonely Hearts Club Band, and the rest is history.
After decades of success with traditional films, Steve Martin has nabbed nominations from almost every major award organization, including the Grammy Awards, Tony Awards, Primetime Emmy Awards, and more.
Steve Martin is a true Renaissance man with a successful career in comedy, acting, writing, and music. His net worth of $140 million is a testament to his talent and versatility.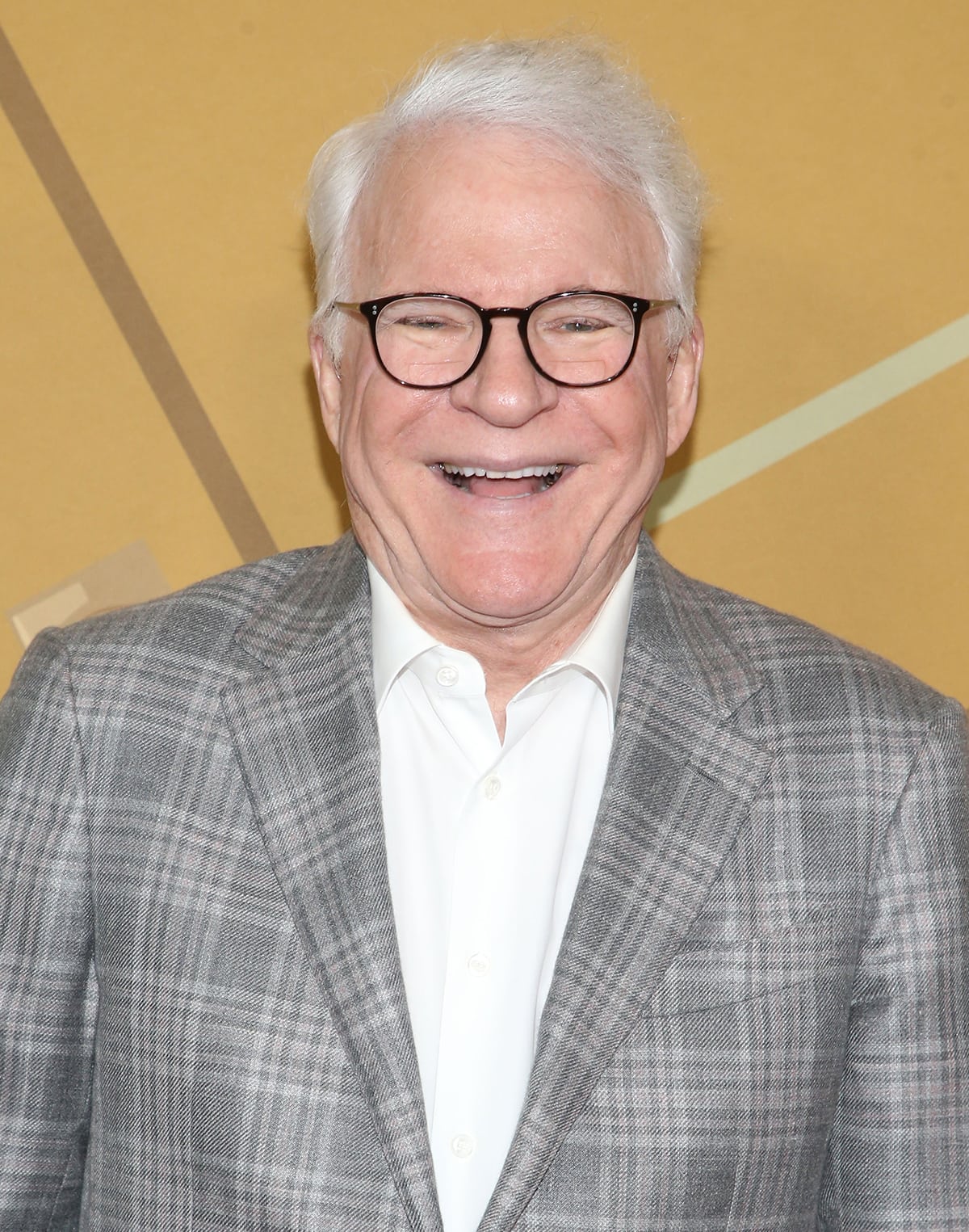 Steve Martin has earned nominations from almost every major award organization, including the Grammy Awards, Tony Awards, Primetime Emmy Awards, and more (Credit: Faye's Vision / Cover Images / INSTARImages)
This list of Steve Martin's top movies and television shows is ranked by their Rotten Tomatoes critics score.
This score is an aggregate of hundreds of published reviews from around the world, written by professional critics, journalists, bloggers, and more. Cameo appearances are not included in this list.
10. The Jerk (1979) – 83% Score
Directed by Carl Reiner and written in part by Steve Martin, The Jerk is a comedy movie about an irreverent protagonist who details the circumstances of his wildly ridiculous life.
Interestingly, the entire premise for the film came from one of Martin's throwaway jokes during his stand-up routine, and it evolved into a fully-fledged script from there.
The film was such a success that even the great director Stanley Kubrick was an outspoken fan of the story.
The Jerk marks Steve Martin's first starring role in a feature film, with critics giving the comedy film a generally positive review (Credit: Aspen Film Society / Universal Pictures)
For his first starring role in a feature film, Steve Martin plays the eponymous Navin R. Johnson, who offers his life story for the audience to watch.
Growing up as the adopted white son of an all-black family in Mississippi, Navin leaves home to discover his true calling. Still, he finds loads of comedic obstacles blocking his journey of self-discovery.
Full of Martin's offbeat humor, The Jerk is easily one of the best Steve Martin movies of all time, as it helped establish him as a leading man and worthwhile actor.
9. All of Me (1984) – 85% Score
Based on an unfinished book by author Edwin Davis and directed by Carl Reiner, All of Me is a fantastical romance and comedy film.
The movie stars Steve Martin and Lily Tomlin as two business associates who must tackle a truly ridiculous problem.
When the mega-rich Edwina Cutwater (Lily Tomlin) tries to have her soul transferred into a younger body, her lawyer, Roger (Steve Martin), must deal with unexpected consequences.
Steve Martin stars opposite Lily Tomlin in the 1984 fantasy comedy film All of Me (Credit: Kings Road Entertainment / Universal Pictures)
Although Roger believes that the entire notion of spiritual transfer is nonsensical, he is shocked when an accident during the procedure causes Edwina's soul to land inside his body.
As both parties try to inhabit one body, absurdity ensues, leading them on a mission to reverse the situation.
Thanks to the excellent chemistry between the lead actors and Steve Martin's brilliant physical humor, All of Me is definitely one of Steve Martin's most unique performances.
8. Roxanne (1987) – 88% Score
Directed by Fred Schepisi, Roxanne is an offbeat romantic comedy that stars Steve Martin, Daryl Hannah, Rick Rossovich, and more.
Based on the 1897 play written by Edmond Rostand, Cyrano de Bergerac, the script was actually penned by Steve Martin himself.
As a major fan of the play, Steve Martin spent three years writing over 20 different versions of the script before settling on the final draft.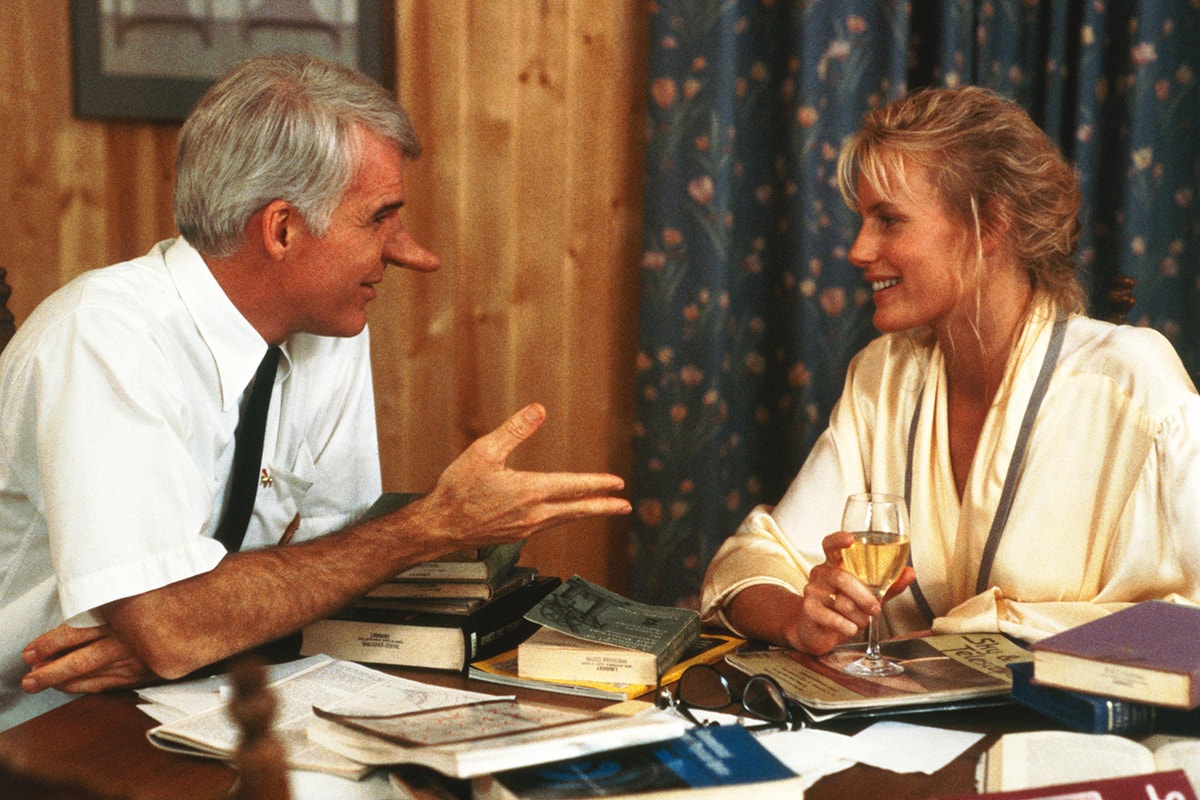 Steve Martin wrote the script for the rom-com Roxanne, which is a modern retelling of Edmond Rostand's 1897 verse play Cyrano de Bergerac (Credit: Columbia Pictures)
In the film, Steve Martin plays the lead role of Charlie C.D Bales, a fire chief who becomes embroiled in an unexpected love triangle.
When student Roxanne Kowalski comes to town one summer in search of a comet to study, Charlie is smitten with her but held back due to his abnormally large nose.
Unfortunately, Roxanne grows attracted to fireman Chris (Rick Rossovich), who tasks Charlie with writing her love letters.
While Steve Martin had a blast working on the film, he reportedly hated wearing the prosthetic nose, which took approximately 90 minutes to apply before each shoot.
7. The Spanish Prisoner (1997) – 89% Score
The Spanish Prisoner is a mystery thriller written and directed by David Mamet that centers on a group of conmen who use a secret, nuanced process to get their dirty work done. The film stars Campbell Scott, Steve Martin, Rebecca Pidgeon, Ed O'Neill, and more.
Complete with Mamet's signature dialogue style, The Spanish Prisoner is one of the more serious movies in Steve Martin's filmography.
Steve Martin was cast in a villainous role in The Spanish Prisoner, making it one of the more serious movies in his filmography (Credit: Sony Pictures Classics / Jasmine Productions Inc.)
Eschewing the usual comedic characters of his career, Steve Martin plays the part of Jimmy Dell, a secretive and rich man who starts to run a long con on the unsuspecting Joe Ross (Campbell Scott).
In fact, David Mamet specifically wrote the role of Jimmy for Steve Martin, as he was confident that the comedian would be especially well cast in a sinister role.
Despite being completely different from his previous roles, Steve Martin absolutely nailed his time as Jimmy Dell, showcasing the true range of his acting abilities.
6. Dirty Rotten Scoundrels (1988) – 89% Score
Directed by Frank Oz, Dirty Rotten Scoundrels is a remake of the 1964 film Bedtime Story and stars Steve Martin, Michael Caine, Glenne Heady, and more.
Set in the Mediterranean French Riveria, the film follows two conmen as they embark on a friendly competition to see who can steal $50,000 from their target first.
Despite the subject matter, Dirty Rotten Scoundrels is entirely comedic, making it a perfect fit for Steve Martin's eccentricities.
Steve Martin and Michael Caine as con men Freddy Benson and Lawrence Jamieson, respectively, in the 1988 comedy film Dirty Rotten Scoundrels (Credit: Metro-Goldwyn-Mayer / Twentieth Century Fox)
Appearing as one of the two lead conmen, Steve Martin plays Freddy Benson, the lesser-experienced rival of expert swindler Lawrence Jamieson (Michael Caine). After the pair meet and begin to share tactics, they plan a friendly competition to steal cash from Janet Colgate (Glenne Headly), but things soon get out of hand.
Although the film received its fair share of praise, many critics pointed to the wonderful chemistry and comedy between Steve Martin and Michael Caine as the movie's highest selling point.
5. Little Shop of Horrors (1986) – 90% Score
Generally considered one of the biggest cult classics of all time, Little Shop of Horrors is a dark comedy and horror musical based on the stage play and the 1960 film of the same name.
Directed by Frank Oz and starring the likes of Rick Moranis, Ellen Green, and more, the movie tells the tale of a plant shop that harbors a man-eating plant to dire consequences.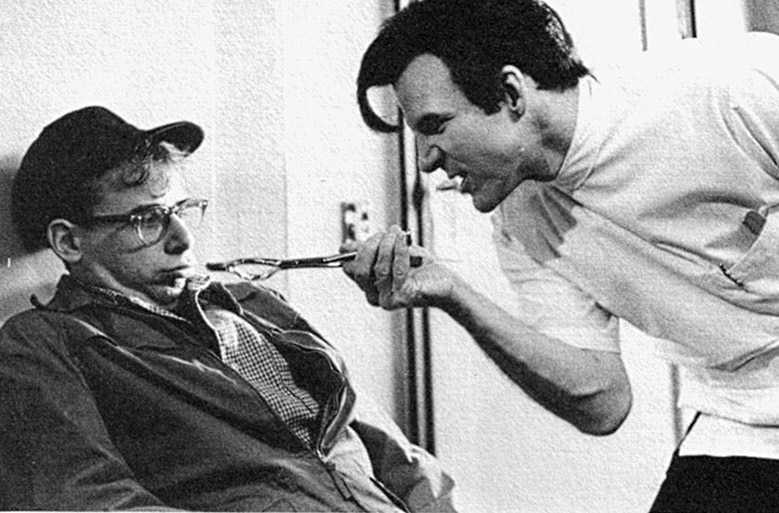 Steve Martin as sadistic, nitrous oxide-addicted dentist Orin Scrivello and Rick Moranis as nerdy florist Seymour Krelborn in the 1986 horror comedy musical Little Shop of Horrors (Credit: Warner Bros. / The Geffen Company)
Acting as eccentrically as ever, Steve Martin plays the pain-inducing, motorcycle-riding dentist Orin Scrivello.
While this role has become beloved by many fans, it reportedly took Steve Martin six weeks before he agreed to be in the movie, as he was worried that the character was too much like Fonzie from the sitcom Happy Days.
Ultimately, Steve Martin accepted, delivering one of the best performances of his entire career. Of course, he also performed all the singing with delight, foreshadowing his future in the music business.
4. L.A. Story (1991) – 91% Score
L.A. Story was directed by Mick Jackson and, in a running trend, written by Steve Martin.
This tongue-in-cheek romantic comedy centers around television meteorologist Harris Telemacher (Steve Martin), who struggles to find love as his current relationship stagnates.
Through several silly encounters and chances of fate, Harris begins to become enamored with a foreign journalist.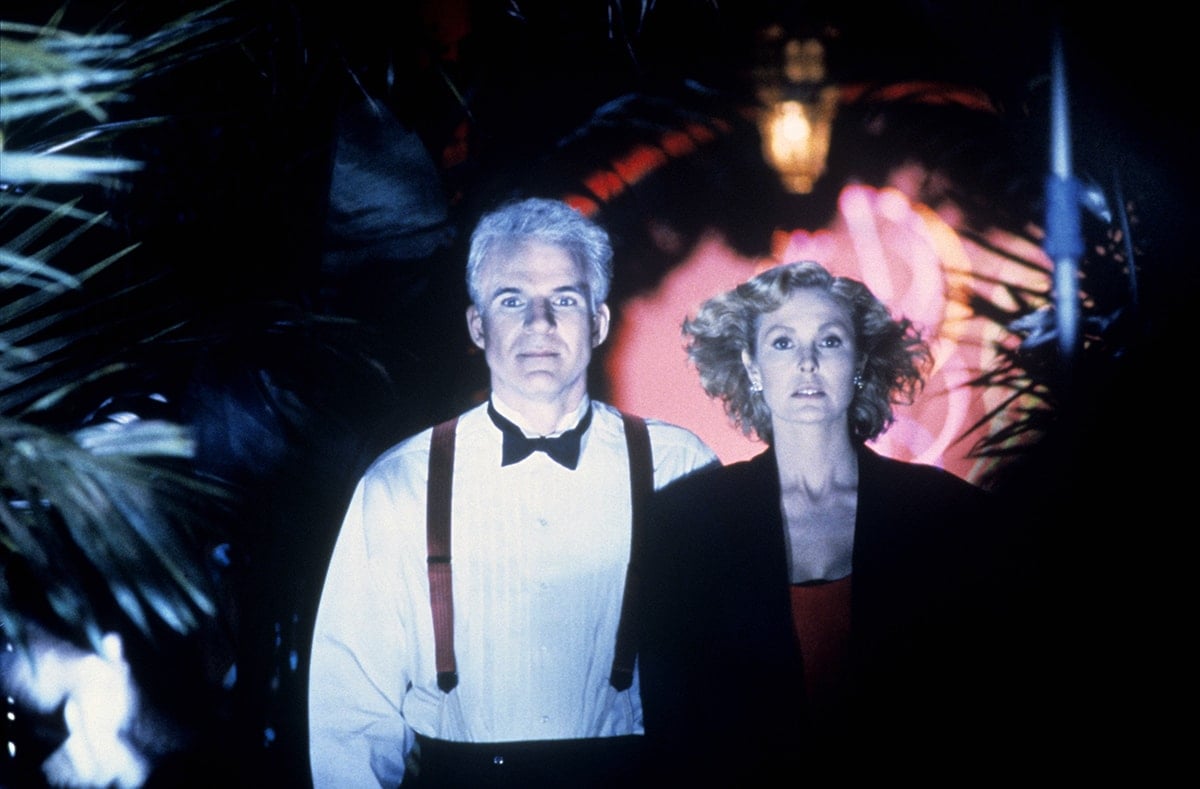 Steve Martin and his then-wife Victoria Tennant star together in the 1991 satirical rom-com L.A. Story (Credit: Tri-Star Pictures / Carolco Pictures)
In many ways, L.A. Story is a reflection on Steve Martin's personal life at the time, explored through a rich and heartily hilarious story.
Harris pining over the UK journalist Sara McDowel (Victoria Tennant) feels natural, which makes sense, as Steve Martin and Victoria Tennant were married during production.
In this film, in particular, we get to see Steve Martin in his stride, making it a perfect entry for our list of his top 10 films.
3. Planes, Trains, and Automobiles (1987) – 92% Score
Planes, Trains, and Automobiles is a hit holiday comedy that stars Steve Martin and Uncle Bucks actor John Candy.
Written and directed by John Hughes, who is most well-known for his teen comedies, the film is a notable departure from his previous work.
The story centers on two unlikely companions who try to make it home for the holidays during peak travel season.
Steve Martin and John Candy are travel companions Neal Page and Del Griffith in the 1987 comedy movie Planes, Trains and Automobiles, which Martin considers his personal favorite film (Credit: Paramount Pictures / Hughes Entertainment)
Steve Martin plays the up-tight advertiser Neal Page, who must deal with the eccentric salesman Del Griffith (John Candy). As the pair try to make it home for Thanksgiving, both Del's antics and bad luck make the journey seemingly impossible.
Despite his character's uppity nature, Steve Martin had a wonderful time during the production and has stated several times that it is his personal favorite film he's ever worked on.
2. Parenthood (1989) – 92% Score
Directed by Ron Howard, Parenthood is a family-friendly comedy that stars Steve Martin, Rick Moranis, Martha Plimpton, and more.
The movie focuses on the Buckman family, which is already experiencing a sea of problems when mother Karen (Mary Steenburgen) becomes pregnant with a fourth child.
If the Buckmans want to make it work, they'll have to find a balance between their crazy home life and careers.
Steve Martin shows his duality in the family comedy-drama Parenthood as he balances his duties as a father with work life (Credit: Universal Pictures / Imagine Entertainment)
Acting as the paternal figurehead of the family, Steve Martin plays Gilbert Buckman, a sales executive who deals with constant headaches from his children.
Although Martin digs into his goofy side per usual, Parenthood features an interesting duality in his character as he tries to balance his duties as a father with work life.
Celebrated widely for its accurate portrayal of the turmoil of running a family, Parenthood is easily one of Steve Martin's best movies.
1. Only Murders in the Building (2021-Current) – 99% Score
Only Murders in the Building is a comedic whodunit mystery series that was co-created by Steve Martin and John Hoffman.
The series stars Selena Gomez and Steve Martin, along with his longtime friend, Martin Short. Currently, three seasons in, the show revolves around three neighbors who start a podcast about suspicious disappearances in their New York apartment building.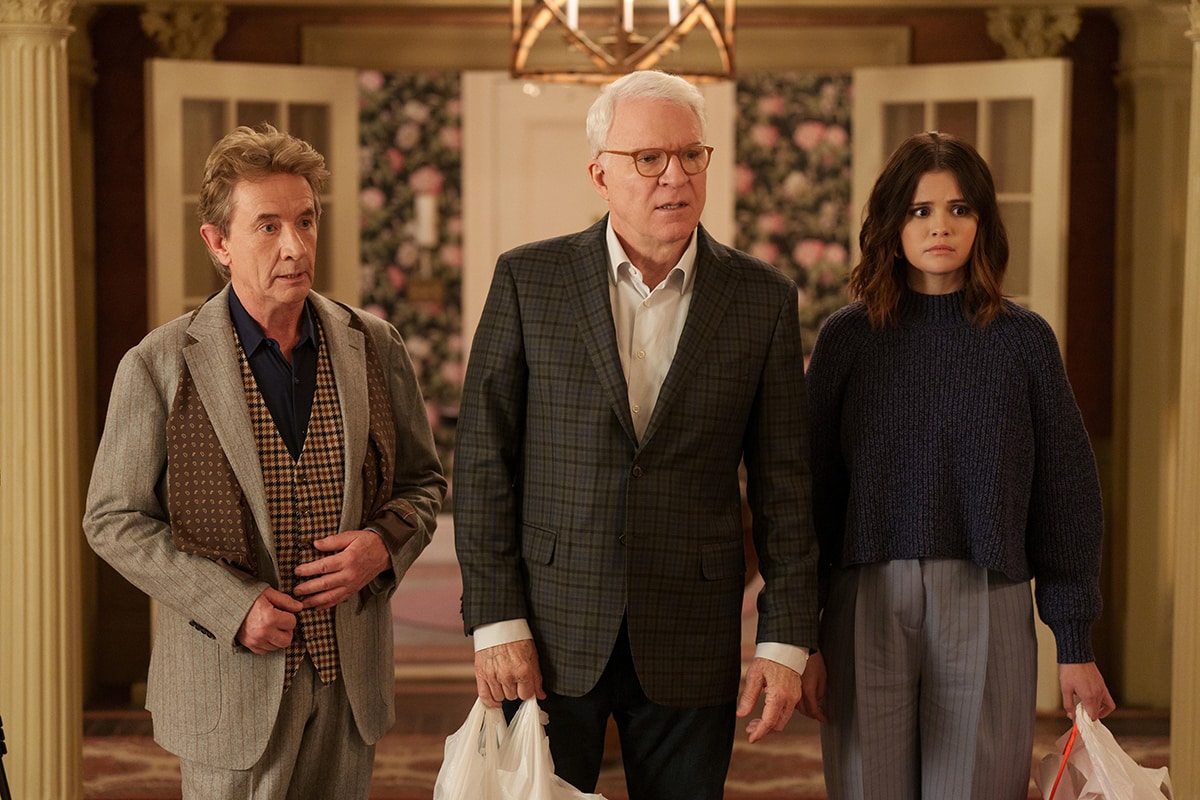 Steve Martin stars as Charles-Haden Savage, with Martin Short as Oliver Putnam and Selena Gomez as Mabel Mora in the critically acclaimed series Only Murders in the Building, which he said could be his final role (Credit: Hulu / 20th Television)
Somewhat echoing real life, Steve Martin plays the role of Charles-Haden Savage, a retired actor who is firmly disgruntled with the world and the people around him.
However, when he meets neighbors Oliver Putnam (Martin Short) and Mabel Mora (Selena Gomez), the pair begin a friendship that leads to a full-blown murder investigation.
Although Only Murders in the Building stands tall as the actor's highest-rated project, Steve Martin has stated that he plans to quit acting once the show wraps up.