The striped print, like many nautical prints, is very popular during summer, so we've always associated this print with warm weather.
But this winter, we've been seeing more stripey clothing than usual. We guess this means striped shirts have broken free of their summery image.
You, our fashionable readers, can put stripes right next to tartan as a beloved print for winter. Yes, it can be done. Here are some of the stylish people who have made striped tops their winter staple. Find out how you can wear a striped shirt in winter:
1. Striped Turtleneck Top With High-Waisted Pants
We just recently featured January Jones, but we were so smitten with her Parisian look that we just had to include her outfit once again.
January Jones wearing a striped top with high-waisted pants while running errands in West Hollywood, California, on January 24, 2014
The pairing of the striped top with high-waisted pants is so classic. It is also figure-flattering and can make your legs look longer.
For the ultimate retro look, You can trade the cap for a newsboy hat or an earflap cap if you want and then finish off the look with oxfords or lace-up shoes.
2. Dungarees Over a Striped Top With a Chic Jacket
Fearne Cotton, a British announcer and TV presenter, took her striped top (which looks like writing paper) and wore it with chambray dungarees.
Fearne Cotton rocking chambray dungarees while arriving at BBC Radio 1 studios in Central London, England, on December 10, 2013
You can either wear a skirt or shorts dungarees. This look is so versatile because you can also transition it into summer by losing the tights and the coat. Instead of wearing booties, try a pair of loafers.
3. Thick Button-Down Shirt and High-Waist Trousers
Edgy chic Jessica Alba shows how versatile a striped top can be. You can easily wear one with an open button-down shirt.
Jessica Alba wearing a striped shirt while leaving Bristol Farms in Los Angeles on October 20, 2013
The striped tee works so flawlessly with denim pants. Accessorize with a fedora hat and a pair of boots.
4. Striped Top With Full Midi Skirt
A striped top may have a casual vibe, but it can quickly look dressy with a sweet midi skirt.
It has to be a full skirt to give your look a sophisticated flair to it. Like Christina of 'Christina Style', give it more style by wearing a pair of classic pumps. Her blog is unfortunately no longer available online.
Christina in a striped top with a sweet midi skirt
5. Distressed Jeans, Trainers, and Oversized Blazer or Coat
Fashion blogger Charlotte of Lurchhoundloves looks so effortlessly stylish in a striped shirt that she wore with distressed jeans.
The additional play on prints, care of her snakeskin trainers, gave this a more interesting vibe. You can wear either an oversized blazer or a double-breasted coat to achieve this look.
Charlotte in a striped top and distressed jeans
Now, add more striped tops to your current wardrobe. Here are some gorgeous shirts from Shopbop:
Demy Lee Gwen Sweater, $165
Alice + Olivia "Ottoman" Pinstripe Boxy Sweater, $242
Dropped shoulder seams relax the fit of a boxy sweater, patterned with slim stripes.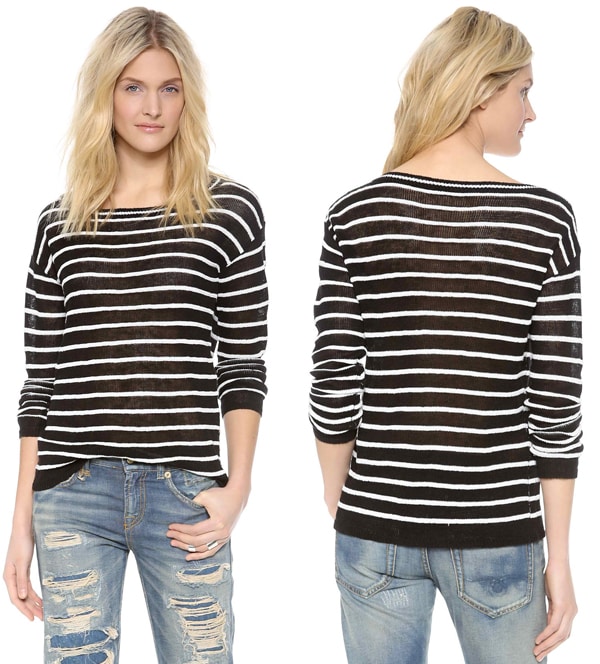 Harvey Faircloth Sailor Stripe Boyfriend Tee, $165
Madewell Striped Ingrid Pullover, $95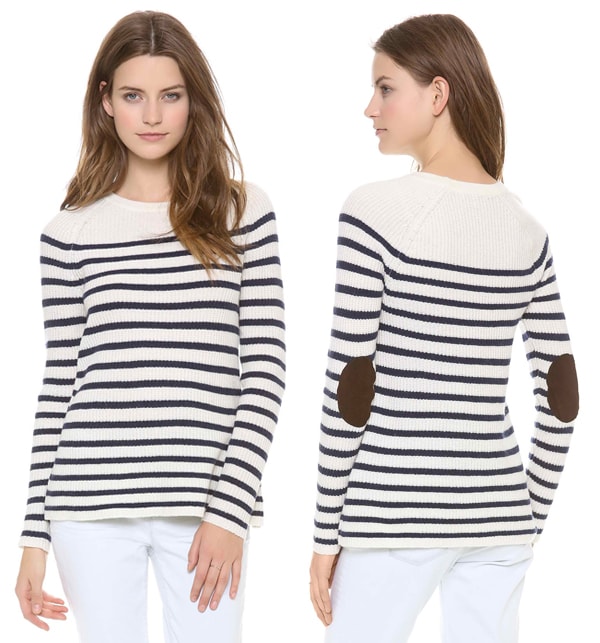 Hatch The Bateau Striped Shirt, $158
Harvey Faircloth Sailor Stripe Tee, $145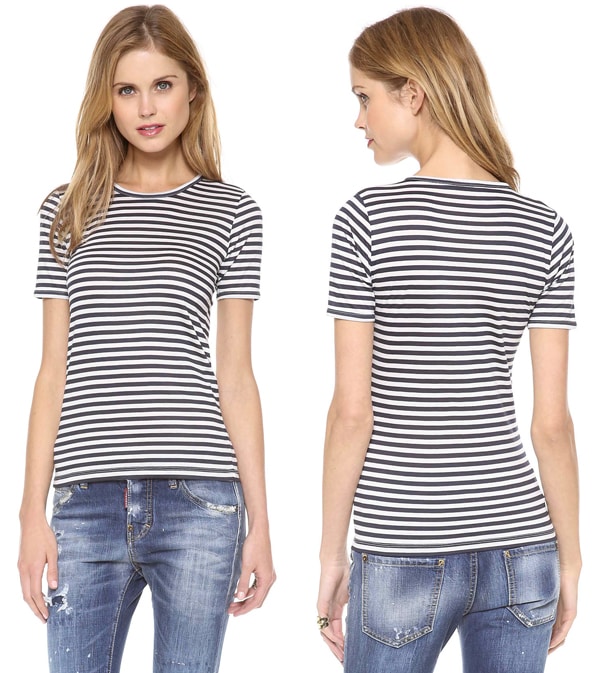 Credit: WENN / Duval