We've officially hit fall so let's see what shoe styles the celebrity world has been rocking this week and what you can learn from them.
1. It's all about comfort and color
Cara Delevingne was spotted wearing a couple of DKNY beauties while shooting the brand's latest campaign in New York. Platform sneakers are going to be huge next season so get ahead of everyone and start wearing them now. The monochrome bandana print is great for fall and the comfort of a sneaker means no more pain in the shoe world. Cara also sported some vibrant orange neoprene sandals. Inject some color into your wardrobe with these chunky heels and stay on trend with their cutout detailing.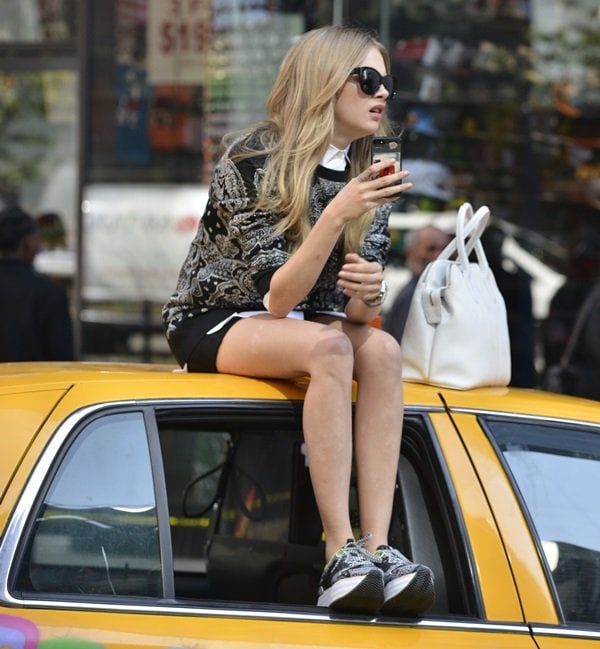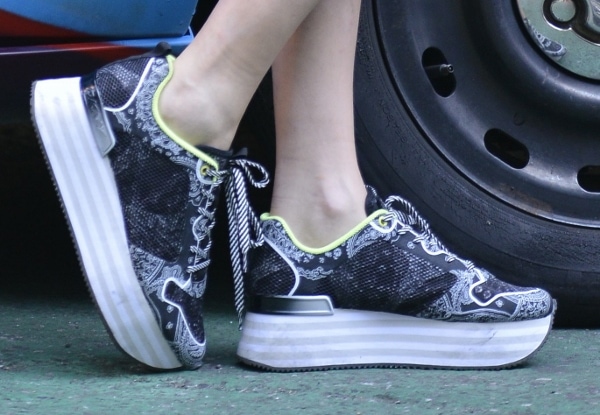 Cara Delevingne shooting DKNY's Spring 2014 campaign in New York on October 15, 2013
2. Season of the thigh-high
Thigh-high boots are having a moment this fall. They go with everything – from a mini skirt to jeans. Luckily, Stuart Weitzman has designed 10 exclusive styles of his famous 5050 over-the-knee boot for Gilt. Olivia Palermo was seen at the digital pop-up shop launch wearing the 5050 in olive suede. There are loads of colors, prints and materials that you can choose from but the special sale won't last for long so hurry!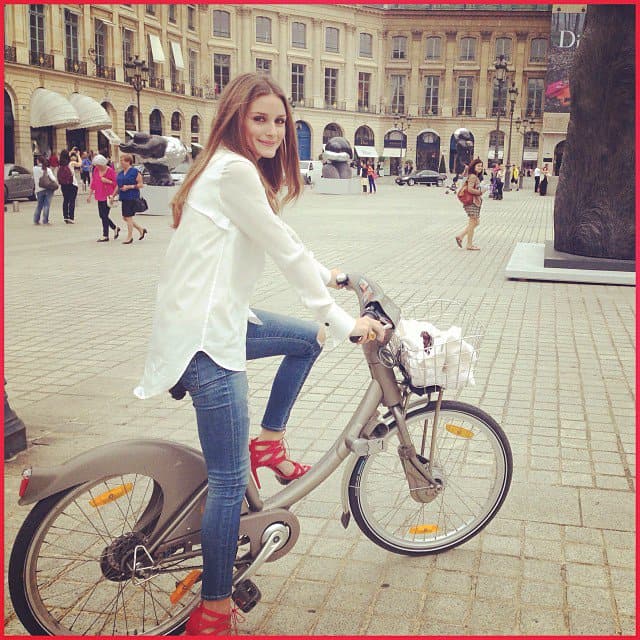 Olivia Palermo at the Stuart Weitzman and Gilt launch party in New York on October 16, 2013
Stuart Weitzman '5050' Boots in Olive Suede, $598
3. Mix those metals
Khloe Kardashian grunged up her look with a pair of Giuseppe Zanotti for Anja Rubik suede booties. The combination of lace-up and peep-toe in a shoe has been popular for a while but it's the contrasting metal ankle strap and studs that make this style special. Gold and silver definitely can and should be worn together. If a shoe has both, you're onto a winner.
Khloe Kardashian out shopping in Los Angeles on October 17, 2013
Giuseppe Zanotti for Anja Rubik Suede Booties, $1295
4. There's still nowhere for your feet to hide
The PVC trend isn't going anywhere soon. Karolina Kurkova gave us a masterclass on how to be plastic fantastic in Salvatore Ferragamo. These pointy-toe pumps will provide a sprinkling of elegance to any outfit. The tied detail at the back is simply a unique bonus!
Karolina Kurkova at the Opening Night Gala of the Wallis Annenberg Center for the Performing Arts, Los Angeles, on October 17, 2013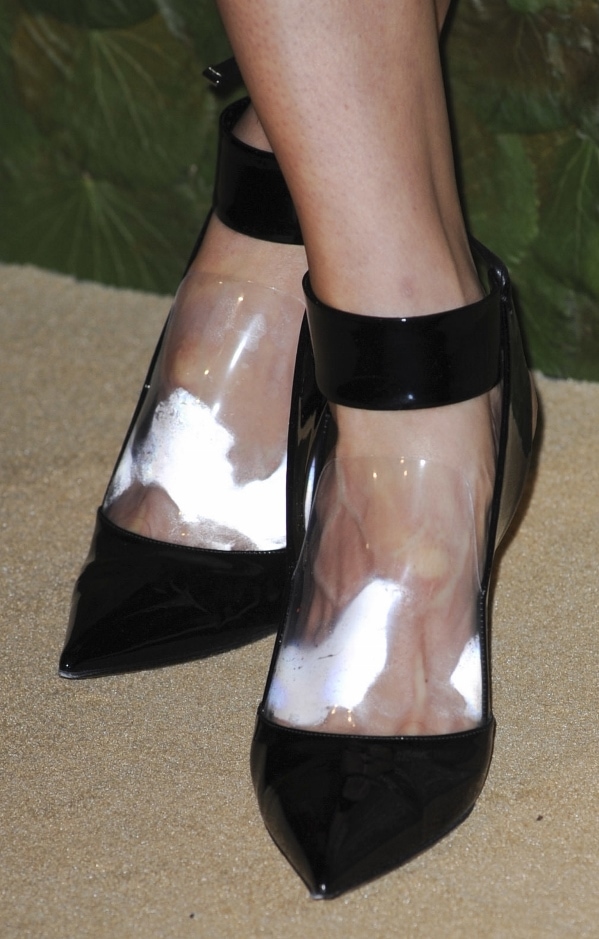 Salvatore Ferragamo Patent PVC Pumps, $795
5. Blurred lines
She may have been hiding her footwear for most of the night but Nicole Richie proved that you can wear any shoes for any season. Her Emporio Armani metallic slingbacks are from the Spring 2013 collection and feature gold leather stripes among sheer mesh.
Nicole Richie at the Opening Night Gala of the Wallis Annenberg Center for Performing Arts, Los Angeles, on October 17, 2013
Emporio Armani Spring 2013 metallic slingbacks
6. Be inventive
Mix big boots and open toe sandals together and you have Salvatore Ferragamo's knee-high stiletto boots. These Spring 2014 creations were worn by Angela Lindvall this week and stood out from the crowd with their buckles and leather cutouts.
Angela Lindvall at the Opening Night Gala of the Wallis Annenberg Center for Performing Arts, Los Angeles, on October 17, 2013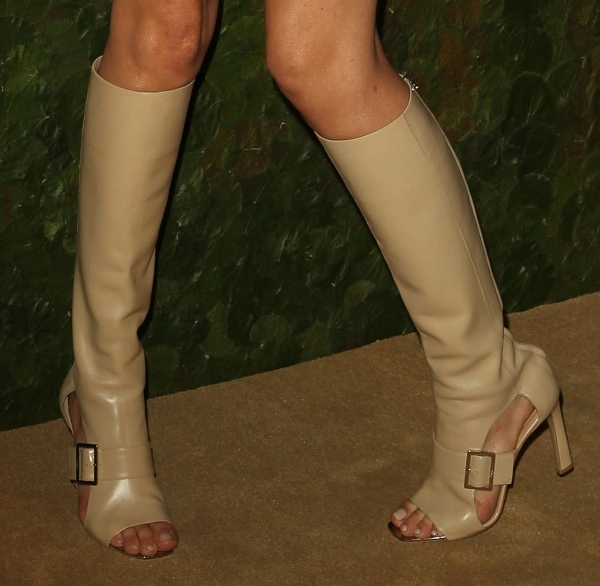 Angela Lindvall's Salvatore Ferragamo open-toe boots
7. Details, details, details
It's the small things that matter. The heart tab on the back of Anna Kendrick's Charlotte Olympia pumps were the most talked about part of her outfit. Never mind the black satin, island platform or red stiletto. If you want to get everyone talking, pick a shoe with an unusual feature.
Anna Kendrick at the premiere of 'Drinking Buddies' at the BFI London Film Festival on October 18, 2013
Charlotte Olympia "Josephine" Pumps, $876.48
8. There's a fresh boot in town
The new casual shoe is the embellished ankle boot. Take a leaf out of Lily Cole's book and go for a gold studded pair in the form of Chloe's suede "Susanna" style. It's as close to full cowboy as you should get this fall.
Lily Cole at the premiere of 'Twelve Years A Slave' at the BFI London Film Festival on October 18, 2013
Chloe 'Susanna' Studded Ankle Boots, $1234
9. Stand tall this fall
Demi Lovato showed us all how to wear super-high platform pumps while staying classy. Her Christian Louboutin "Highness" peep-toe shoes have a huge 160mm stiletto heel along with a platform to match. Hats off to Demi for being able to walk in these babies!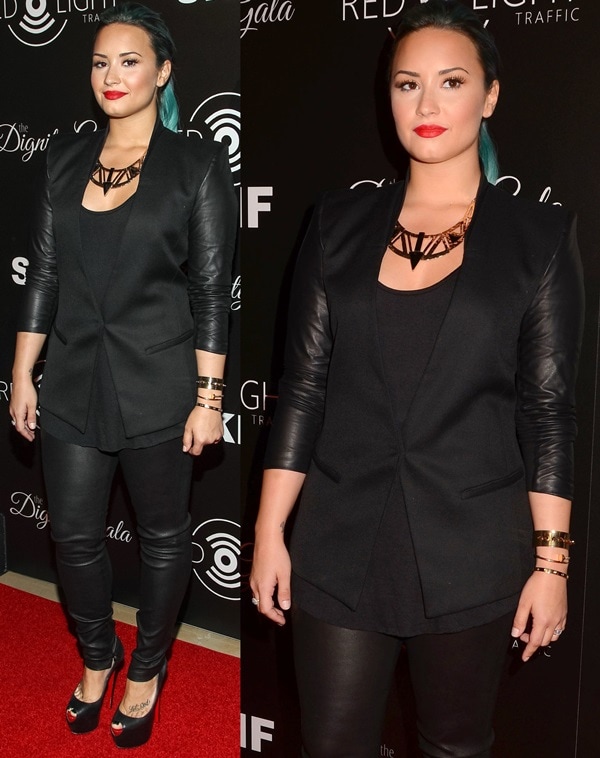 Demi Lovato at the Redlight Traffic Dignity Gala in Beverly Hills on October 18, 2013
Christian Louboutin "Highness" Pumps, $1075
10. Chunky is in
Block heels are the finishing touch to a ladylike look a la Anne Hathaway. Her studded Prada suede pumps may not be the first choice for people looking for a hint of elegance but the rules have been rewritten this fall. Stilettos are no longer your only option. Choose the chunk.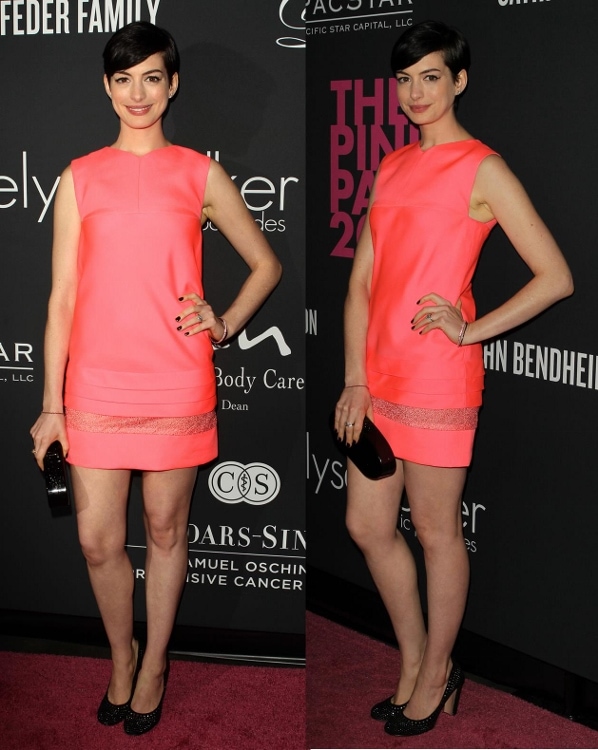 Anne Hathaway at The Pink Party in Santa Monica, California on October 19, 2013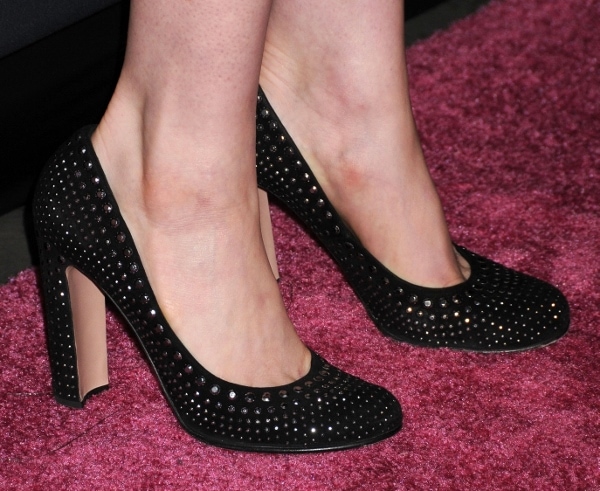 Anne Hathaway's studded Prada pumps with a block heel
Credit: TNYF / PNP / SIPA / Derrick Salters / Apega / FayesVision / Lia Toby / Daniel Deme / revolutionpix / WENN