Before she became known as George Clooney's wife, Amal Clooney had already made a name for herself in international human rights law.
She's a lawyer, activist, and author, and she looked every bit the part as she attended a press conference for her latest client Mohamed Nasheed at Doughty Street Chambers.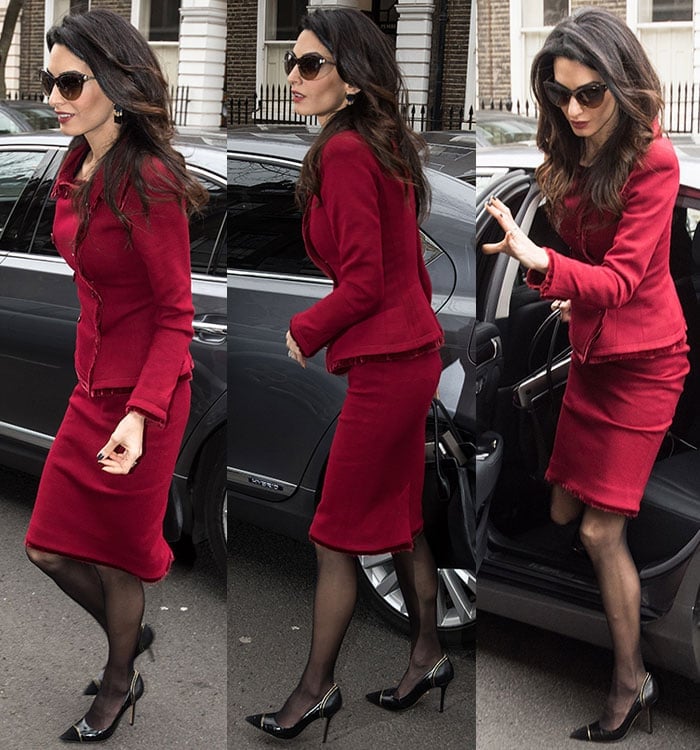 Amal Clooney wears her hair down as she arrives at a press conference in London on Jan. 25, 2016
The 38-year-old London-based British-Lebanese lawyer kept things conservative and professional in a red suit by Dolce & Gabbana, which featured a double-breasted coat with velvet trim and a matching knee-length skirt.
Amal Alamuddin Clooney has represented high-profile clients such as WikiLeaks founder Julian Assange and former Ukraine prime minister Yulia Tymoshenko.
One of her latest clients was former Maldives president Mohamed Nasheed, who was deposed in what he called a military coup.
Amal Clooney steps out of her vehicle while wearing a Dolce & Gabbana suit
In an interview, he said that he had been forced to resign "at gunpoint" by military and police forces. And just last year, he was sentenced to 13 years in jail after being convicted of a terrorism charge.
Nasheed — Indian Ocean island's first democratically elected leader — was temporarily released from prison to undergo spinal surgery in London.
Amal Clooney arrives at Doughty Street Chambers for a press conference in London
George Clooney's wife, who was raised by a Shiite Muslim father and a Sunni Muslim mother, is defending Nasheed.
"The case for sanctions remains urgent even though president Nasheed is here today," she told the press. "We cannot forget that he has not been pardoned in the Maldives. He has not been given permission to run in the next presidential elections.
"He was also not the only political prisoner behind bars in the country. You have, at the moment, two former defense ministers, one former vice president, one former deputy parliamentary speaker, and leaders of every opposition party in prison in the Maldives. You also have a further 1,700 people who are either facing charges or currently being prosecuted by the authorities in the Maldives for simply peaceful political activity and speech."
Amal Clooney's feet in tights and Salvatore Ferragamo pumps
Amal not only has an impressive resume, but she also has an impressive wardrobe that enables her to always look stylish and put together.
She completed her look with black tights and a pair of Salvatore Ferragamo "Susi" pumps. They are made of croc-embossed leather and have suede toe caps, ostrich heel counters, gold trim, and about four-inch stiletto heels.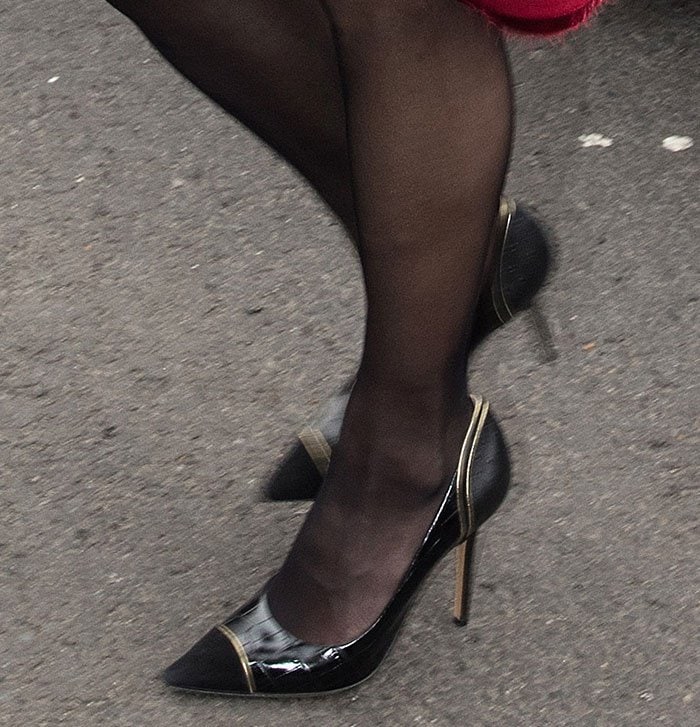 Amal Clooney's feet in black tights and gold-trimmed "Susi" pumps
You can check out these Salvatore Ferragamo pumps at Nordstrom and Farfetch.
Salvatore Ferragamo "Susi" Pumps, $261-$625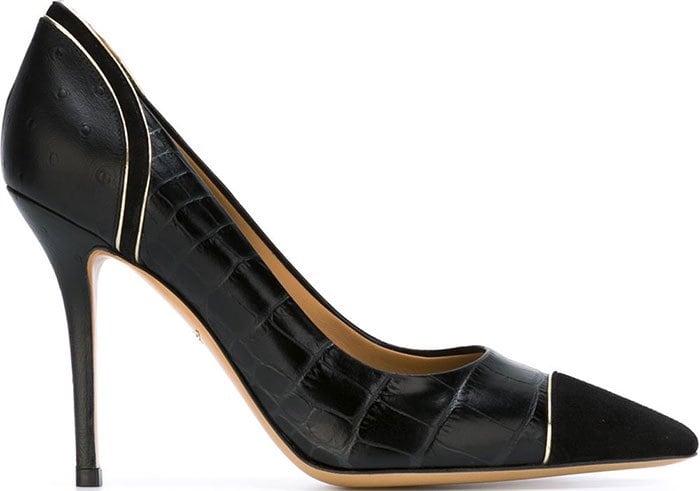 Credit: Daniel Deme / WENN