Imageworks offered a peek behind the curtain at its computer-generated effects in the 2016 anti-hero flick, Suicide Squad. The footage shows their extensive manipulation of scenes that left audiences breathless.
One such scene was Cara Delevigne's transformation to her supervillainess character, June Moone, or "the Enchantress."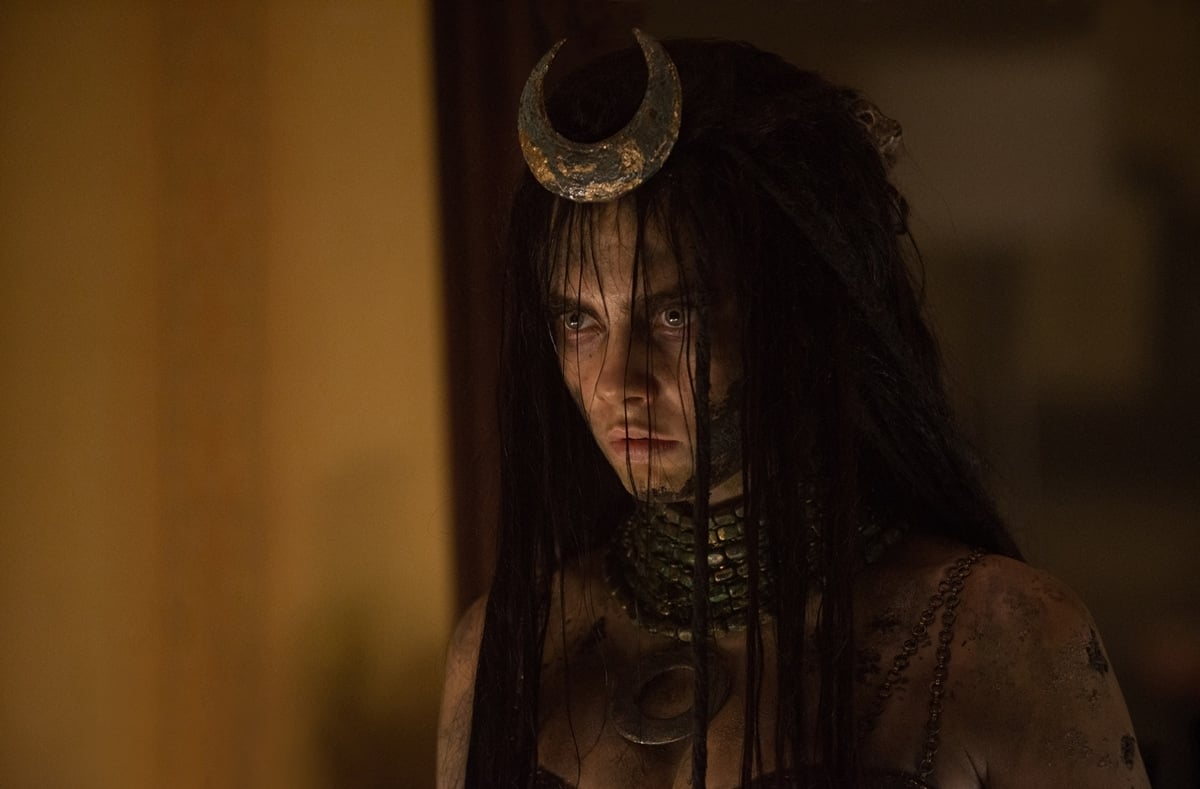 Cara Delevingne as Dr. June Moone / Enchantress in the 2016 American superhero film Suicide Squad (Credit: Warner Bros. Pictures / WENN)
The video shows Cara slowly walking toward the camera in nude-tone underwear with very basic mapping for her character's tattoos.
Overlaid footage shows more elaborate tattoos, wardrobe, pigmentation, and other special effects that were added by Imageworks to create Cara's scene.
Fans Respond to Cara Delevigne's Digital Slimming in Suicide Squad
While viewers are in awe of the effects added in the video, many fans were more intrigued by what was taken away- namely, inches off of Cara Delevigne's waist.
Imageworks seems to have digitally slimmed the waistline of the Enchantress, perhaps to give the character even more sex appeal than Ms. Delevigne naturally exudes.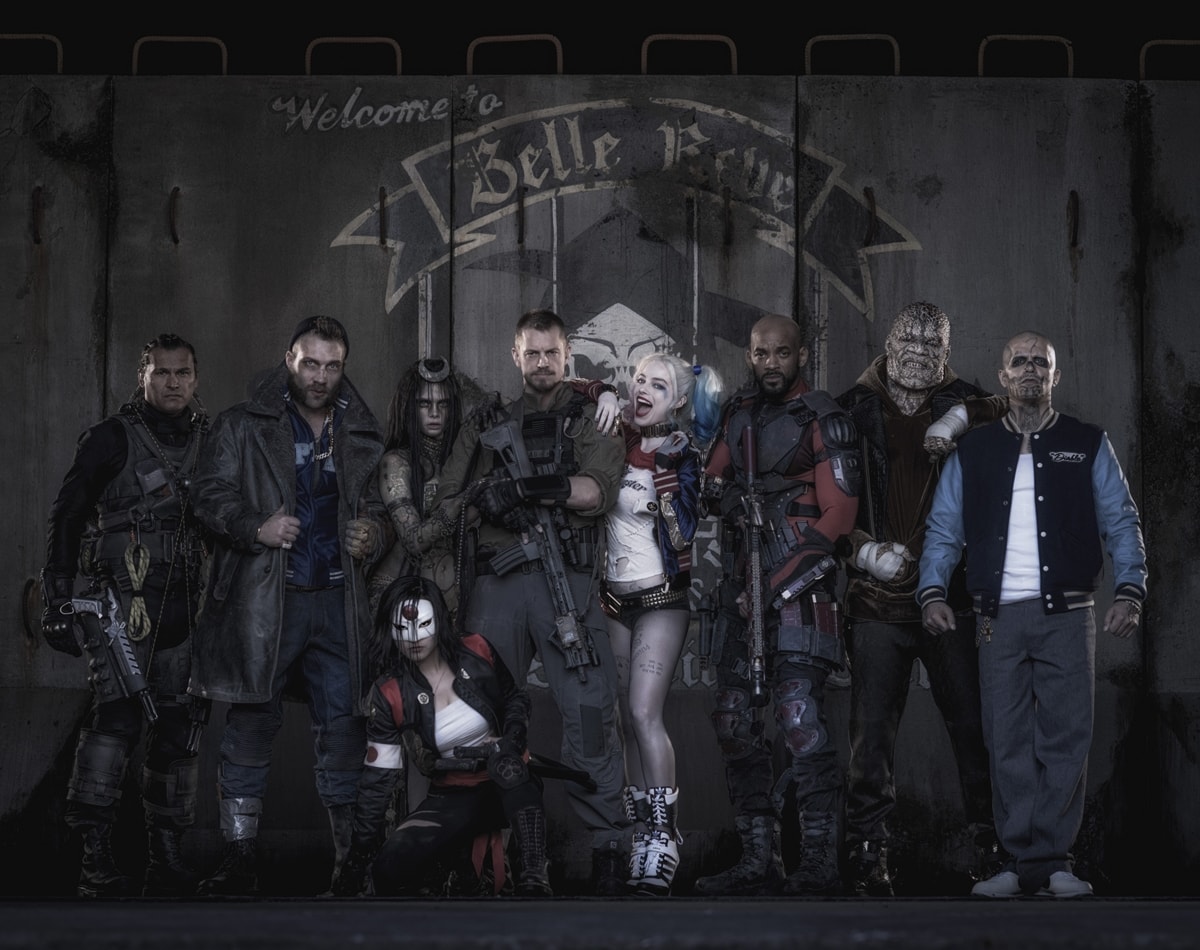 Adam Beach (as Christopher Weiss/Slipknot), Jai Courtney (as Captain Boomerang), Karen Fukuhara (as Tatsu Yamashiro/Katana), Cara Delevingne (as June Moone/Enchantress), Joel Kinnaman (as Rick Flag), Margot Robbie (as Dr. Harleen F. Quinzel/Harley Quinn), Will Smith (as Floyd Lawton/Deadshot), Adewale Akinnuoye-Agbaje (as Waylon Jones/Killer Croc), and Jay Hernandez (as Chato Santana/El Diablo) (Credit: Warner Bros. Pictures / WENN)
When comparing Cara's raw footage with her highly edited scene, viewers can see that the natural contours of her stomach area have been smoothed, and the dimensions of her waist have been reduced, which exaggerates her hip area for a more dramatic hourglass figure in the shot.
Comments ranged from "Did they make Delevingne's waist look smaller?…wtf…" to "They edited Cara's body way too much."
Cara Delevigne's Modeling Career and Why the Suicide Squad Edit Matters
Cara Delevigne began modeling professionally at age 10 and has worked with brands like Fendi, Oscar de la Renta, Burberry, Dior, and many other elite brands.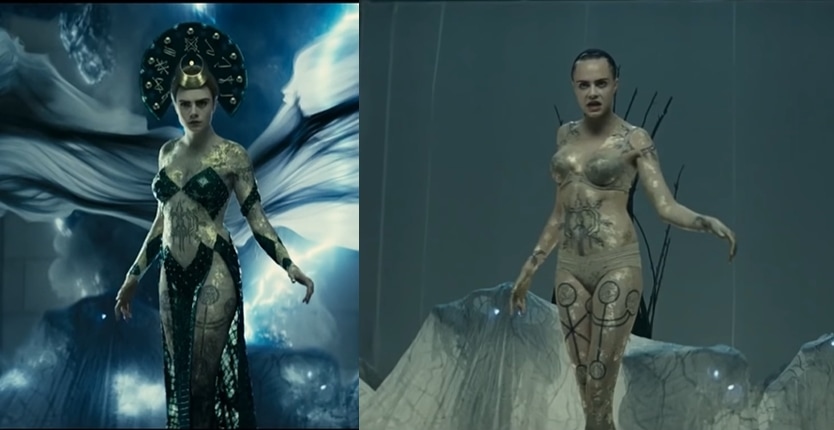 Cara Delevingne's body was slimmed down in post-production for her role in Suicide Squad (Credit: YouTube)
She's quite trim and has a unique look and personality that top designers have sought over her successful career.
Although Delevigne has taken a step back from modeling to pursue her acting career, she's clearly still considered one of the most beautiful women in the world. It's no wonder Imageworks has come under fire for manipulating the model-actress-musician's figure.
Digital Editing in Media as a Common Practice
As a professional model, you can be assured that this isn't Cara's first time being edited. It's a common practice across all media to "perfect" actors and models by smoothing skin textures, correcting color imbalances, enhancing busts and backsides, and yes, cinching in waistlines.
Video and photography editing is a slippery slope for companies that can quickly be accused of practices like whitewashing, blackwashing, creating unrealistic standards of beauty, and removing features that make each person unique and beautiful.
Cara Delevigne Responds to Digital Slimming in Suicide Squad
It's unclear about Delevingne's true opinion of the issue, as she hasn't addressed the editing directly. She did, however, respond on social media once the story broke following the release of the video.
Cara Delevigne posted on her Twitter account, "'I'm so f**kin' sick and tired of the photoshop' @kendricklamar HUMBLE. #Showmesomethingnatural," referencing the Kendrick Lamar song, "Humble."
Digital Slimming of Cara Delevingne Further Indication of Bro Culture in Comic Book Flicks
Publications like Teen Vogue have thrashed Imageworks for the edit, accusing the studio of gearing yet another comic book-inspired action film towards the tastes of their male viewers over their female viewers.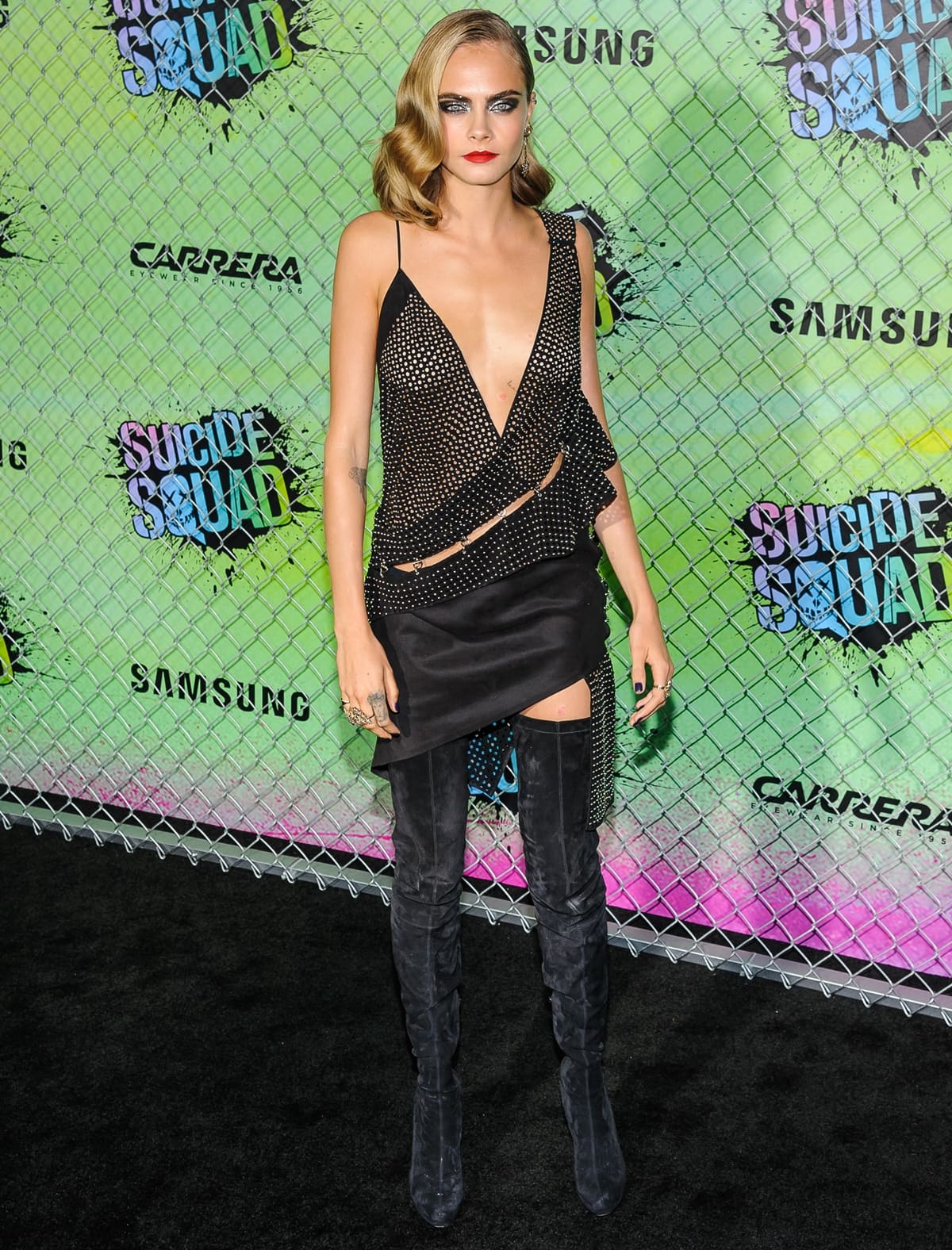 Actress Cara Delevingne in an Anthony Vaccarello Fall 2016 dress at the world premiere of "Suicide Squad" at The Beacon Theatre on August 1, 2016, in New York City (Credit: C.Smith / WENN)
"Comic book culture continues to feel directed at fanboys rather than just, well, fans," the publication said. "Suicide Squad is one of the most recent examples of that bias, with a vibe that ultimately felt, well, extremely bro-y."
Some Fans O.K. with Delevingne's Digital Slimming
Some fans took the sneak peek video at face value, giving props to the studio for some unquestionably amazing special effects.
In the same vein, while the edit to Cara Delevingne's figure wasn't a gross misrepresentation of her measurements, many felt that Imageworks did a fair job while portraying a human contending with the fictional, hyper-sexualized imagery presented in a comic book.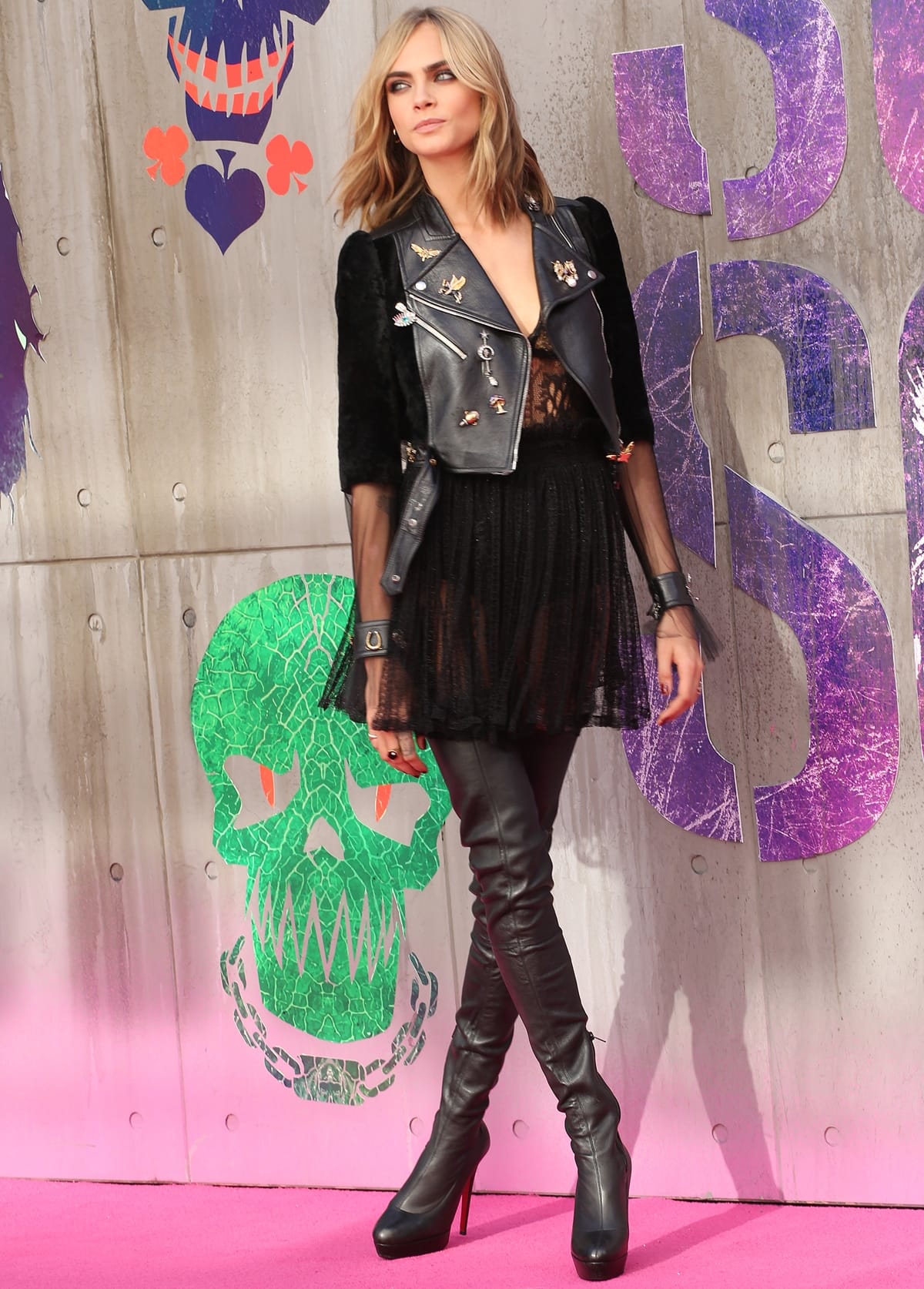 Cara Delevingne in an Alexander McQueen flower lace knit dress with a charm-embroidered leather jacket and black Christian Louboutin thigh-high boots at the Suicide Squad premiere held at the Odeon Leicester Square August 3, 2016, in London, England (Credit: Lia Toby / WENN)
"I don't see the big deal about altering Cara's form," one YouTube viewer shared. "She's a comic character… the character is supposed to be a goddess [and] is an alien, so she should look different in general."
Fans Frustrated as Enchantress Editing Presents Unrealistic Beauty Standards
It seems the blowback from the leaked footage is mostly indicative of the overarching issue of unrealistic beauty and weight standards, Instagram filters, and regular practice of photoshopping.
"That's saying something when even a model's body isn't deemed slim enough," one Twitter user wrote.
"Suicide Squad digitally slimmed @Caradelevingne, which means there's no hope for any of us, so pass me the cake!" another user shared.
Cara Delevingne's CGI Wardrobe
No matter what side of the issue you're on, we can agree that Cara Delevingne's CGI wardrobe was fierce. Animators mapped the villain's outfits and headpieces independently of the shoot.
One fan marveled at the eye detail of her headdress, which moved as Delevingne crept toward the camera.
How Did Cara Delevingne Get Her Role in Suicide Squad?
Cara Delevingne recalled the somewhat unusual casting process for her role as June Moone in Suicide Squad. She met with director David Ayer on a stormy night, where they discussed dark themes like addiction and mental illness.
On a separate occasion, she performed a scene from Who's Afraid of Virginia Woolf? After spiraling into a rage during the scene, she was awarded the part of June Moone.
Cara Delevingne read a scene from the play Who's Afraid of Virginia Woolf? when she auditioned for Suicide Squad (Credit: Warner Bros. Pictures / YouTube)
Ayer encouraged Delevingne to walk naked in the woods and howl at a full moon to better understand the character. She actually did, although she admits that it may not have been a full moon.
Why Cara Delevingne Did Not Return in The 2021 Suicide Squad Reboot
In the 2021 sequel, there's a noticeable absence of Cara Delevingne. She, in addition to several other characters, did not return to reprise her role.
When asked about whether she would have liked to have returned, Cara said, "It was a life-changing experience and of course I'd do another one, but I don't think it would make sense for the character."
For those up for a spoiler from the 2016 Suicide Squad film, the Enchantress faced her demise, which released Cara Delevingne's human form from her possession. While June Moone technically could have returned, the role of the Enchantress had run its course.
Cara Delevingne Responds to Harsh Reviews of Suicide Squad
Despite all of the special effect marvels that occurred to make the visually stunning film, Suicide Squad received overwhelmingly negative reviews.
Fans even suggested that they could have spared some of the special effects budget for the sake of the script.
When asked about the negative reviews, Cara Delevingnes replied, "The critics have been absolutely horrific. They're really, really horrible. You know, I just don't think they like superhero movies. It doesn't really matter what the critics say at the end of the day, it's the fans that we made this movie for."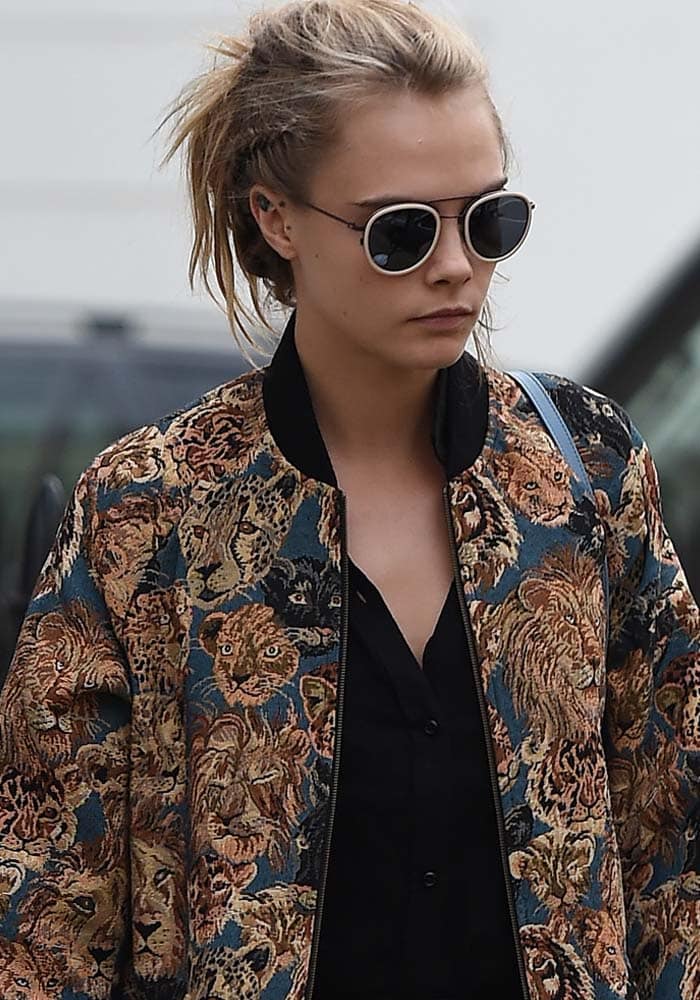 Cara Delevingne wears her hair back as she leaves her parents' house in London on March 22, 2016 (Credit: Will Alexander / WENN)
Cara Delevingne may have pretty much everything at the tip of her fingers, but deep down, she's still the same Cara she's always been — a goofy adventure-seeker.
In March 2016, the model reportedly spent time with her then-girlfriend St. Vincent at her parents' house in London before boarding a Eurostar to take a trip to Paris.
Cara wore a black button-down top and skinny jeans which she accessorized with a Chanel belt.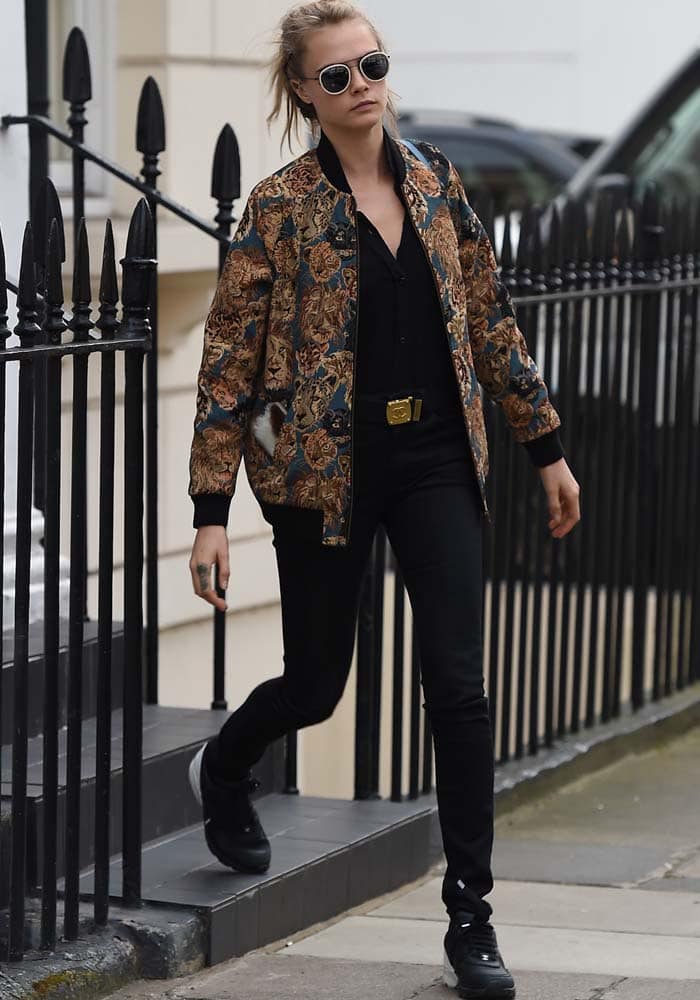 Cara Delevingne wears a Saint Laurent bomber jacket as she leaves her parents' house in London (Credit: Will Alexander / WENN)
The model layered her top with an animal printed bomber jacket from Saint Laurent and finished her look with a pair of sunglasses and Chanel calfskin sneakers.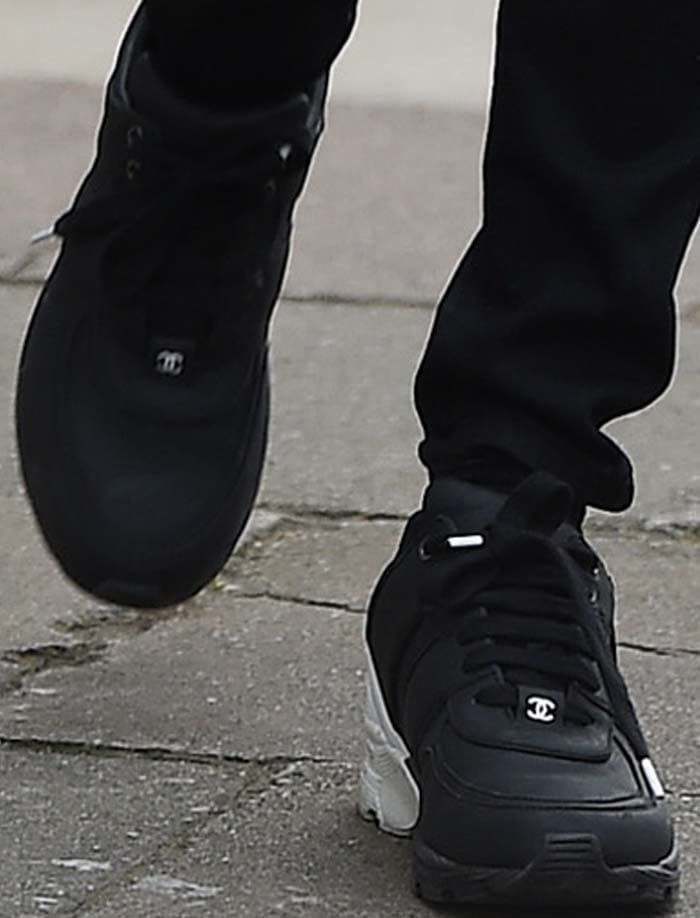 Cara Delevingne wears a pair of black-and-white Chanel sneakers (Credit: Will Alexander / WENN)
While Cara could have easily taken a plane, she and her girlfriend St. Vincent decided to be a bit more adventurous and go for the Eurostar instead.
Cara Delevingne and her girlfriend Annie Clark, aka St. Vincent, leave London for Paris via Eurostar (Credit: Will Alexander / WENN)
The model later a photo of herself in Paris, making the "W" sign for International Water Day, raising awareness for the percentage of children who do not have access to clean water.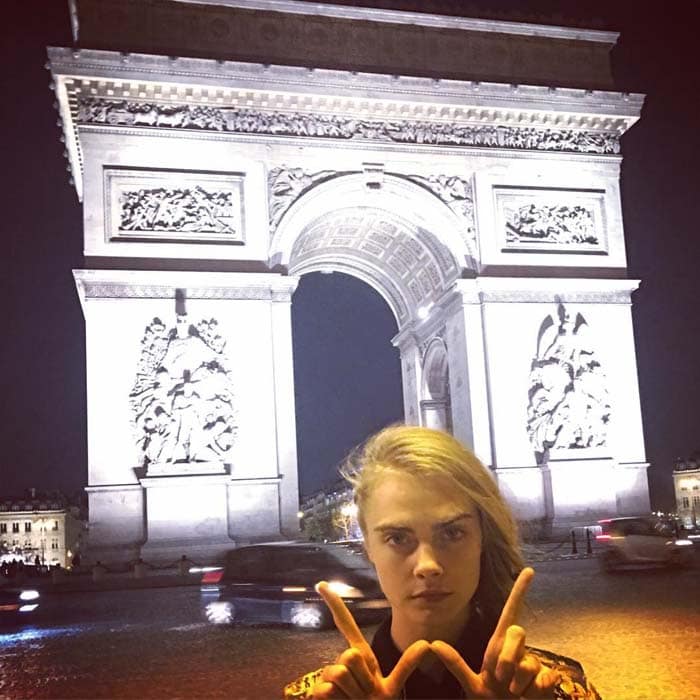 Via Cara Delevingne's social media, captioned, "💦💧🌊 W is for World Water Day 🌊💧💦 663 million people in the world do not have access to safe water and that HAS to change (Credit: Cara Delevingne's Instagram)
Cara's Chanel sneakers are not available online but you can find some equally chic finds at both Farfetch and Ssense.
Chanel Calfskin Sneakers
Adidas 'Tubular Defiant' Sneakers, €129
Y-3 Black & White 'Honja' High-Top Sneakers, $340