Suicide Squad shocked the box office and comic fans when it came out in 2021. Its star-filled cast knocked down barriers and brought the characters to life, but one stood out through her character development methods.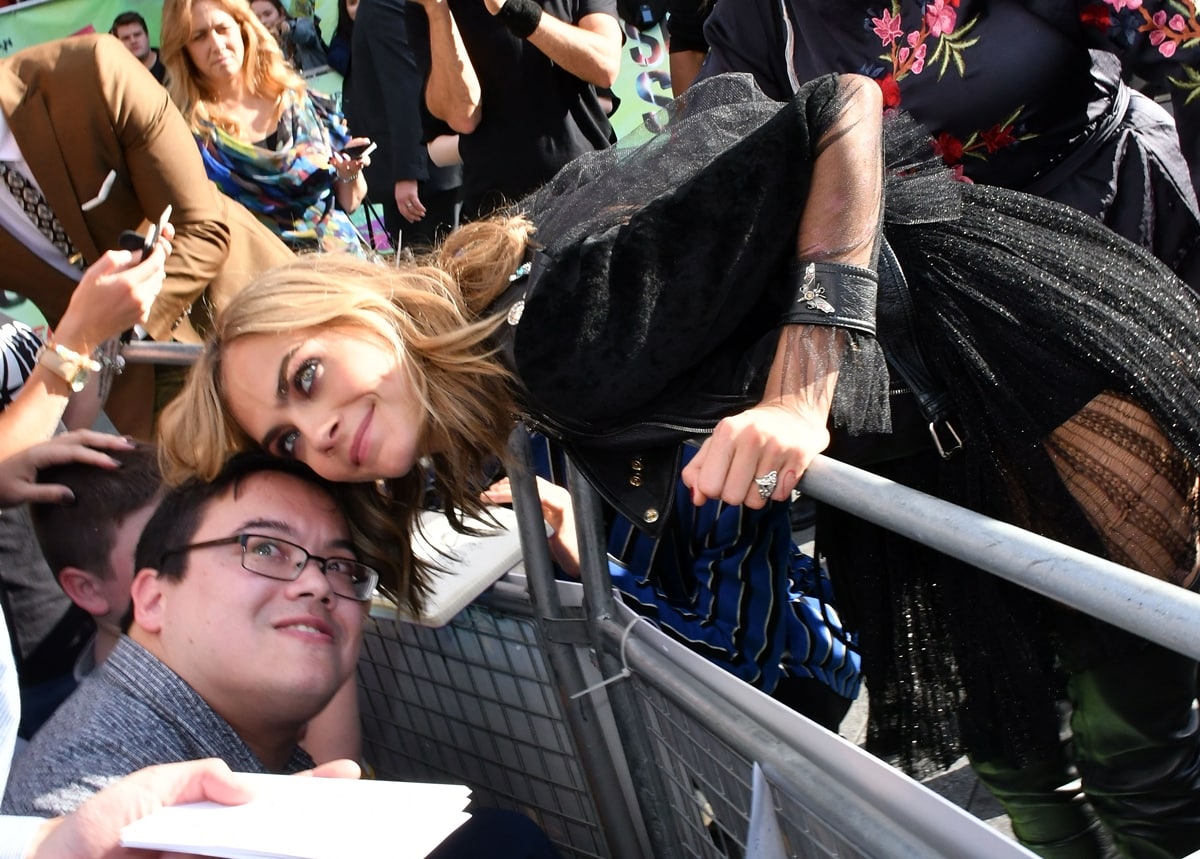 Cara Delevingne meets a fan at the European Premiere of "Suicide Squad" at Odeon Leicester Square on August 3, 2016, in London, England (Credit: Nils Jorgensen / Startraksphoto)
Why did Cara Delevingne get naked while preparing for her role in Suicide Squad?
One Actress, Two Roles
Cara Delevingne auditioned and was cast for her role in the movie Suicide Squad by David Ayer before there was even a script for the movie. Her commitment to the part and intense acting methods impressed Ayer and secured the part/parts.
Yes, uniquely enough, Delevingne played the part of two different characters within the hit movie, though the two characters existed inside one person.
US director David Ayer and his much shorter wife Mireya Ayer at the European premiere of the film Suicide Squad in central London on August 3, 2016 (Credit: Richard Young / Startraksphoto)
Delevingne described June Moore to Empire Magazine as "an adventure seeker who has always wanted some excitement," while she described her alter Enchantress as "an ancient sorceress. A feral being."
These two parts were vastly different, yet Delevingne was responsible for channeling the energy of both.
During her initial audition, Cara Delevingne channeled Empress's energy until she was angry. She was so in tune with the character that she told interviewers she was ready to fight because of the energy she'd channeled. This commitment to the part would not go away.
Why Did Cara Delevingne Get Naked?
To get in tune with Empress, David Ayer reportedly told Cara Delevingne that she should walk around naked under a full moon. Delevingne did just that!
"He said if you ever find yourself in a forest, hopefully, it will be a full moon, so get naked and just be out there for as long as possible," Cara revealed during an appearance on Conan in 2016.
"Funnily enough, I found myself in a forest, and it was a full moon, so I was like 'f*ck' what am I going to do?' So I got naked!"
"Luckily, there was no one there, so no one was there to see it," she added about her nude forest adventure.
Cara Delevingne in a sheer black lace knit Alexander McQueen Fall 2016 dress with a charm-embroidered leather and shearling jacket and Christian Louboutin Gazolina over-the-knee leather boots (Credit: Nils Jorgensen / Startraksphoto)
On the grounds of her sister's private mansion, Delevingne took Ayer's advice, stripped down, and trudged through the woods under the full moon's light.
Did this help her get into character? If you've seen Suicide Squad, you know that something surely did!
Controversies After the Release of Suicide Squad
With any movie, there is controversy. Some major controversies with Suicide Squad involved Cara Delevingne and her character Empress.
While filming, Delevingne often shot scenes in a nude body suit. Her outfit was then placed onto her body with CGI and editing, but fans claim that isn't the only thing put on her body.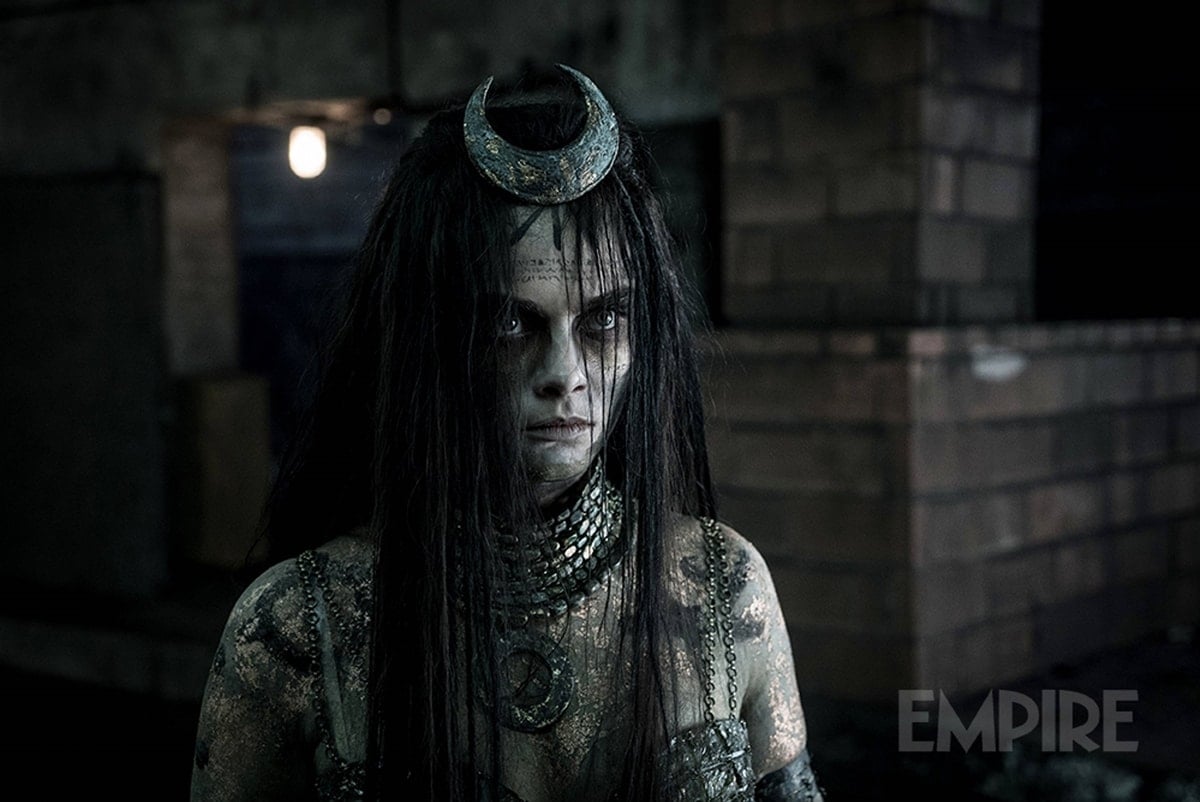 Cara Delevingne prepared for her role as Dr. June Moone / Enchantress in the 2016 American superhero film Suicide Squad by "getting naked in the woods" and "howling like a wolf" (Credit: Warner Bros. Pictures)
Many who have seen Suicide Squad claim that Delevingne's body is heavily edited using CGI. Delevingne never formally spoke on the topic, but fans claim that tweets she posted soon after the controversy broke out allude to her real thoughts.
In a tweet, Delevingne shared a very specific line from Kendrick Lamar's 'Humble' that says "I'm so f***n' sick and tired of the Photoshop."
Will Smith poses for a selfie with Jay Hernandez, Joel Kinnaman, Adewale Akinnuoye-Agbaje, Jai Courtney, Jared Leto, Cara Delevingne, Margot Robbie, and Karen Fukuhara at the European Premiere of "Suicide Squad" at Odeon Leicester Square on August 3, 2016, in London, England (Credit: Daniel Leal-Olivas / PA Images / Startraksphoto)
Coincidence? Or was this Delevingne's way of speaking out without voiding any contracts she may have signed?
Suicide Squad's Success
Suicide Squad went on to be a striking success. It made over $746 million and opened the doors for The Suicide Squad, which premiered in 2021.
The 2021 American superhero film The Suicide Squad was reportedly not as successful as Suicide Squad and didn't even make enough at the box office to cover the full filming budget. But then again, they didn't have Cara Delevingne in it!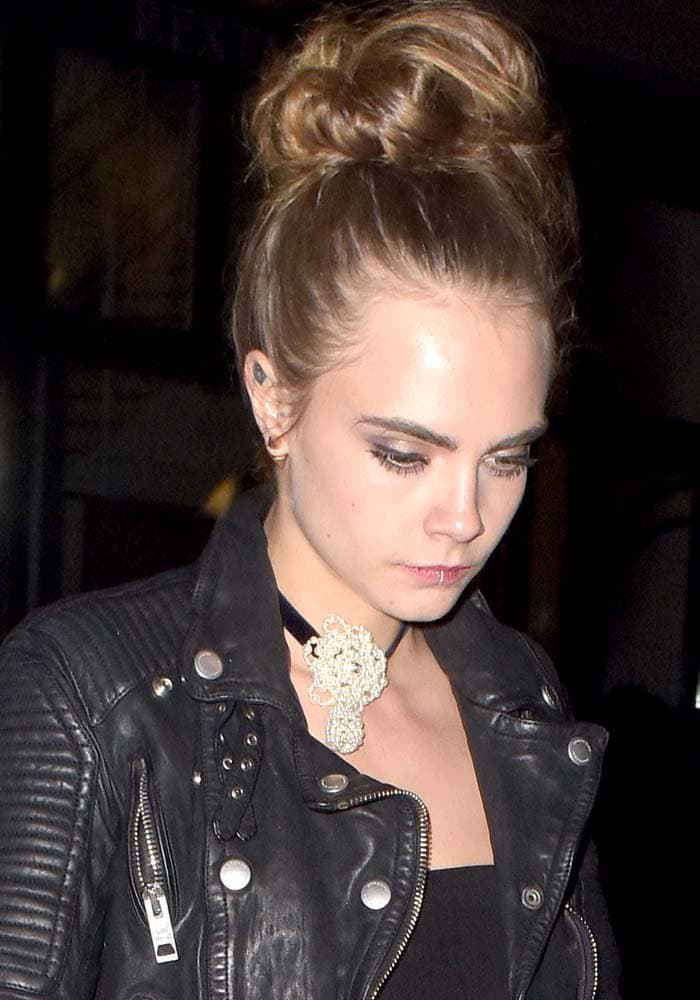 Cara Delevingne piles her hair on top of her head as she returns to her hotel on October 13, 2015, after the Chanel event in London (Credit: Will Alexander / WENN)
It's not like one can go to school for modeling. It isn't exactly a career launched from a community college classroom.
So, aspiring models have to get a little creative when learning the tricks of the trade. That's why mentorships come in handy.
In 2015, British model Cara Delevingne stepped up to the plate for Lily-Rose Depp, the daughter of Vanessa Paradis and Johnny Depp.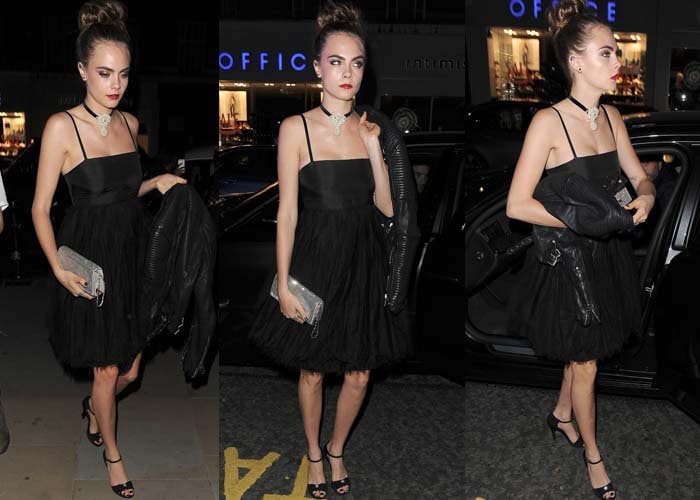 Cara Delevingne wears head-to-toe Chanel to a Chanel event in London (Credit: Will Alexander / WENN)
Cara and Lily-Rose were photographed at Chanel's Mademoiselle Privé exhibit launch in London.
The Mademoiselle Privé exhibit is a collection of portraits taken by Karl Lagerfeld that embody Coco Chanel's taste.
His photographs feature a certain aesthetic that expresses both femininity and masculinity and a lot of Chanel history.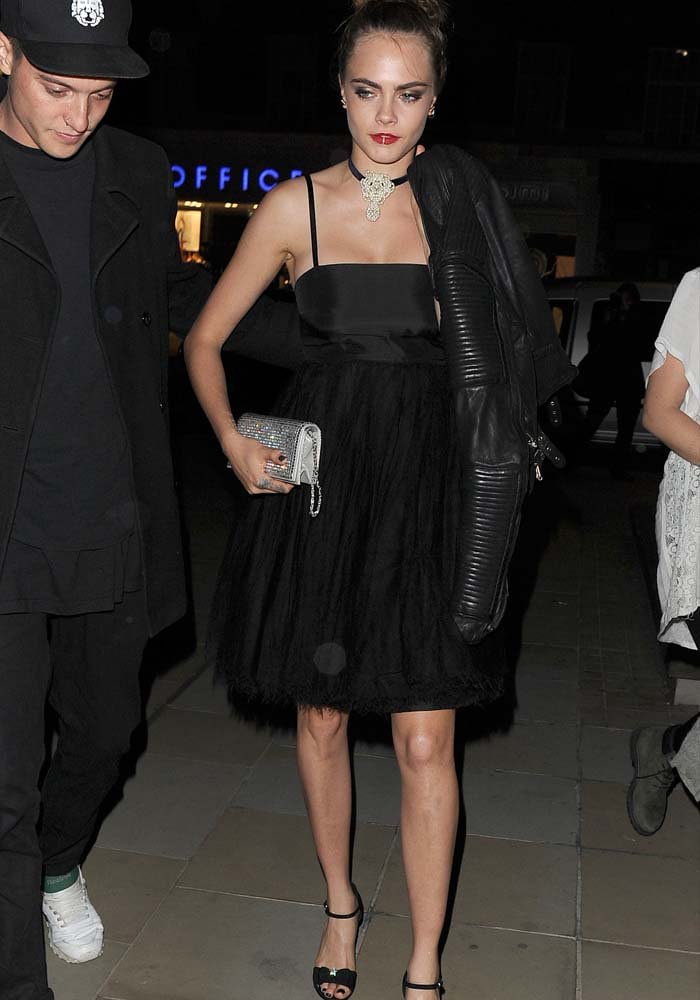 Cara Delevingne wears a Chanel baby-doll dress to the Mademoiselle Privé exhibit launch (Credit: Will Alexander / WENN)
Cara Delevingne graced the event in (obviously) head-to-toe Chanel.
The model wore a babydoll tulle dress paired with a jeweled choker and glitter buffalo heels.
Cara Delevingne's feet in black bow-embellished Chanel sandals (Credit: Will Alexander / WENN)
Cara wasn't a part of the body of women photographed personally by Karl Lagerfeld, but Lily-Rose Depp was.
As one of Mr. Lagerfeld's current muses, it was only natural for Cara to take the young Depp under her modeling wing.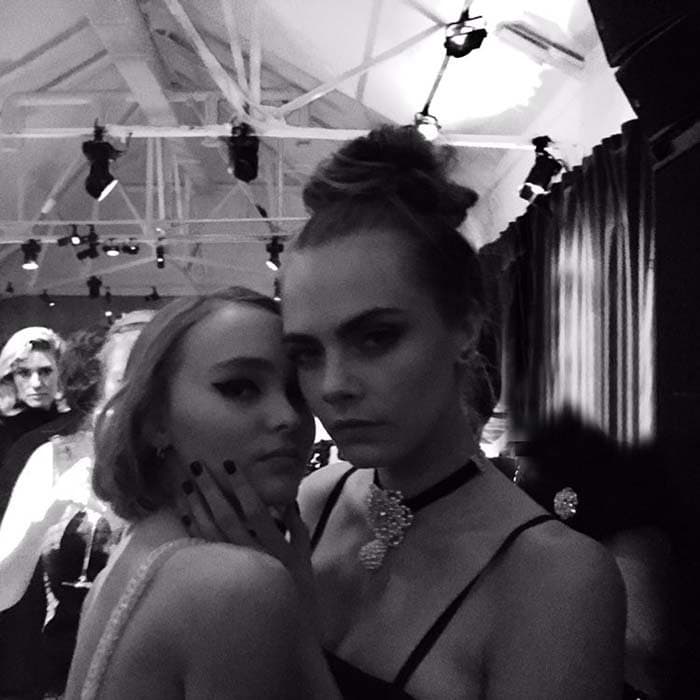 Cara Delevingne poses with Lily-Rose Depp at the exhibit opening of Mademoiselle Privé for Chanel in London (Credit: Chanel's Instagram)
Cara's Chanel heels are unavailable online, but we dug up some exciting bow heels for you to check out at Mytheresa, Zappos, and Farfetch.
Chanel Glitter Buffalo Sandals Embellished with a Bow and Strass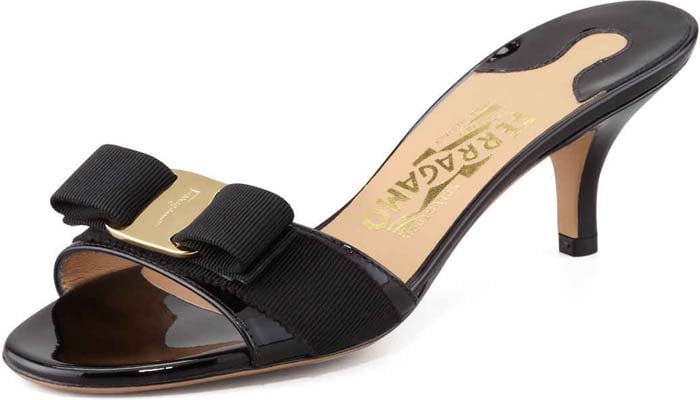 Salvatore Ferragamo "Glory" Patent Bow Slide Sandal in Black, $425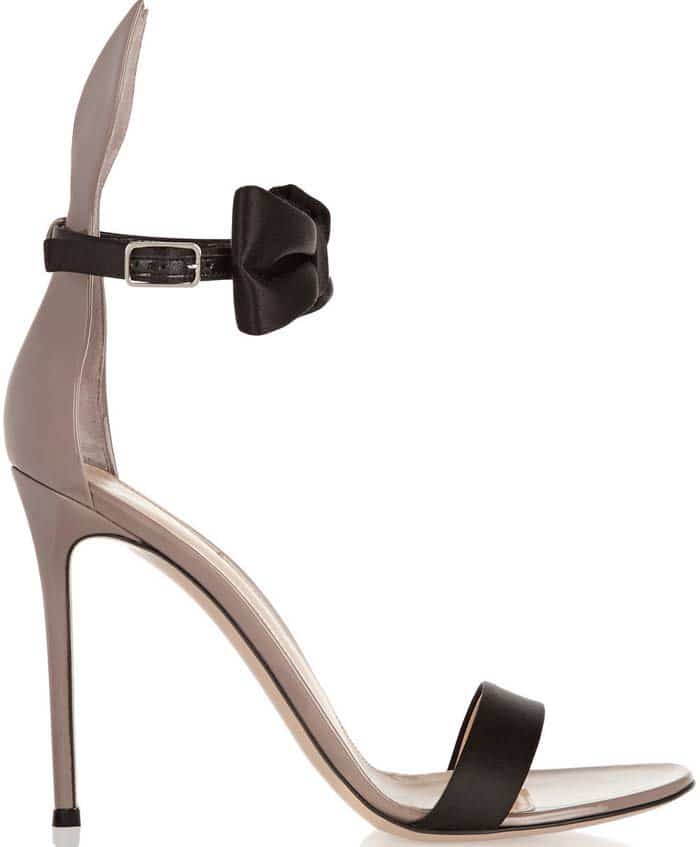 Gianvito Rossi Satin and Patent-Leather Sandals, $980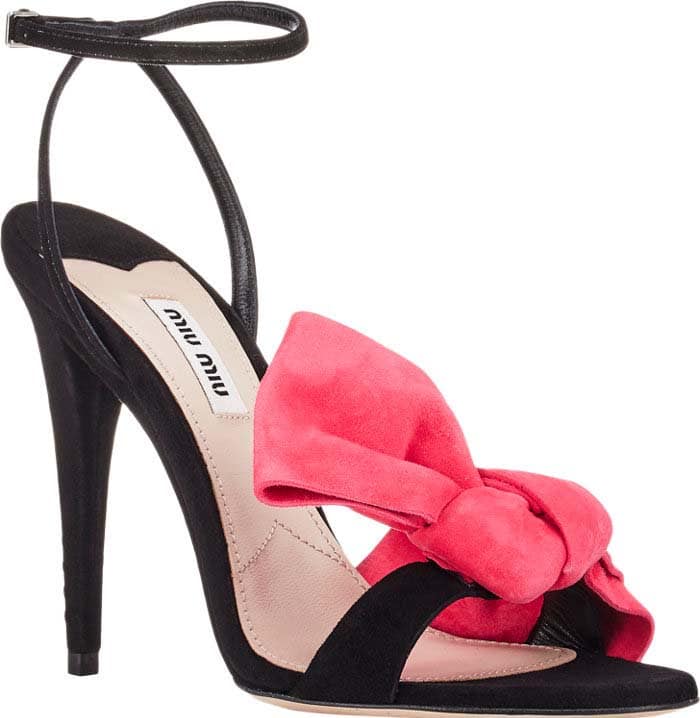 Miu Miu Suede Bow-Embellished Sandals, $790