Selena Gomez opened the 47th American Music Awards with a performance of her two new singles, Lose You to Love Me and Look at Her Now. It marked her first live TV performance in two years and she took the opportunity to show off her Sunshine tattoo along the right side of her right foot.
Selena Gomez at the 2019 American Music Awards held at the Microsoft Theater in Los Angeles on November 24, 2019
Her Sunshine Foot Tattoo
Just one of many celebrities with inked feet, Selena's Sunshine side foot tattoo was seen for the first time in April 2016.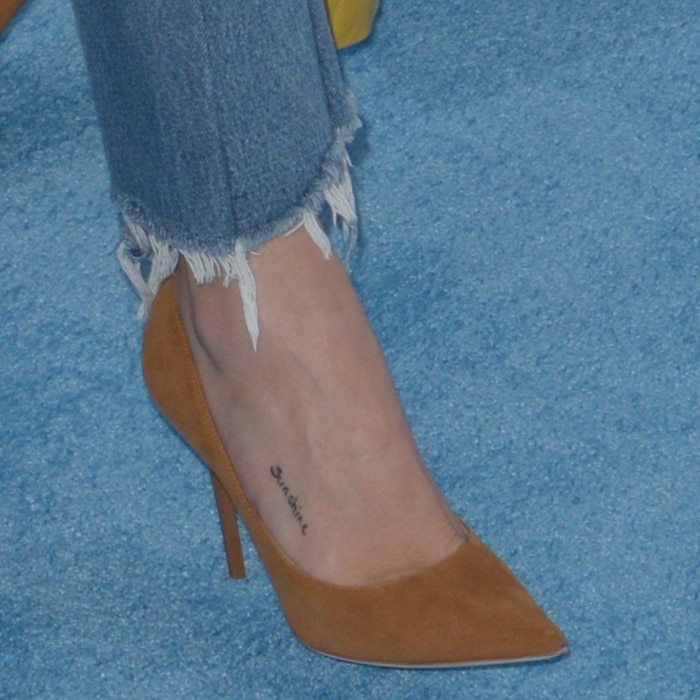 Selena Gomez honored her beloved grandmother Debbie Jean Gibson with a side of foot tattoo saying Sunshine
Selena's maternal grandmother, Debbie Jean Gibson, whom she once called "Sunshine" on Twitter, adopted Selena's mother, Mandy Teefy, as a baby in 1976.
Ensuring all eyes were on her, the 27-year-old singer strutted her stuff in a neon green Versace dress, which perfectly highlighted her figure. The strapless mini allowed her to show off her cleavage and toned legs.
It features Versace's signature gold medallion buttons on one side with draped ruffle detail.
Selena Gomez flaunts her cleavage and toned legs in Versace mini dress
The former Disney star wore her shoulder-length tresses in a retro-glam blow-dried look, done by her hairstylist Marissa Marino.
Makeup artist Hung Vanngo applied earth-toned makeup to accentuate her features. She wore dark mascara with nude eyeshadow, a hint of blush, and nude lip shade.
Celebrity manicurist Tom Bachik beautified Selena's nails with Opi Baby Take a Vow lacquer finished with iridescent shimmer and Swarovski crystals.
Selena Gomez wears earth-toned makeup with retro blow-dried hairstyle
Selena's stylist Kate Young glammed up her look further with two layers of sparkling diamond necklaces by Roberto Coin.
She teamed up the silky mini dress with a pair of Versace pumps in matching lime green color. Revealing her "Sunshine" foot tattoo that is dedicated to her grandmother, the satin pumps feature low-cut vamps, pointed toes, and about 4-inch heels.
Selena Gomez shows off her Sunshine foot tattoo in lime green Versace pumps
A few days earlier, the 27-year-old singer announced that her new album, filled with 13 tracks, will be out on January 10th, 2020. It is available for pre-order on Apple Music.
Versace Strapless Ruffle-Detailed Satin Dress, $1,020 at Moda Operandi
Credit: Adriana M. Barraza / WENN / Charlie Steffens