Remember Taylor Swift's legendary friend group, AKA her "squad"? The friend group was legendary in terms of the sheer success of the members, which included models Karlie Kloss, Cara Delevingne, Martha Hunt, and musical artists Hailee Steinfeld and Selena Gomez.
Things seemed so simple back then, as the world watched while the songstress and her bevy of beautiful friends paraded around tropical paradise. However, it was never meant to last.
While Swift has remained friends with some members of the "squad", many went their separate ways, including the pop star's former best friend, Karlie Kloss.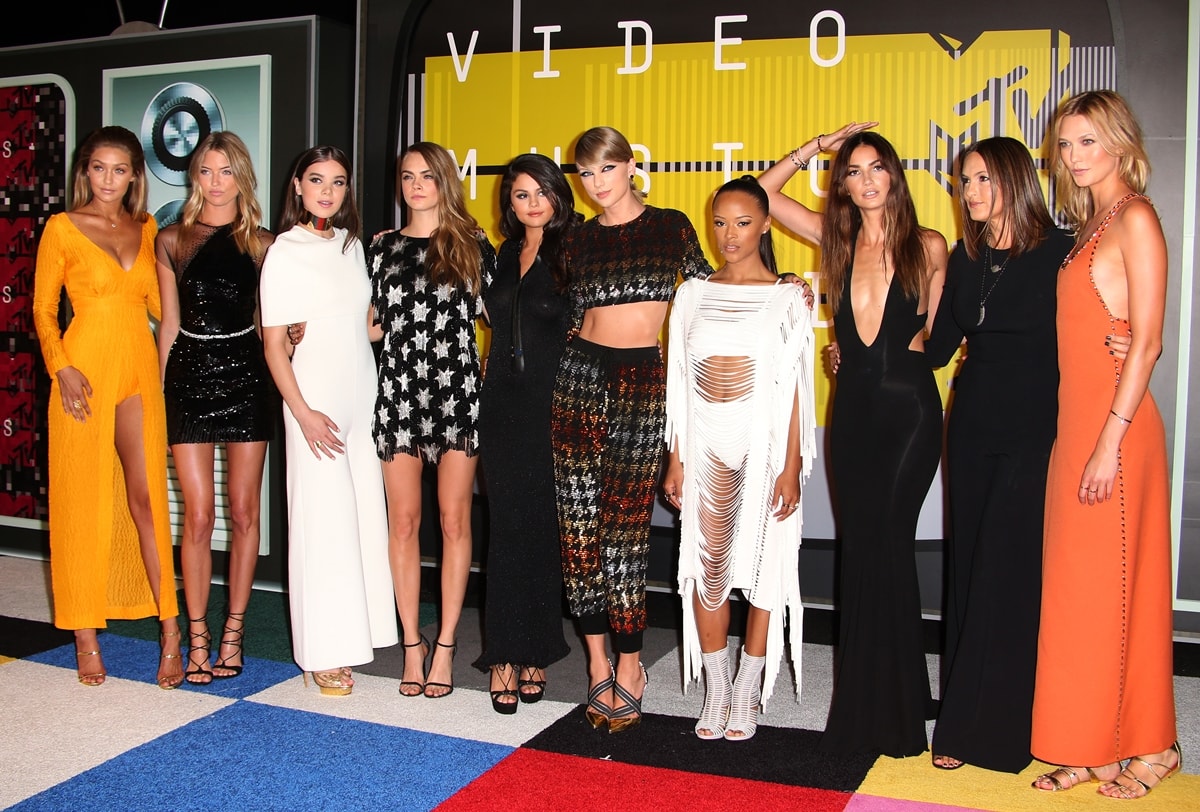 Gigi Hadid, model Martha Hunt, actress Hailee Steinfeld, Cara Delevingne, actress/singer Selena Gomez, recording artist Taylor Swift, actress Serayah, Mariska Hargitay, Lily Aldridge, and Karlie Kloss attend the 2015 MTV Video Music Awards at Microsoft Theater on August 30, 2015, in Los Angeles, California (Credit: FayesVision / WENN)
Swift and Kloss began their friendship in 2012, after Swift told Vogue magazine, "I love Karlie Kloss. I want to bake cookies with her!" The news of Swift's admiration reached the model, who tweeted in response, "Hey @taylorswift13 love the @voguemagazine cover! Your kitchen or mine? :)"
The friends, both of them beginning to reach astronomical success—Swift had just released her smash-hit album, Red, and Kloss was on her way to becoming the fashion world's hottest model—were first spotted in public together during the 2013 Victoria's Secret Fashion Show. As Kloss stomped the runway, Swift smiled at her as she performed her song, "I Knew You Were Trouble".
Model Karlie Kloss (L) walks the runway as singer Taylor Swift performs at the annual Victoria's Secret fashion show at Earls Court on December 2, 2014, in London, England (Credit: Lia Toby / WENN)
From then on, Swift and Kloss were joined at the hip. They were seen on numerous well-documented outings: road trips; dinners; shopping excursions; basketball games; and nights on the town. Kloss was often seen in attendance at stops on Swift's concert tours, and in return, Swift could be spotted in the front row at Kloss' fashion shows.
They were the quintessential duo—both blonde, beautiful, and inexplicably tall—fans often compared them to twins. Taylor Swift and Karlie Kloss quickly became the media's favorite pair of best friends, and even appeared together on the cover of Vogue magazine in 2015.
Taylor Swift and Karlie Kloss pose together for the cover of Vogue's March 2015 issue (Credit: Vogue)
In their interview with the magazine, entitled, "On the Road with Best Friends Taylor Swift and Karlie Kloss", Swift and Kloss detail their friendship and gush about their admiration for one another.
"People had been telling us for years we needed to meet," Swift told the magazine, explaining that people who knew them both were sure they would become fast friends, "'Doesn't she remind you of Karlie? God, she and Karlie would be best friends. They're the same. Karlie's such a good girl. She brings us cookies every time we do a shoot.'"
Swift went on to say that once she and Kloss finally did meet, they realized their mutual friends were right, ". . .we were just like, 'You. My friend. Now.'"
After meeting at the 2013 Victoria's Secret Fashion Show, Taylor Swift and Karlie Kloss became best friends (Credit: Alberto Reyes / WENN)
"I've met a lot of really great girls through Taylor. She's incredible at connecting people who might not normally meet. We're all in different jobs, but we've become strong friends who are there for each other—a sisterhood of girls, a support team," Kloss said.
"But we're also just normal 20-something girls, and I think you have to have people that you can be that with. You know, real friends are hard to find—and Taylor's a real friend. There's nothing better," the supermodel added.
Their friendship, as wholesome as it may seem, was still not immune to rumors circulated by the media. In 2014, a very grainy video of Kloss and Swift surfaced. In the video, it is nearly impossible to tell what is going on, as you can only see two bright blonde heads bobbing around.
Media outlets and fans alike assumed that the video depicted Kloss and Swift making out. Some eager fans were adamant that their dream ship, "Kaylor", was real. Swift was single at the time, but Kloss had been dating her future husband, Joshua Kushner. What a scandal! However, Swift's representatives were quick to denounce this notion, calling the rumor "crap".
Before they started fighting, Kloss Kloss listed Taylor Swift as one of her "closest friends" (Credit: TNYF / WENN)
In 2016, fans began to notice that the friends were appearing less and less on one another's social media feeds, which was out of the ordinary because Swift and Kloss documented nearly every moment together.
Swift had stepped out of the public eye in light of her ongoing feud with Kanye West and Kim Kardashian, both of whom Kloss had a friendly relationship with.
In 2017, Swift notably left Kloss' name off of a t-shirt in her music video for "Look What You Made Me Do". The t-shirt featured the names of nearly all of Swift's friends, including Blake Lively, Ryan Reynolds, Selena Gomez, Ed Sheeran, Gigi Hadid, and Martha Hunt—a group that Kloss was evidently no longer a part of.
The fallout between the two was evident. In 2018, actress Jennifer Lawrence, best known for her role as Katniss in The Hunger Games trilogy, told The New York Times as part of their Times Talks series that she was so invested in Kloss' and Swift's friendship that it was keeping her "up all night".
Taylor Swift refused to attend either of her former best friend Karlie Kloss's two weddings (Credit: WENN)
"I'd like to know what's going on with Karlie Kloss and Taylor Swift, that's the honest to God truth," Lawrence said, "Is nobody else curious? It's keeping me up at night. What happened?"
While Swift was mum about the whole ordeal, Kloss was adamant that there was nothing going on between the two, telling The New York Times, "Don't believe everything you read." Another time, she joked about Lawrence's question, saying, "Jen, don't worry — Taylor and I are still really good friends."
When Kloss finally married her longtime boyfriend, Joshua Kushner (yes, that Kushner, he is the younger brother of Ivanka Trump's husband, Jared), in 2018, Swift was noticeably absent despite being invited. Kloss' representatives claimed that Swift was "unable to attend due to prior commitments." Whatever that means.
For some reason, Kloss and Kushner had another wedding in June 2019. Their second wedding was much larger, touting a star-studded guest list. Once again, despite receiving an invitation, Swift was not there.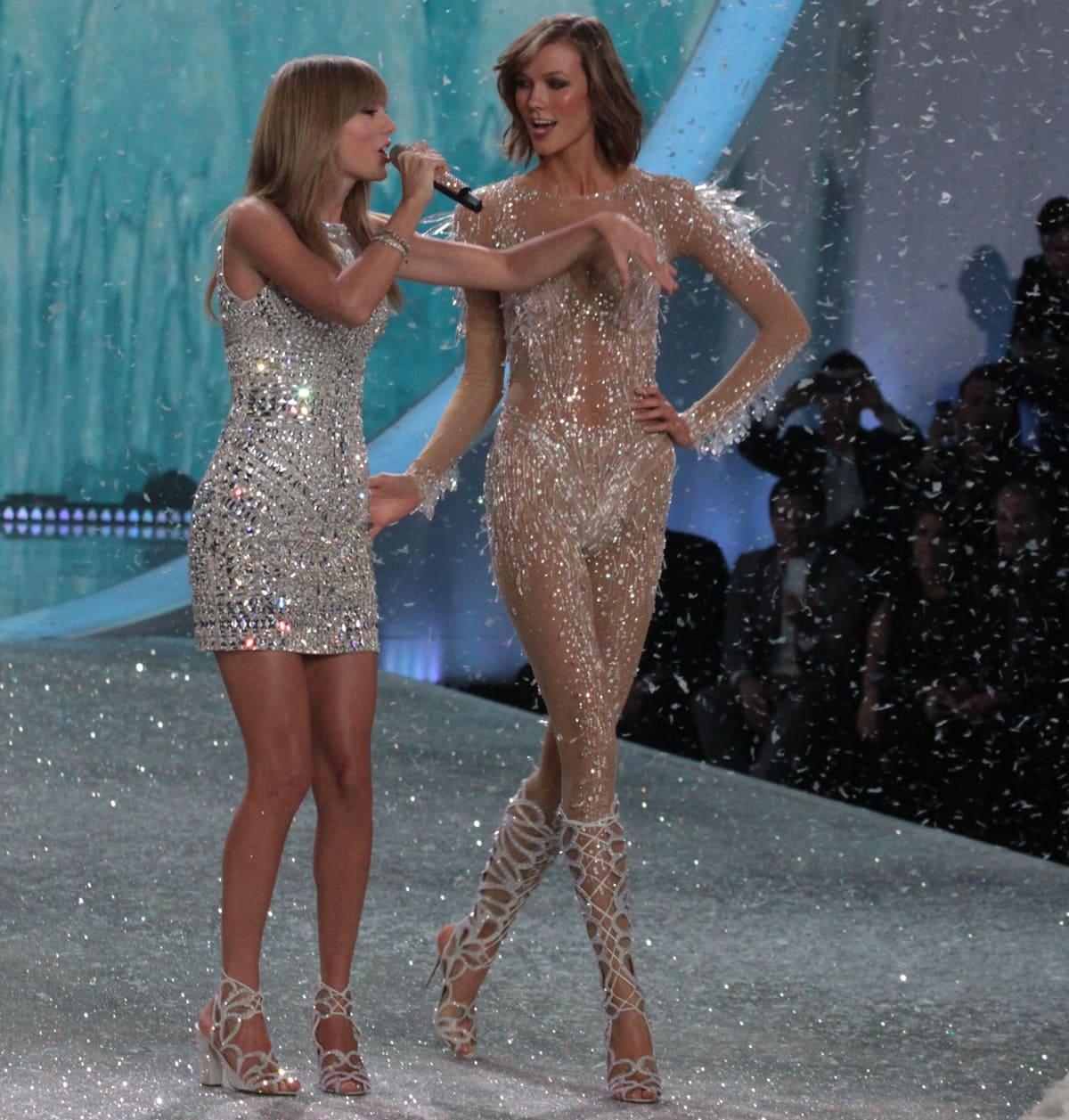 Singer Taylor Swift (L) performs and model Karlie Kloss walks the runway at the 2013 Victoria's Secret Fashion Show at Lexington Avenue Armory on November 13, 2013, in New York City (Credit: Michael Carpenter / WENN)
Critics speculated that Swift may not have attended Kloss' second wedding due to her ongoing feud with record label executive, Scooter Braun, who famously purchased Swift's masters against her wishes. Swift later penned an open letter detailing her feelings about the deal, citing Braun's "incessant, manipulative bullying". As it turns out, Braun happens to be Kloss' manager.
Kloss' representatives stepped in again, saying that Braun was not the reason Swift did not attend the wedding. Swift later revealed that she had been working on a top-secret music video at the time. Since then, we haven't seen much of the dynamic duo "Kaylor".
Which Taylor Swift song is about Karlie Kloss?
After the release of Swift's 2020 studio album evermore, fans began to speculate that some of her lyrics were intended to be a callout to her former friend.
In the song, "it's time to go", Swift laments, "when the words of a sister come back in whispers / that prove she was not, in fact, what she seemed / not a twin from your dreams / she's a crook who was caught."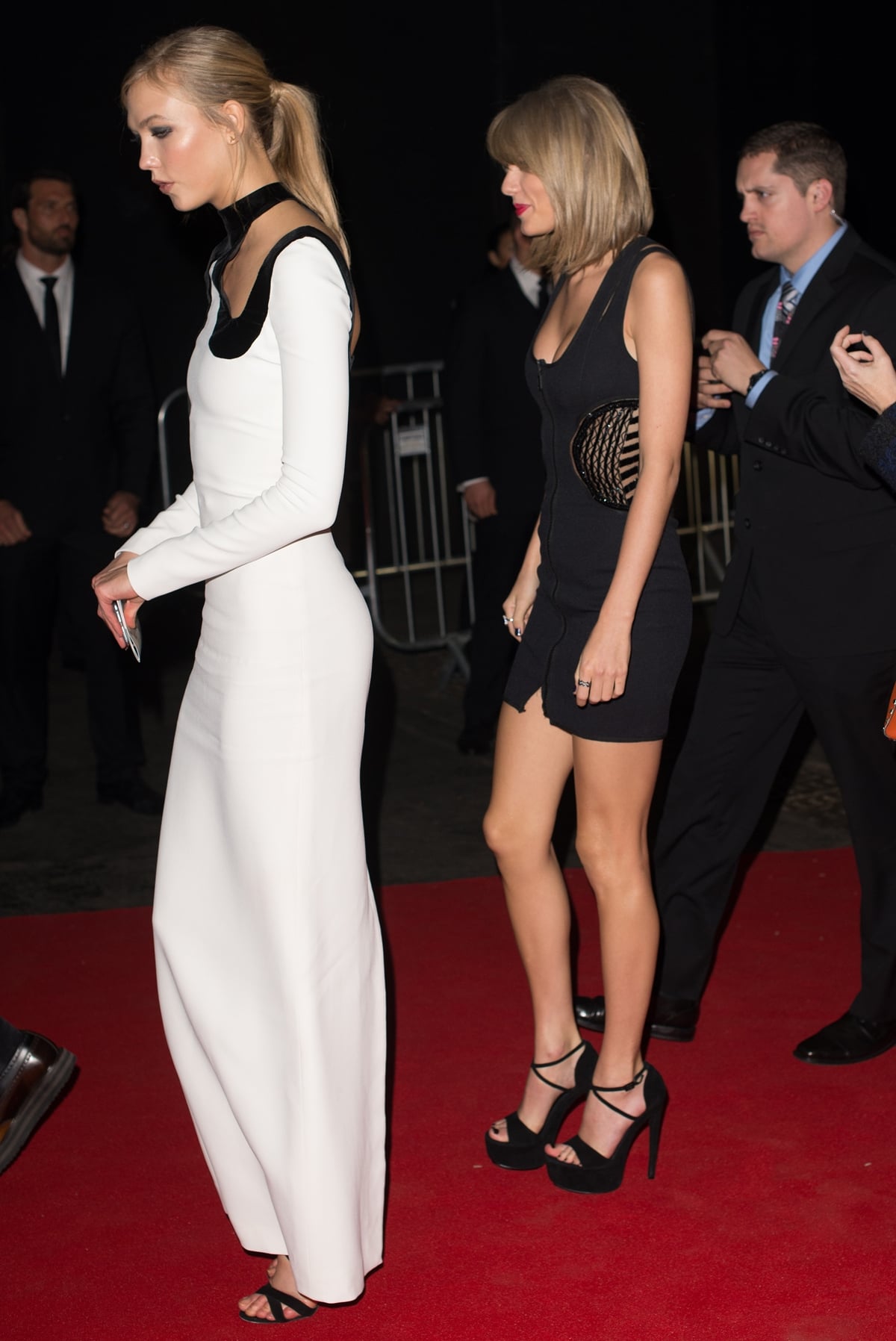 Fans believe Taylor Swift wrote "It's Time to Go" about her rumored falling out with Karlie Kloss (Credit: Daniel Deme / WENN)
Considering Kloss and Swift were often compared to twins and had referred to each other as "sisters" in the past, it is plausible that these lyrics could have been inspired by Kloss, but Swift has not confirmed this.
Though Taylor Swift and Karlie Kloss appear to no longer be friends, their friendship will always have a soft spot in our hearts as #friendgoals.
What's better than seeing one of the fashion industry's most-coveted supermodels decked out in head-to-toe designer duds? Seeing two, of course!
In February 2016, Karlie Kloss caused quite a stir when she left Tape Nightclub for a post-BRIT Awards Party with Jourdan Dunn.
Karlie Kloss wears her hair back for a post-BRIT Awards party held on February 25, 2016, at Tape Nightclub in Mayfair, London (Credit: Will Alexander / WENN)
Oh, and they totally showed off their friendship by holding hands as they exited the place.
Karlie wore a full look straight from British designer Alexander McQueen's Spring Summer 2016 runway.
The look featured loose textured trousers paired with a lace cutout and ruffled long top and a pair of woven, floral-embossed buckled sneakers.
Karlie Kloss wears a pair of woven and floral-embossed sneakers from the Alexander McQueen Spring Summer 2016 runway collection (Credit: Will Alexander / WENN)
The model put her hair up in a classy braided updo and slipped into body chains to complete her look.
Karlie Kloss wears an all-white Alexander McQueen look at a post-BRIT Awards party (Credit: Will Alexander / WENN)
Karlie seemed a bit wary of the sudden attention, making sure to stick really close to her pal, but Jourdan handled the situation very well — she even gave the camera a little wink. Check out the video of their exit below:
You can order a pair of Alexander McQueen's stitched floral sneakers at Saks Fifth Avenue and Farfetch.
Alexander McQueen Embroidered Slip-On Sneaker in Navy/Multi, $1,460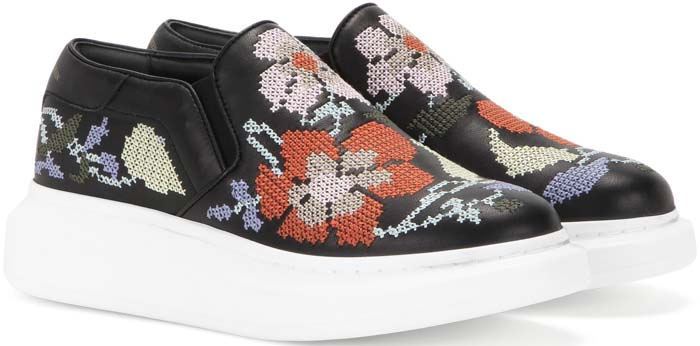 Alexander McQueen Embroidered Slip-On Platform Leather Sneakers, $645